How to Make a Simple Aromatherapy Heat Pack
This post may contain affiliate links, view our disclosure policy for details.
If you are looking for a simple (practical!) and inexpensive gift this year this Aromatherapy Heat Pack is the PERFECT solution! These are NOT cheap to buy in stores and let me tell you, I will never turn down one of these things!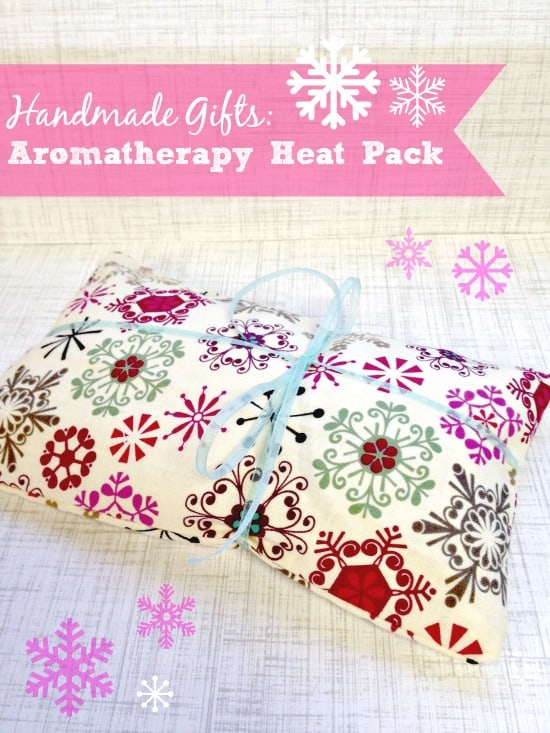 Great for teachers, co-workers, friends or yourself – this simple to sew aromatherapy heat pack offers the recipient soothing heat and a lovely scent all in one. You certainly don't have to be super crafty to create one, in fact, the process is quite simple.
Take a look below at how to make your very own Aromatherapy Heat Pack.
Supplies Needed:
1/4 yard of scrap fabric
3 cups of dried rice (see other ideas below)
Lavender essential oil or other essential oil of choice
needle and thread or hemming tape
ribbon
You can make your heat pack as small or large as you wish. 1/4 of a yard is a nice size piece of fabric and you can get several small heat packs (or one gigantic one) out of it. You can also use any oil that you wish but lavender is a nice relaxing choice! OR you can just totally omit the oils if you don't want a fragrance!
Directions:
1. Begin by cutting two pieces of fabric to the identical size and shape. Ours is cut approximately 3×5 in size.
2. Lay the two pieces of fabric on top of each other so that their designs are facing inward, not outward!
3. Using a sewing machine, hemming tape, or simple needle and thread make a simple stitch going around the perimeter of the fabric. Keep stitching until all but 2 inches or so is left unsewn. If you are hand sewing it make sure to sew tightly together so that rice cannot fall out!
4. Now, turn your fabric right side out. You will notice now that you can't see your stitches and your edges are nice and clean!
5. Pour your rice into a bowl and add a few drops of essential oils. Stir well and let site a few minutes.
6. Fill the pack with the scented rice. You can fill as much or as little as you want depending on how firm you want it to be. We used about 2 cups.
7. Using a needle and thread close of the remaining two inches of fabric. That's all there is to it!  You can simply add a ribbon around the heat pack and gift it or include it into a nice gift basket or even with a gift card! Include a small note letting the recipient to microwave their pack for 1 minute. These are great for sore backs, cramps, aches, and other ailments.
Give this simple aromatherapy heat pack a try and you will have a fun and frugal gift in no time!
Tips – other ideas than uncooked rice: Use millet seed, feed corn, wheat, flax seed, barley, or cherry pits!