NEW HEXBUG Battle Spider and Strandbeast Micro Robotic Creatures
This post may contain affiliate links, view our disclosure policy for details.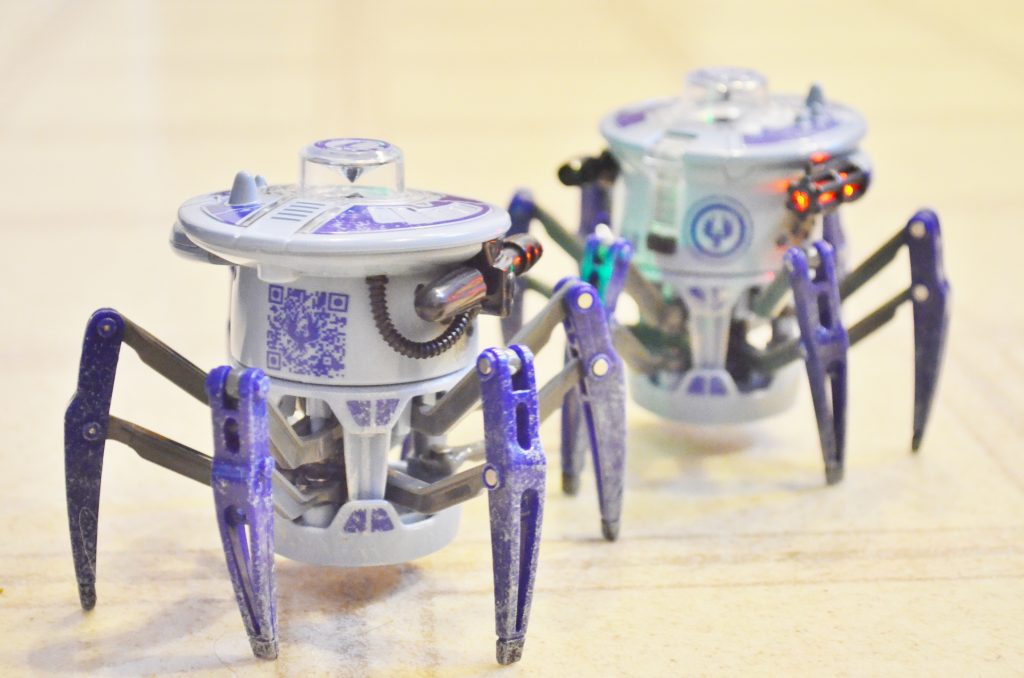 In case you missed the announcement on Facebook the other week I have partnered up with HEXBUG as one of their ambassadors for the year and am so excited to bring you guys a little sneak peek for 2 of their new products coming up in 2014! You can also just skip down to the end of the post to see our video of these new HEXBUGs in action!
Meet the HEXBUG Battle Spider!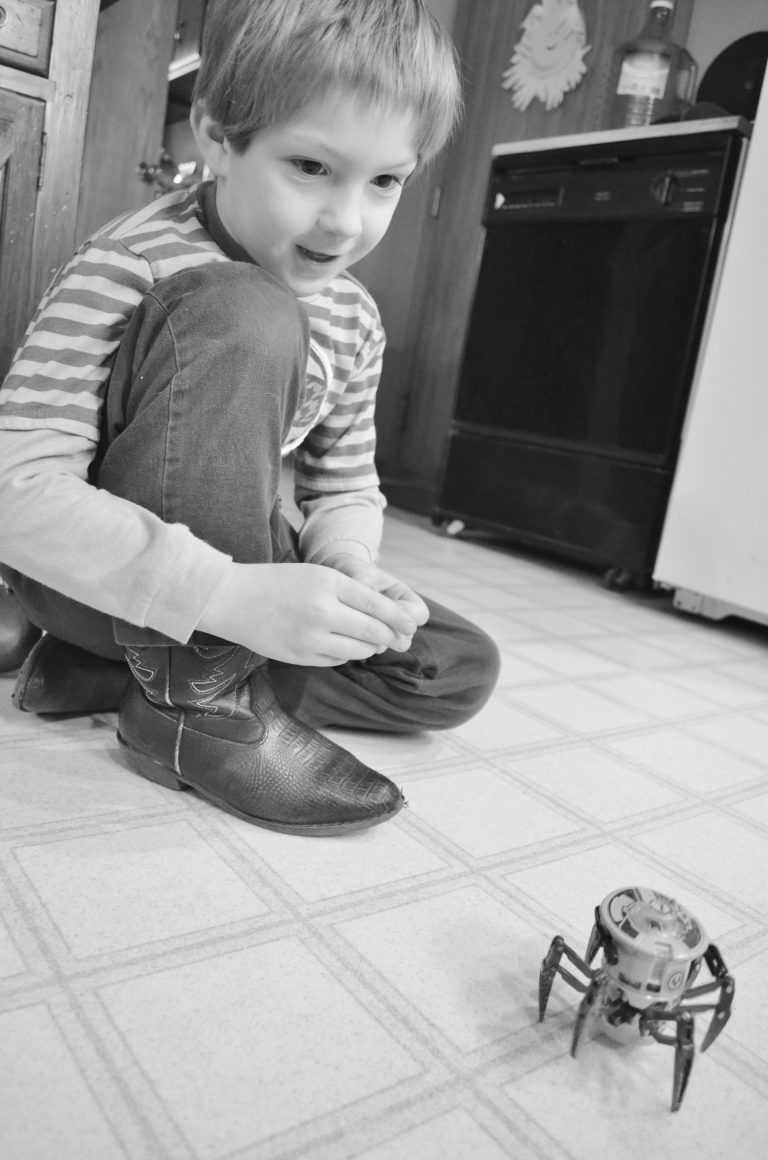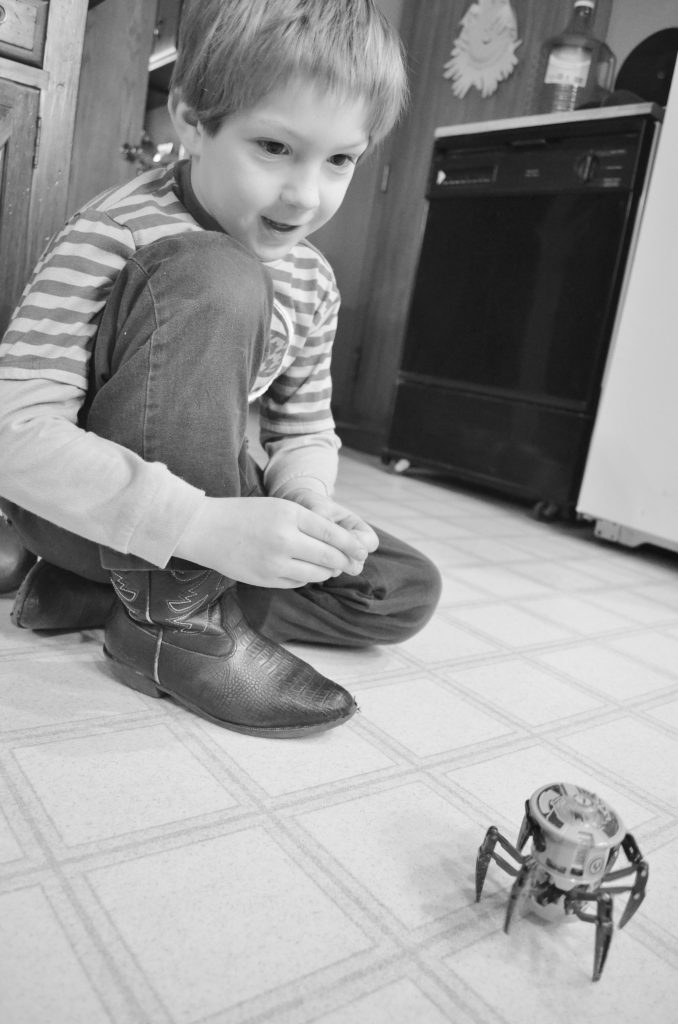 The great thing about these new HEXBUG Battle Spiders is that you can of course play with them by yourself, AND just as it sounds – you can battle other spiders! You can see it in action in my video but these awesome new Battle Spiders LOOK like they are ready for battle! My son with Asperger's usually gets pretty intense with any type of "battle" play so we don't do a lot of hands-on rough play but these HEXBUGs are perfect since you use a remote control to make the creatures battle each other! It's less intense and a load of fun! You "shoot" the other spider you are battling, and if you get hit 10 times it disarms your spider until you reset it. It's flashes a light when you get hit and you can set each spider onto 2 different channels so your remotes don't interfere with each other. Plus they aren't too noisy so you don't have to worry about running for cover while you're trying to get things done and the kids are playing.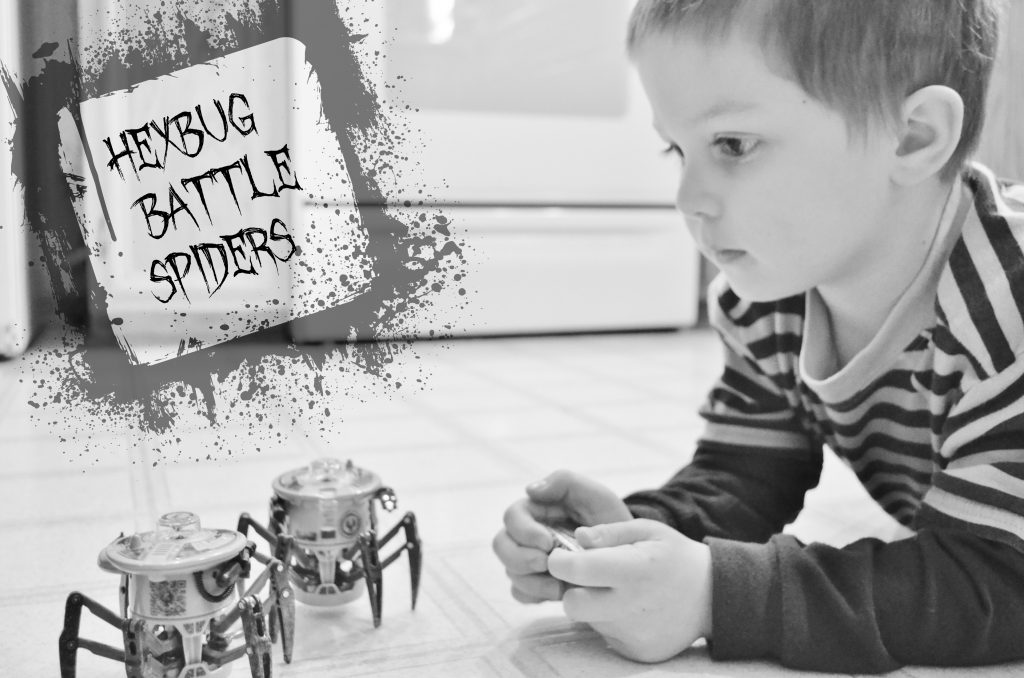 OK – my favorite picture here! Although these HEXBUG Battle Spiders are geared for ages 8+ my 6 & 4 year old boys LOVE them. If one of them loses too many times and starts getting frustrated they just stop playing "battle" mode and play with their spiders themselves! You can see above that even my 4 year old has no problems manipulating the remote or even setting his channel properly for play mode.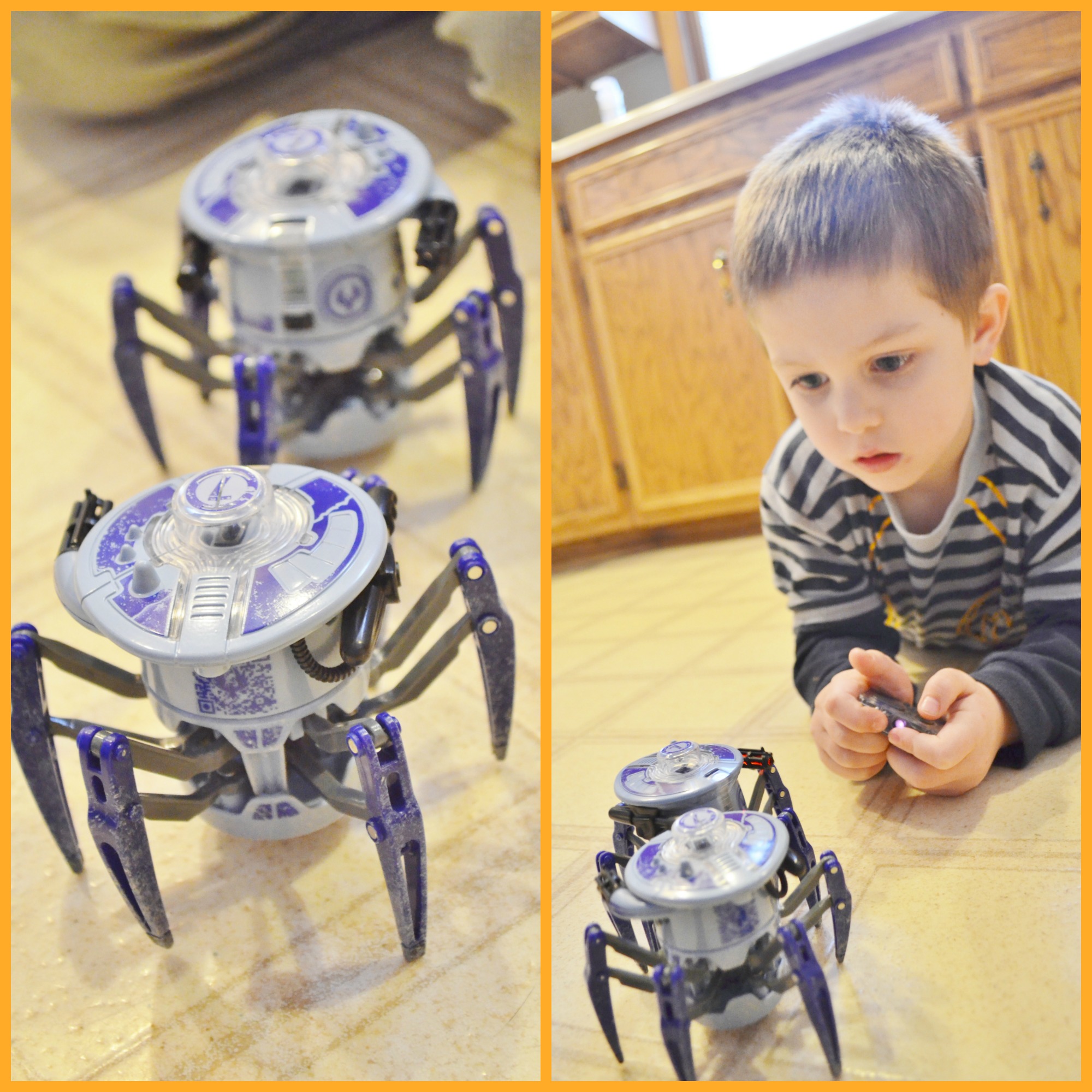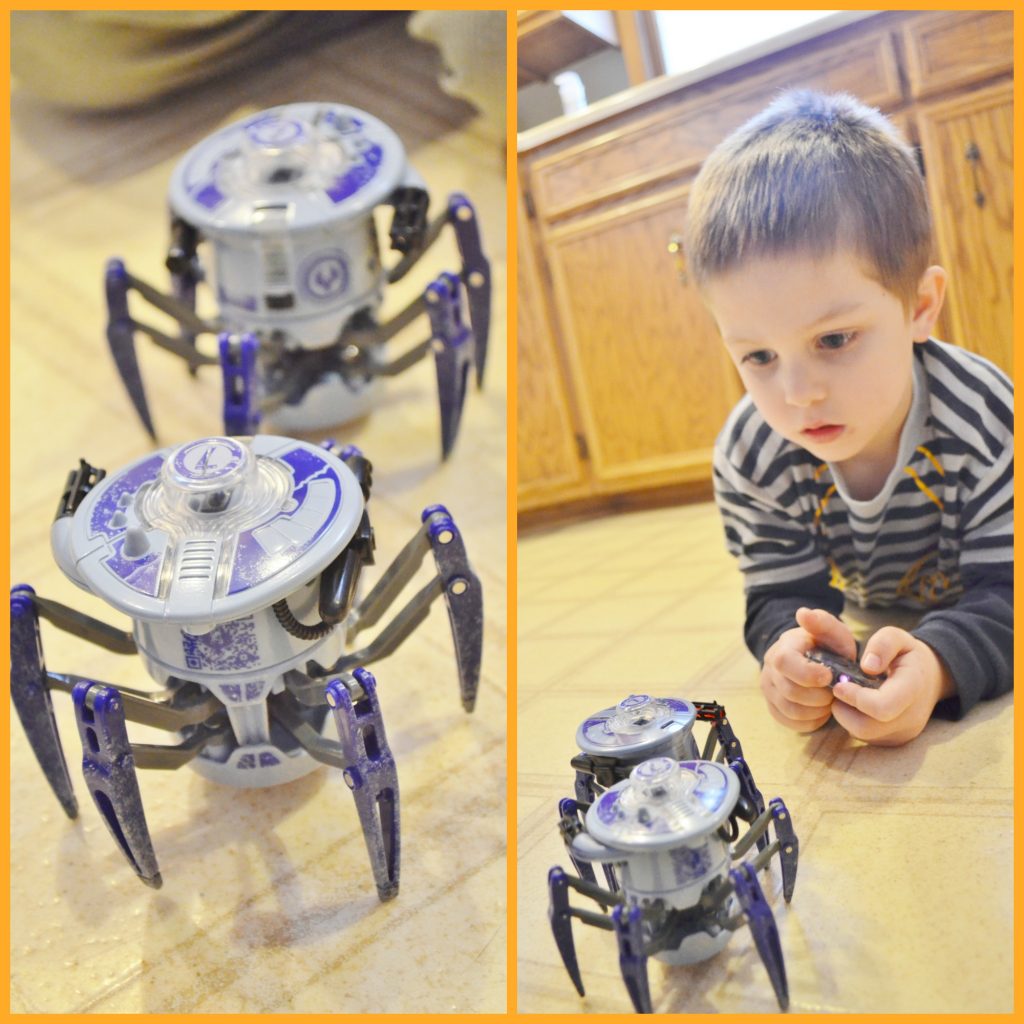 I think every time we get the chance to try out a new HEXBUG toy I say "this one is my favorite!" = but in reality I say that because we really love all of them! I love that it engages kids not only as a fun toy but for my boys it gets them excited about robotics and they are interested in HOW it works. Robots hold such a high fascination for kids and I love that HEXBUGs are an affordable way to get micro robotic creatures into their hands!
Meet the HEXBUG Strandbeast!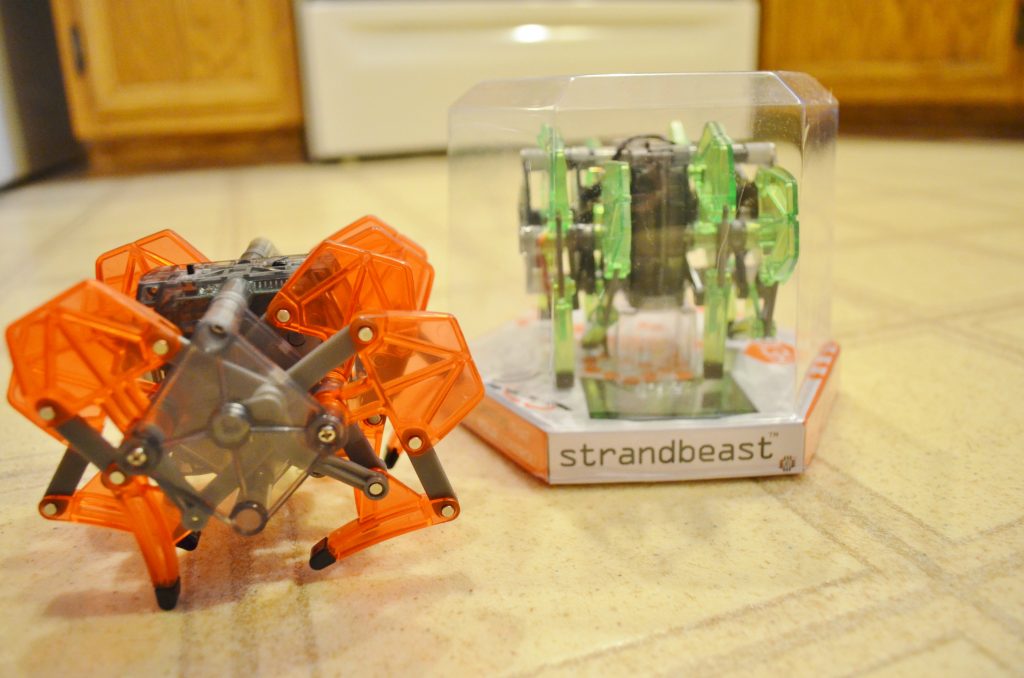 AH yet again I am saying "this one is my favorite"! Hah! This is one of the largest HEXBUG toys I've come across and also the most intricately designed in my opinion. This beast of a robot is opaque so that you can see through it better and is really beyond awesome.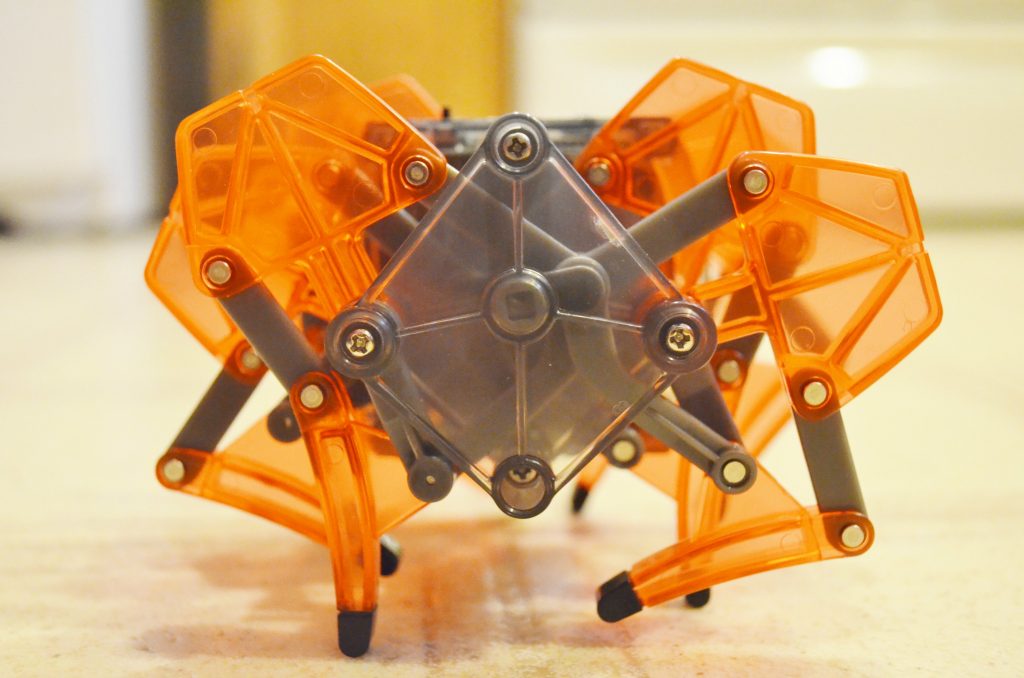 He also works via remote control and has 4 legs on each side, spaced out so it's a pretty good-sized little thing. Every leg works and moves as this Strandbeast walks around on your floor or other hard flat surface. He certainly seems the most complicated of them all and we love the way it moves! It's certainly mesmerizing for the kids to watch as all 8 legs work while they are navigating it around on the floor!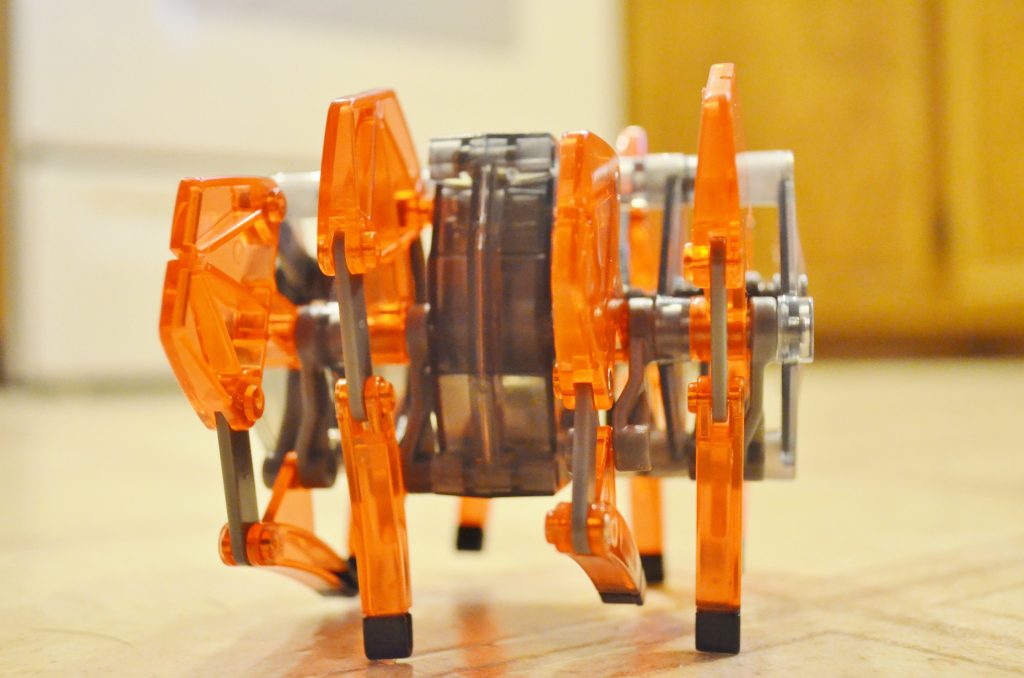 Here's a side view so that you can see it better! Definitely an awesome product and I recommend both the Strandbeast and the Battle Spider! Keep an eye out for them as they are coming out this year!!
Check out my YouTube video where you can see each of these creatures in action!