My Big Fat Zombie Goldfish by Mo O'Hara Review
This post may contain affiliate links, view our disclosure policy for details.
Disclosure: This post created in collaboration with Scholastic, Inc. All opinions are my own.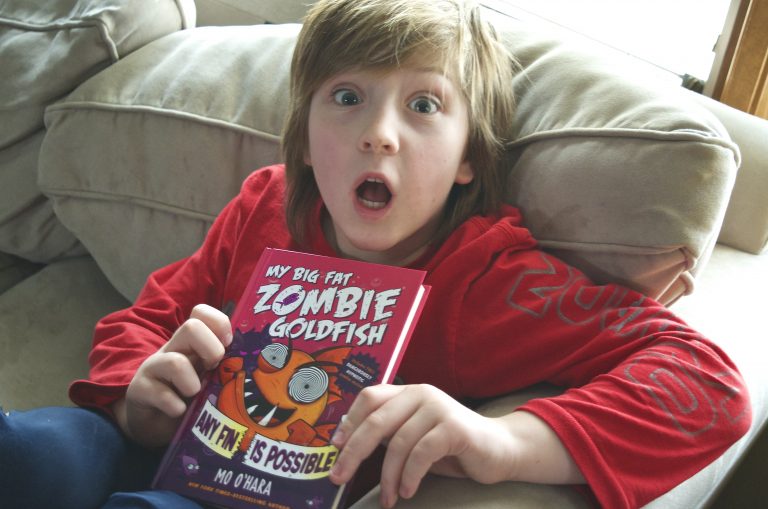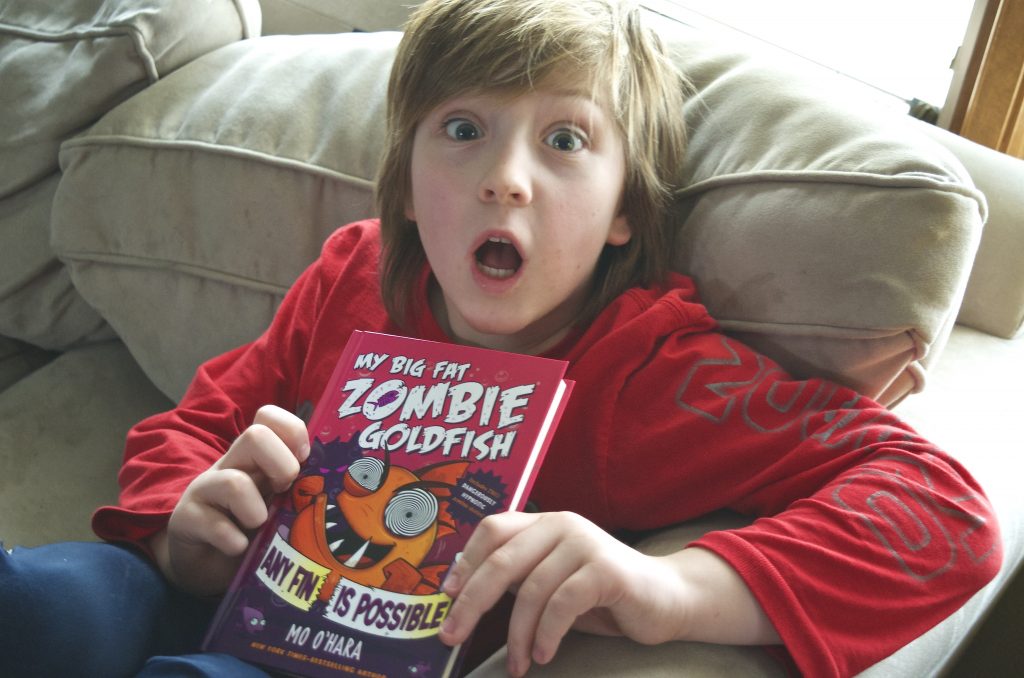 I have 3 kids: a 9 year old who DEVOURS any book he sees, a 6 year old who DEVOURS graphic novels and illustrated novels, and a 1 year old who likes to read (and eat!) books. Reading and strong literacy skills are of huge importance to me and the key to early strong success in school. As my kids get older my mission is constantly scouring for cool new books to add to their collection and came across the series and adventures of Zombie Goldfish.
They are actually sitting in my online shopping cart to buy my boys so I knew when this opportunity hit my inbox to share with you about the books, and specifically the 4th book "Any Fin is Possible" by Mo O'Hara, it was meant to be! You can see how excited my son is to discover this new book series in our house! He is crazy about spooky zombie type things and I LOVE that this is a zombie goldfish which means nothing too creepy for kids! Plus the kids can imagine that their pets are zombies which brings it to a fun extra dimensional imagination and totally fits us.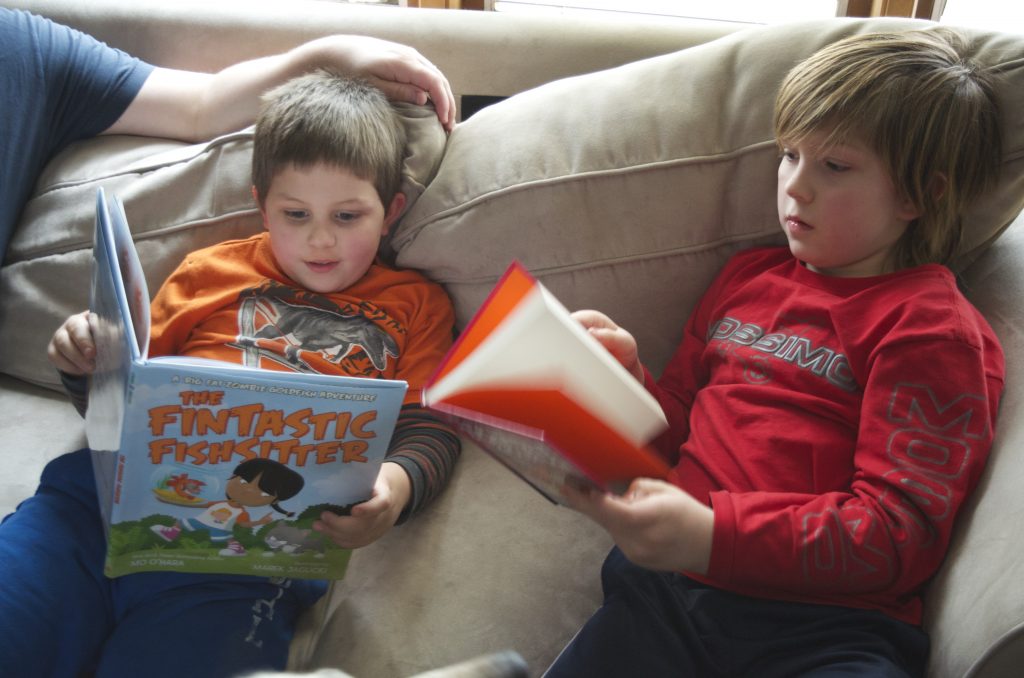 The My Big Fat Zombie Goldfish series is geared for readers ages 7-10 years old although they also have a new picture book geared for ages 5-7 called "Fintastic Fishsitter". These books pop out to kids through colorful pictures and fun stories and the stories spin imaginative visual tales that sound like something my kids would dream up! PLUS what really grabs my kids is that there are zombie and vampire animals – but they still look cute, silly, and cuddly. My boys immediately grabbed the books and started reading them when I showed it to them (good thing I had my camera ready!). They were SO excited when they realized that the SAME character in The Finstastic Fishsitter was ALSO in the My Big Fat Zombie Goldfish: Any Fin is Possible book. The fact that the characters cross books into different age levels is awesome so my younger kids can grow up with the same character across different reading levels. I wish more books were like that!
Here's a little teaser to the series to give you an idea of the intrigue:
"When Tom rescued Frankie the goldfish from his older brother's evil science experiment by zapping him back to life with a battery, he never expected his pet to become a BIG FAT ZOMBIE GOLDFISH with incredible hypnotic powers."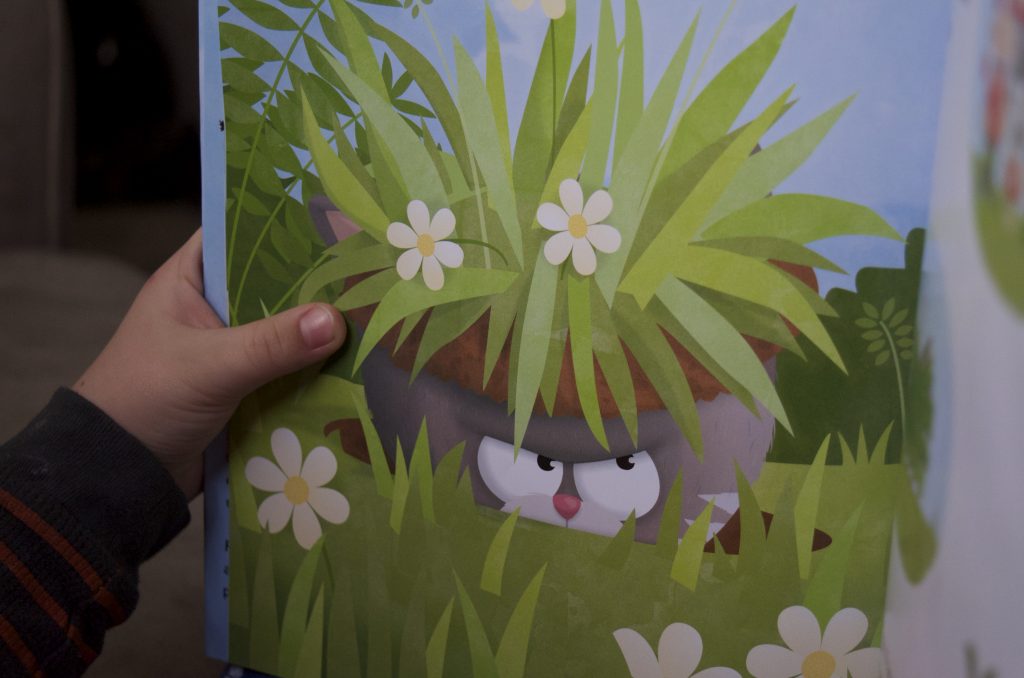 Vampire kitty on the loose in Fintastic Fishsitter!
I'm not going to lie – these are some cool books and so catchy that my husband and I are both reading it too! Every time you open Any Fin is Possible you see a zombie fish – every time! The illustrations really nail the "cool" factor and suck you in (in a good way of course!). But make sure you buy the first 3 books to complete the series: My Big Fat Zombie Goldfish, The Seaquel, Fins of Fury, and then of course Any Fin is Possible.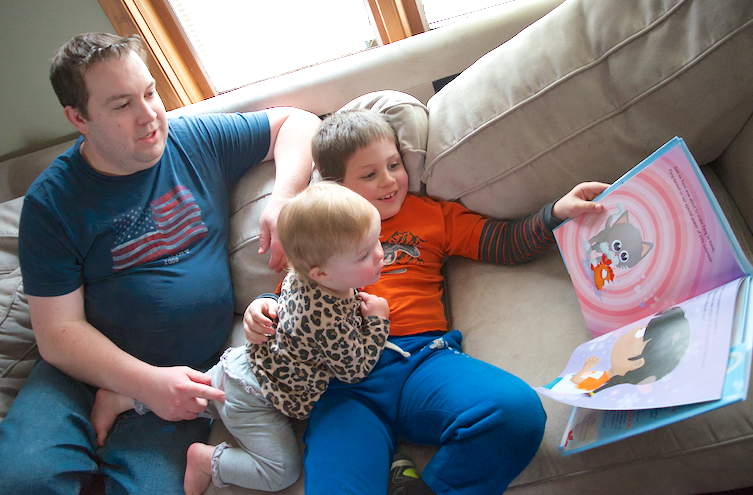 Other Books in the Series:
My Big Fat Zombie Goldfish
The Seaquel: My Big Fat Zombie Goldfish
Fins of Fury: My Big Fat Zombie Goldfish
Any Fin is Possible: My Big Fat Zombie Goldfish
The Fantastic Fishsitter
This is a sponsored conversation written by me on behalf of Macmillan Children's Publishing Group . The opinions and text are all mine.