How to: Mini Coffee Bar for Tiny Small Spaces
This post may contain affiliate links, view our disclosure policy for details.
This post brought to you in collaboration with At Home. All opinions are my own.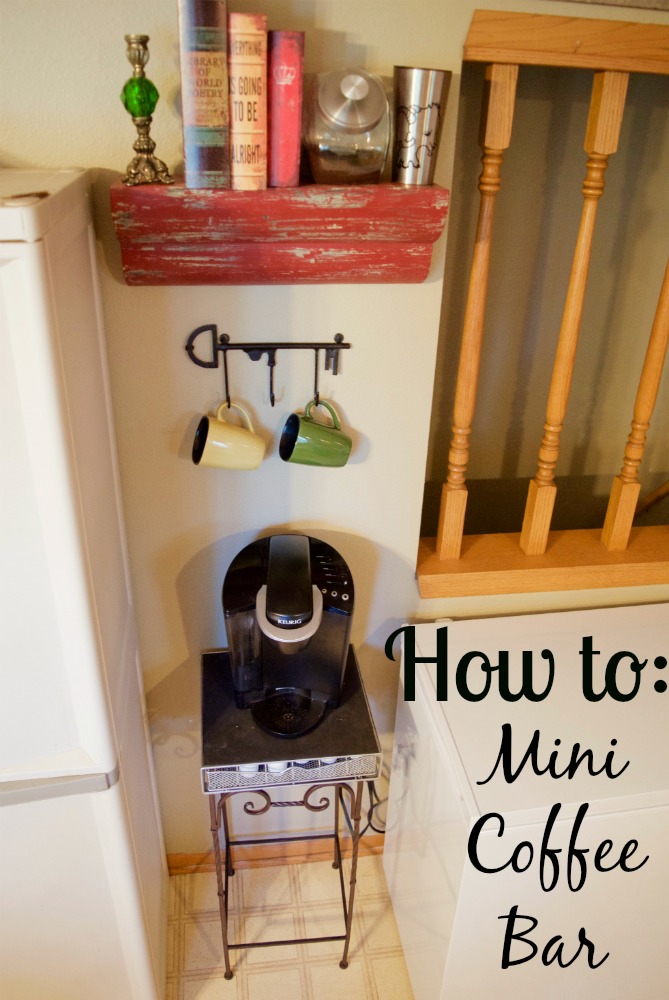 I'm trying desperately to get my house in order lately – think of it like spring cleaning in summer. I'm purging the piles of stuff we've either never unpacked since moving here or the things we've collected over the years that we really should have gotten rid of a long time ago. Since I've been cleaning, organizing, and getting rid of things it has allowed me precious extra space in my kitchen. I opened up a tiny little section in the kitchen and I wanted to put in a mini coffee bar. Plus I figured this would be a perfect post to offer tips on creating a mini coffee bar for tiny small spaces (like college dorms and apartments!).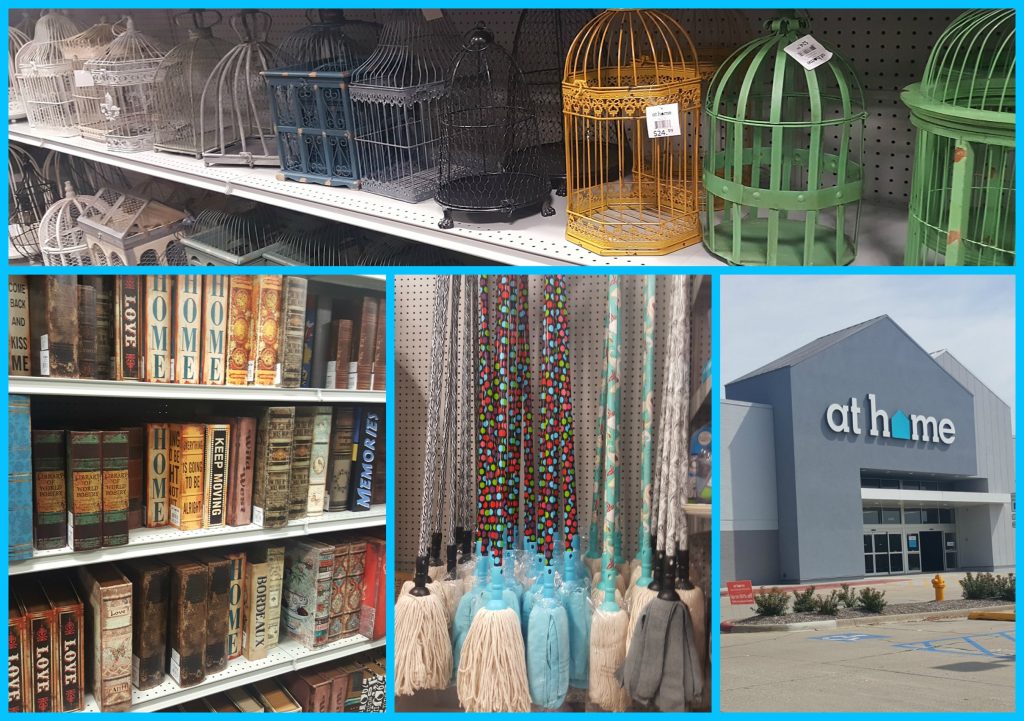 Every week I drive by this store called At Home and I had never gone inside. My heavens was I missing out! I applied for a blogging opportunity to receive a gift card to go inside and check it out – and I pretty much just need an unlimited shopping spree there indefinitely! It's freaking amazing! There is pretty much anything in the way of decoration and furniture you could imagine – and a zillion styles. Whether you like vintage, bright colors, black and white, contempo, modern, funky, character, stripes, solids…whatever your style is – it's here! I fell in LOVE with the aisles and aisles of AMAZING bookends, artwork, statues, tables, birdcages, and SO much more!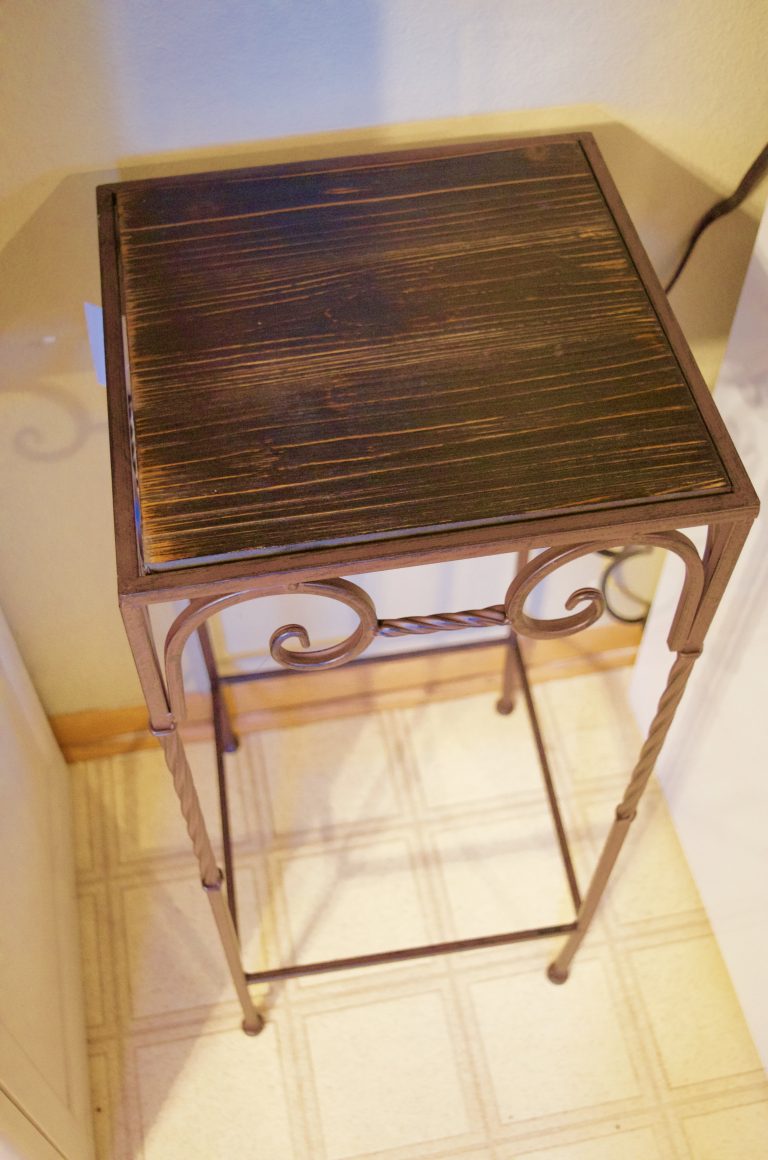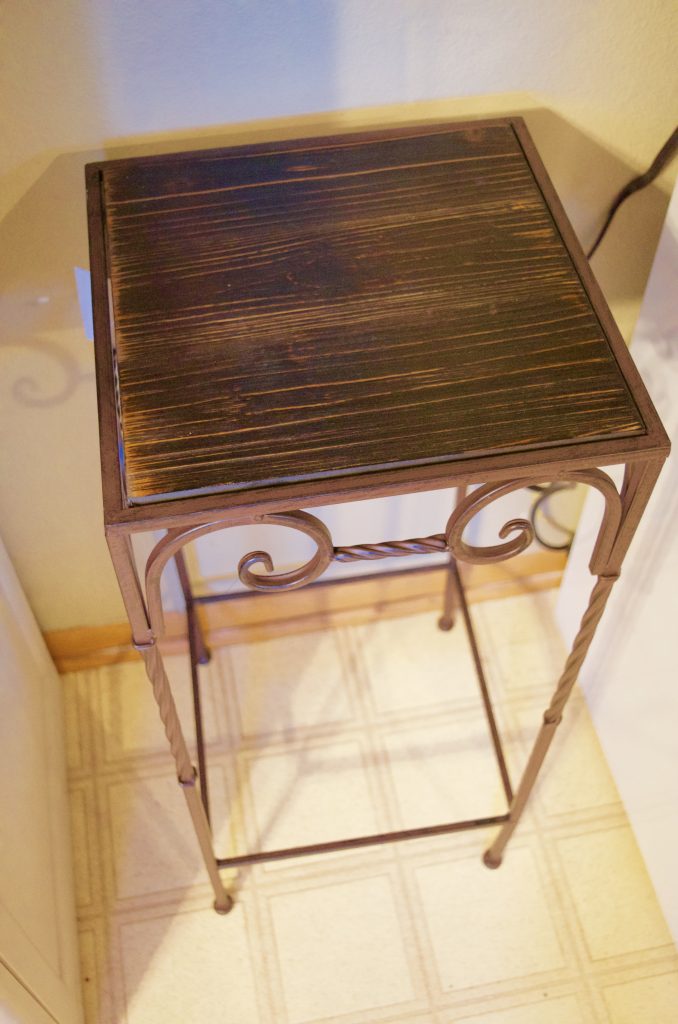 If you're wanting to put a mini coffee bar somewhere other than your kitchen countertops look for a nice tall skinny (but sturdy!) table. I specifically looked for one that would fit my Keurig machine. The one above I bought at the At Home store for under $20! I found a ton of gorgeous buffet style tables though that I drooled over! But this table was perfect for the small space I had available in my kitchen.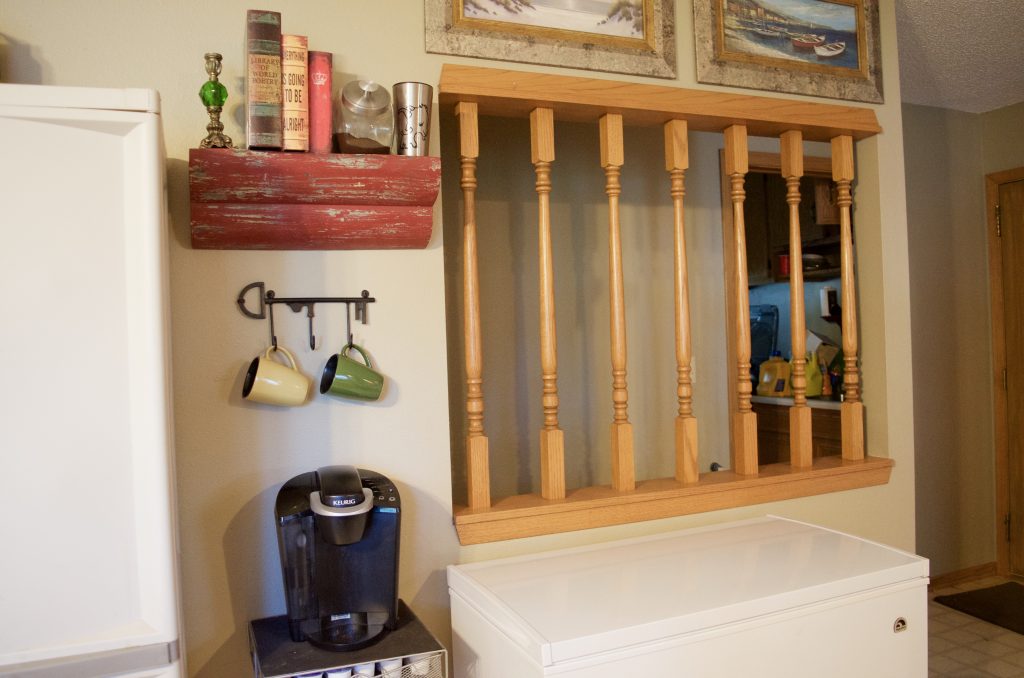 Because I chose a small table with no drawers or shelves I needed a small hook set up to hang my coffee mugs on. But I also wanted a very short shelf above the hooks to not only add a little eye candy but also to keep my coffee on. I have a little penny jar filled with coffee grinds that I wanted easy access to.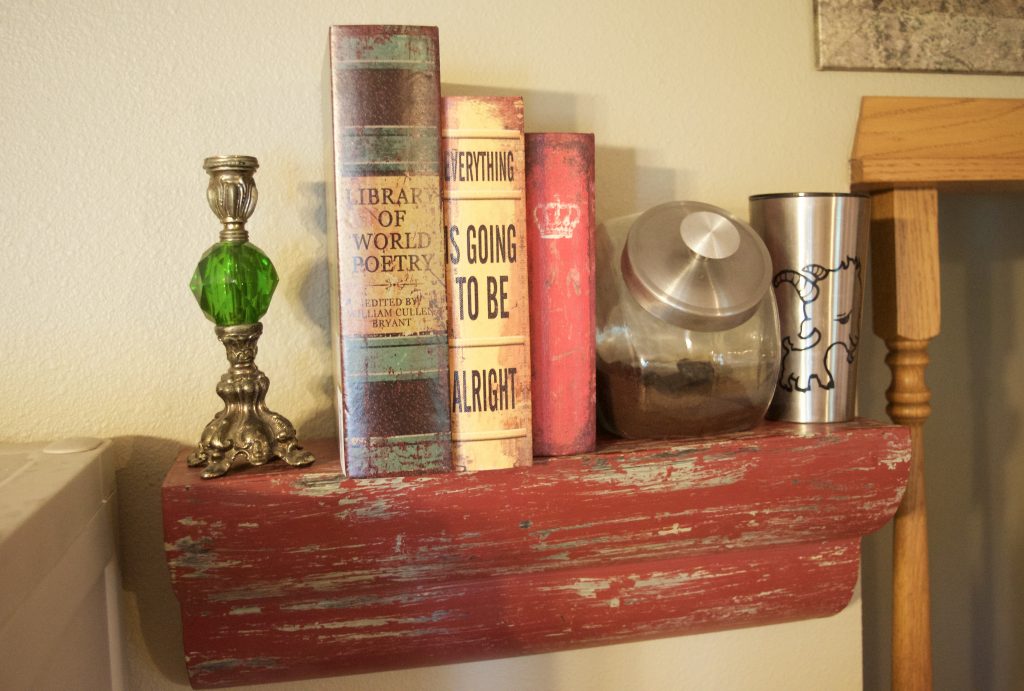 At Home had an aisle packed with these AMAZING "books". In fact they aren't books at all but wooden storage containers! They look SO incredibly realistic! Just like the rest of the store there were all sorts of styles and colors (and sizes!) to choose from. From scrapbook designs to vintage, historic literature, and other styles I was easily able to choose some designs.
If you don't have room for designs consider keeping tin storage containers with labels for various things like coffee grinds, powdered coffee creamer, sugar, etc. Functional but pretty.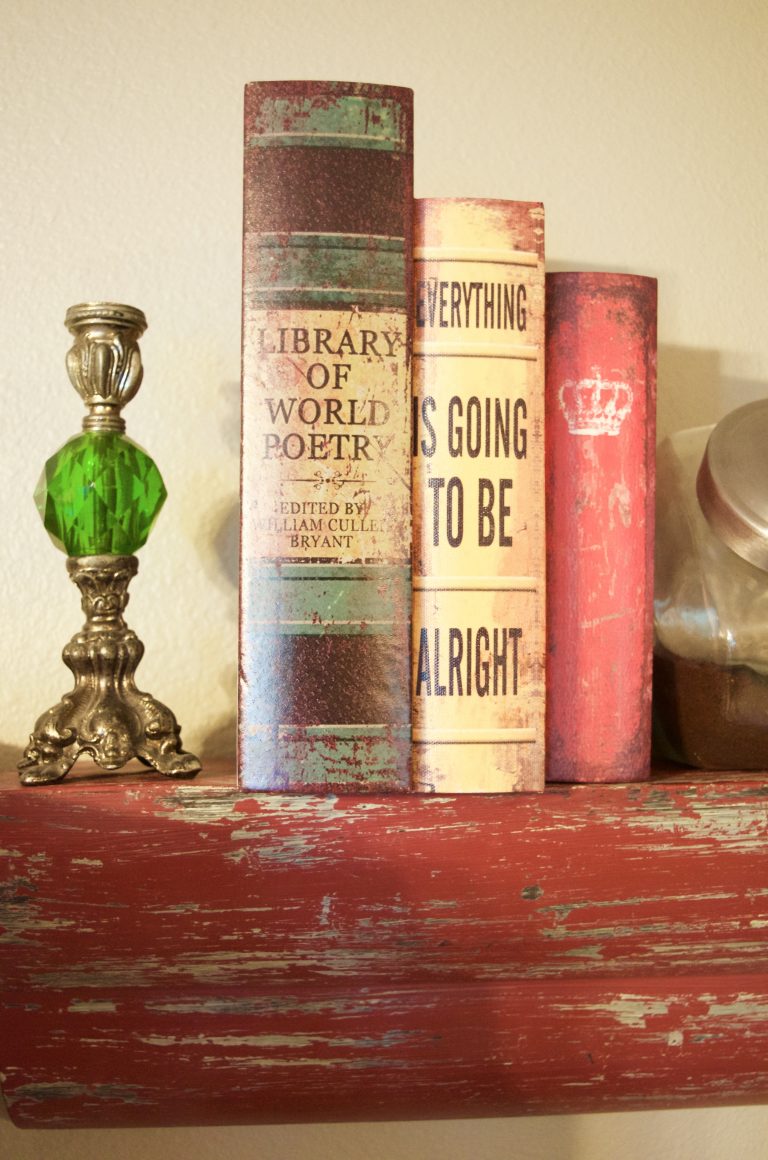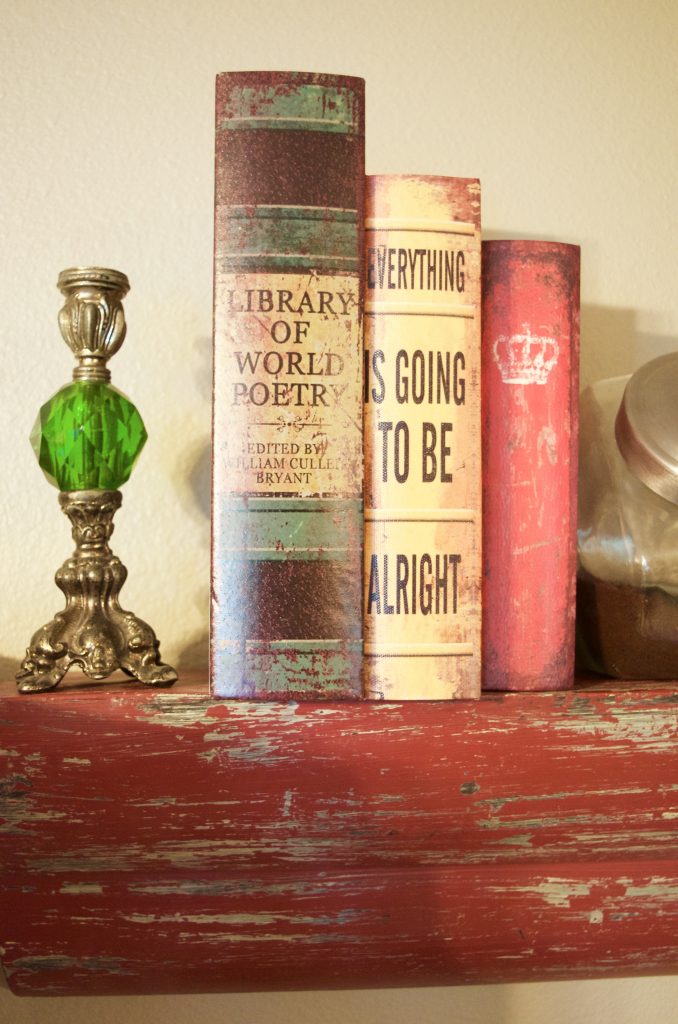 I also picked up the cute rustic looking bookshelf which is actually made of metal so it's lighter weight than the wooden shelves. For my mini coffee bar I decided to take a small space and go vertical. Tall skinny table, slim hanging hooks, and an eye catching bookshelf with my favorite coffee mug and coffee grinds along with some decoration. You could totally keep your gourmet tea in the "books"! This is the perfect mini coffee bar station for a college dorm room or apartment!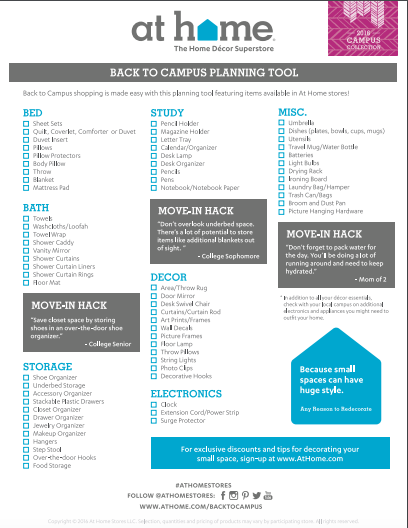 If you have a college student – or are one yourself – print out this awesome College Dorm Checklist that At Home created! It covers a variety of categories and is a great place to start! And seriously – college bound or not don't wait as long as I did to go into the At Home store! I absolutely know where I'll be going in the future! I literally carried my table, then books, then shelf around the store moving from department to department to match colors and styles. It was awesome and I really enjoyed seeing so many styles all in one place so I could compare ideas and designs that I hadn't thought of pairing together!