Lowry Park Zoo – my #1 Choice for Kid's Travel in Tampa Florida
This post may contain affiliate links, view our disclosure policy for details.
I actually grew up in Tampa, Florida going to the Lowry Park Zoo and it was one of my favorite places to visit! Now that I have children of my own I jumped on the opportunity to visit Lowry Park Zoo when they offered my tickets to visit while we were in town.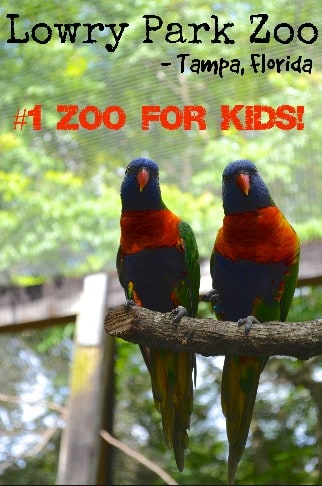 Boy do I wish I could visit the new and improved zoo as a kid!! It is SO awesome!! No wonder Lowry Park Zoo was rated as the #1 Children's Zoo in the USA by Parents and Child Magazines!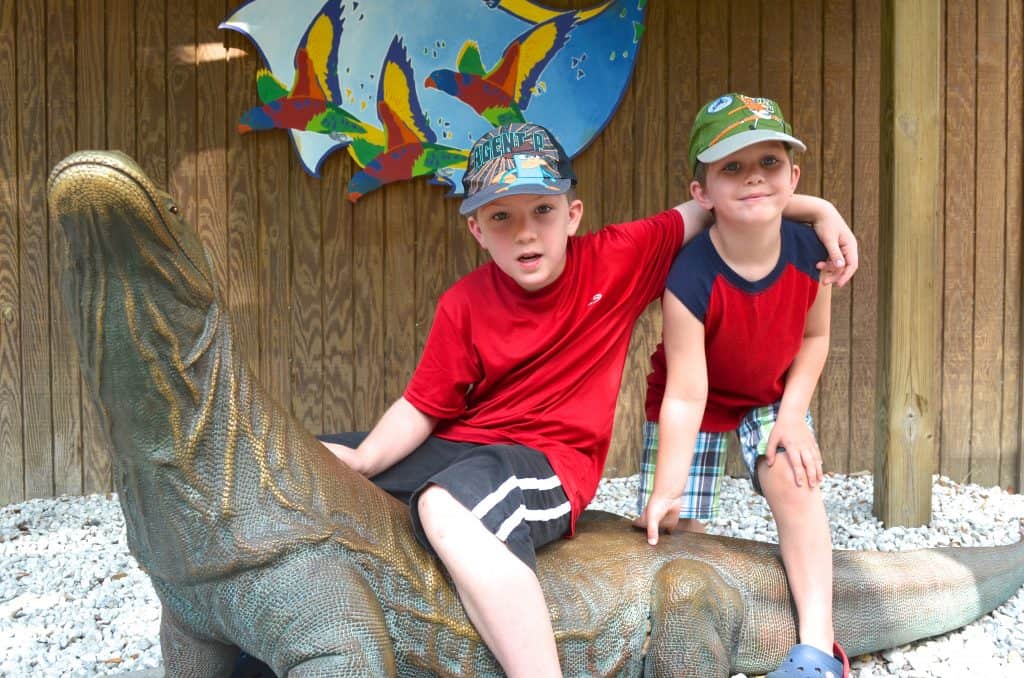 The paths in the zoo wind around featuring the animals in realistic habitat settings and from various viewpoints. The zoo, located in central Florida, has a lot of shade to walk under, plenty of animal encounter opportunities, interactive exhibits for the kids, and a HUGE AWESOME area specifically for kids called the Wallaroo Station (which is personally my favorite part of the zoo!).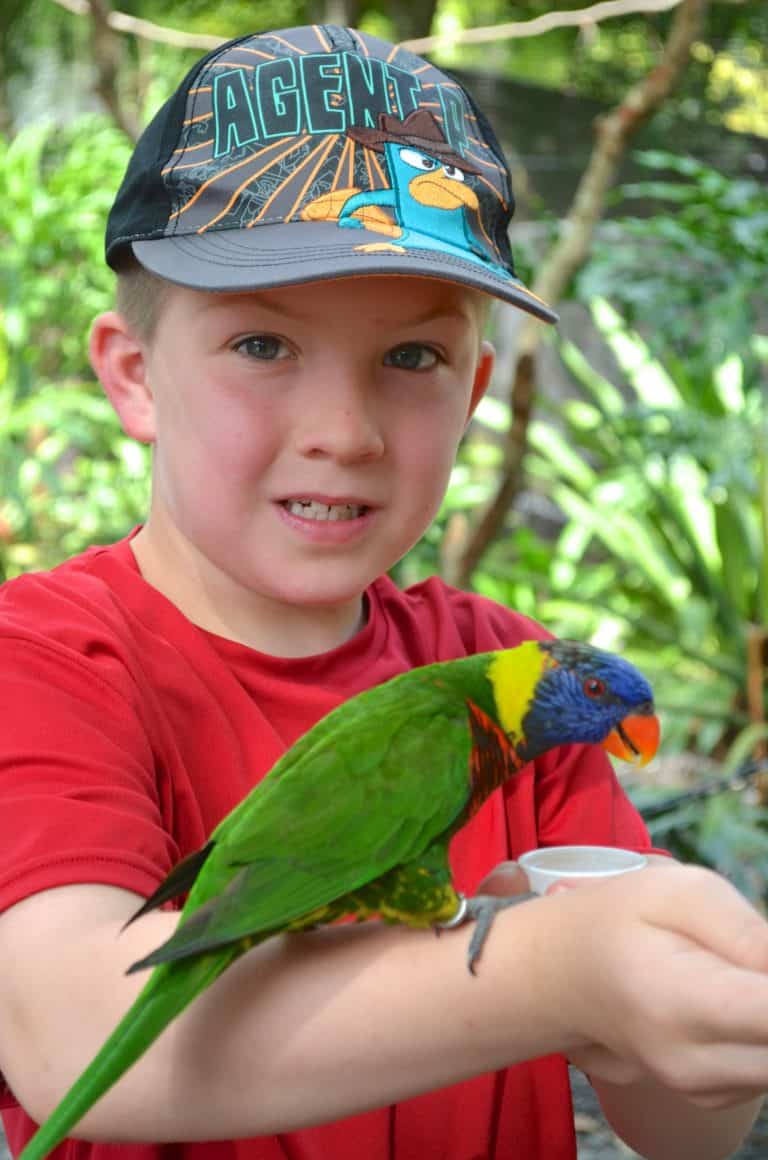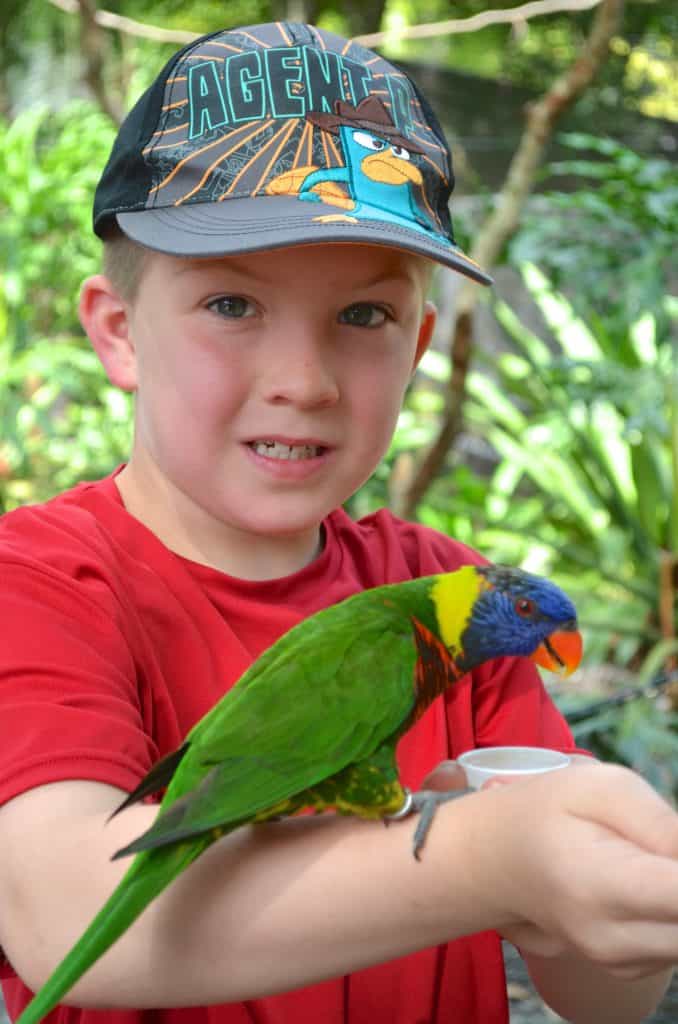 Lowry Park Zoo Animal Encounters:
When I visit the zoo I always want to touch and see the animals up close. I love zoos but I have visited several where you are not allowed to touch the animals or get too close and I always come away wishing it was a better experience. I want my children to be able to experience the various animals up close and appreciate their beauty and uniqueness. Lowry Park Zoo offers several animal encounters. One of my favorites is feeding the Lorikeets.  For $3 you can purchase a cup of nectar and enjoy the birds that come flocking to you to eat their treat. They are so colorful and my kids love watching their little tongues drink the nectar. Anyone of course can walk around in the aviary area regardless of whether you purchase the nectar and there are benches to sit at inside.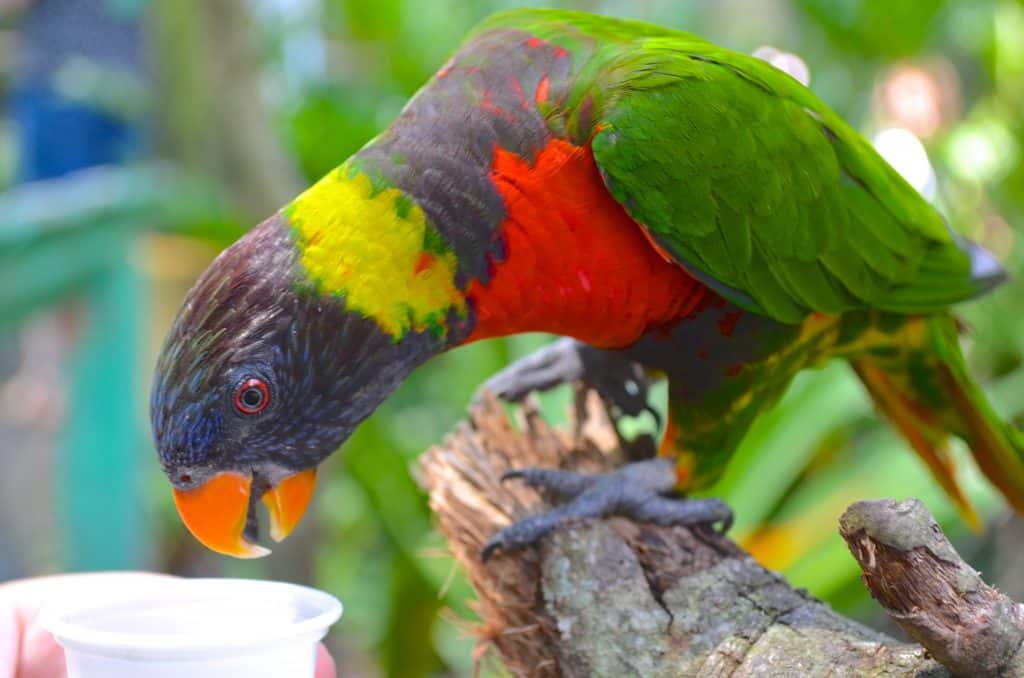 As you can see there are plenty of opportunities here to take some great photos and get real close to the birds.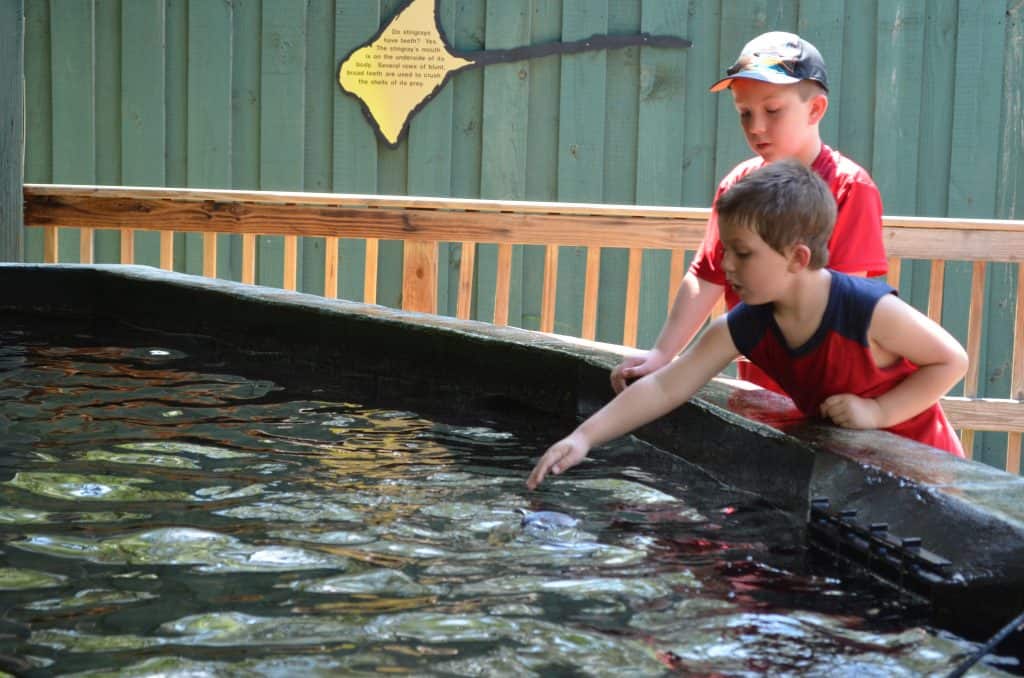 Another animal encounter at Lowry Park Zoo that I used to visit as a kid which my boys loved is the stingray tank! Everyone can "pet" the stingrays in this HUGE pool. The employee was incredibly informative and knowledgable about the different species they had and happily talked to us all about their animals. For $5 you can also feed them.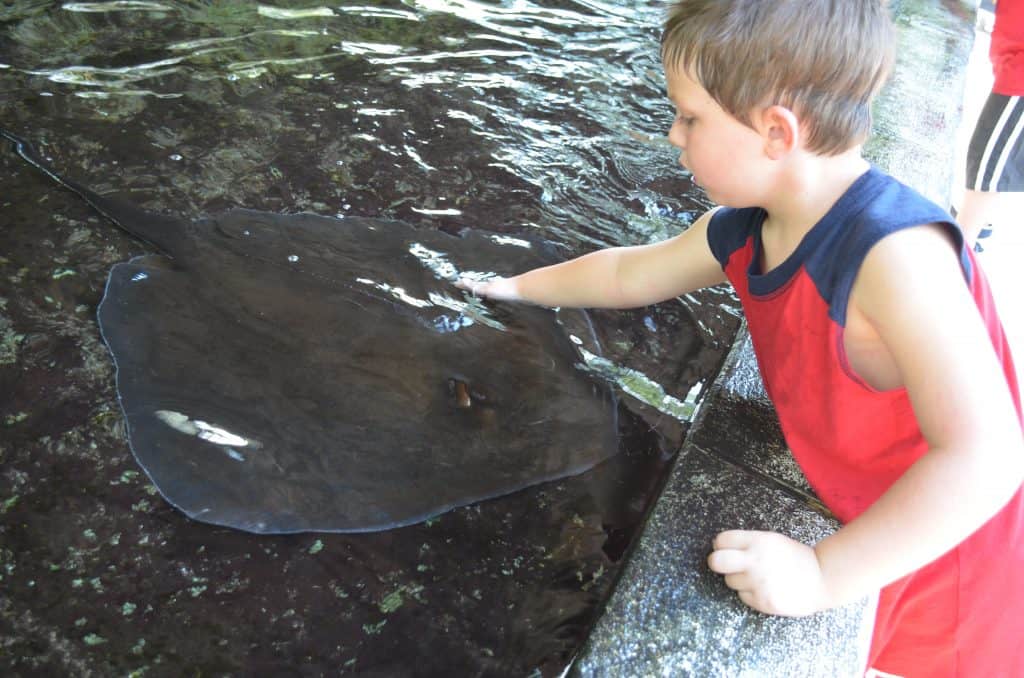 We also learned that this big girl was pregnant!
Also in the zoo is a large petting zoo full of goats along with buckets of brushes that kids can use as well as a giraffe feeding station.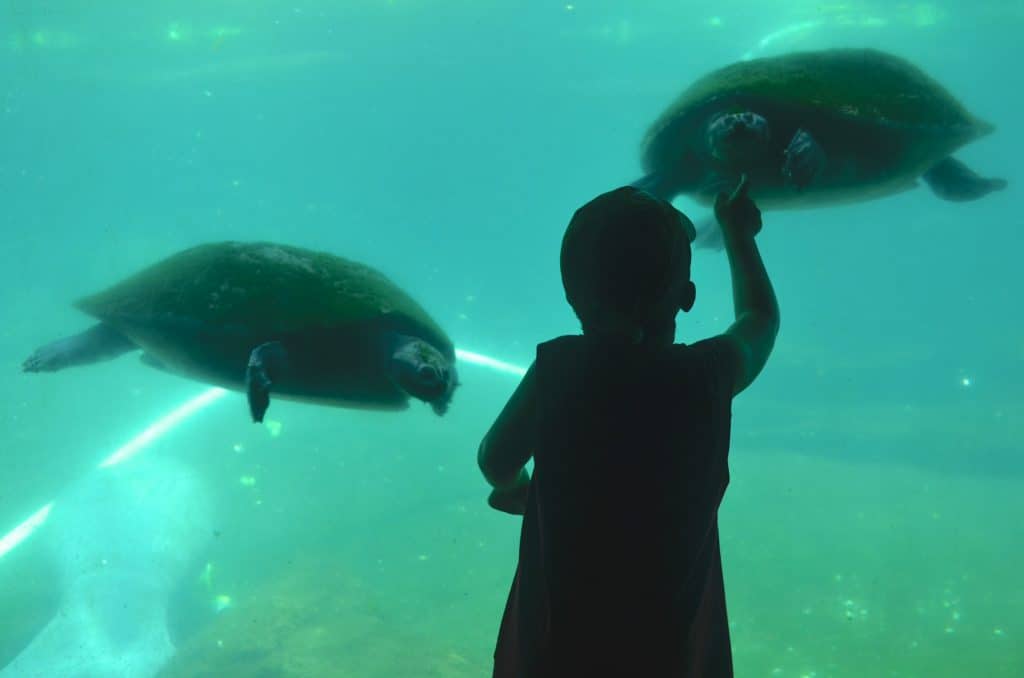 We also visited the onsite Manatee Hospital and were able to teach the kids about how the zoo is also a place for injured animals who are recovering. These turtles were so "friendly" and my son loved that they just kept swimming around him! The also enjoyed watching the manatees chow down on their lettuce heads!
Wallaroo Station:
Wallaroo Station is a 4.5 acre Australian themed family area which integrates many species of animals (such as koalas, dingos, bats, various birds, wallabies, etc.) amidst FREE kiddie rides (bumper boats, roller coasters, etc), a HUGE water splash pad area, a cafe, and even a wonderful "Mommy's Center" for nursing moms which I had the opportunity to use. You can eat lunch while watching the koalas or run over and pretend to be a giant bat or sing with the dingos. (sounds a little dreamy huh?!)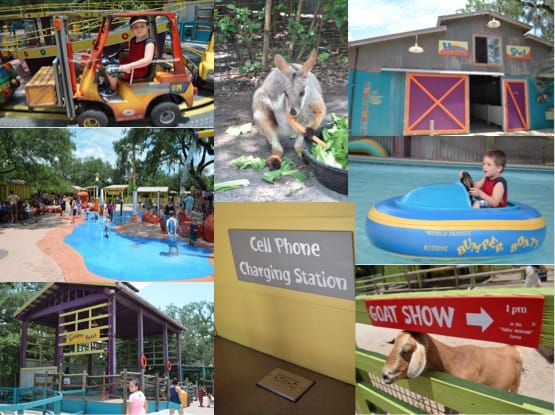 I have SO many pictures of Wallaroo Station I couldn't possibly fit them all in one blog post. Since we are in the middle of our road trip from Iowa to Florida we needed a "down day" for our kids. It was insanely hot 90*+ the day we went to the zoo so we spent a LOT of time in Wallaroo Station! The kids enjoyed the splash pad, the playground, the FREE roller coaster and kiddie rides and the petting zoo. It was so hot even I enjoyed the water park area! While we ate our lunch there I noticed that they even had several cell phone charging stations!! How innovative for a zoo to offer that!
I also needed to nurse my baby when she got hungry and I was thrilled to find a "mommy center". Although outside it was discreetly hidden away, completely covered and shaded, and full of soft chairs and fans to keep us cool. It was an awesome oasis for my to take my daughter to let her cool off some and feed her while the kids played in the splash zone.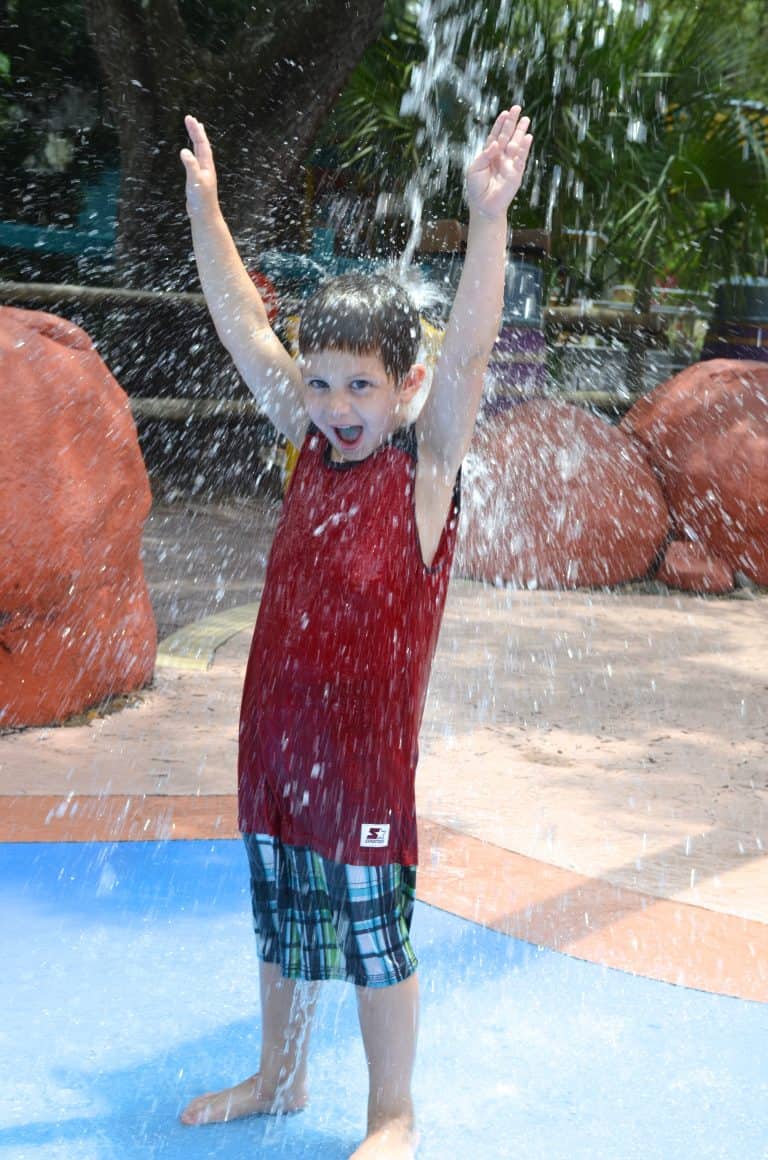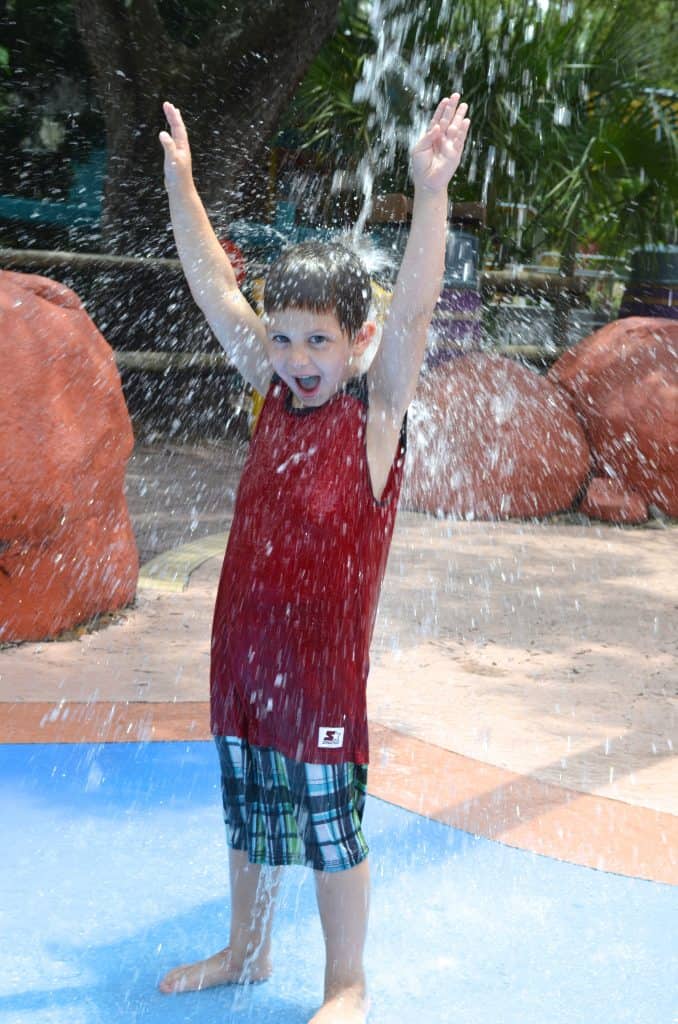 As we exited the park there were several zoo employees in the front holding a blue tailed skink for my kids to pet and learn about. I love how the entire zoo seemed to focus on being kid friendly and they really strived to allow the kids closer encounters and learning experiences with the animals. The boardwalks to see the animals fit in well with the natural habitats and allowed my kids to view the animals from above. It was easy to get around with my stroller AND parking is FREE!
If you find yourself in the central Florida area Lowry Park Zoo is definitely worth a visit. And if you live in the area buy an annual pass – the investment in what your kids will learn is worth it! They have summer camps, special events like their current Zoominations and later this year Zoo Boo, and everything from monkeys to snow leopards to seahorses and snakes!
Want to find more FANTASTIC places to travel in the USA?! Check out Exploration America for more family friendly and unique travel ideas!