Lessons & Worksheets on Tobacco Prevention
This post may contain affiliate links, view our disclosure policy for details.
This is a sponsored conversation written by me on behalf of CVS Health. The opinions and text are all mine.
**UPDATE** – It appears that Scholastic has updated their lessons & worksheets on tobacco prevention removing them all from their database!I have reached out to Scholastic and will hopefully receive a response soon! In the meantime I recommend checking out our Lung Experiment Tobacco post.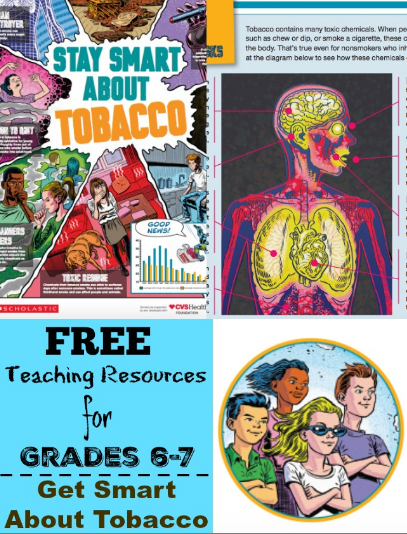 I LOVE free teaching resources and I love it even more when they can give you good visuals and explanations to teach students in an area you might not be very knowledgeable about. CVS Health has partnered with Scholastic to provide free Get Smart About Tobacco materials geared for grades 6–7. Not only do these materials help teach vital health and science facts about the dangers of tobacco, but they engage students with hands-on experiments for a more visual interactive approach which we'll talk about in our next post—so stay tuned! I adore hands-on experiments, so you don't want to miss that!

I LOVE the cool comic-book type graphics in this campaign—my kids would definitely find them eye catching! Many kids will tell you right off the bat that smoking is bad for you but they might not understand the implications of secondhand smoke, which is just as important to learn about. And even I don't know very much about e-cigarettes! My children are still in elementary school, but they've already asked me several times about smoking just by being around family and friends who smoke. They've asked why so many people smoke if it's bad for them, which opened up a great conversation about addiction and what smoking actually does to your body as well as to those around you. The health, science, and ELA materials available in the Get Smart About Tobacco campaign are perfect to have in your arsenal for the new school year and even for summer activities. (You can see the standards supported by this program below.)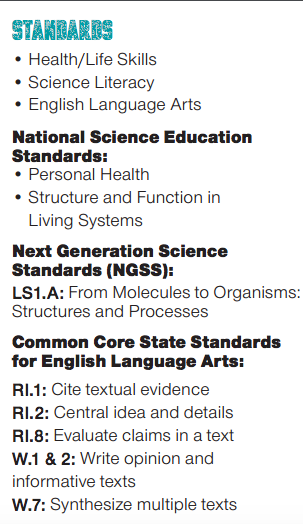 3 Lessons & Worksheets on Teaching About Tobacco
What Do You Know About the Dangers of Tobacco?—Not only does this lesson help to assess students' knowledge about tobacco through a pre- and post-assessment quiz, but it also includes further information for other grade levels and families, an experiment, additional resources.
Know the Facts—This complete lesson plan teaches students about how tobacco, its smoke, and nicotine affect different parts of your body. It supports higher standards in health/life skills, science literacy, and English language arts. You'll find printable worksheets, vocabulary words, writing prompts, and more.
Making Smart Decisions—This is a great interactive lesson on setting aside the time to allow students to form critical thinking responses on healthy ways they can respond when faced with various situations involving tobacco.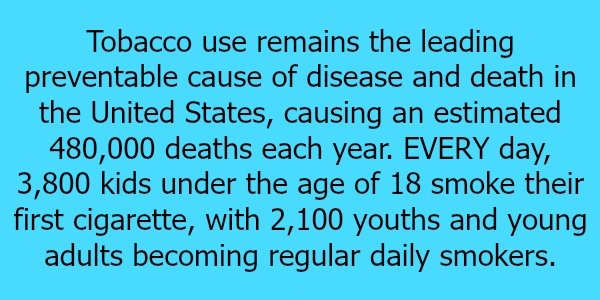 That is a staggering rate! To put that in an even greater perspective an estimated 5.6 MILLION children alive today will die early from smoking if more is not done to reduce youth smoking rates! You might not think your kids will have to deal with tobacco use or the addiction of nicotine but I can guarantee they'll see it somewhere. Maybe it's a family member or friend that smokes, a kid in school sneaking it on the side, or the opportunity to try it as they get older. Give them the resources they need to understand the full effects. Start on the Get Smart About Tobacco website for free resources, lessons, worksheets, printables, and plenty of more information for grades 3–5 and 6–7. Everything supports higher standards in health/life skills, science literacy, and English language arts.
Stay educated so you can educate your students!