K'NEX Plants vs Zombies Mech Building Sets for Kids Review
This post may contain affiliate links, view our disclosure policy for details.
Disclosure: I am part of the K'NEX Ambassador program. All products reviewed have been provided. All opinions are my own.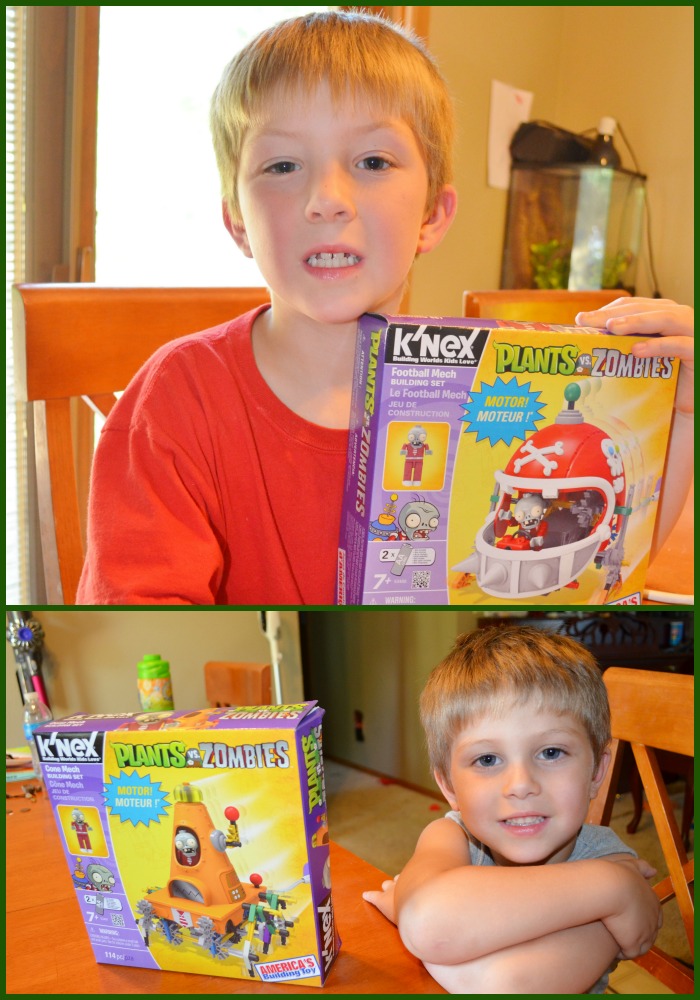 Nothing makes my house quieter with my kids home than finding a box of K'NEX Building Sets waiting for us to review on our front porch!! My 5 year old of course needs help building the sets but I'm amazed at how quickly and efficiently my 7 year old puts together all of these sets by himself!! It just astounds me that he'll spend an hour down with an instruction book and create these!! (and ooooh the quietness in the house is amazing!) Seriously though – it's pretty awesome and the day we received the K'NEX Plants vs Zombies Football Mech Building Set and the K'NEX Plants vs Zombies Cone Mech Building Set was a fun "first week back to school" surprise! Any of the K'NEX Plants vs Zombies sets or the Mario sets are absolutely #1 on his list and it doesn't take him long to tear the boxes open and get lost for a few hours!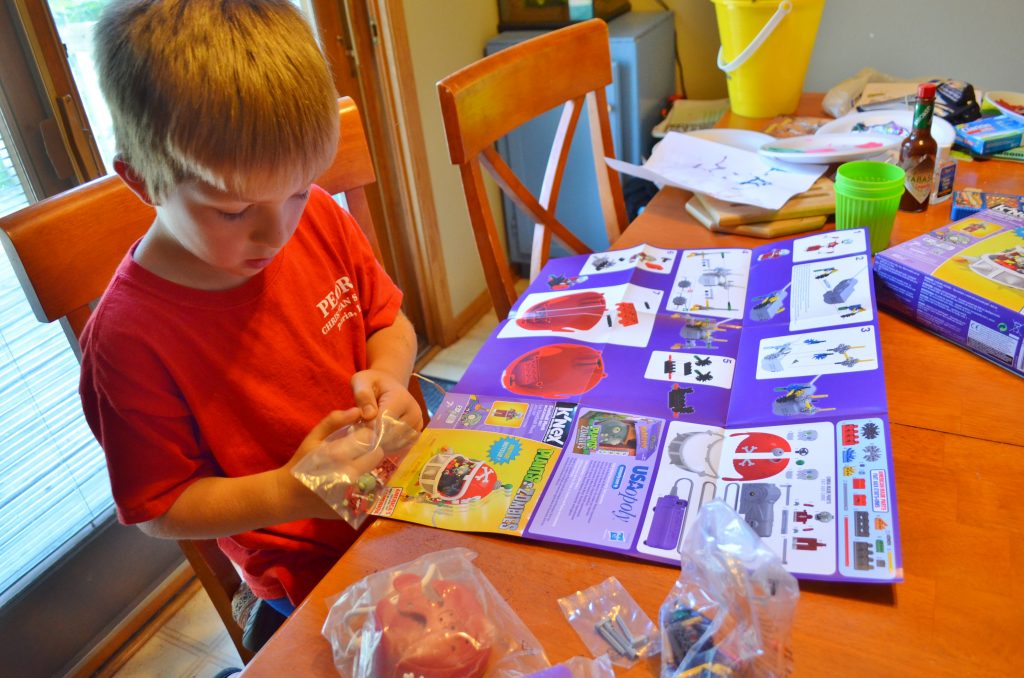 Since we had two sets my 7 year old chose the Football Mech set to build on his own and my youngest son and I sat down to build the Cone Mech together. (each set is geared for ages 7+ and retails for $16.99 which is a great gift price range!) The FUN thing about these sets is that they are remote controlled!! (thus the mech = mechanical) It was our first K'NEX remote controlled experience so I was crossing my fingers that I wouldn't run into any problems because the kids were ultra excited about these!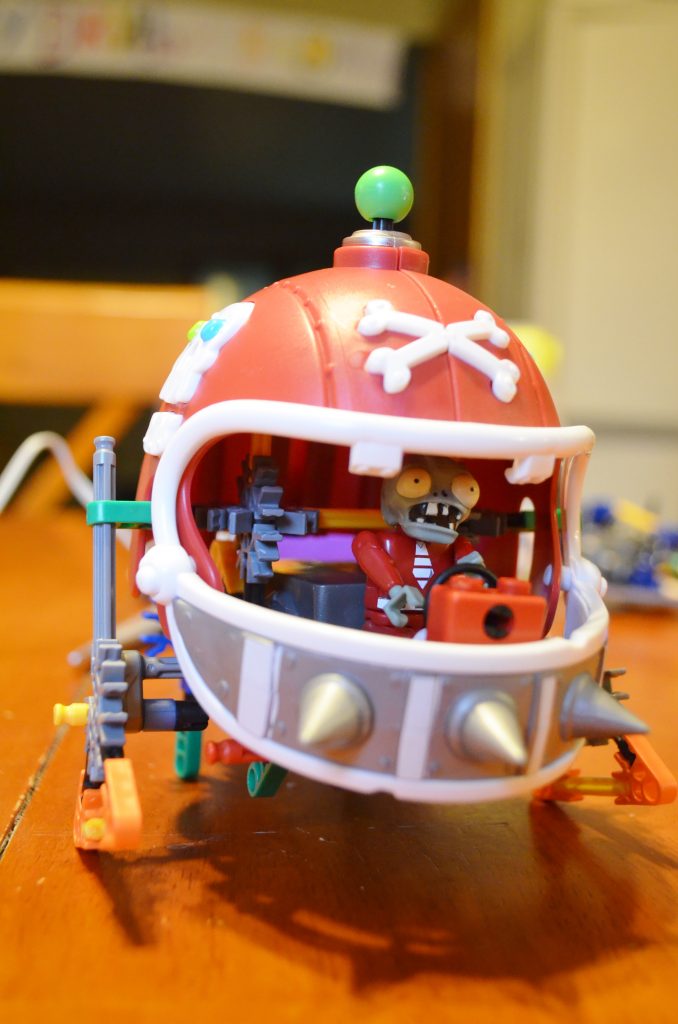 Here is the Football Mech set my 7 year old built completely by himself. He was able to follow the directions without issues and get all of the mechanical parts to work properly! It was very simple and began it's building instruction at the base of the mechanical part, moved on to the moving pieces, and then the football helmet and zombie were added on last. It is a fantastic beginner set for kids around 7+ that haven't used K'NEX before and plenty of play time after it's built thanks to the snazzy remote control set up!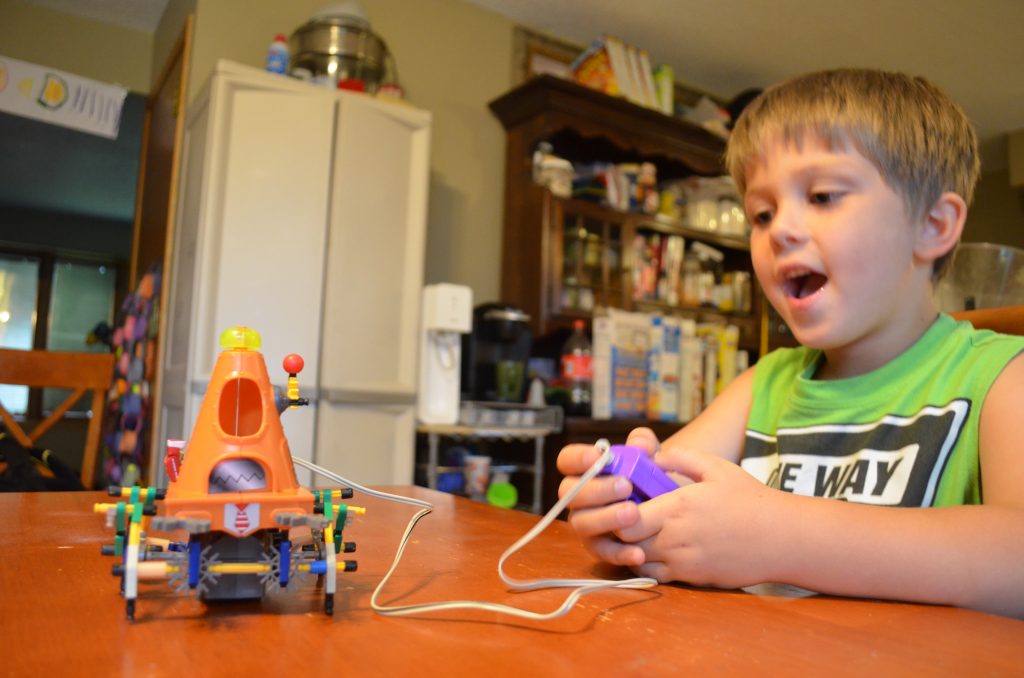 My youngest son and I began working on the K'NEX Cone Mech set and goodness if I didn't get distracted and build it wrong the first time! Pretty sad when your 7 year old builds his set way quicker than you do!! Hah! This set was just as easy to build if you're not almost 8 months pregnant and easily distractable!! 🙂 Seriously though – it's a great set and again, perfect for your kiddos 7+ to build on their own and then play with afterwards. My 5 year old sat with my through the entire ordeal and had plenty of fun helping me build this set (and of course playing with it later). The remote control themselves are super easy to operate and make the mech sets "walk" around the table and turn. You'll need 2AA batteries (not included) to make the sets run so make sure to have those on hand before getting started!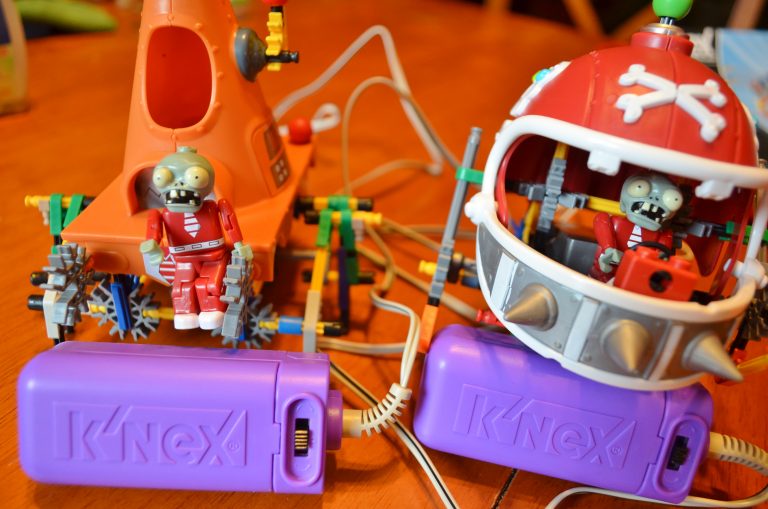 Here are both of the Plants vs Zombies Mech sets together so you can see them with their remote controls! You just slide the switch back and forth to rotate different directions and keep it in the middle to turn it off. Plants vs Zombies K'NEX sets are already on my kid's Christmas lists so I have a feeling we'll be boasting quite a collection of them by the end of the year! They are super obsessed with the game app so these kits are a FUN and very affordable way to enjoy the action in "real life".
You can find K'NEX Plants vs Zombies sets at K'NEX, Amazon, and Toys R Us!