K'NEX Mini Golf Building Set Review
This post may contain affiliate links, view our disclosure policy for details.
Disclosure: I received the below product to facilitate this review. All opinions are my own.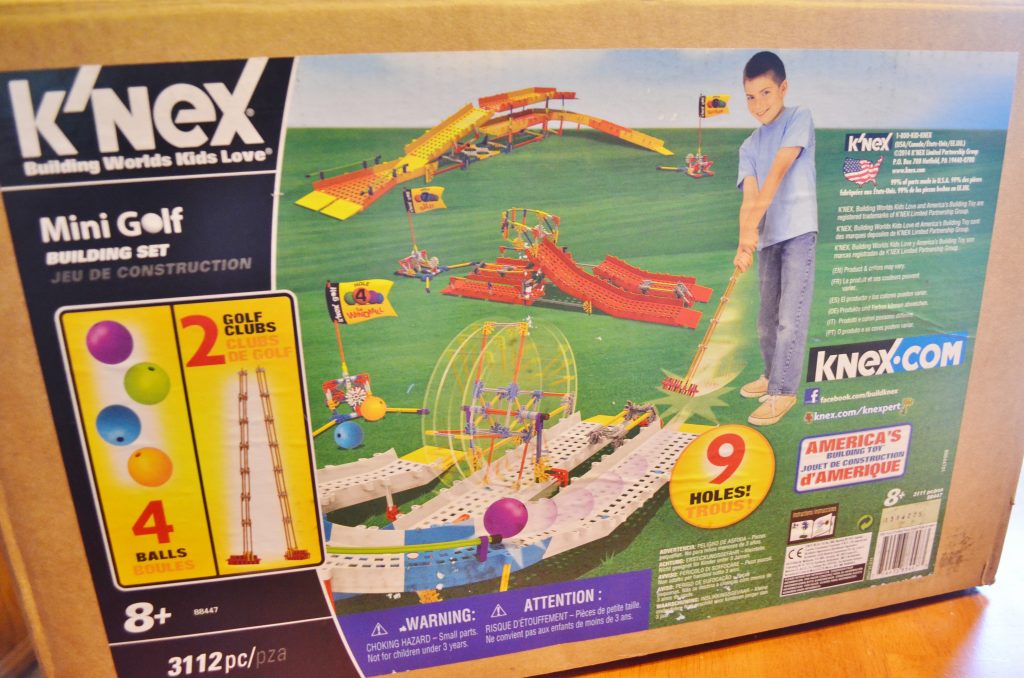 If you are an extreme K'NEX fan you will just drop your jaw at this AWESOME new set they have – a whopping 3112 piece Mini Golf Building set which includes the pieces to build all 9 holes PLUS 2 golf clubs and 4 balls! (you even have to put the clubs and balls together!) As a K'NEX Ambassador I could hardly wait to get my hands on this set! Not only did I know my mini-golf loving kids would go CRAZY over this set but I knew this would really come in handy to use at our school for class competitions and extracurricular activities! I knew there were a lot of pieces but I was not quite prepared for how large the box was.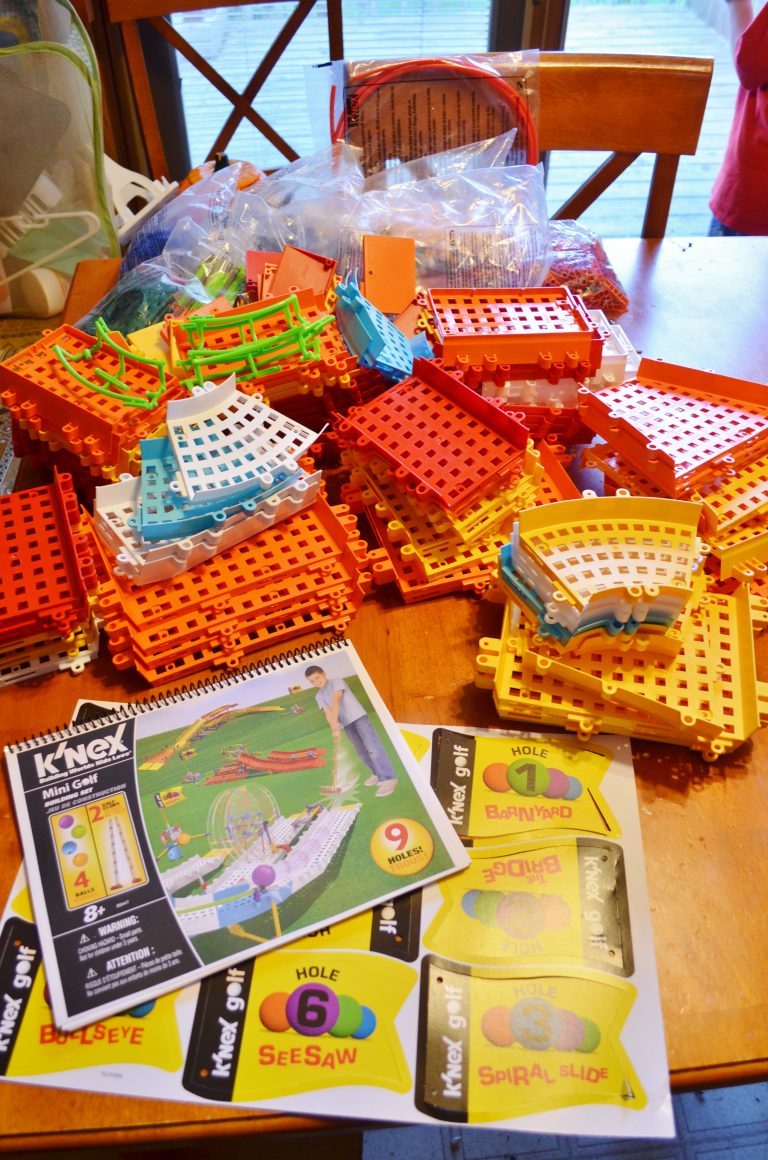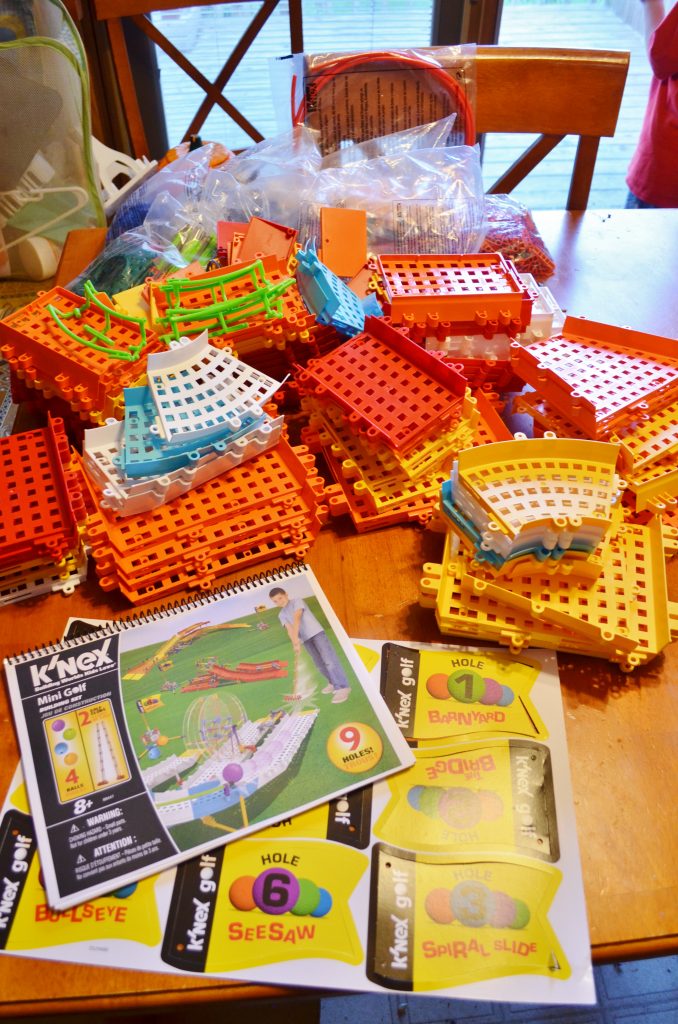 I was 9 months pregnant at the time that we received our box so the task of putting everything together seemed a little daunting to me! Thankfully my husband was just as excited as I was to put everything together so he was a HUGE help. All of the pieces came in one huge box with very nice "punch out cards" for the flags at each hole as well as a wonderful spiral bound instructional book. Right away I noticed the nice bright colors……and that it all barely fit on my dining room table!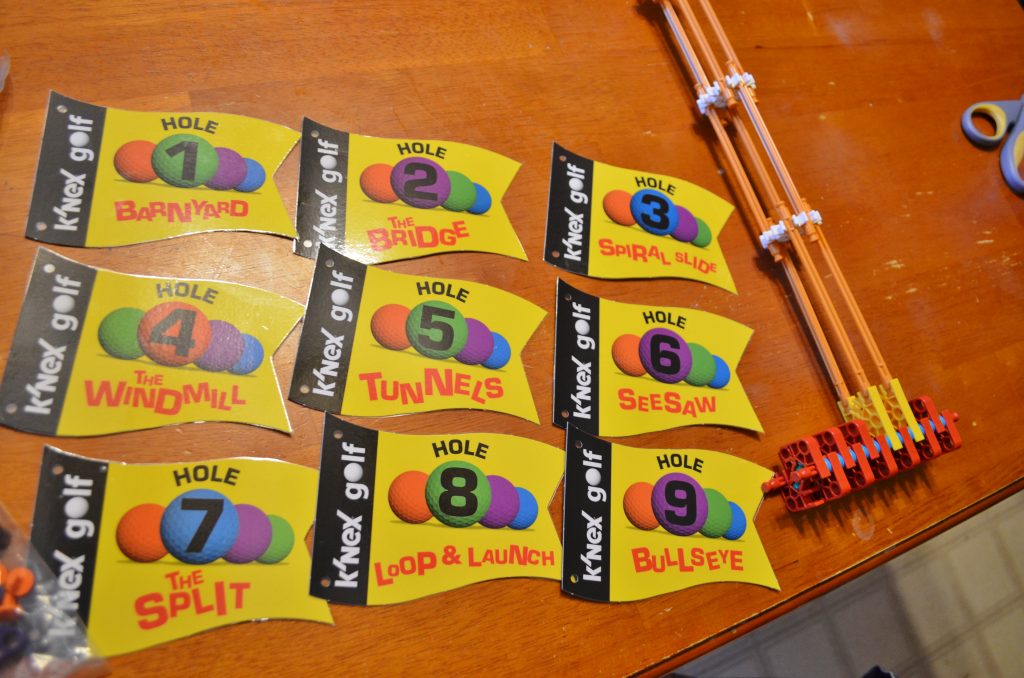 Although the punch out cards are absolutely fantastic and really great quality I decided to laminate them to ensure they would last even longer which was a great choice because they look fantastic!! Both my 5 year old and 7 year old helped hubby and I build the set…..although probably due to my pregnancy it took us the better part of a week to put it together in the afternoons!! We spent each evening building a few holes at a time until we had completed the whole set.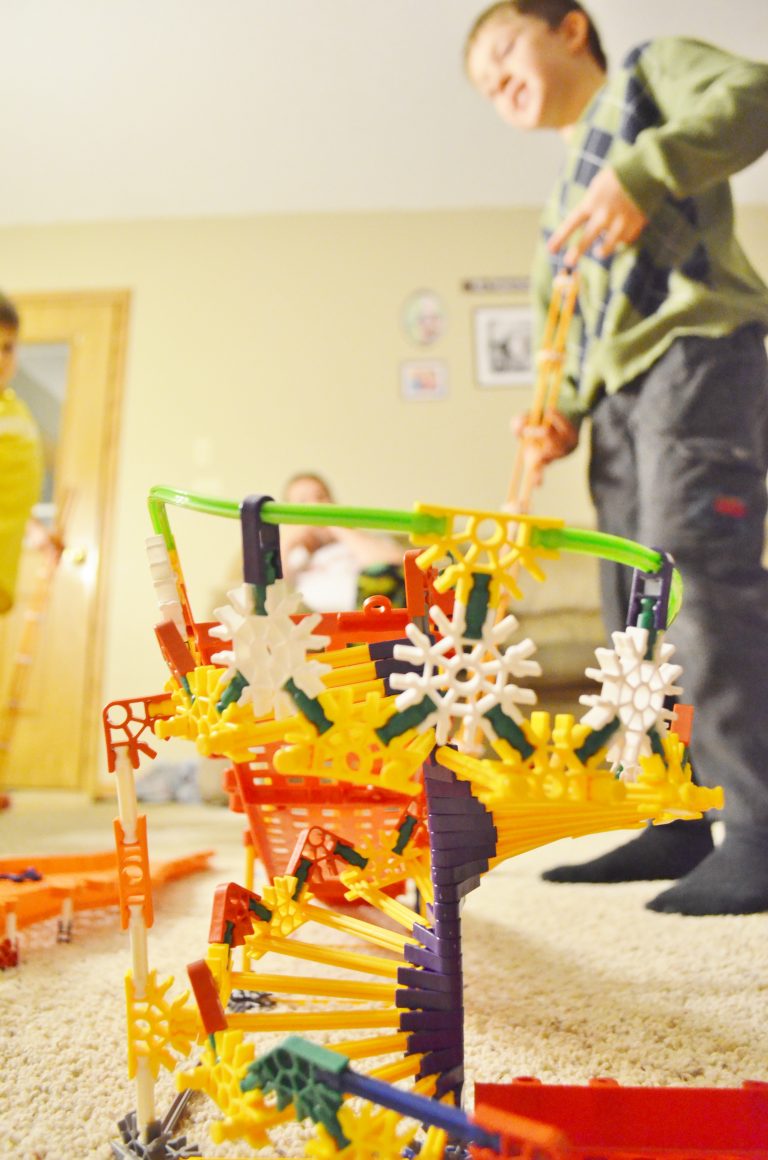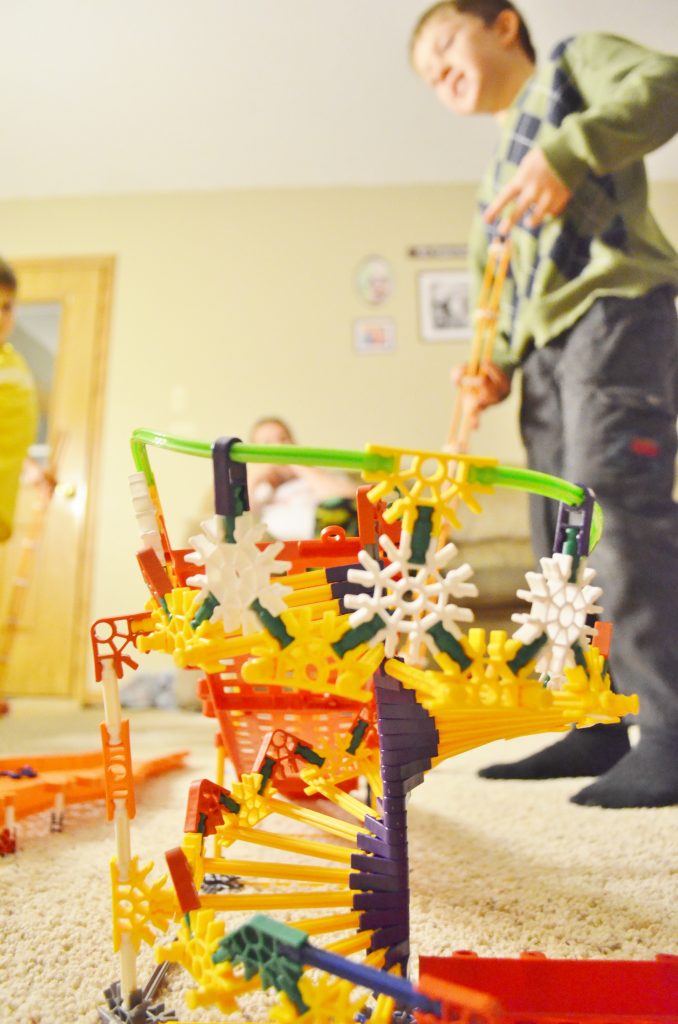 I'm not quite sure what I was expecting but the set was WAY cooler than I had thought it would be based on the box. The picture definitely does not do it justice!! Each hole was extremely unique – the one above you see actually has a spiral "staircase" that the ball rolls down after you've putted it!

 We also noticed as we began building the holes that each hole setup was HUGE. This is not a small slapped together mini golf set – it's a pretty detailed set with fascinating things on each hole just like a real mini golf course. A swinging door, a trap door, objects in the way, a trick curve – it has it all!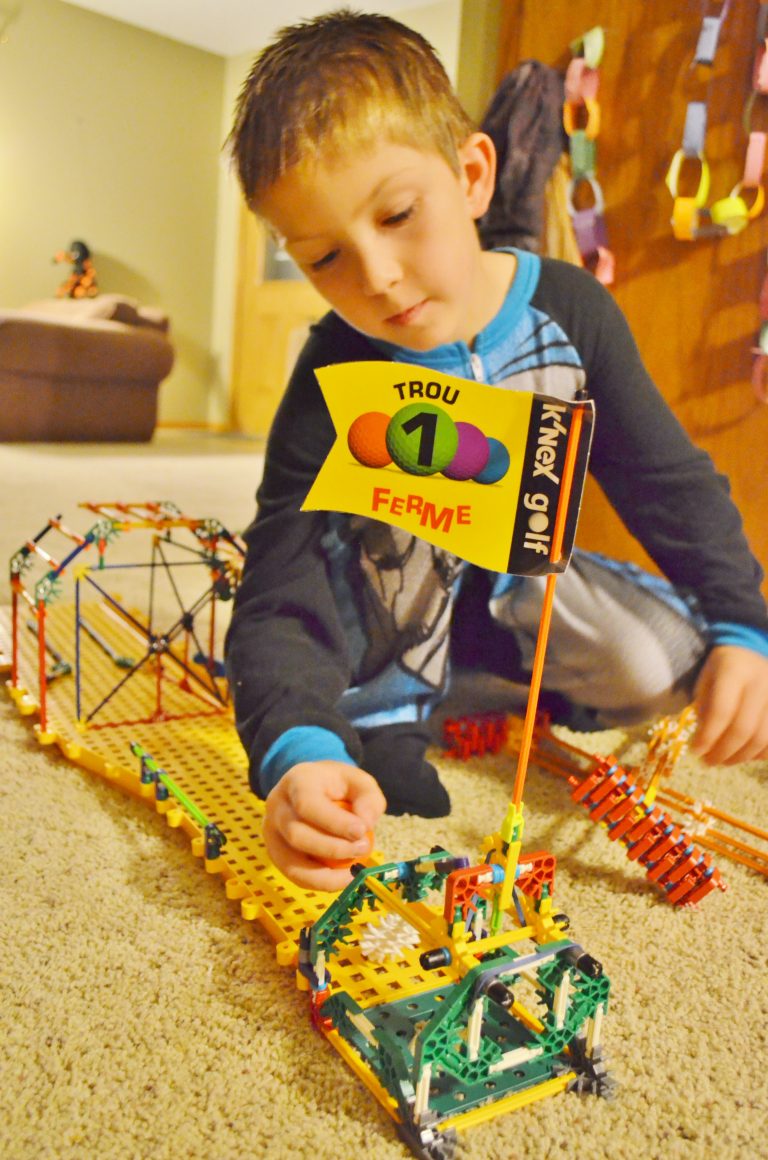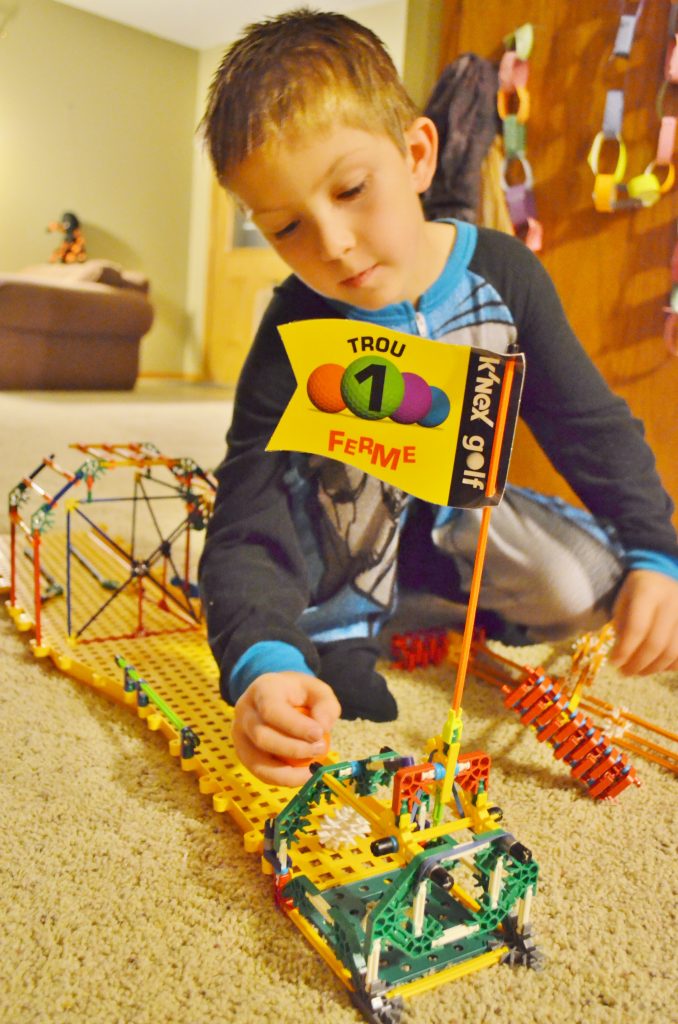 On the flags one side is in English and one side is in French. Also at each hole the flag is built so that it is laying down and you actually have to putt your golf ball right up to the contraption which will raise the flag as you complete each hole. Upside – there is no cheating – you HAVE to have the flag up to complete the hole! Downside, someone does have to reset the flag each time the hole is played (although it only takes second to do).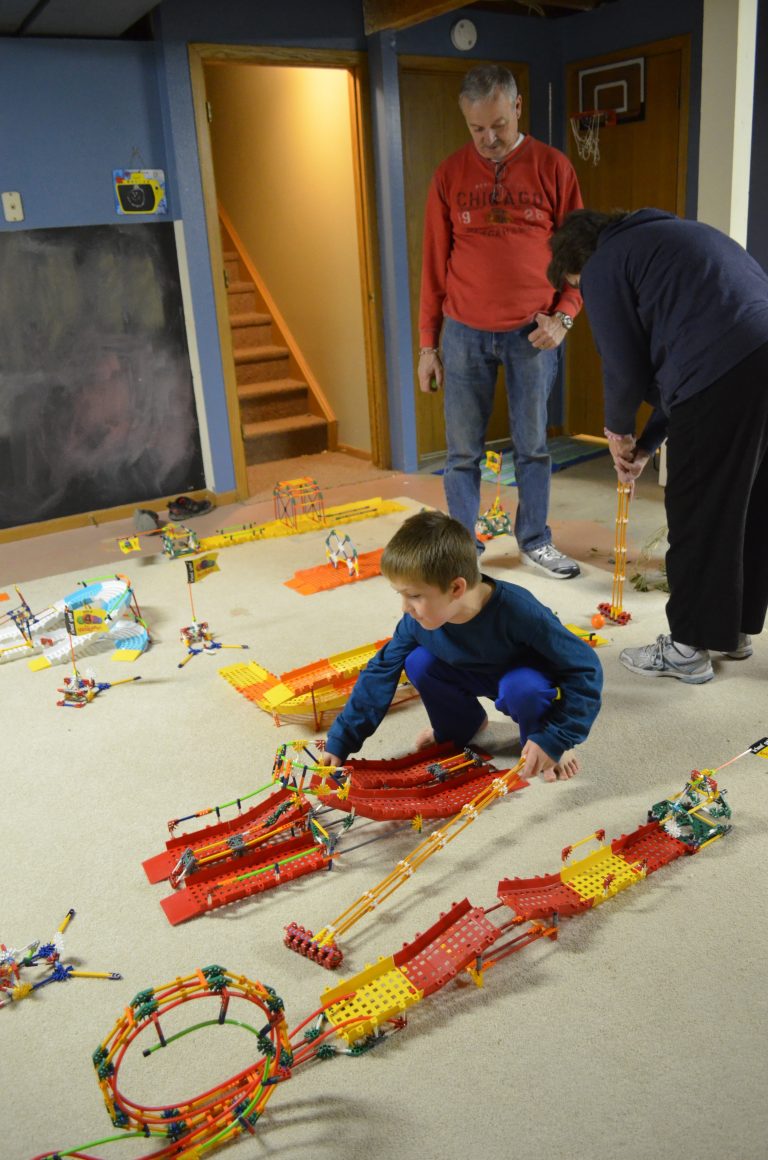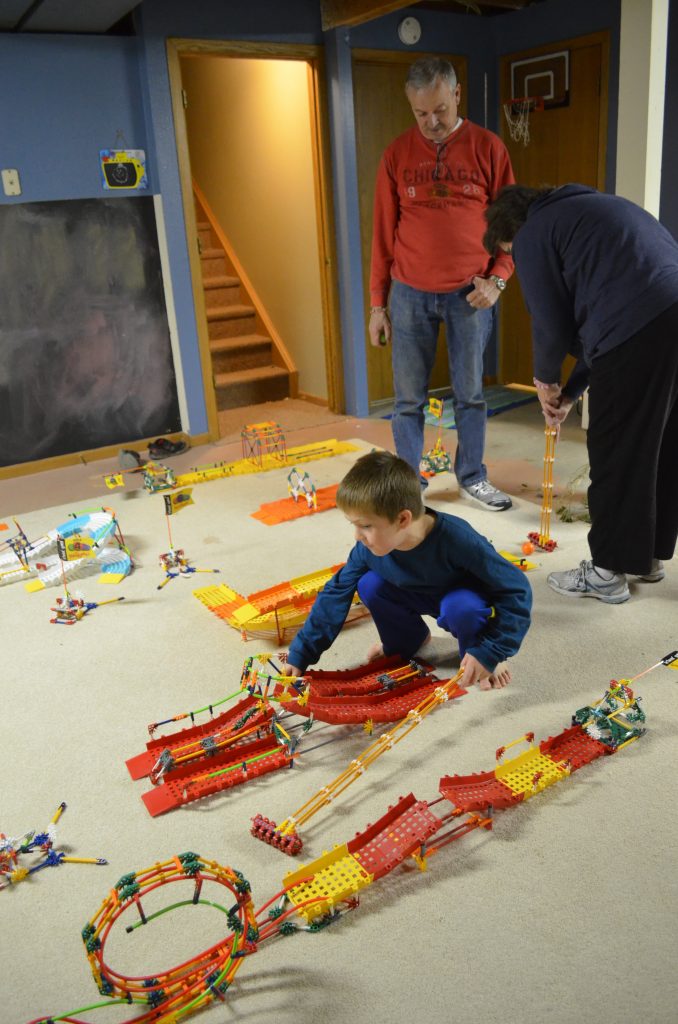 As you can imagine 9 mini golf holes this size takes up an enormous amount of room to store. After spending the time to put it all together we definitely didn't want to tear it all down! Thankfully we had a huge open floor in our basement that just perfectly houses all 9 mini golf holes laid out for the time being. The day before I delivered our baby my in-laws came in town to help with the baby so our family had a big mini-golf competition before we headed to bed! It was SO much fun and a fantastic family affair! I wanted to get some more up close pictures but being 39 1/2 weeks pregnant you can imagine it was a little tiring for me to get up and down so much!!!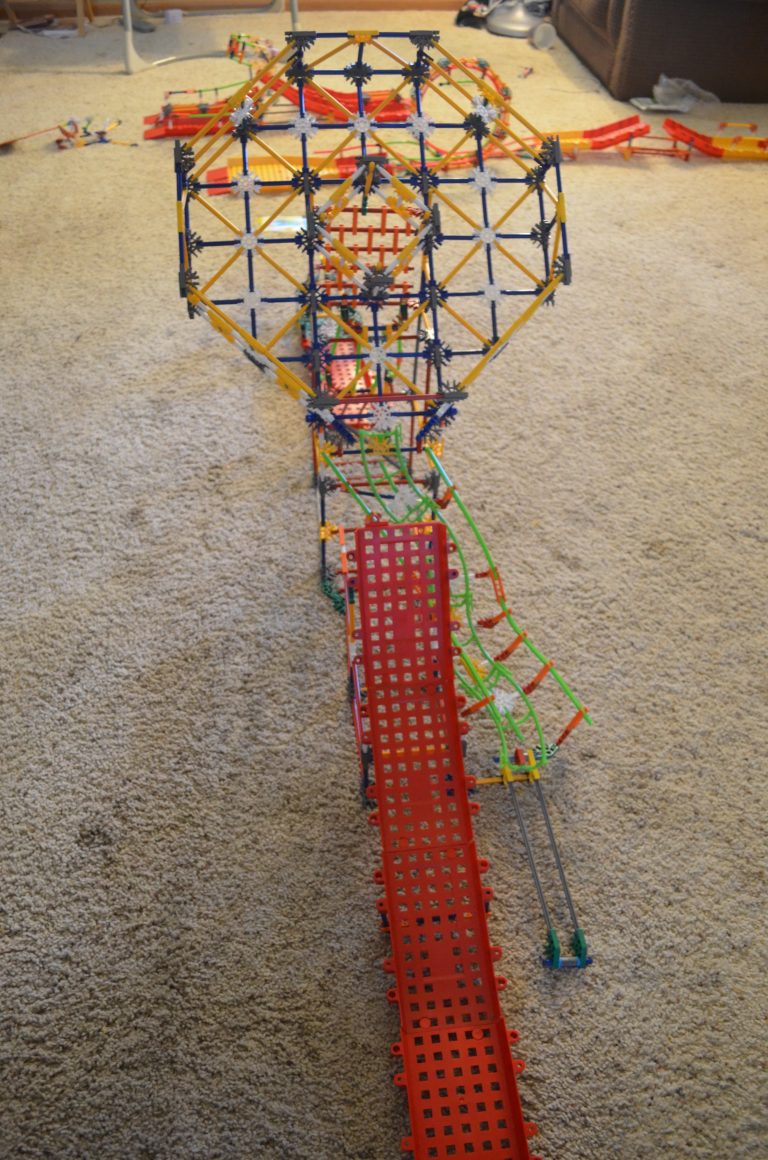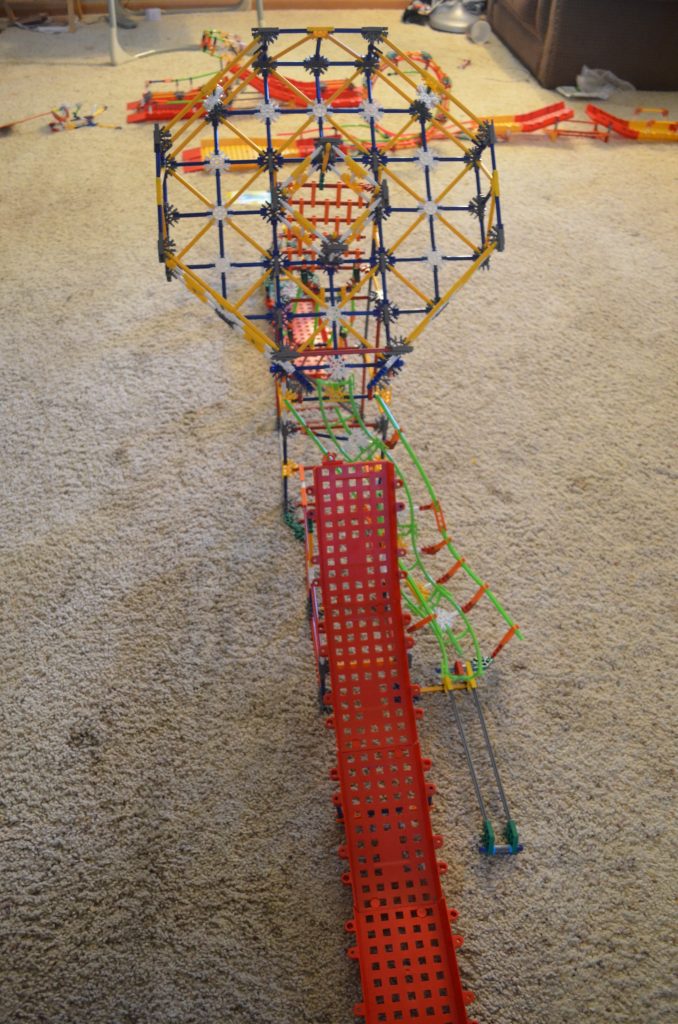 Check out hole number 9! HOLY smokes is it hard!! You have to putt the golf ball up into the middle "trap" otherwise the ball will fall down through a chute and roll back to you!! Let's just say that we all maxed out our tries on this one!! We noticed as we went from hole 1 to hole 9 that the course started out pretty simple to accomplish and by the end it was pretty stinking tough for both kids and adults!! My 5 year old had just as much fun playing this course as his grandparents did as mini-golf is a favorite for our family. This is especially nice as live out in the middle of no where and there is no mini-golf place for us to actually go to – now we can mini golf at home whenever we want! Plus if you think about it for a family of 4 you're spending close to $40 for ONE round of mini-golf ONE time. This set is just under $200, which is a lot, but not only are there a TON of pieces that you can build together but you'll get an unlimited amount of rounds of mini-golf!!
I definitely envision this as being an AWESOME set for an after school club or a hands-on classroom project for building as a team (and of course for unlimited family competitions!). If I wasn't so pregnant when we put the set together I had wanted to bring each of the 9 holes over to our school gym so the students could have their own competitions during recess or PE. The entire set is really an amazing work of art – I can't imagine who thought up the mechanics of each hole as it's a really incredible set. Each hole is very different and unique from all of the other holes and I can't believe that each one works just like a real mini golf course!! The biggest drawback is where to store such a large set as you can imagine. Overall we were extremely impressed with this set. It's definitely worth considering if you're a mini-golf loving family or part of a club/school/church that can build/use this as a group!
For more details or to purchase K'NEX Mini Golf visit KNEX.com or Amazon!