Kids & Youth Movies Based on Books – FUN Summer Reading
This post may contain affiliate links, view our disclosure policy for details.
This is an extensive list of kids movies based on books. I've tried to keep all of the links updated as much as possible but there's quite a reading list. I hope this is helpful to you in creating your summer reading list!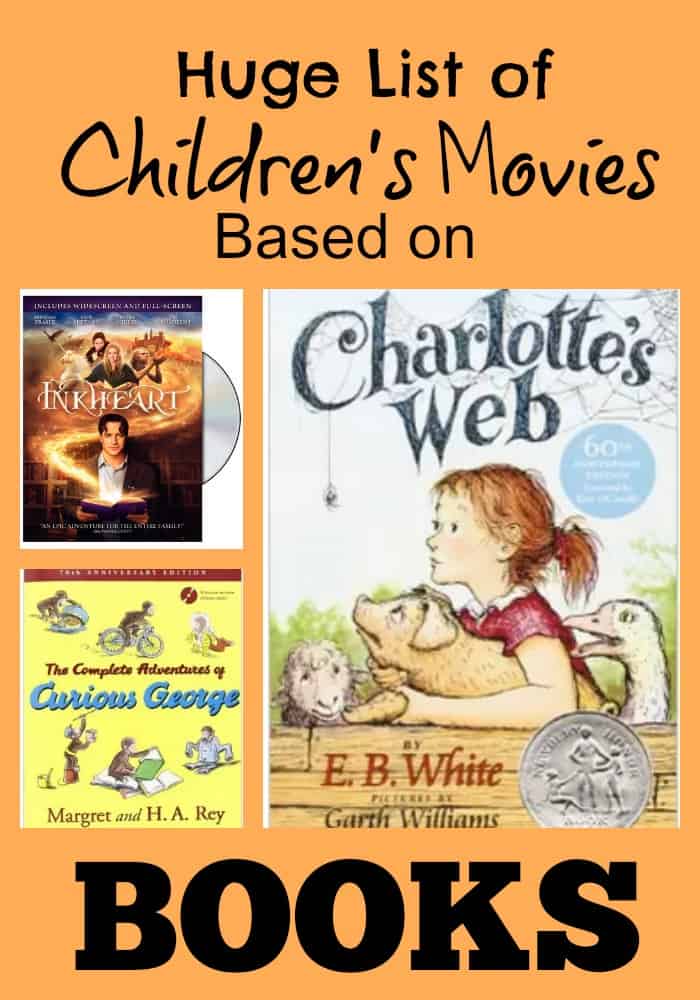 Comparing books to movies is a fantastic (and fun!) way for kids to enjoy reading. Over the summer why not pick out a few of these books for your kids to read, then watch the movie together and see how they are different? If you click on each link it will take you to the corresponding book/instant movie/DVD listed on Amazon for instant streaming! A few of them even have audio books and classroom guides too! Don't forget that many of these titles are available at your local library too! You may also want to read through our creative summer reading ideas.
Alphabetical Movies Based on Books List:
Aladdin (ages 5-8) (instant video, DVD)
Alice in Wonderland (book, original Disney movie, new movie for older kids/adults) (ages 6-9)
Aquamarine (ages 12+) (book, instant video, DVD)
A Little Princess (ages 9-12) (book, instant video, DVD)
Because of Winn-Dixie (ages 8-12) (book, instant video, DVD)
Beezus and Ramona (ages 6-9) (book, DVD)
Black Beauty (age 8) (book, instant video, DVD)
Bridge to Terabithia (ages 9-12) (book, instant video, DVD)
The Cat in the Hat (ages 4-6) (book, original cartoon DVD, new movie DVD)
Charlie and the Chocolate Factory (ages 7-12) (book, original instant video, new instant video, original DVD, new DVD)
Charlotte's Web (ages 8-12) (book, cartoon instant video, cartoon DVD, classroom guide)
Cheaper by the Dozen (ages 10-14) (book, DVD)
The Chronicles of Narnia: The Lion, the Witch, and the Wardrobe (ages 9-12) (book, instant video, DVD)
The Chronicles of Narnia: Prince Caspian (ages 9-12) (book, instant video, DVD)
The Chronicles of Narnia: The Voyage of the Dawn Treader (ages 9-12) (book, DVD)
Cloudy with a Chance of Meatballs (ages 4-8) (book, instant video, DVD)
The Complete Tales of Winnie the Pooh (ages 3-8) (book)
Confessions of a Teenage Drama Queen (ages 13-19) (book, instant video, DVD)
Coraline (ages 9-12) (book, instant video, DVD)
Curious George (ages 4-7) (book, instant video, DVD)
Diary of a Wimpy Kid (ages 8-12) (book, DVD)
Diary of a Wimpy Kid: Dog Days (ages 8-12) (book)
Diary of a Wimpy Kid: Rodrick Rules (ages 8-12) (book, DVD)
Dorothy of Oz (ages 10-15) (book)
 the entire Harry Potter series (ages 9-12)
Eragon (ages 9+) (book, instant video, DVD)
Guardians of Ga'hoole (ages 7-10) (complete book set, DVD)
Homeward Bound (ages 8+) (instant stream, DVD)
How to Eat Fried Worms (ages 7-10) (book, instant stream, DVD, Reading Group Act. Guide ebook, Literature Novel Unit Study)
The Indian in the Cupboard (ages 9-12) (book, DVD)
Inkheart (ages 9-12) (book, instant video, DVD)
James and the Giant Peach (ages 8-11) (book, instant video, DVD)
Judy Moody & the Not Bummer Summer (ages 6-12) (book, audio book, instant stream, DVD)
Jumanji (ages 5-8) (book, instant stream, DVD)
Lemony Snicket's series (ages 9-12) (books, instant video)
Matilda (ages 8-12) (book, instant video, DVD)
Nancy Drew (ages 10+) (complete book set
, instant video, DVD)
Mr. Popper's Penguins (ages 9-11) (book, DVD, Classroom Guide)
Nim's Island (ages 8-12) (book, instant video, DVD)
One Hundred and One Dalmations (ages 4-7) (book, cartoon DVD, movie DVD)
The Lorax (ages 4+) (book, beginner book, DVD)
The Polar Express (ages 5-8) (book, instant video, DVD)
Rapunzel (ages 4-8) (book, Tangled DVD)
The Secret Garden (ages 9-12) (book, FREE Kindle book, instant video, DVD)
Shiloh (ages 8-12) (book, DVD)
Stuart Little (ages 5-12) (book, instant video, DVD)
The Tale of Despereaux (ages 9-12) (book, instant video, DVD)
The Three Musketeers (ages 7-9) (book, FREE Kindle book, DVD)
Tuck Everlasting (ages 9-12) (book, DVD, Teacher Guide, Literature Unit)
Where the Red Fern Grows (ages 12+) (book, DVD, Literature Unit)
Where the Wild Things Are (ages 5-8) (book, instant video, DVD, Classroom Guide)