Literature Kids Days – Epossumondas Children's Book
This post may contain affiliate links, view our disclosure policy for details.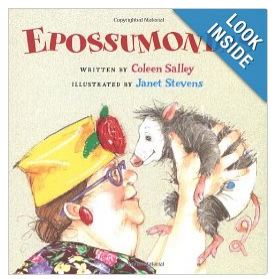 I found my oldest son reading our new favorite book to his little friend.
Epossumondas
is our family's new favorite series (written by Coleen Salley). We've been renting different books in the Epossumondas series along with the corresponding audiobook for my son.
So far my favorite has been
"Why Epossumondas Has No Hair On His Tail"
– a fun book which tells why opposums no longer have hair on their tail. And I actually learned about a new type of fruit in this book called persimmons! (I also have memorized the crazy persimmons song that the opossum sings as well!) It's a fairly lengthy book for small children but matching it with the audiobook makes it very interesting for younger children to pay attention and "read along".
We will listen to the audiobook in the car while my son follows along in the hardcover book- and when it's finished- he asks for it again…..and again….and again.
So consider renting/buying an audiobook with it's corresponding hardcover book if you're trying to promote literacy! And this isn't just for preschoolers- we ALL love the Epossumondas books! So if you have an older child who struggles at reading- there are plenty of popular books out there for them too!