iPieces Review by Pressman Toy
This post may contain affiliate links, view our disclosure policy for details.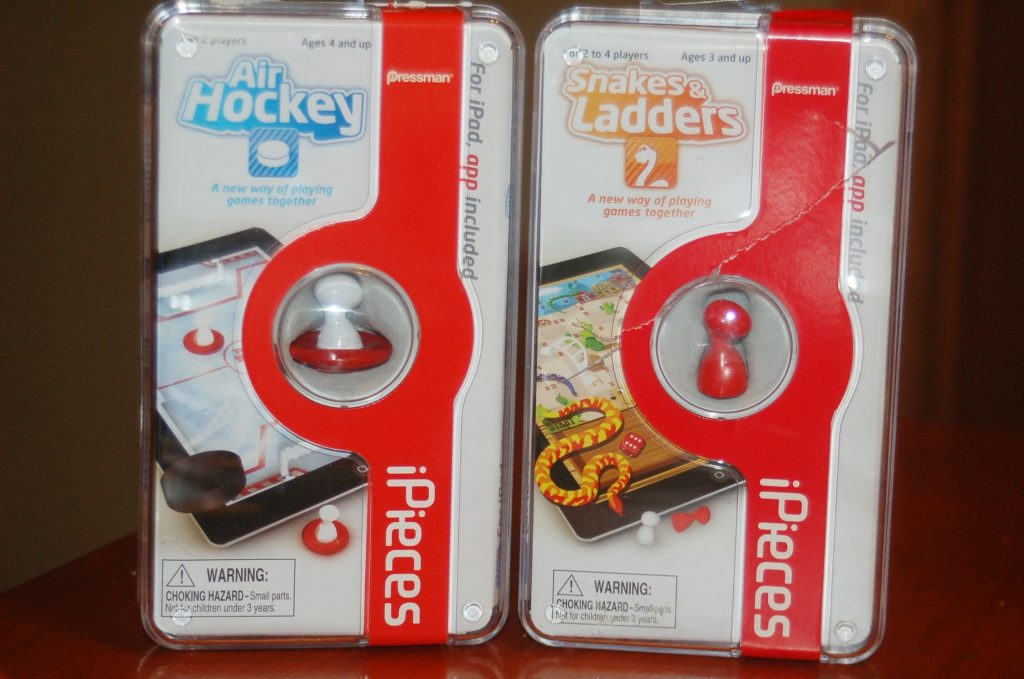 Pressman Toy makes an AWESOME fun and interactive game for iPads called iPieces. I first got to try out their fishing iPieces game at BlogHer this past year and I was HOOKED! (no pun intended!) Basically you buy the iPieces game of your choice, then download the free app and play! We were sent the Air Hockey iPieces game and the Snakes & Ladders iPieces game. Anytime we get the chance to use the iPad my boys immediately become very interested and they couldn't wait to play these games with us!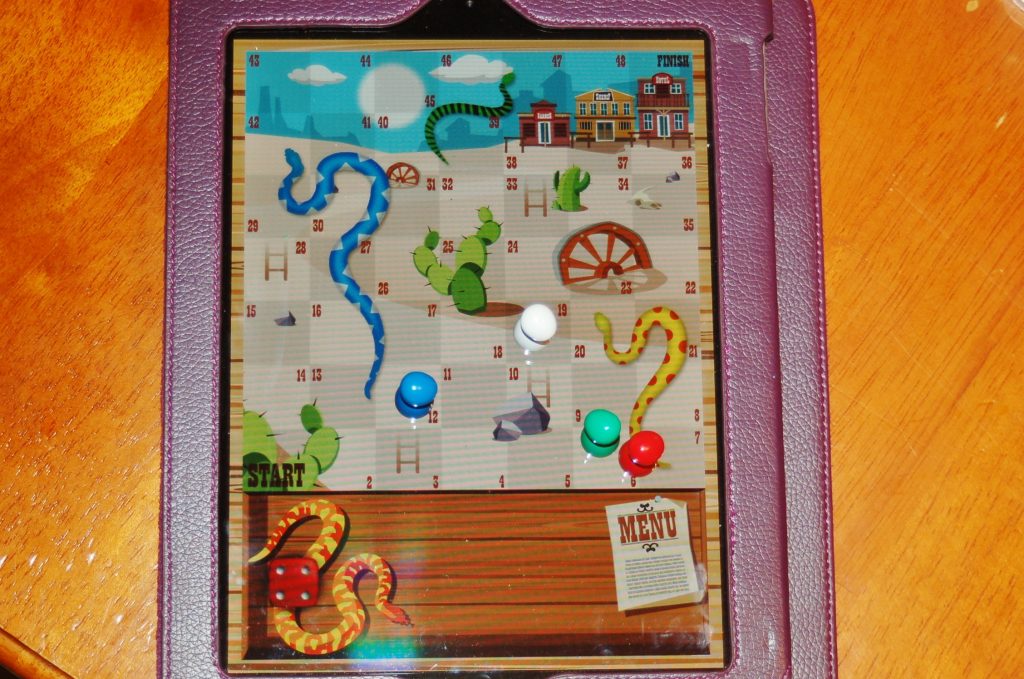 The Snakes & Ladders iPieces app game was a lot of fun! You just tap the dice to roll it, watch the tumbleweeds roll by, and giggle at the snakes rolling around the board.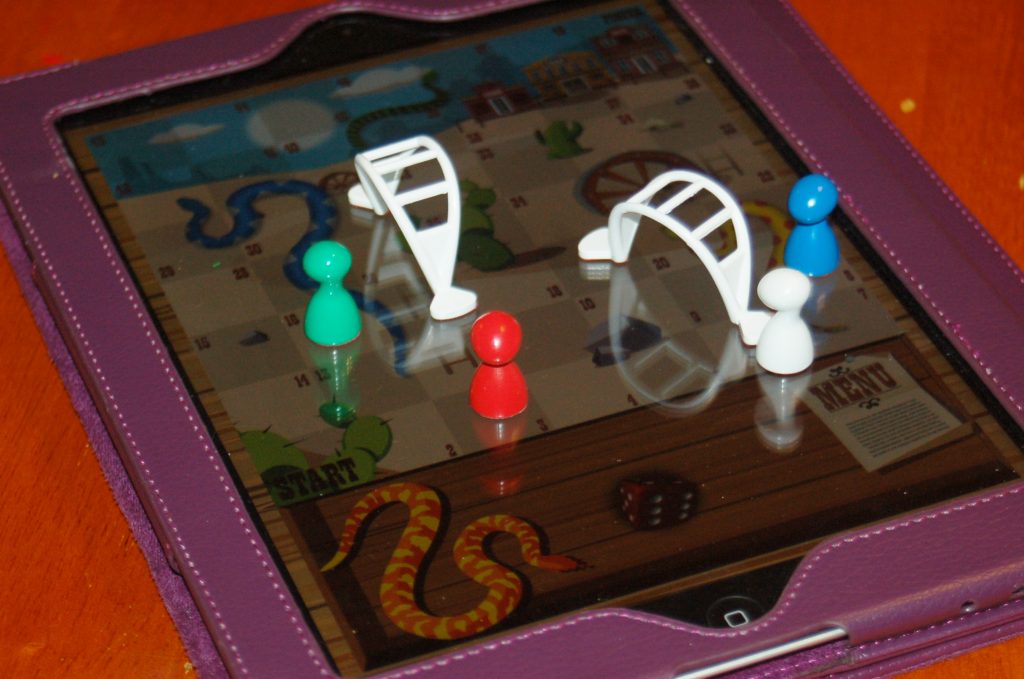 The really cool thing is that the iPieces set not only comes with the 4 pawn pieces but it also comes with ladders. When you land on a ladder on your iPad you can use the included ladders to choose where you want to "climb" to in the game. It is definitely a great interactive version of traditional board games. Another game that gripped my competitive spirit is the iPieces Air Hockey game. I am just downright dangerous to play Air Hockey with. It can get pretty intense if you take me on a game of Air Hockey – virtual or not!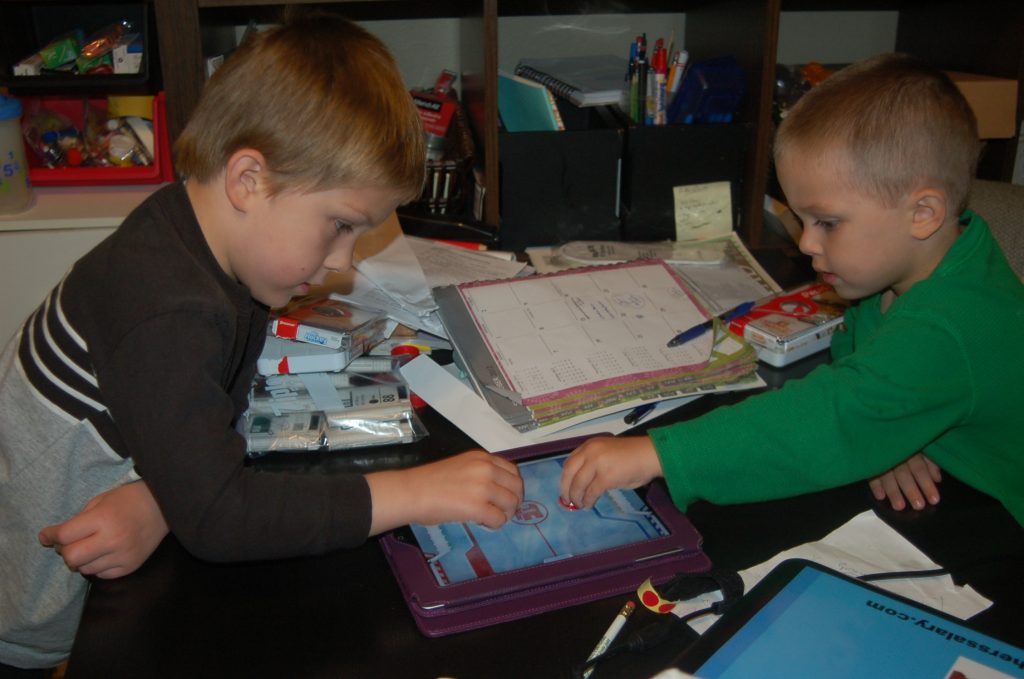 And it definitely proved to be the same for my children! (don't mind the mess!) In fact I had to take the iPad away from the kids for a while because they both wanted to win Air Hockey so bad!! And my husband and I just couldn't stop playing. It was great because we could play it anywhere – on the desk, on the couch, at the table, etc. We have spent a LOT of time competing at this virtual version of Air Hockey and it's surprisingly really accurate considering!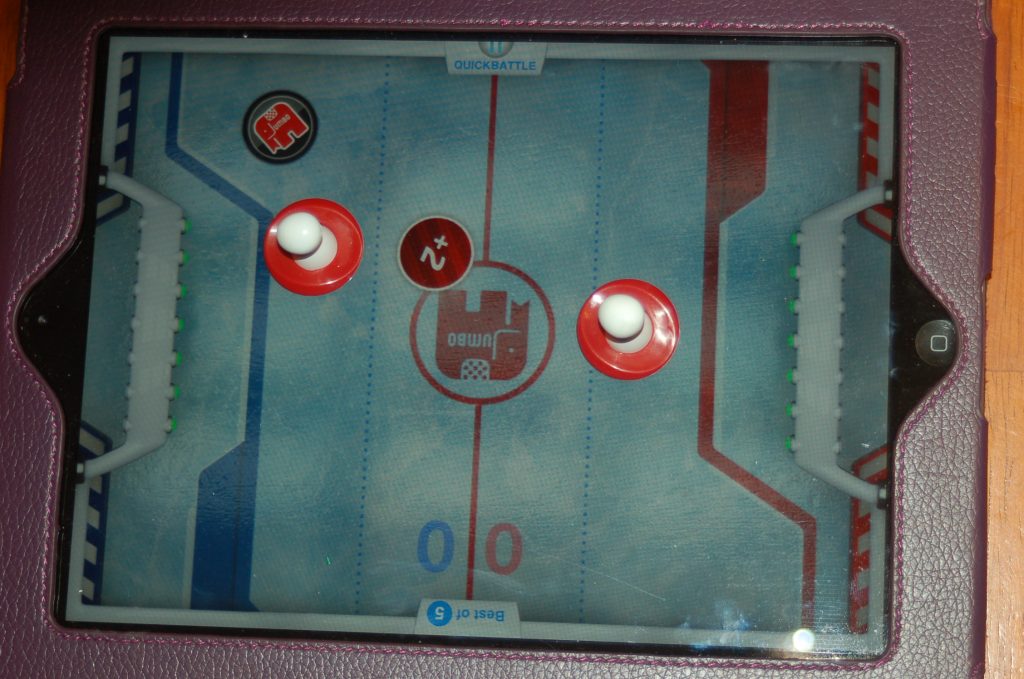 Plus there are bonus (and negative!) points that you can earn which throws things up a little bit! These games are VERY affordable and loads of fun! I've spotted them for about $8-$12 depending on the sales and would make a fun Christmas gift. You can see the iPieces Air Hockey game being played in this YouTube video. In addition to Air Hockey and Snakes & Ladders there are also Pool, Fishing, and the Game of Goose for iPieces. I definitely recommend iPieces – they put an awesome spin on apps and are so much fun to place! Not to mention that they are incredibly reasonable in price!
iPieces are available for purchase at Amazon, Toys"R"Us, Barnes & Noble, K-mart, Radio Shack, Learning Express, and BJ's Wholesale Club stores nationwide.
GIVEAWAY
Pressman Toy has offered one of my readers the chance to win the iPieces game of their choice!! This would be SUCH a fun item to find in your stocking this Christmas! To enter just fill out the Rafflecopter form below.
Disclosure: I was not compensated for this review. I received the above products to use in order to form my own opinions. All opinions are my own. Giveaway is open to US only and winner will be chosen randomly. Winner has 48 hours to claim prize before a new winner is chosen. Ends at 12:01 am est on November 7, 2012.