I Speak For the Trees – Seed Pod Activity
This post may contain affiliate links, view our disclosure policy for details.
Lately we have been combing the area looking for Monarch caterpillars, and the other day we decided to collect a few things outside and "dissect" them in the house. This is great for science and of course works great if you've been watching The Lorax!
Below you'll see that we collected two items – a milkweed pod (the large light green thing with a zillion seeds) and a fresh black walnut.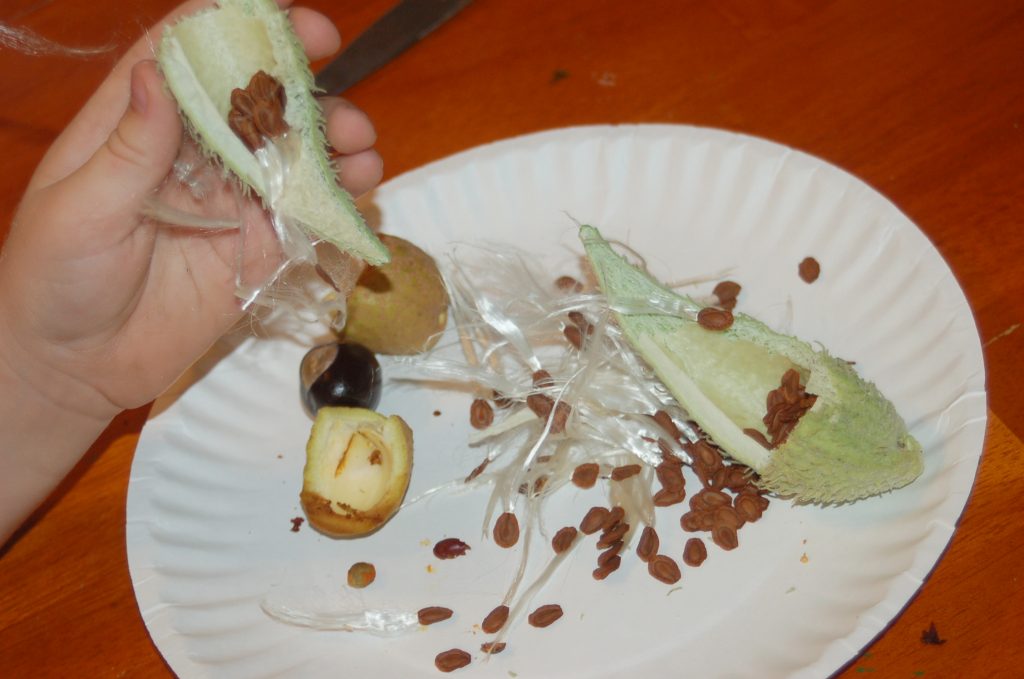 It took us a while to find out that we had a black walnut tree in our front yard as it does NOT look like a nut! However I can't wait to see the entire life cycle of it. It looks like a light bumpy lime type thing. We broke it open and there was a hard pod on the inside.
Next my son opened the milk weed pod and WHOOSH! ALL of the seed pods took flight with our fan blowing near by! It was hilariously frustrating as milkweed seeds were literally flying all throughout my dining room!! Every once in a while I still find one lurking!
But they were very interesting to study once the air cleared a little bit as the light seeds are attached to a stream of soft "silk" which catches in the wind to help replant the seed. We grabbed a handful and decided to plant them in a corner of our backyard in hopes that someday Monarch caterpillars will come to our house too!
SO go outside today and see what you can find to take a closer look at & learn about!