It's no secret here that we love HearthSong products and my kids have spent HOURS on their new HugglePod HangOut! In fact it has caught quite a bit of attention in our small town where everyone talks about everyone. The school kids have been whispering and asking what in the world is that thing in our front yard?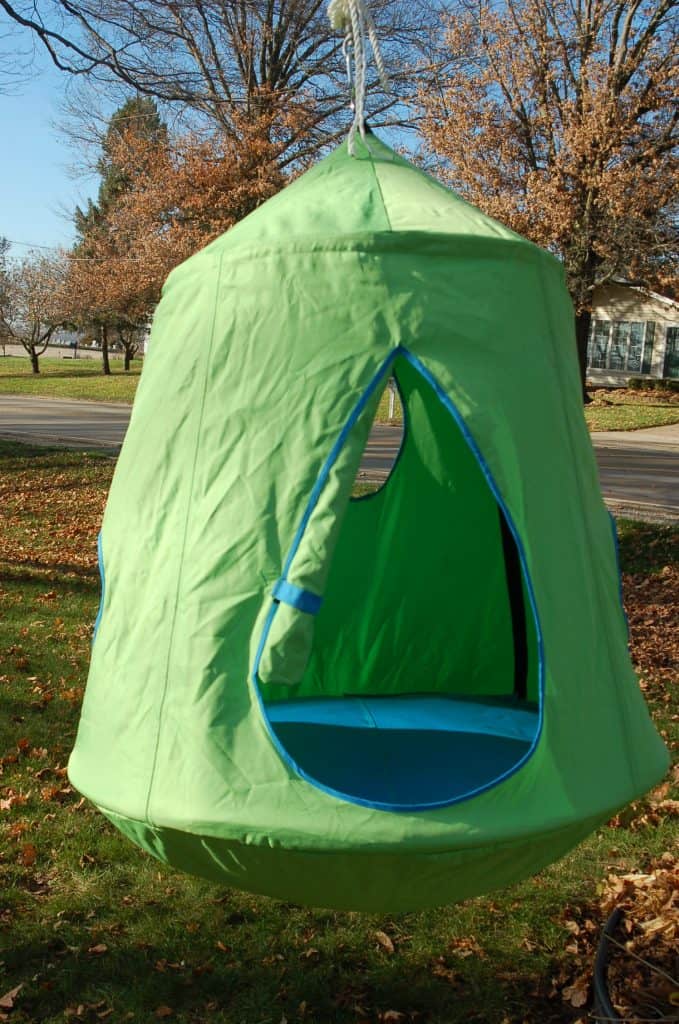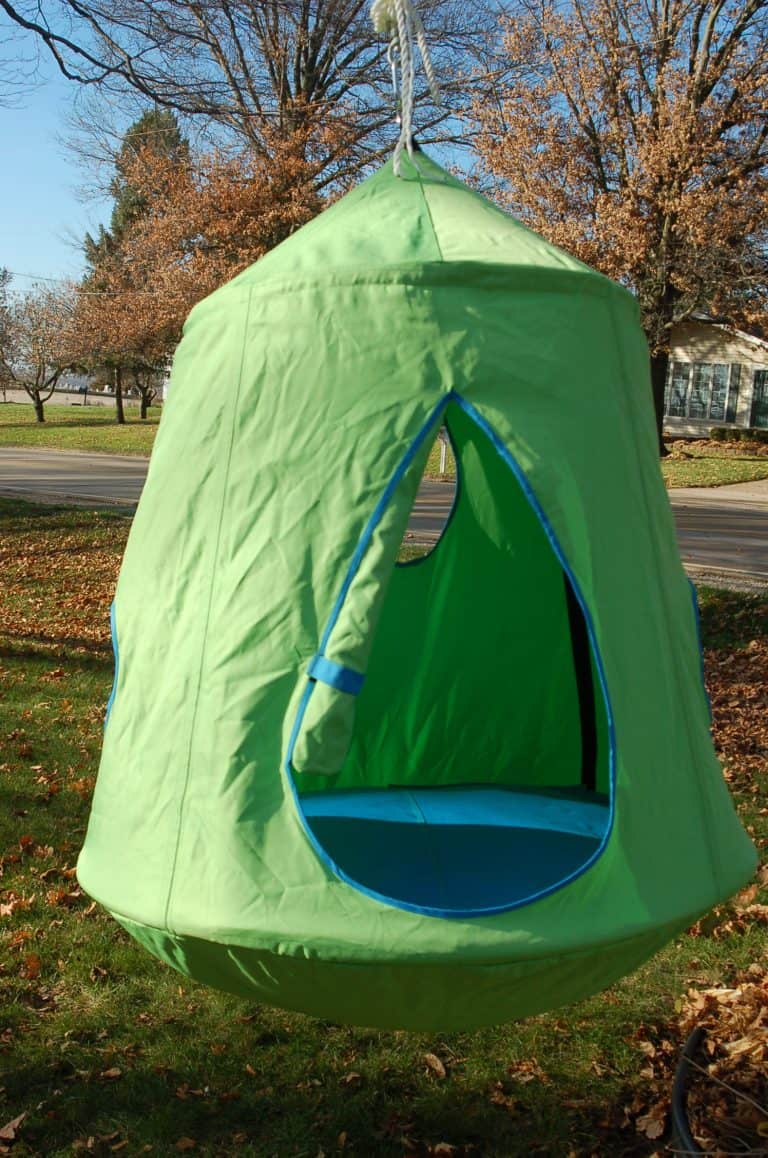 Well it's a HugglePod HangOut of couse! This nylon canvas circus tent looking thing is an amazingly sturdy "swing" for lack of better term. It has three circle windows for the kids to peer out of, a flappy door which can be rolled up and velcroed back (as you see above) and a big plushy cushion that is inserted into the bottom of the HugglePod HangOut  filling up the inside so that kids can nicely sit on the bottom. The pod comes in one large piece and other than hanging it all we needed to do was stuff the bottom with the plushy cushion and insert metal hoops inside the pod for reinforcement. Although the hanging hardware is not included it was very simple to set up. We just used a heavy duty rope and a metal connector. In just a few minutes we had it up and hanging!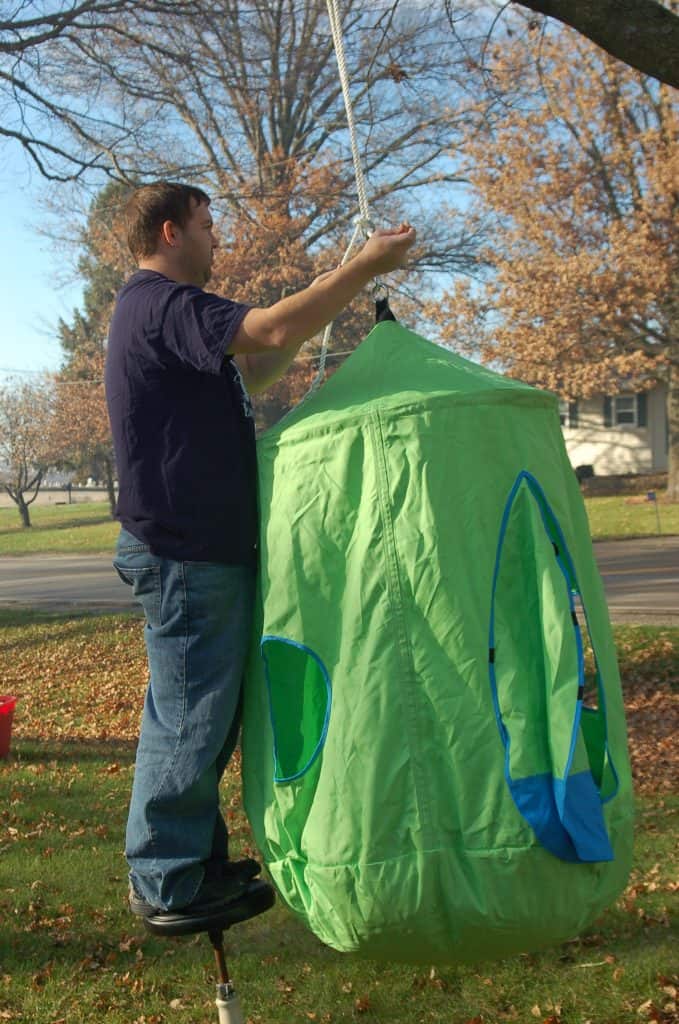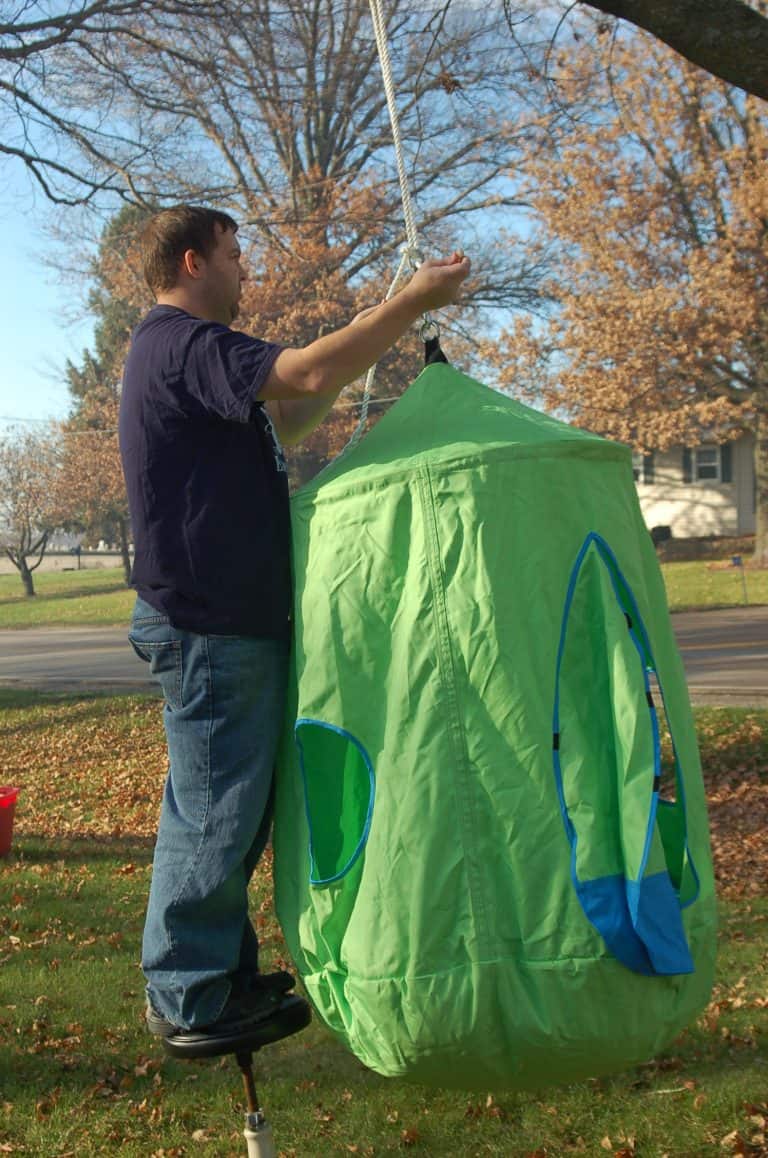 As you can see the HugglePod HangOut  is almost as tall as my husband is! In fact when I'm standing on the ground I can barely hold it up high enough to get it off the ground – it is extraordinarily huge! Plus it holds up to 250 pounds so I can even crawl inside this thing!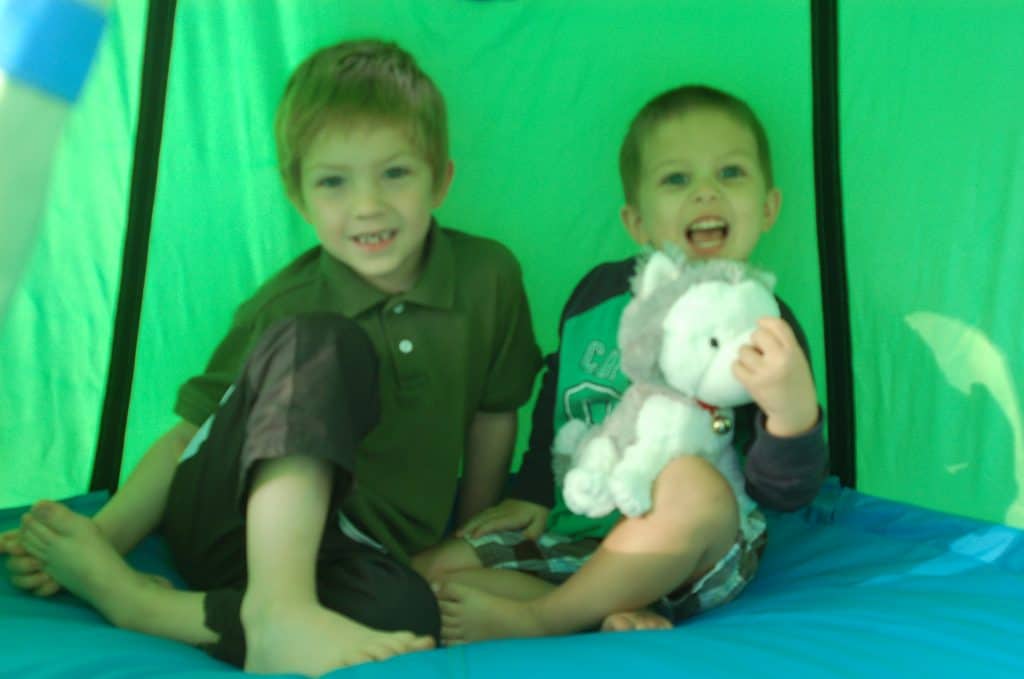 My kids run home from school each day and spend quite a chunk of time outdoors in their HugglePod – even on the cold days! Right now we have it hanging in the tree out front since the material is weather resistant and machine washable but in the winter when it's really cold we will be mounting it in our basement since it can also go indoors. I will warn you, however, if you plan to have it indoors you WILL need a lot of room! This thing is huge!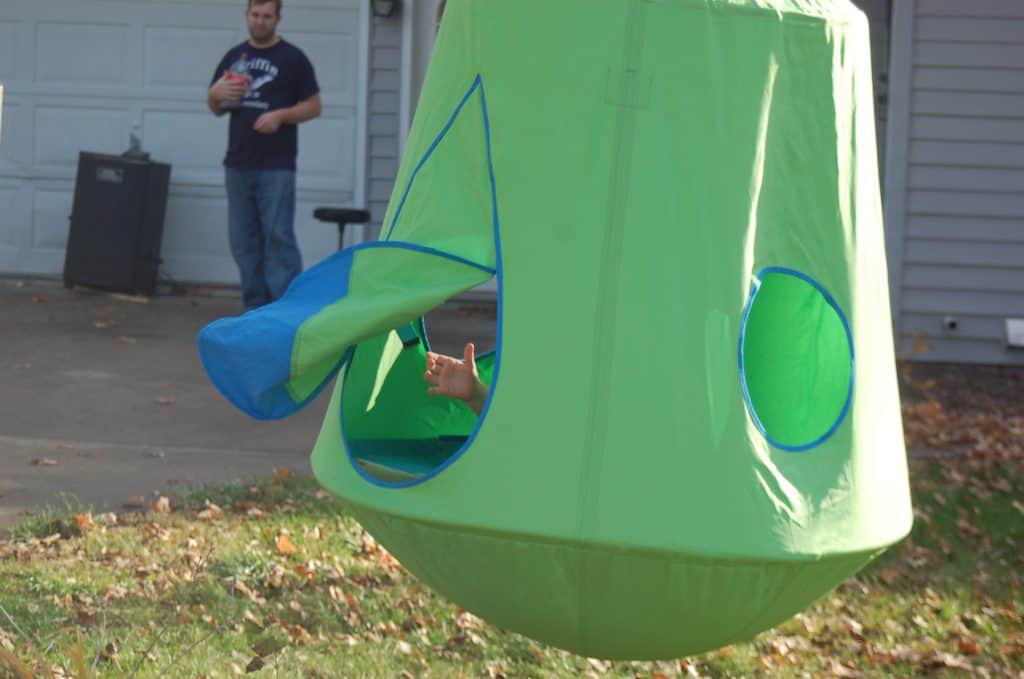 You can see how big it is because I often lose my kids in it! I cannot always tell if they are in their HugglePod HangOut  just by looking because it's so big it hides them inside! We have received SO many positive comments about this now that practically everyone in town knows about it!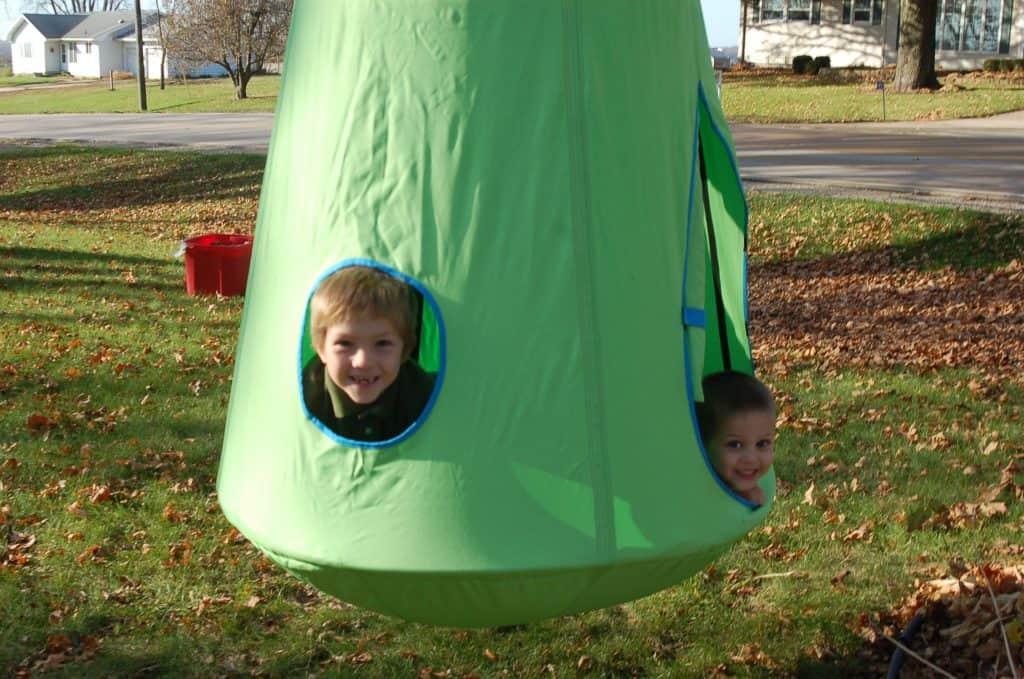 I would definitely say that it would very easily hold at least 4 smaller children and maybe even 5 (granted they were under the weight limit of course).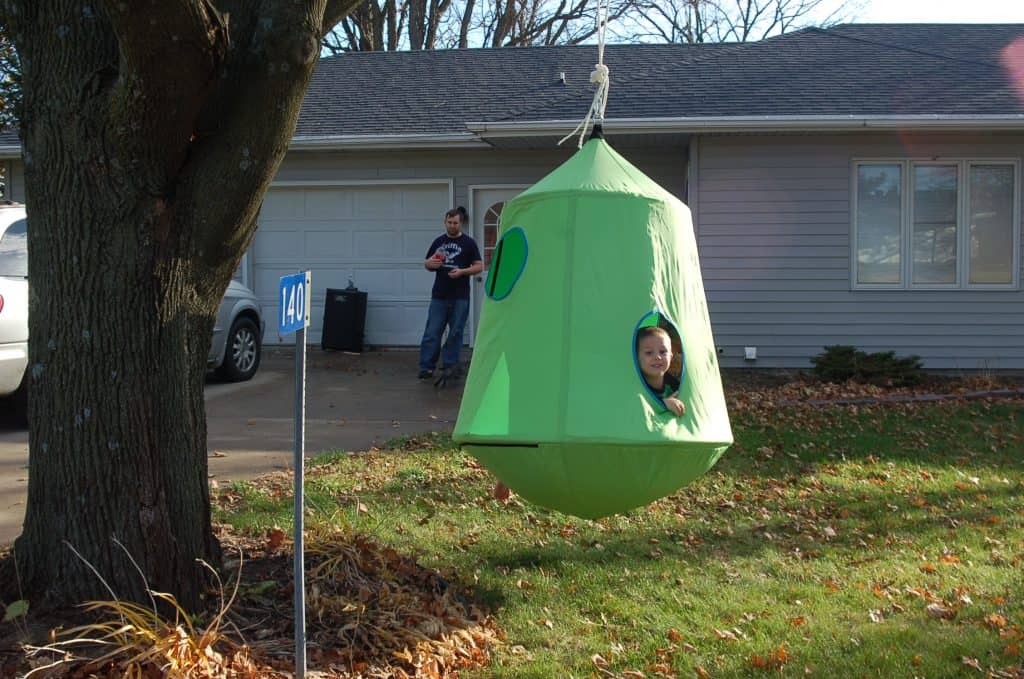 If you are looking for a way to draw your kids outside just put up one of these! It's totally a kid magnet! In fact I've told all the kids at the school they are welcome to come hang (quite literally!) in my front yard anytime they want! My oldest son who is a sensory seeker even lays down with his head hanging on the ground and spins it around. (of course do this at your own risk!) But if you'll notice how low we hung it to the ground it certainly wouldn't hurt much if they fell out. My kids like to horseplay so you know someone is bound to fly out of the opening! :)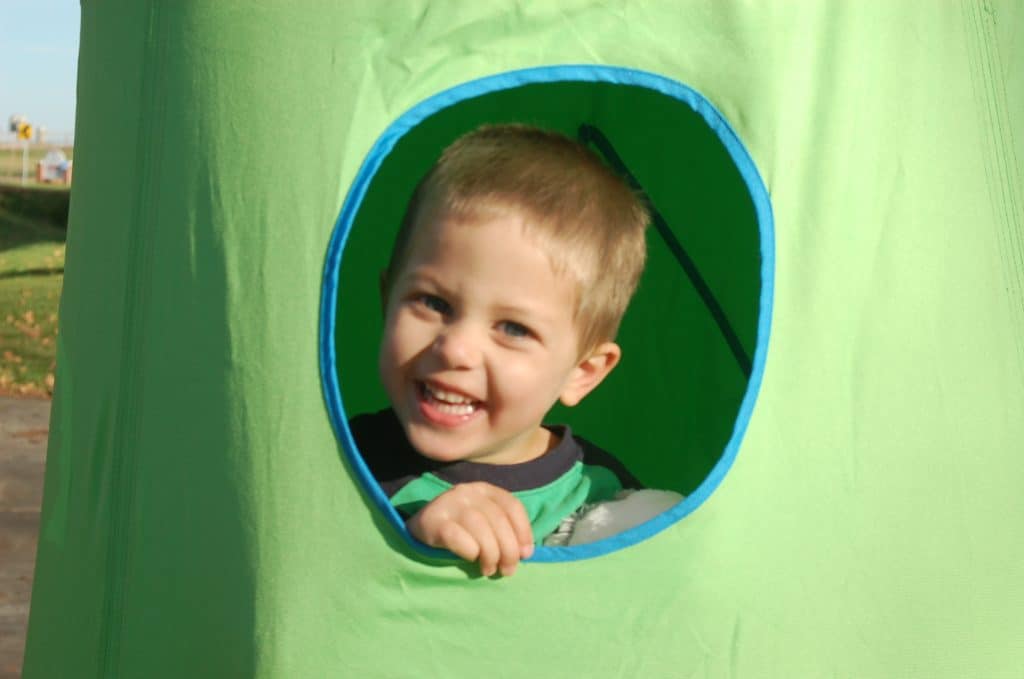 My kids have just had an absolute blast in their HugglePod HangOut  from HearthSong! I don't know any child who wouldn't like it! You can purchase separately a stand to use instead of hanging it from the tree if you do not have anything to hang it on. There are also LED light strands that you can hang inside for some extra fun! I highly recommend this HugglePod. It is worth the investment to purchase and will last a very long time. I absolutely love that you can wash this and that it's made for outdoors which means it's so much easier to clean. Not to mention that it will help get your reluctant child out of the house and spending more time outdoors! We'll bring it inside during the winter and leave it outdoors in the summer. (simply because my kids will get more use out of it inside when it's cold out) The HugglePod HangOut  is one of those items that's worth purchasing because of the high quality, durability, and lifespan. I have a feeling my kids will outgrow it before it tears down!
Make sure to follow HearthSong on Facebook to see their new products & deals!
Disclosure: I was not compensated for this review. I received the above product to use in order to form my own opinions. All opinions are my own.
Share the post "HearthSong HugglePod HangOut Review"