My daughter absolutely loves Spirit the horse movie so when we received this special gift from DreamWorks full of Spirit toys – it was such a joyous day in our house! They sent us everything we needed for this post! Below are gift ideas for kids who love Spirit Riding Free PLUS info about the NEW DreamWorks Spirit Riding Free: Spirit of Christmas on Netflix!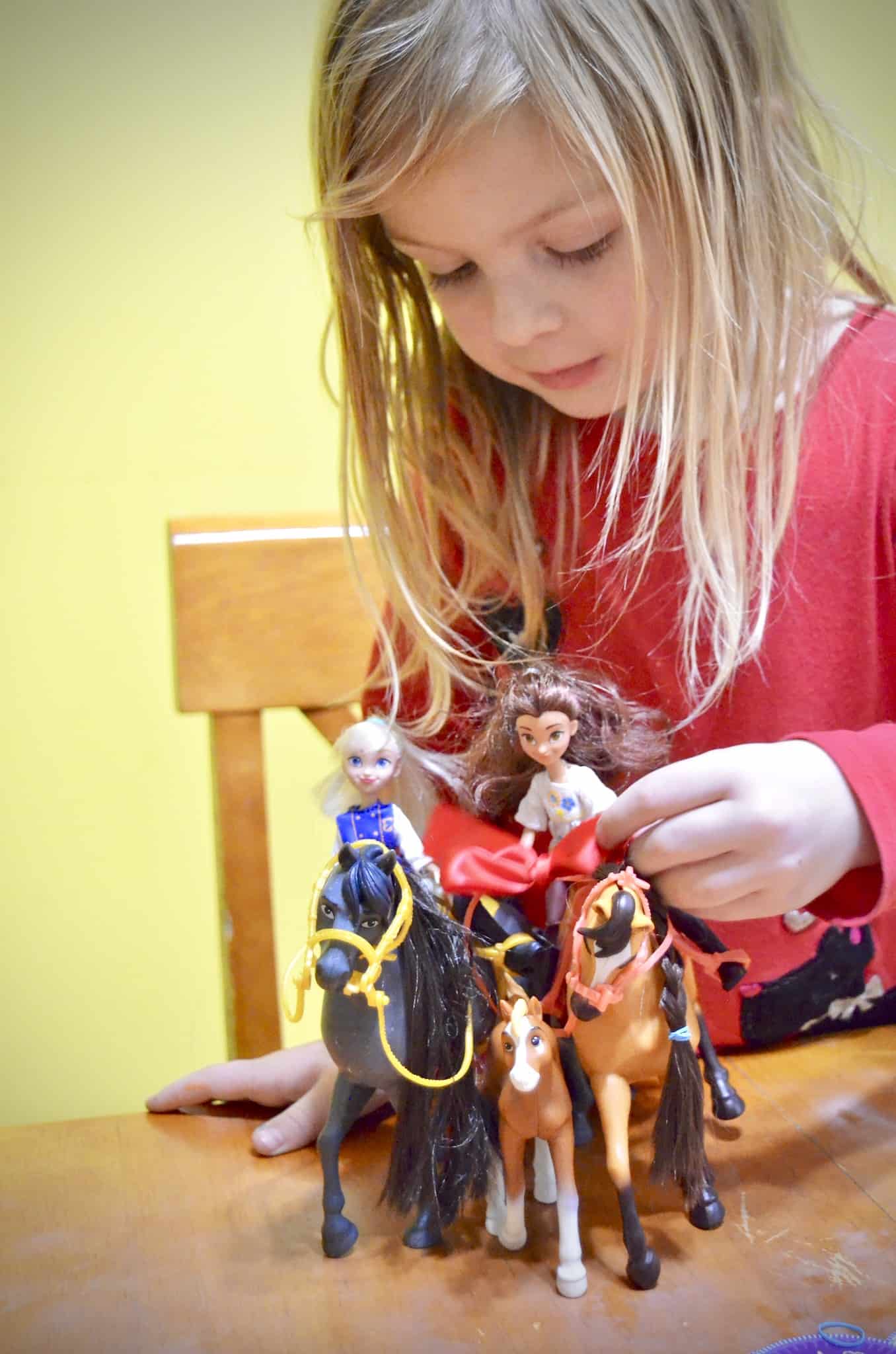 Spirit Riding Free: Spirit of Christmas is a special holiday feature by DreamWorks on Netflix that features original holiday songs by Katherine McNamara (Arrow, Shadowhunters) as singing sensation Sally Jessup. The Emmy-winning series was first launched in 2017 and even MORE will be released in 2020! PLUS DreamWorks has announced that they will be creating a new film slated to be released in 2021!
More about the new show on Netflix:
In DreamWorks Spirit Riding Free: Spirit of Christmas, Lucky and her friends embark on a Christmas Eve adventure into the city to find the perfect gift, but their return to Miradero for holiday festivities is ruined when an avalanche derails their plans. In the midst of chaos, the PALs meet their favorite singer Sally Jessup whose honest, heartening music gives hope and strength to the stranded train passengers as they try to make their way home.
Decorating the Barn for the Holidays:
Spirit Toys for Kids:

Spirit Riding Free Spirit & Lucky Grooming Paddock-
You can buy this Spirit & Lucky Grooming Paddock playset at Target or Walmart! It's a fantastic set FULL of interactive things and 21 pieces to play with including Spirit, Lucky (the doll) and a foal! There is a hay loft (with hay bale!) with an operating elevator shaft that drops the hay down to the horse feeder. It features a sliding barn door and multiple swinging fences. There are places to hang the included horse bridles, saddles, horse brush/comb, and stash the horse shampoo! It has a upstairs loft, washing station, tack storage, and nursery corral.
Spirit Riding Free Dolls & Horses Sets-
Abigail & Boomerang
Prudence & Chica Linda
Maricela & Mystery
Spirit & Lucky
Did you know that Spirit was inspired by a real horse?
A Kiger Mustang named Spirit was the inspiration behind the iconic movie! The horse was used as an inspiration and model for the artists and animators for the 2002 DreamWorks animated film Spirit: Stallion of the Cimarron.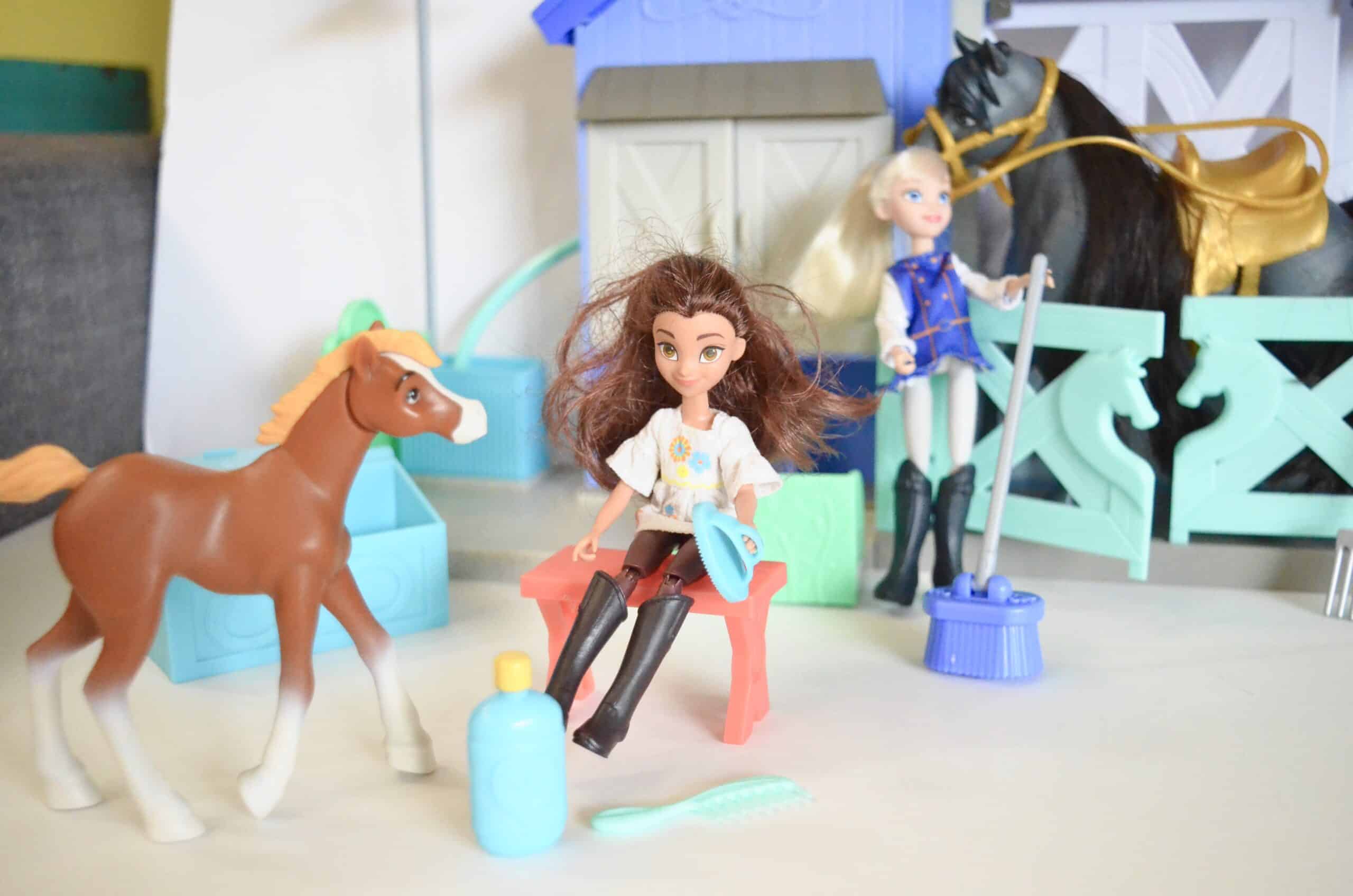 There are SO many fun parts to this paddock horse stable set to play with! Each of the dolls can "hold" things in their hands like the horse bridle, washing hose, brushes and other stable tools. Their boots are also removable and their legs can bend easily for sitting and riding the horses! It's extremely conducive to encouraging imagination and pretend play! My daughter is never hindered by a limited toy with this set which is nice.
Spirit Riding Free: Lucky's Guide to Wintertime Whimsy: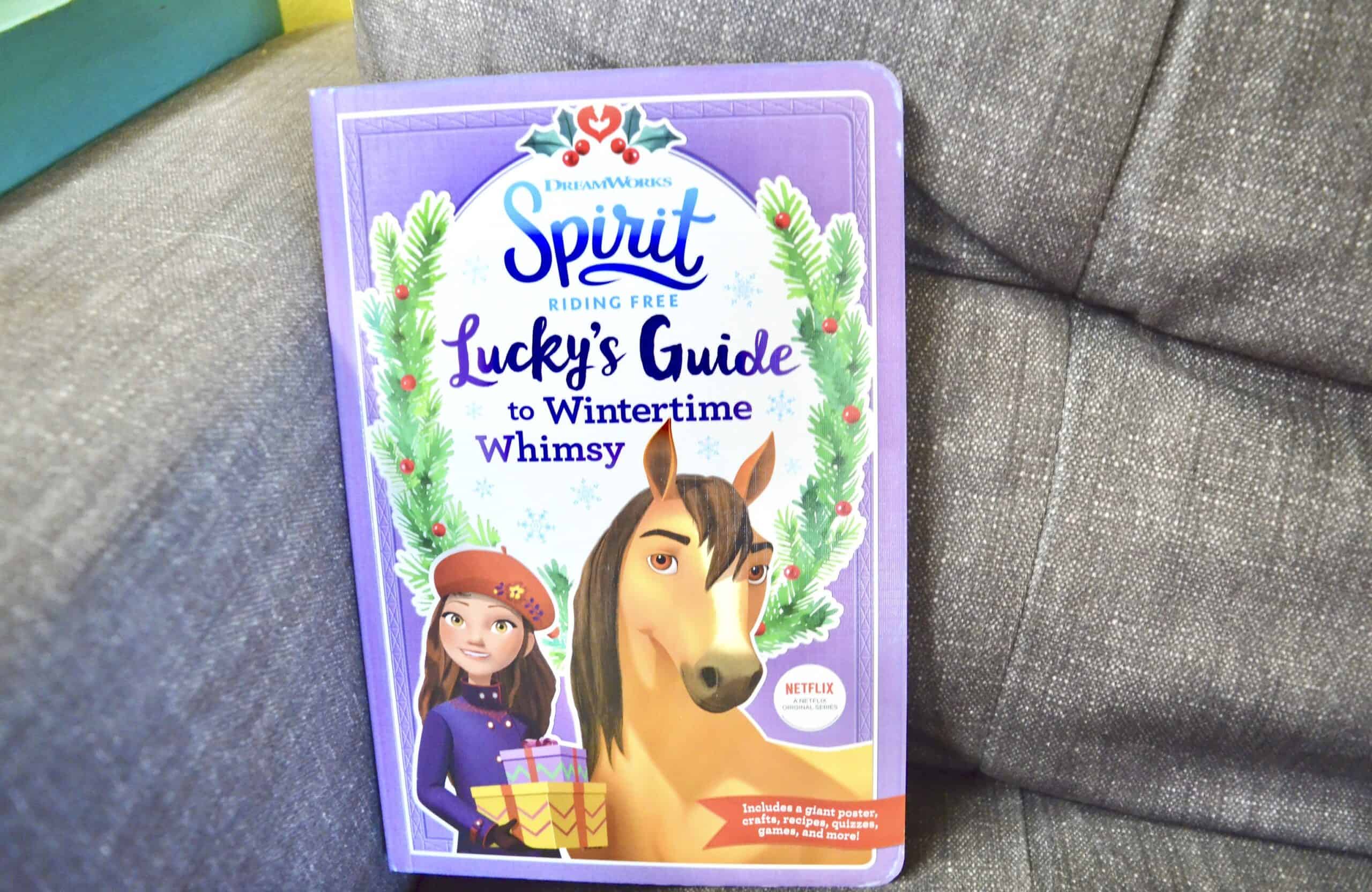 If you have kids who love Spirit then this new book, Spirit Riding Free: Lucky's Guide to Wintertime Whimsy, is a must to buy! It is an interactive book with tear out games, posters, stencils, postcards, recipes, stories, crafts and MORE! This book will keep them busy for hours! My daughter has just turned 5 so she can't read yet but she LOVES this book! We help her read the activities!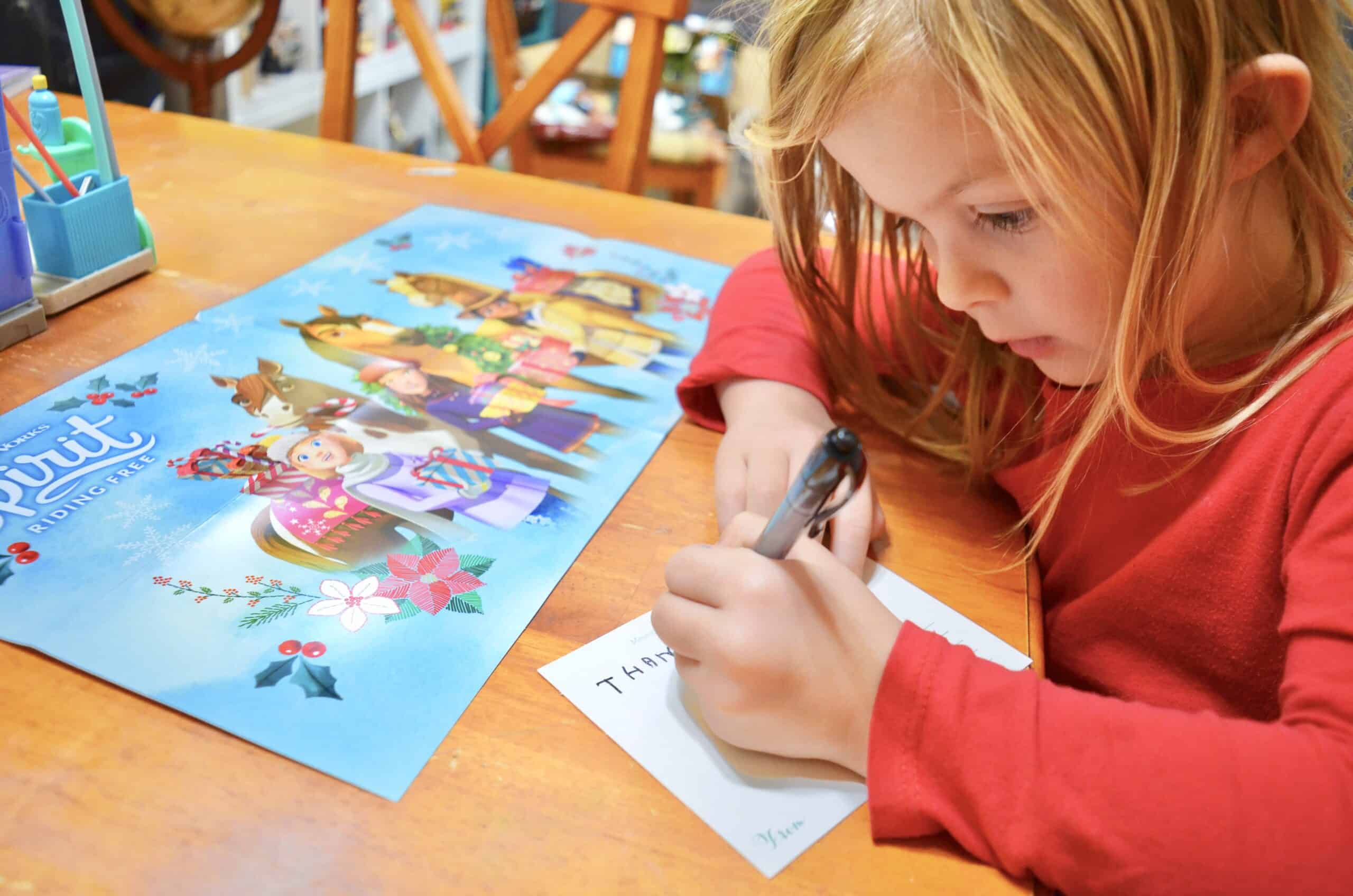 As soon as she opened up our box from DreamWorks (you can watch our unboxing here!) she immediately tore out the postcard inside the book and began asking for help to spell out a thank you letter to Santa! (She thinks Santa sent her this gift – thanks DreamWorks!)
Where can you find festive Spirit promotions during the holidays?
Holiday Wrapping Carts and Spirit Wrapping Paper
From now through December 22nd there are Spirit of Christmas-branded gift wrapping stations next to the Santa HQ in the following 6 major shopping centers:
New York: Queens Center (90-15 Queens Blvd. Elmhurst, NY 11373)
Los Angeles: Lakewood Center (500 Lakewood Center Mall, Lakewood, CA 90714)
Chicago: Fashion Outlets of Chicago (5220 Fashion Outlets Way, Rosemont, IL 60018)
Philadelphia: Deptford Mall (1750 Deptford Center Road, Deptford, NJ 08096)
Washington DC: Tysons Corner Center (1961 Chain Bridge Road, Suite 105, McLean, VA 22102)
Denver: Flatiron Crossing (One W. Flatiron Circle. Ste. 1083, Broomfielkd, CO 80021)
On Fridays, Saturdays, and Sundays you can enjoy complimentary wrapping station services and giveaways of the Spirit-branded wrapping paper (while supplies last) from 11am – 6pm!
Christmas Tree Lot Takeovers and Spirit Tree Ornaments
From  November 29th  – December 25th, Spirit Riding Free: Spirit of Christmas will be taking over nearly 100 Christmas Tree lots in select areas!  Visitors will be treated to on-site giveaways of Spirit-branded ornaments and hot chocolate (while supplies last). Saturdays and Sundays from 11am-5pm. More details to come!
The general locations are as follows:
New York (14 locations)
Boston (11 locations)
Philadelphia (11 locations)
Los Angeles (12 locations)
Chicago (13 locations)
Dallas – Fort Worth (10 locations)
Washington DC (17 locations)