Fort Magic Construction Building set Review
This post may contain affiliate links, view our disclosure policy for details.
Disclosure: I was not compensated for this review. I received the product below. All opinions are my own.
Over the past few years I have been offered several opportunities to review different brands of kids "fort" kits and to be honest I never thought it would be something I was interested in so I always politely turned them down. My kids did just fine at using blankets and chairs to build their forts! (even though it was always quite the ordeal to have to tear down and put away!) But when Fort Magic offered me the opportunity to review their product I agreed after checking into their brand a little more. The retail price runs just under $200 but I noticed that they had 5 out of 5 stars on Amazon which made me look a little closer! After spending almost a month using this set already it's an amazing product and certainly worth the price! Not to mention there is virtually no limit on what you can do with this set! PLUS they do offer a 30 day money back guarantee if you aren't satisfied. Warning – after viewing our photos you may find yourself wanting a Fort Magic set!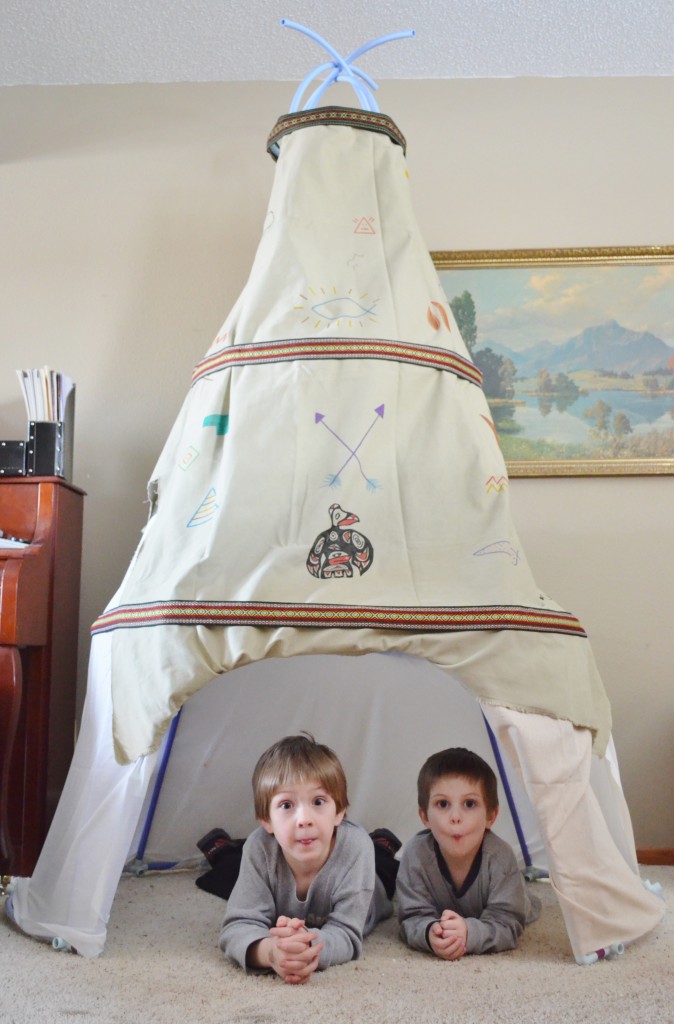 Personally, I fell in love with this life-sized teepee that we built! (yes – you can build MORE than just the traditional "forts"!) It was almost too tall for my living room! I KNEW this would be awesome not only for our school Thanksgiving plays with the students but also for fun at home. The Fort Magic set comes with little plastic "clips" so that you can attach any fabric, blanket, bed sheets, etc to your creation so it's really versatile for whatever you have on hand to use. I decided to run to our local thrift store to buy fabric for our teepee since it was so big!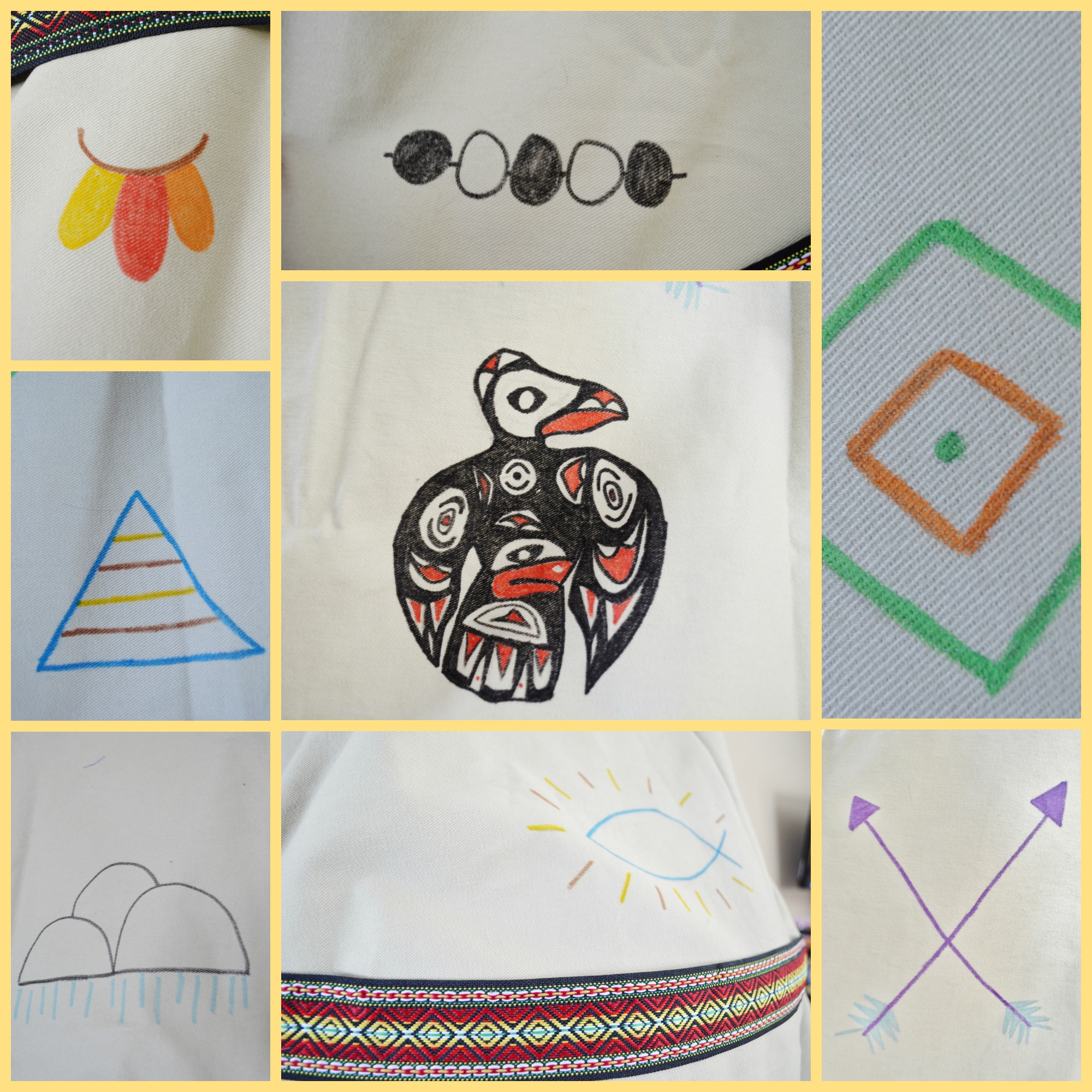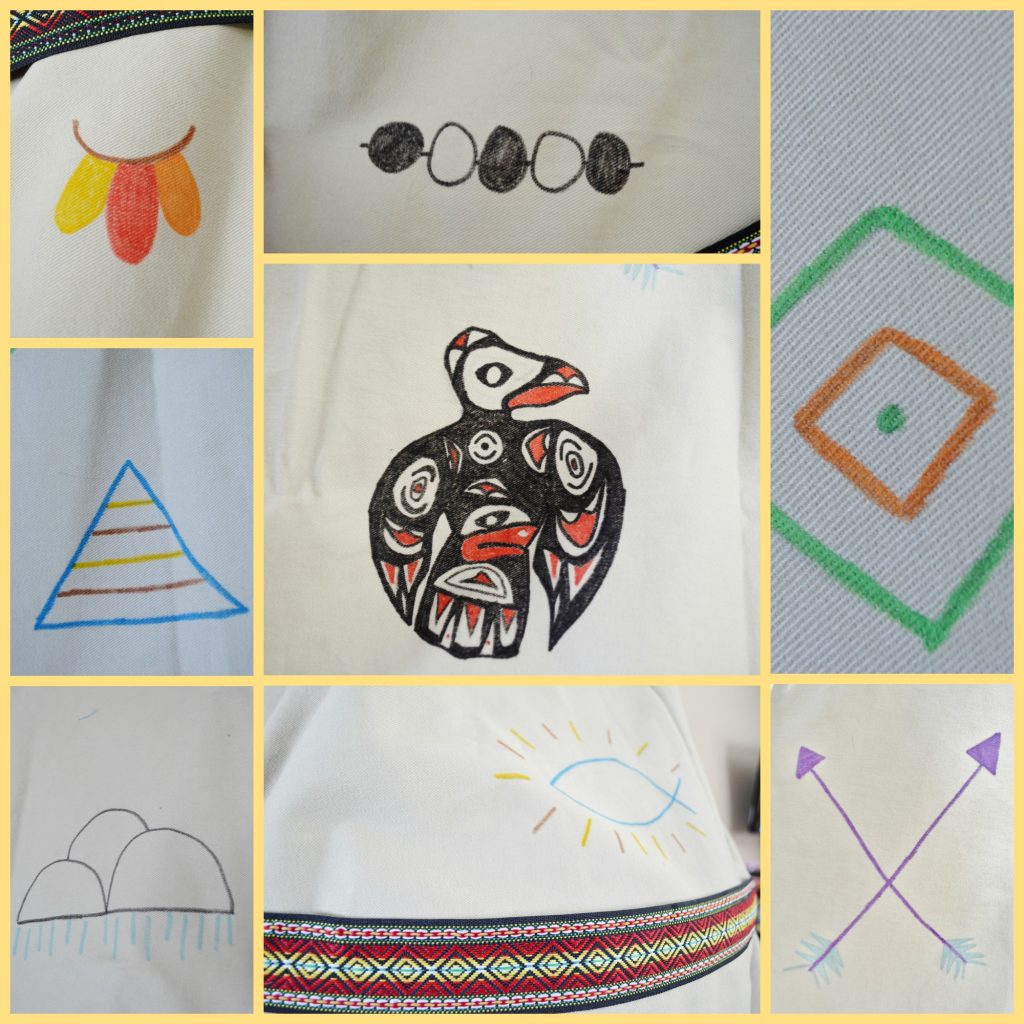 The kids & I came home and began to research some Cherokee symbols since we have Cherokee in our family and used fabric markers to draw Native American symbols onto our teepee. It was a pretty awesome family project!  Ok – enough about our totally AWESOME teepee – let me tell you what Fort Magic actually is and how it works!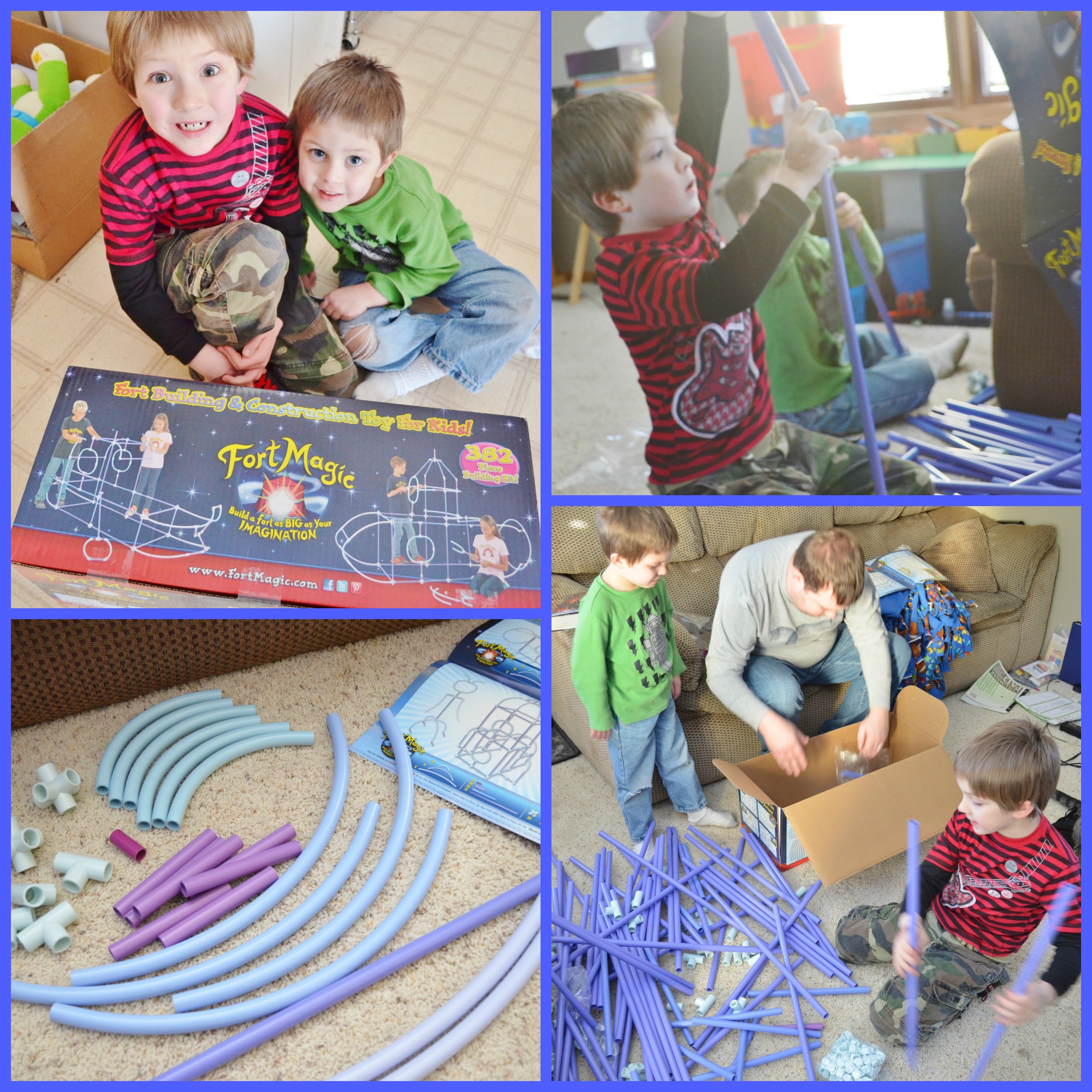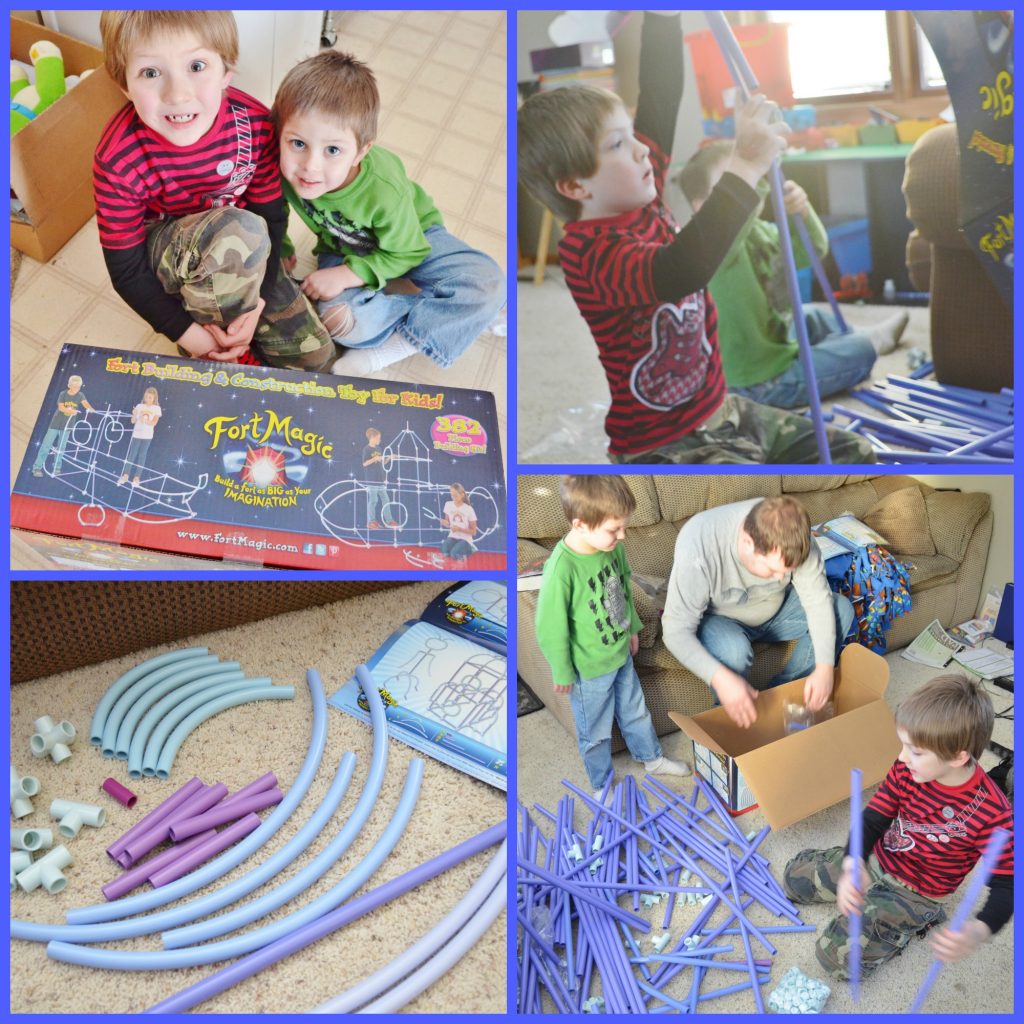 Fort Magic is a construction set that includes 165 straight and curved "sticks" of various sizes, 87 connector pieces in different sizes, and 130 fabric "clips" for a total of 382 total pieces. It also includes a very high quality durable bag to store all of your pieces inside of. All of the pieces are just top notch quality and very sturdy! These pieces are not something that will break easily. The Fort Magic set also came with a beautiful laminated book of designs to create which were very simple to follow. Of course you can build anything with this set – not just the designs included in the book!! However I absolutely LOVED the book because it is virtually indestructible and has a very wide variety of things to build such as an airplane, the teepee, submarine, car, house, maze, mansion, alien, rocketship, etc.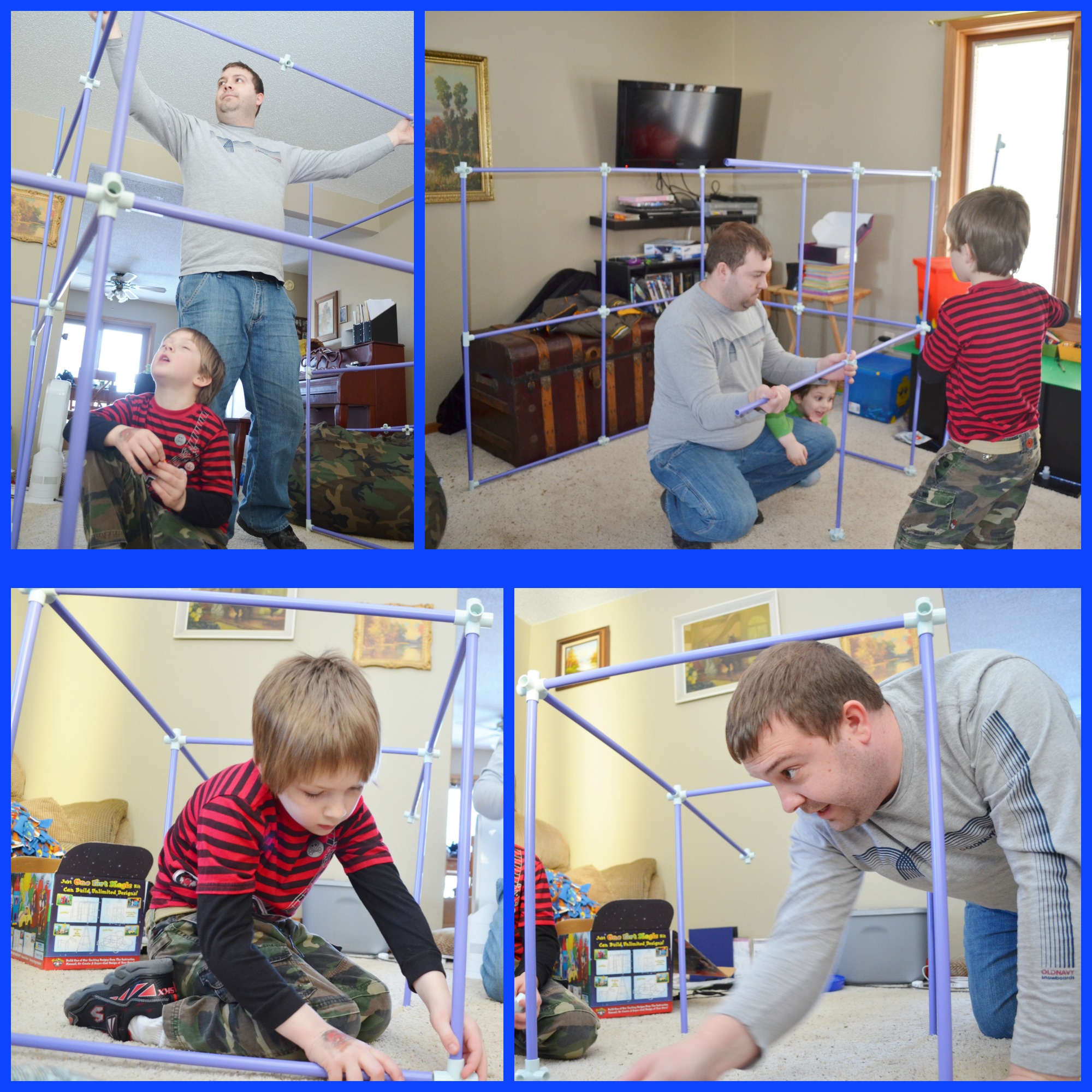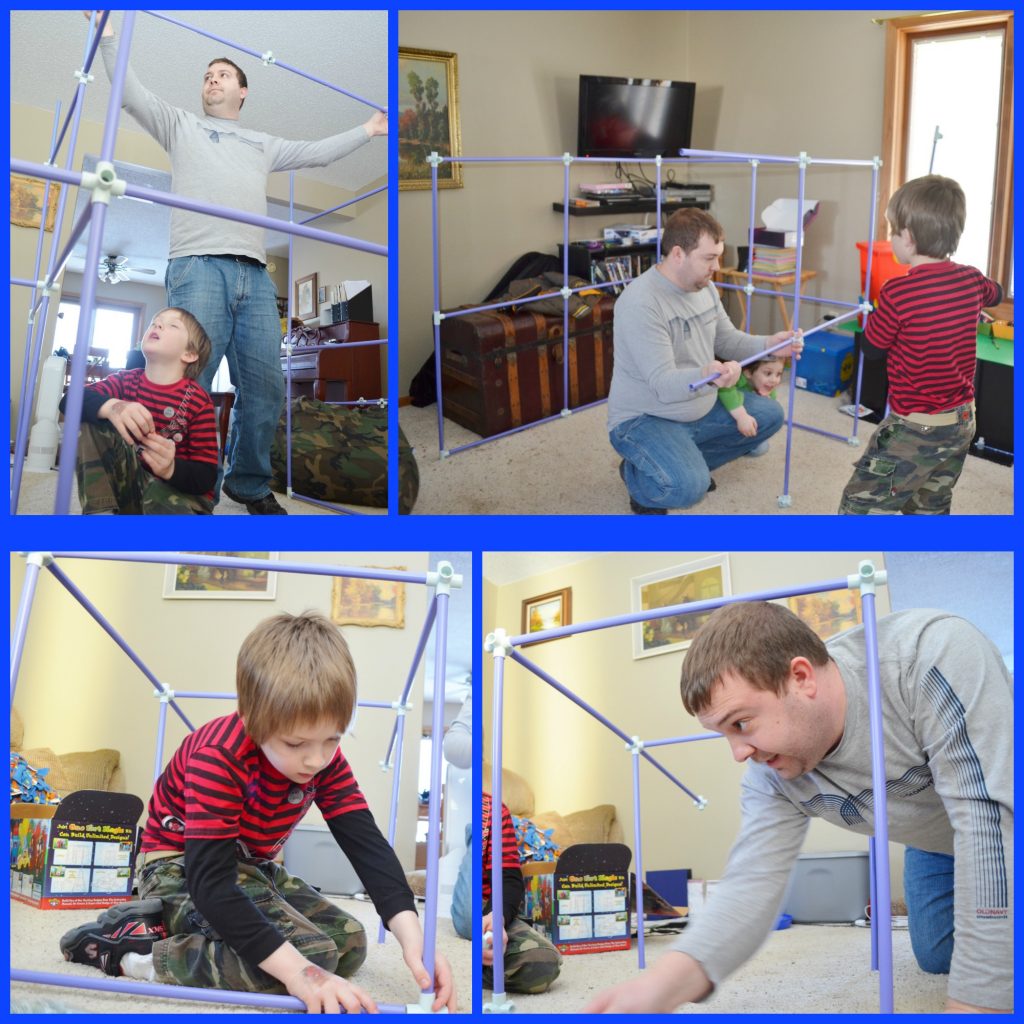 My boys – ages 6 and 4, were SO pysched to get started building! My 6 year old had no problem building this set with his daddy. In fact you'll see later below that my 6 year old actually came up with his own creations completely built by himself! One thing to note – before beginning your construction you will need a LOT of room!! Our living room isn't that large and some of these sets took up a huge chunk of it! Here is a quick shot of some of the designs and what it looks like inside of the included book for ideas: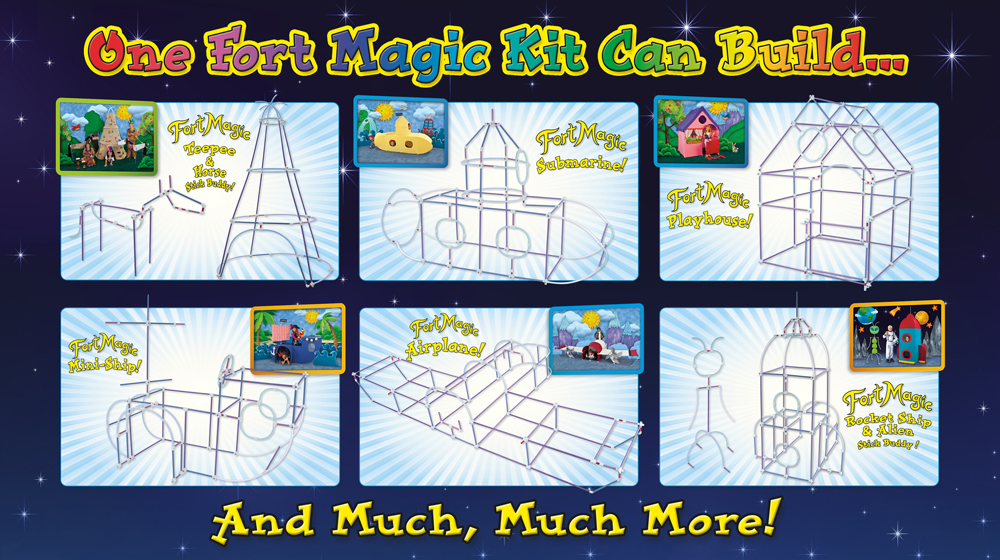 This car was the first thing that my youngest asked us to build! It has a steering wheel that actually turns and all 4 wheels on the bottom turn too! My kids "rode" it through the house!! You can imagine the possibilities of how to use this set for plays and parties! The great thing about the included fabric clips is that you can very very easily attach any type of fabric or blanket into your creation.  You can use old sheets you already have or buy coordinated fabric for your creation! Or like we did for our teepee you can paint something onto your fabric for a more intricate design!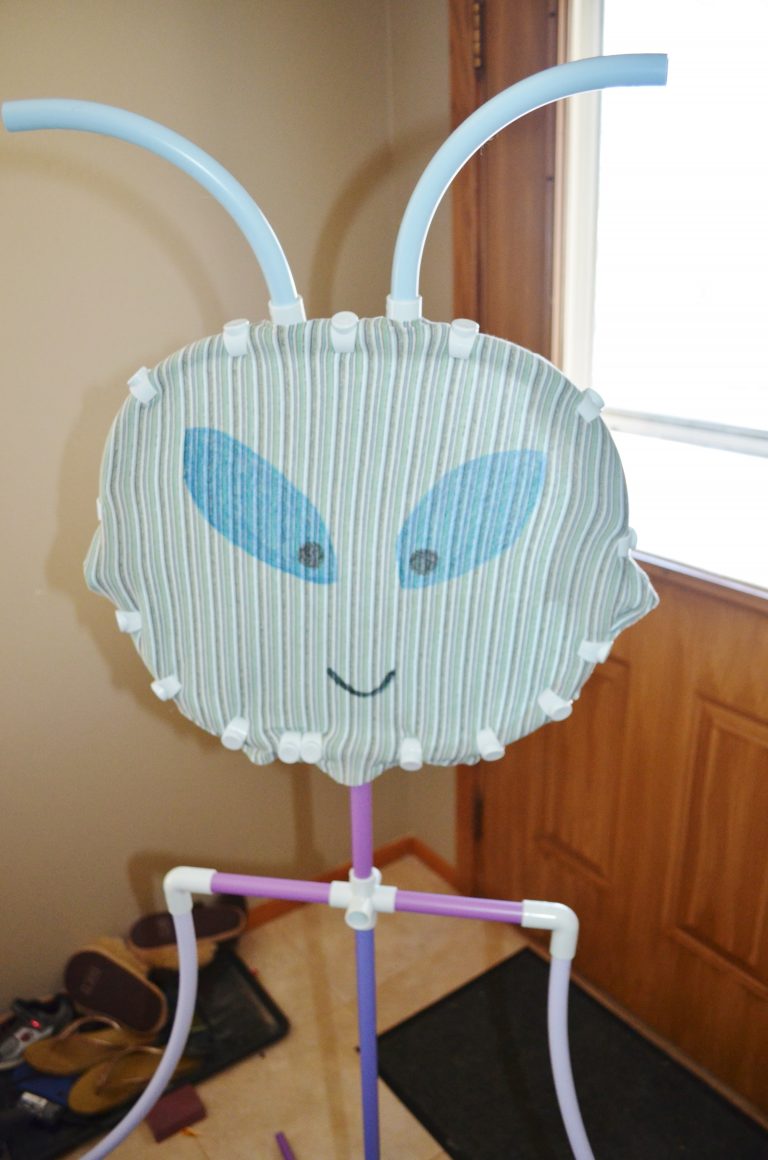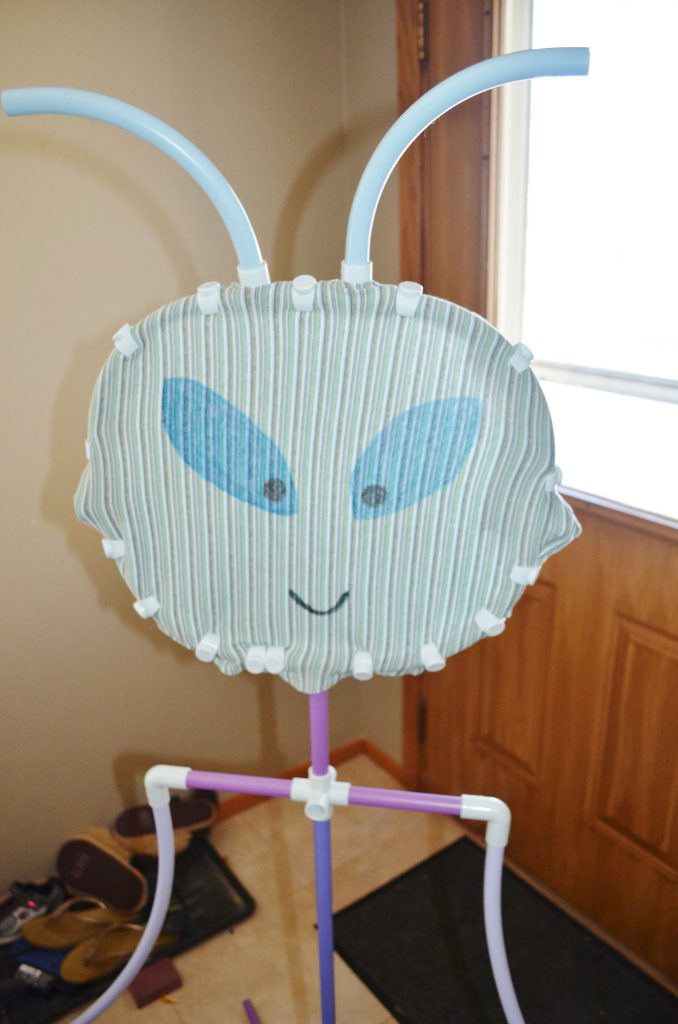 Here is our alien that we built from the design book! Below you can see a screenshot of the alien in the book as well as the rocketships you can build with it: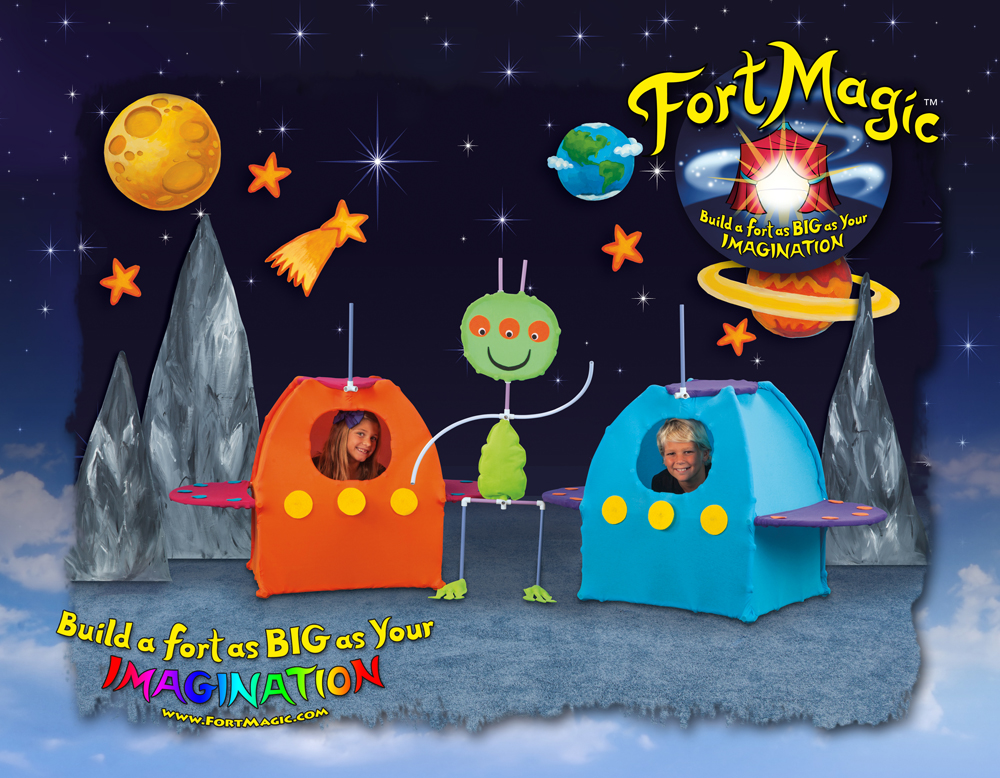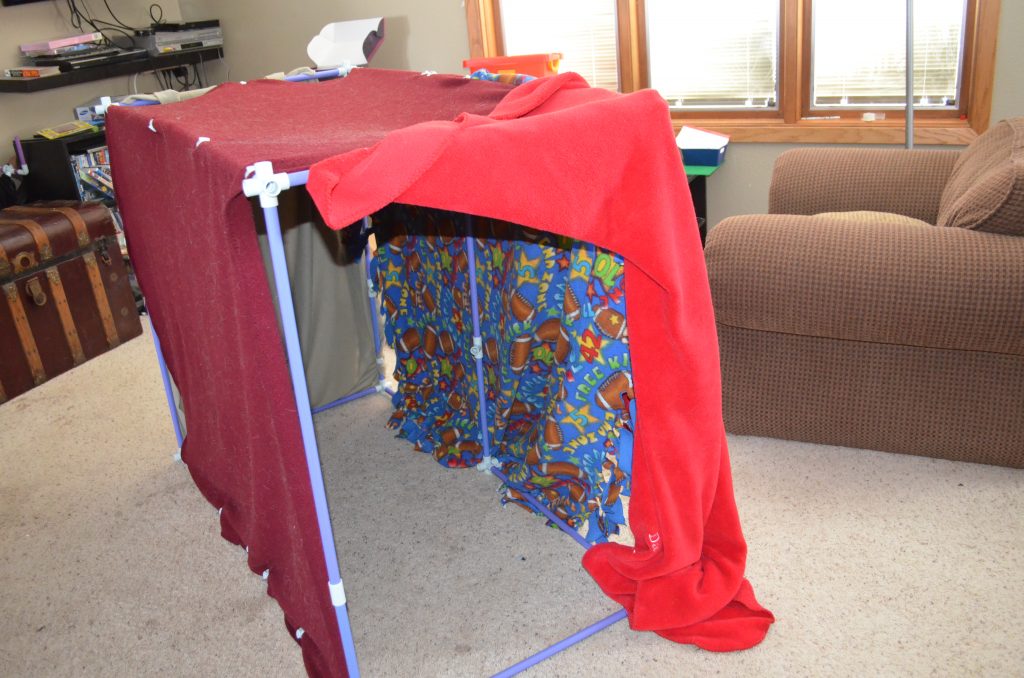 And this maze box was 100% created by my 6 year old son. Needless to say I was pretty surprised and impressed when I found him building this!! He even set all of the blankets up himself!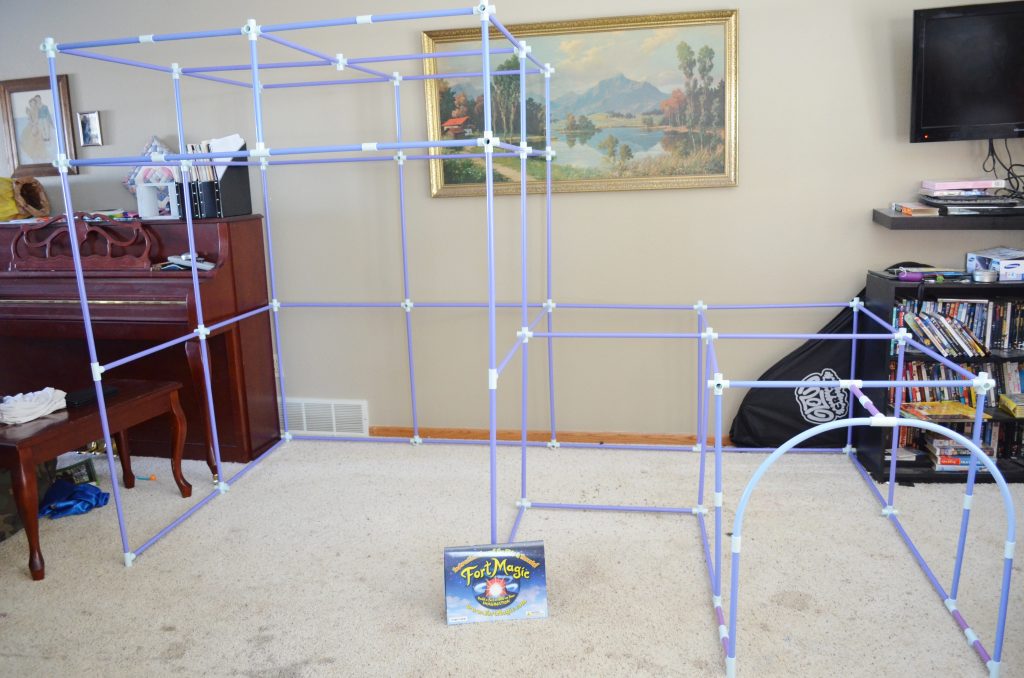 This mansion was our first creation and it is a HUGE one! We actually had to rearrange furniture in our small living room to get this set to fit! In fact it's so large that in the "room" you see of the mansion on the left all of the adults could stand up straight inside of there! This monster took a LOT of blankets to cover!! 🙂 One day we'll buy enough fabric to create something coordinated for this – it's SO cool!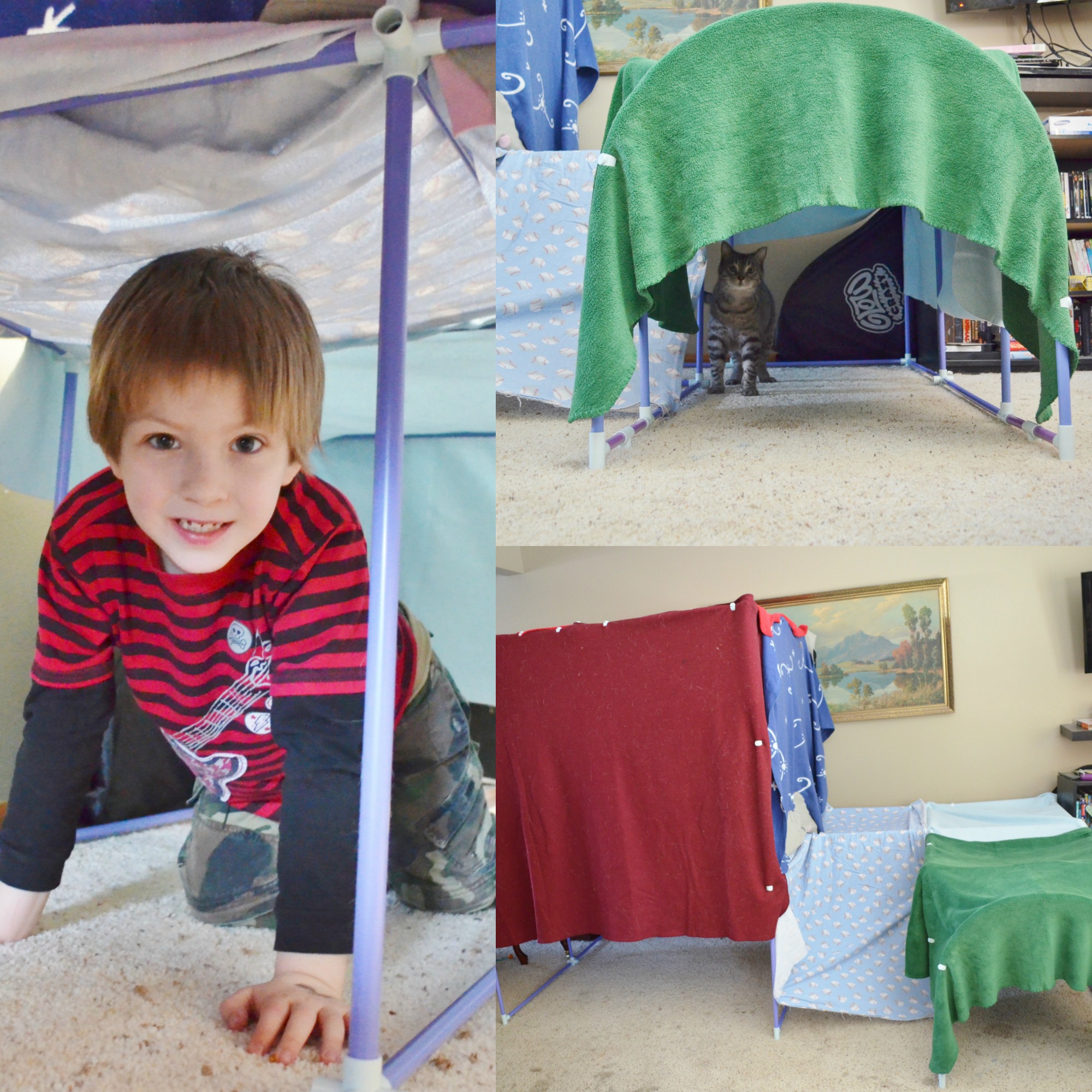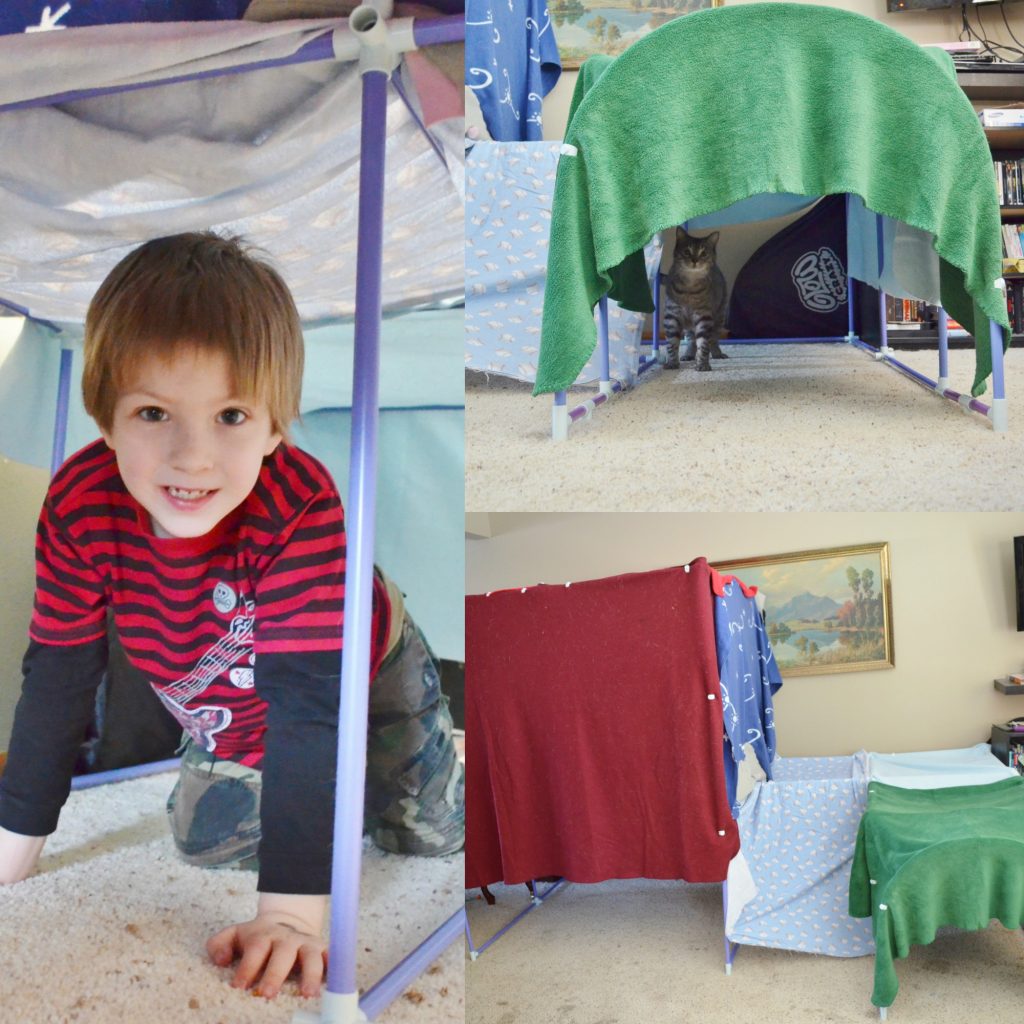 Here's just another few photos of the mansion covered with about as many blankets as I could find at the time! We left this up for a whole week and only took it down so that I could create some more designs for this review. The kids absolutely went nuts over it!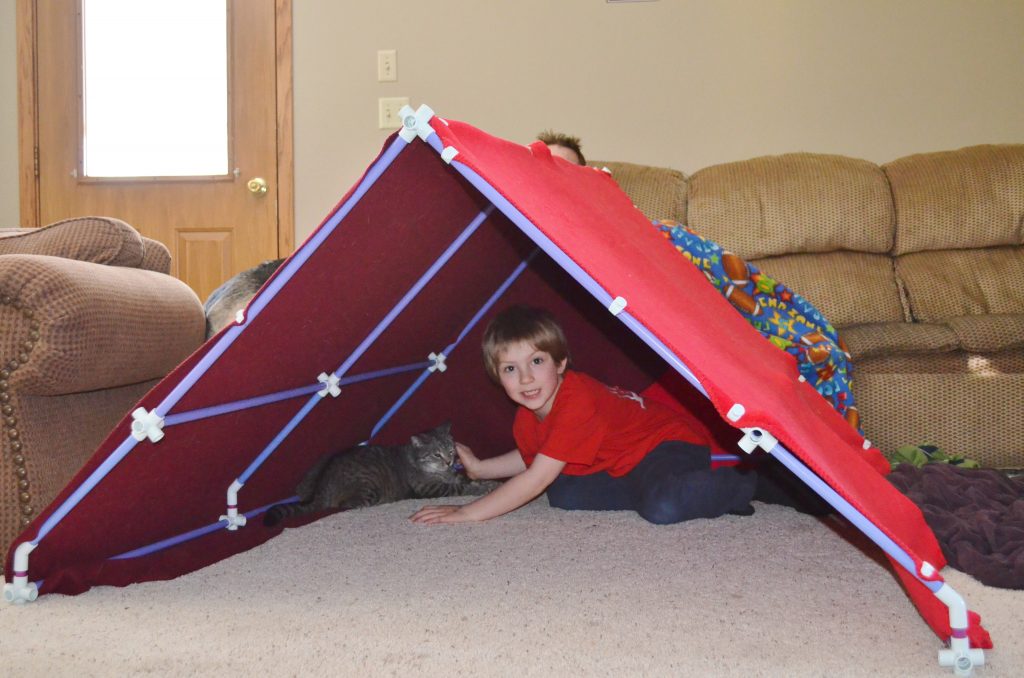 Since the kids liked hiding under things so much we then built this tent for them to watch TV and read books under! It was surprisingly roomy and had plenty of room in there for at least 4-5 kids.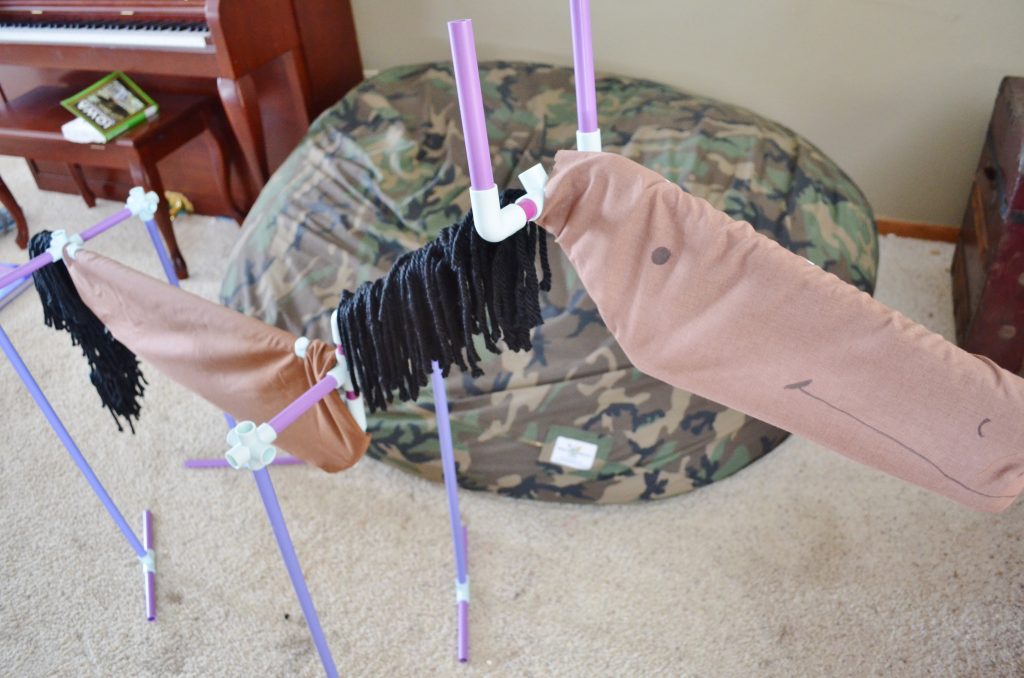 And of course to go with our teepee we needed a horse!! My 6 year old helped me to create this and it was a fantastic project for his motor skills because he sat with me for hours and tied on black yarn for the horse mane and tail!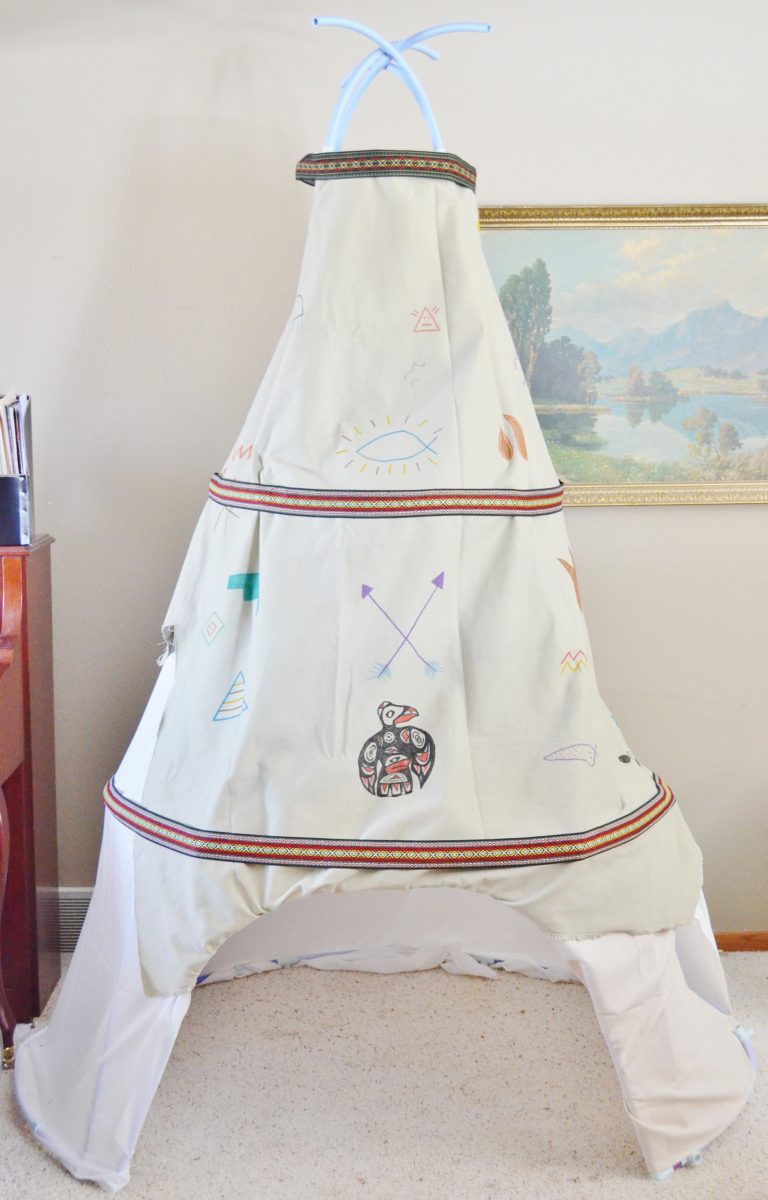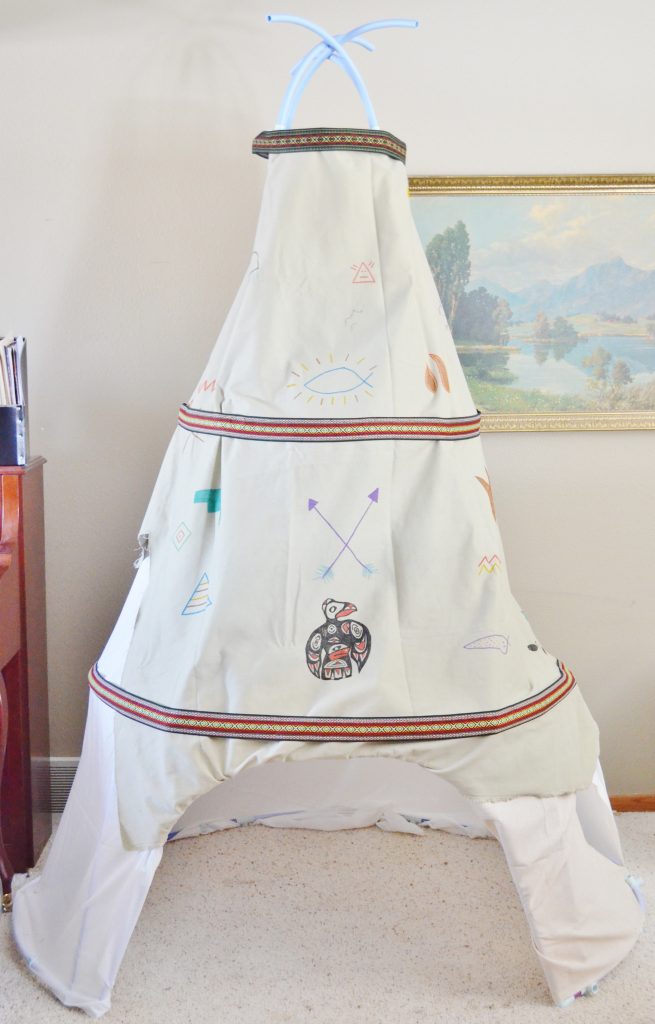 As you can see in my photos the Fort Magic set does not come with fabric but you can use blankets and sheets at home, or of course buy fabric to match. I've been told that later this year we might be seeing some pre-made fabric swatches for sale so keep an eye out for that! Overall this set is AWESOME and you'll definitely get your money's worth out of it. This is one of those things that will last through your kid's entire childhood and beyond if you care for it appropriately. You are really bound only by your own imagination. You can create your own lemonade stand, puppet theatre, train station, igloo, and anything else that you can dream up! You can read other people's reviews and see pictures of their creations here. And here's the link to buy your own Fort Magic set!
Here are a few other creative ideas to use this set for:
photography props / backgrounds
school skits and plays (trees, buildings, walls, etc)
hanging mobiles from
outdoor play and activities
photo ops
GIVEAWAY
I am SO excited that Fort Magic has offered a construction set to give away for one of my readers!! This giveaway is open to US AND Canada only. Just fill out the Rafflecopter form below which will end on April 2, 2014 at midnight. Winner will have 48 hours to claim prize before a new winner is chosen.