Simple Winter Die Cut Project Ideas for Teachers & Schools
This post may contain affiliate links, view our disclosure policy for details.
 I received some die cuts to use for this post. All opinions are my own.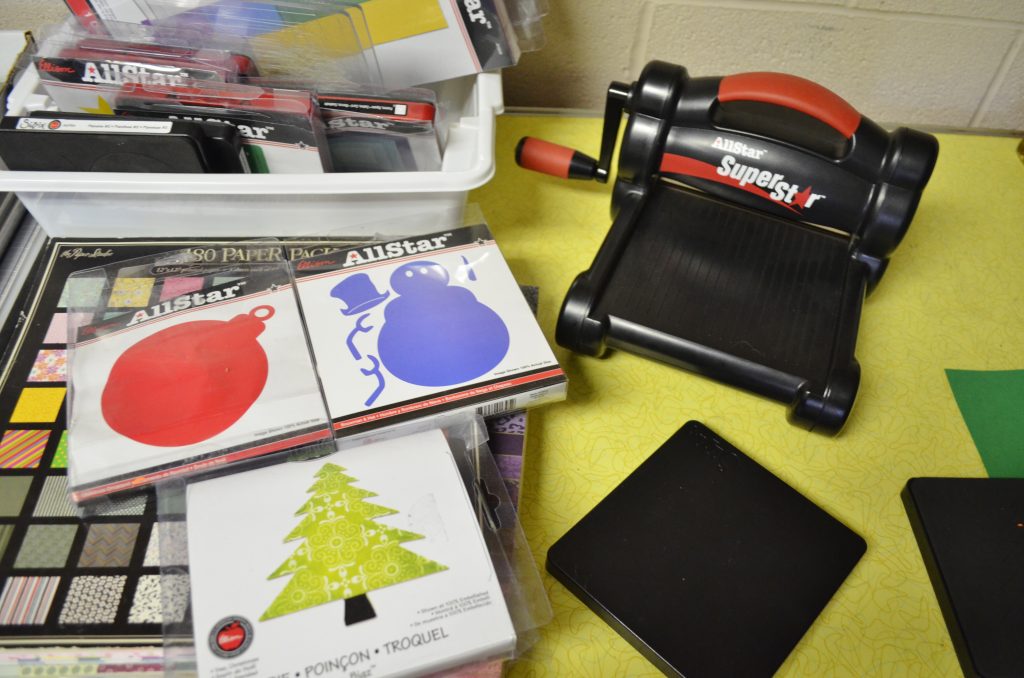 Excited chatter has been going through the hallways at our school. Now that Thanksgiving has come and gone the festive winter decorations are coming out!! Ellison Education sent us a few die cuts to go with our AllStar SuperStar machine and let me tell you – the teachers have been busy busy using them! Piles and piles of scrapbooking paper have magically appeared in our storage room next to the die cut machine as projects have been created.
Since the teachers were already busy creating their own projects for their classrooms I decided to spruce up the school office just a bit. I started with the Sizzix Bigz Die Christmas Tree and used both scrapbooking paper, colored printer paper, and construction paper. Pretty much whatever was sitting in the paper scrap bin!
We have to be resourceful when it comes to school don't we! 🙂 I actually used both the Christmas tree that was cut out as well as the "surrounding" paper that was "scrap" and glue on a piece of paper to the back of it in a separate color. You could easily turn these into some pretty cute holiday cards, but I decided to make a small garland out of them to hang in the school office doorway.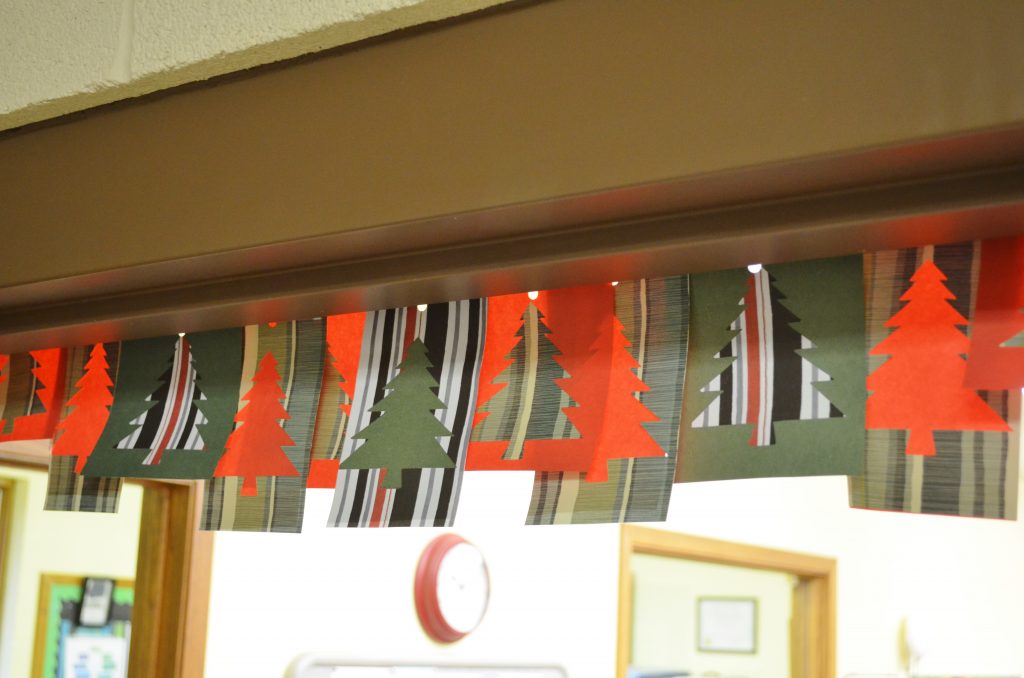 Look how cute it turned out!!
One of the most popular dies with the teachers was the Christmas Ornament die. Although for our student's privacy I'm not going to share a picture one of classrooms had the kids decorate their ornament with their names on it and pasted a picture of each child in the middle of the ornament! You could easily laminate it and send it home to the parents for gifts from their children.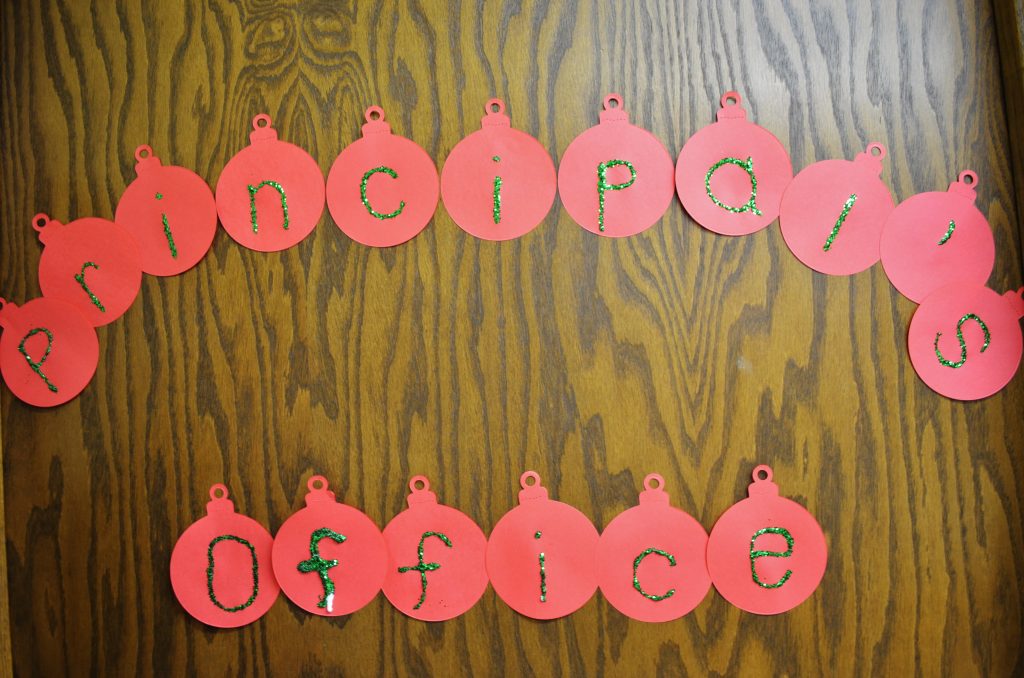 I thought it would be fun to decorate the principal's door with it so I cut out enough ornaments to spell "PRINCIPAL'S OFFICE", wrote each letter using a bottle of liquid glue, and then sprinkled glitter on the letters to make them stand out more. It was SO incredibly simple but really made the office area look more festive!

I also added a few ornaments on his door too! Another idea one of the teachers wanted to use these ornament dies for was to staple 25 styrofoam cups onto a bulletin board, add inside each cup a Bible verse or piece of candy, and then paste a paper ornament on the outside of the cup. Each day a student could poke a hole through the cup and pull out whatever was hid inside!
And how cute are these Sizzix Bigz Die Snowman and hat sets!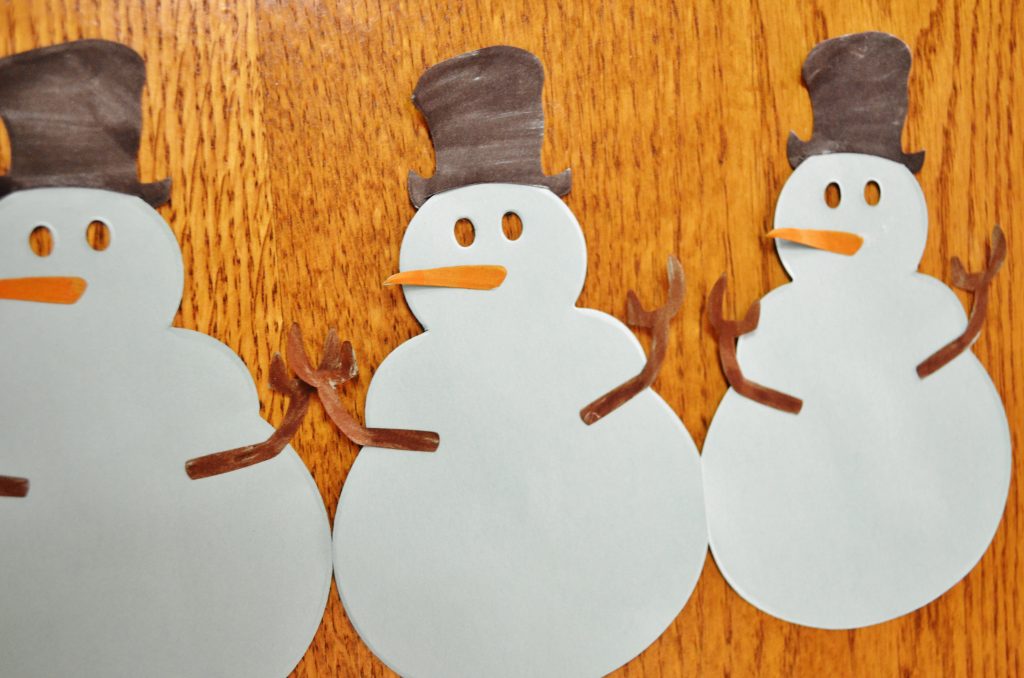 I just used a blue printer paper to cut out the snowmen, and then used markers to quickly turn the arms brown, the nose orange, and the hat black!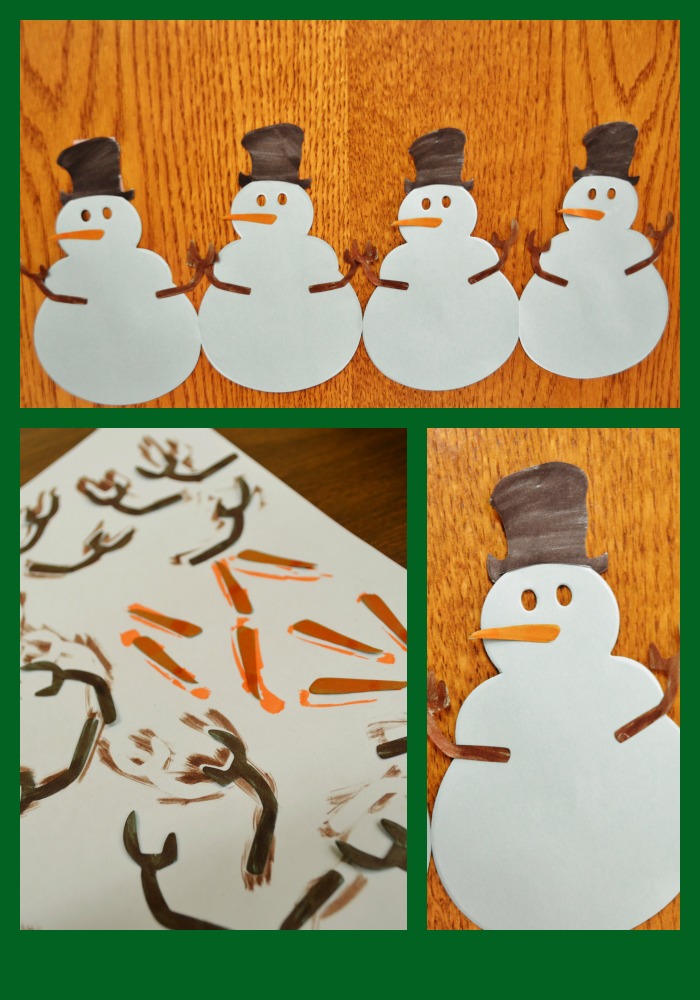 I just taped them across the office door for a little extra festivity, but if I had time I would have made a large bulletin board with 25 snowmen, all numbered 1-25 and created an advent calendar countdown out of them!