Must Haves for your Kindergarten Reading Corner
This post may contain affiliate links, view our disclosure policy for details.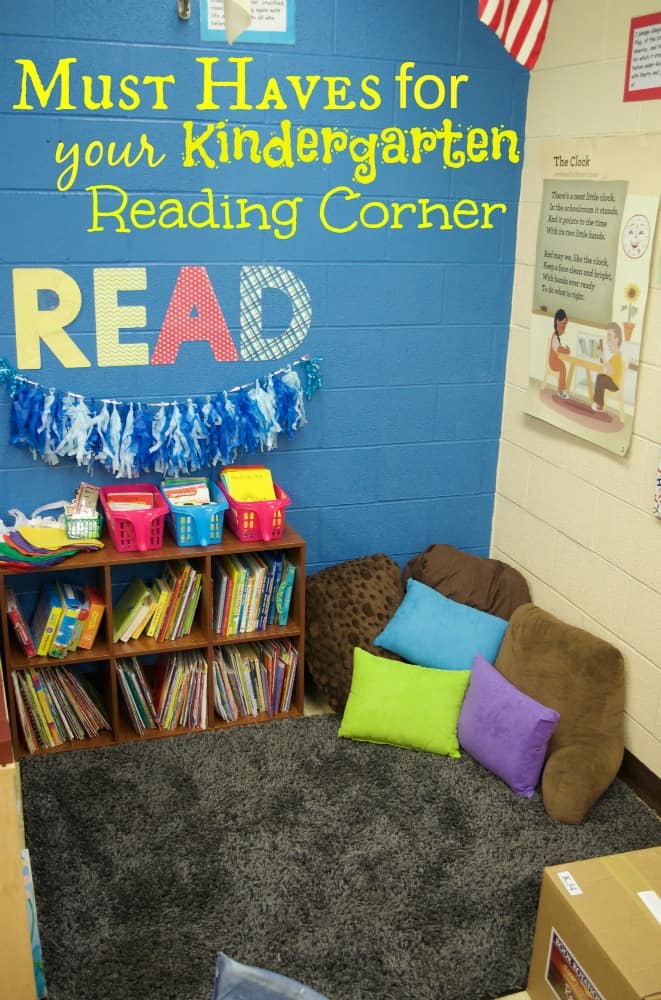 Let me preface this by saying most of these are must haves for your reading corner are great for any mid to lower elementary grade level but kindergarten comes with special exceptions as most kids do not start the school year being able to read and many still have the wiggles! Oriental Trading helped us out this year and sent us some goodies to help spruce up the book nook corner! They are always my #1 go to spot for classroom supplies & craft/party needs! And for your kiddos that need a quiet corner to do something other than reading – we've got them covered too!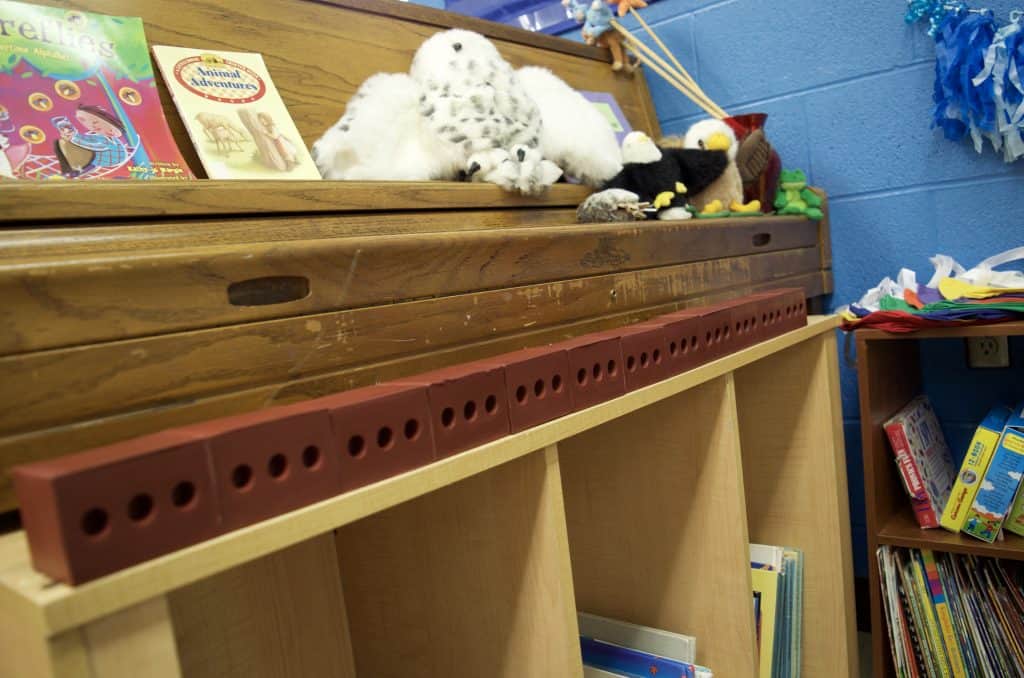 Books & Book Buddies: The most important thing of course is having a variety of good book choices for your students! Thrift stores, yard sales, and parent donations are the best affordable way to beef up your books in the classroom. You can also try local businesses to see if they will donate some books. After the books one of the students' favorite things to have is a book buddy to read with! Whether it's a stuffed animal to curl up with, a puppet, or even a variety of stress toys to fiddle with as they sit quietly and read – these come as a special responsibility and privilege to the students who take care of them. 
You can order all sorts of stress toys
and squishies
on Amazon to use too!
Must Haves for your Kindergarten Reading Corner: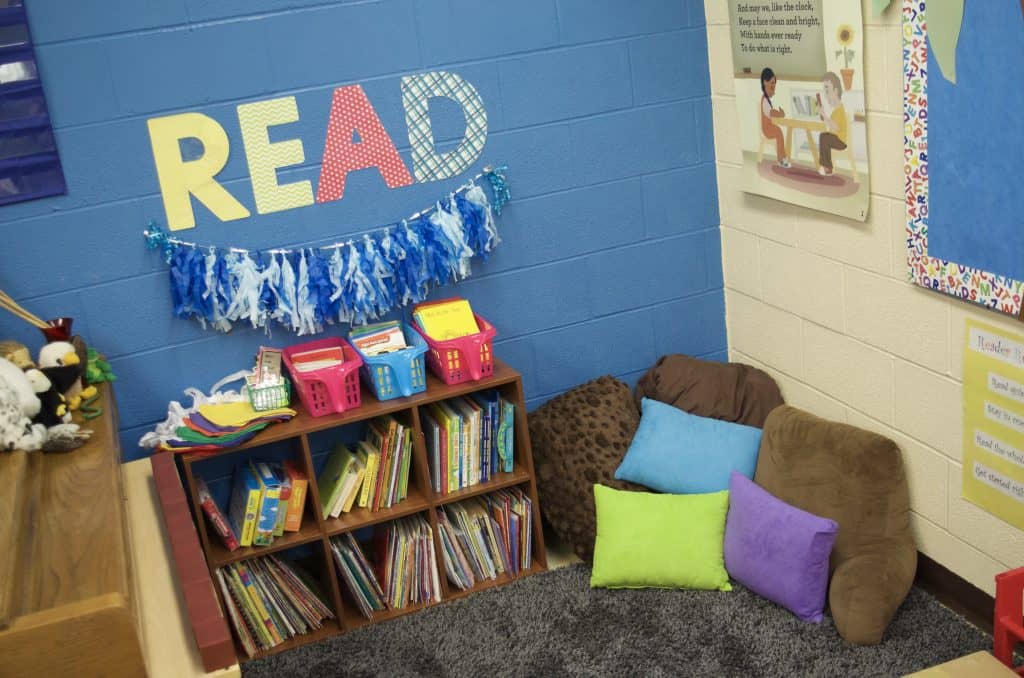 Pillows, Bean Bags & Rugs: Even adults like to cozy up with something soft when reading a book and your students are no different! If you have a hard floor in your classroom consider a small corner rug along with a pile of pillows. What makes them extra perfect for classroom use is that they have a zippered case on them so you can pull it off when it gets dirty and throw it in the washing machine!
My kids have even had teachers with small couches to read on…..and one teacher even had a bathtub full of pillows for the kids to climb in and read in! If you have district restrictions on things like rugs at the very least consider a few small camping chairs to get comfy in. You could even use a small tent!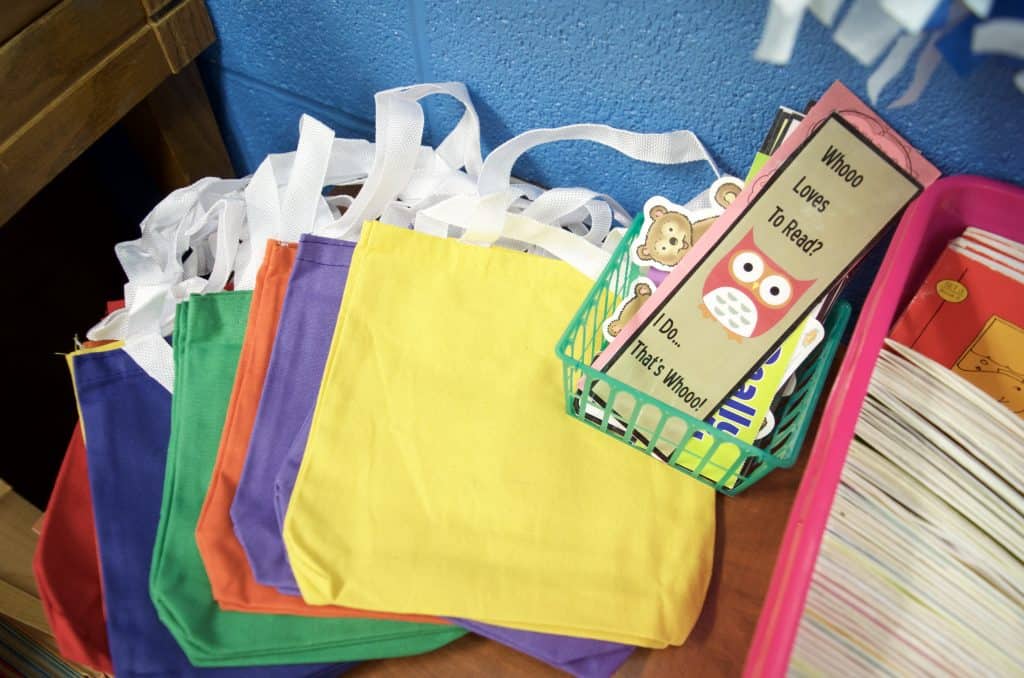 Bookmarks & Reading Bags: I love to see a pile of bookmarks for kids to use in their books. It not only holds the page that they were reading on but it acts as a guide for those students who need to use the bookmark while reading each sentence to keep their place on the page. You can buy piles and piles of bookmarks for a reasonable price at Oriental Trading and there are 200 varieties to choose from!
I've also found that the small canvas tote bags
are perfect for helping to keep the books nicer longer. (Note I said small – make sure you don't buy huge ones or they'll be more difficult than helpful to keep track of!) I cringe sometimes when I see the reading books tossed in a backpack underneath a mountain of other crinkled up papers. Using a small sturdy tote bag not only helps the child spot it easier in their backpack but helps to protect the book from unnecessarily being bent and smashed in their backpacks. These are especially great for leveled reader "step" books.
Other Reading Corner Ideas:
Make it Colorful! Kids are drawn to colorful areas like magnets! You don't have to go over the top crazy but at least add a pop of color with pillows or even a poster! Can't paint your classroom walls a cool color? Try hanging up a swatch of colorful fabric!
Timer – If your students have a timed reading session during the day keep a timer
in the corner for them to use! Consider a quiet timer or one with flashing lights so that it doesn't distract the rest of the class.
Make it themed!  I am a sucker for anything themed! I LOVE coordinating ideas both at home and at school. Especially for kindergarten students they love themes too! Whether it's your favorite book character, themes like the jungle or camping, or even just shapes like polka dots spice up your area with a simple decor theme!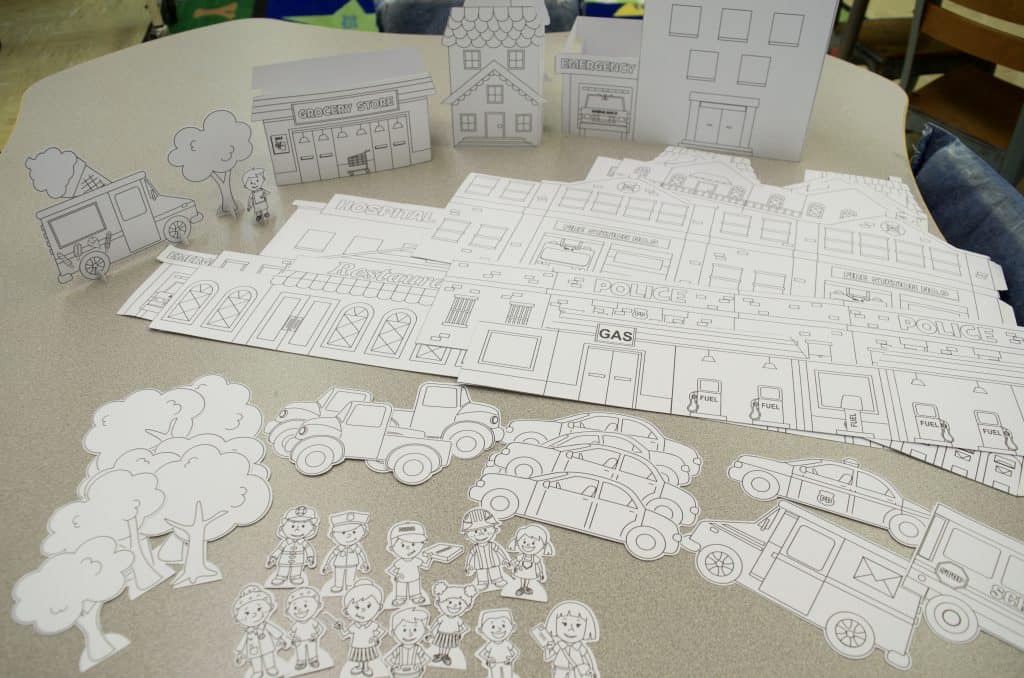 Bonus FAV Quiet Activity! OK I HAD to order this and add this into the post because I'm in LOVE!! Just search for the "Color Your Own 3D Town" on Oriental Trading and you'll find this PERFECT quiet classroom activity. It includes 40 3D community workers, buildings, trees and vehicles for the students to color and set up. No matter how big or small your classroom is there are plenty of pieces for kids to work on and decorate as an entire class. There are a zillion ways you can incorporate this into your classroom lessons so you can easily customize it to fit your classroom needs.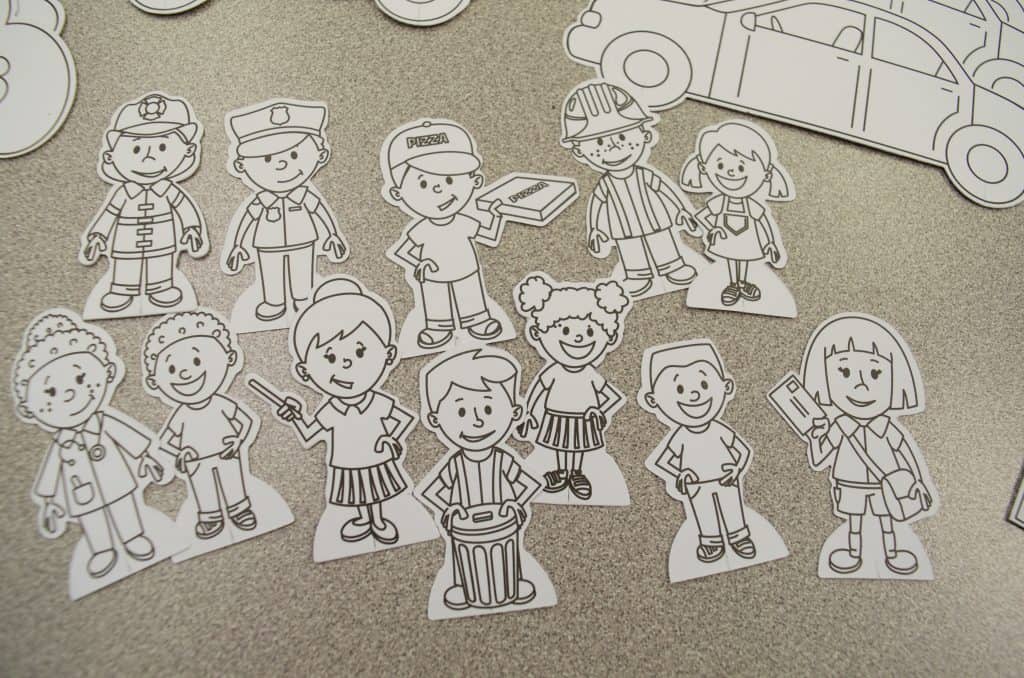 There are doctors, teachers, postal workers, garbage collectors, firefighters, police officers, grocery store workers, and plenty more! Place them all on a table covered in green bulletin board paper and you've got yourself a whole town!
Take a look around Oriental Trading – they have really expanded their classroom decorations and teacher resources! I pretty much could just order everything they have! Have you seen all of their teacher goodies? They have some great classroom storage containers too!