All New TEACH Documentary – Inspiring Teachers across America
This post may contain affiliate links, view our disclosure policy for details.
 This post is sponsored by Participant Media but my love of teachers is 100% my own.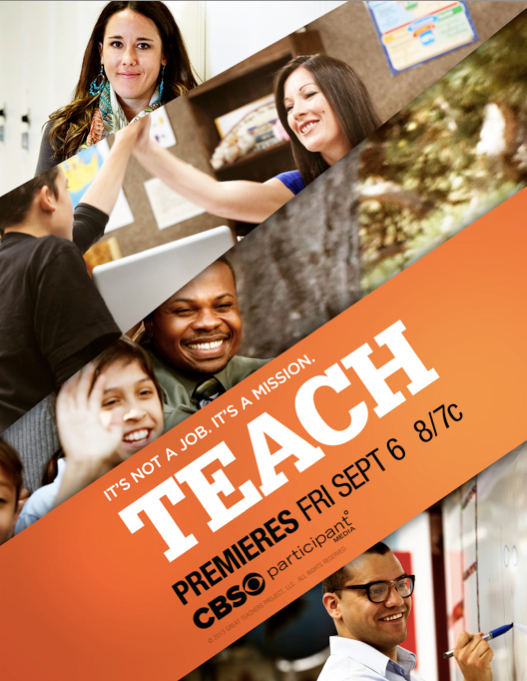 I am SO excited to share with you about an amazing new series called TEACH Documentary that will begin airing on CBS Television Network September 6th at 8PM ET as a 2 hour special. (It will also air on Pivot Sept. 14th at 8PM ET.) TEACH is Academy Award-winning director Davis Guggenheim's THIRD documentary film about education in America. In 10 years a staggering 65% of teachers will be eligible for retirement. For all of the complete details on TEACH click HERE!
It asks the all important question:
WHAT DOES IT TAKE TO BE A GREAT TEACHER TODAY?
This inspiring TV series follows four dedicated teachers from different schools all over the country over the course of one school year. It allows viewers to see the challenges, demands and rewards of teaching and the impact of teachers on their students. I really believe this will be beneficial for even those that do teach to see how other teachers are inspired to continue their student's education and perhaps relate to them as well. As a parent I'm of course interested to see how it measures up against our current schools, and be inspired by not only strong creative teachers but also see a new perspective in a different light. Teaching isn't just a job, it's a mission. Let me tell you – my husband taught in the public school system for 7 years and it's no piece of cake. TEACH showcases the passion, belief, and innovative drive in these educators as they barrel through the 2012-2013 school year. They use conventional AND unconventional methods to capture their students into learning, overcoming obstacles, and striving for success.
MORE ABOUT the Teachers Featured in TEACH:
MATT JOHNSON is a fourth-grade teacher at McGlone Elementary—a turnaround and innovation school in the Denver Public School system. Born in Chicago, Johnson grew up in the projects, later earning two degrees at the University of Denver—an undergraduate degree in business administration and a master's in education. Inspired by his mother, who became a teacher, and by a host of teachers and mentors throughout his education, he was awarded a scholarship at age 14 to attend a private school outside of Chicago—a move that he says dramatically changed his life for the better. As a second-year teacher, he is relatively new to the profession and still mastering his craft. Johnson, who has a daughter, says his proudest achievement has been helping his students greatly improve their math scores; from just 20 percent proficient at the start of this past year, to 75 percent proficient or advanced by year's end. With mentoring from his principal, Suzanne Morey, he strives to accelerate his students' growth. His advice to would-be teachers: "Make sure your heart is in it. Make sure you're doing it because you have a passion for helping people and helping kids. It's got its ups and its down and it's not great all the time, but it's definitely rewarding.""
SHELBY HARRIS is a seventh-grade math teacher at Kuna Middle School in Kuna, Idaho. Born in Boise, she married in 1997 and graduated summa cum laude from the University of Idaho the following year. She has two children, Abbie, 13, and Carson, 9. Harris, who has wanted to be a teacher for as long as she can remember, singles out her high-school math teacher, Mike Jossis, and her 12th-grade English teacher, Vicki Isquena, as among her most inspired and inspiring instructors. In 2012 Idaho ranked 49th in the nation for their spending on education, and within the state, Kuna is one of the lowest-funded districts. A 13-year veteran of the Kuna Public School District, Harris is trying to adapt to a new style of teaching: going from direct instruction to a "blended learning" approach. Through a grant from the Albertson Foundation, Shelby received laptops for her math students and integrated Khan Academy into her math curriculum. What makes Khan an interesting classroom tool is that it gives Shelby spontaneous real-time data, shows her how her students are doing and where they are struggling. "It can be tough to be passionate about math, but I am passionate about kids," she says. "Their well-being and knowing that they are valued and honored, and that I'm there for them no matter what." Her advice to would-be teachers: "Do it for the right reasons. A lot of people go into education thinking they'll have summers off, that it's an easy job where you work with kids all day, you babysit, then you go home. That is not the case. If your heart is not in education, and more importantly, if your heart is not in the children, you'll be miserable. Be sure you're going into it for the right reasons, and buckle up because it's quite a ride.""
LINDSAY CHINN is a ninth-grade algebra teacher at Martin Luther King Jr. Early College, in Denver. Born in Odessa, Texas, she earned two degrees in social work—an undergraduate degree at Texas Christian University and a master's at the University of Denver, with a specialty in at-risk youth. After a stint as a social worker, Chinn was drawn to teaching by the desire to affect children's lives proactively, rather than reactively. After completing a two-year program at Teach for America, she has spent the past four years teaching math at MLK, a school previously featured on ABC's Primetime as one of the most troubled schools in the nation. Citing her high-school science teacher and sixth-grade teacher as her role models, Chinn says her favorite part of teaching is the students themselves—interacting with them every day as they figure out who they are as learners and as people. She considers her proudest achievement to be teaching the same group of kids for the past three years—watching them grow and sharing that journey with them and their families. Her advice to would-be teachers: "Remember that students are children and be patient with them. Figure out who they are as people and let them know who you are as a person. Continue to find new ways to become a better educator, to push them as learners, so they can go into anyone's classroom and be viewed as successful students. And laugh at yourself, and your students, when you're ridiculous, and don't be afraid to ask for help, and to struggle, because that's when it's real. That's when you're doing something. When you struggle.""
JOEL LAGUNA is a 10th-grade Advanced Placement World History teacher at Garfield High School in Los Angeles—the same school where the famous Jaime Escalante taught AP Calculus (a feat later dramatized in the 1988 film Stand And Deliver). A native of San Diego, Laguna dreamed of being a teacher from childhood. He earned a B.A. in political science at UCLA in 2009, got his teaching credential there in 2011 and earned his master's in education there this year. Counting many of his past teachers as strong mentors, he especially enjoys seeing students grow in their abilities and prides himself on cultivating a "team family unit" in his classroom where students feel safe and accepted. He began teaching 10th-grade AP World History at Garfield two years ago. Expectations were low, but his career got a boost when half of his class passed the exam. His advice for would-be teachers: "Just go for it. Don't be afraid to fail. We tell our students that, and we should not be afraid to fail either. Take risks and know there are going to be good and bad days. If you give it your all and your students see that you care, it will definitely come back to you."
TALK TO ME! Tell me about a teacher that inspired you – or even why you've been inspired to become a teacher yourself!