5 Tips to Working with Difficult Students in the Classroom
This post may contain affiliate links, view our disclosure policy for details.
This post, "5 Tips to Working with Difficult Students in the Classroom" is a guest post by elementary school principal Craig Rapinchuk.

As I dwell on 12 years of educational experience, I have learned these five tips the hard way by making
the mistakes, but from them I learned. Please know that these are just a few tips and don't always work
with all students, but it takes time to get to know what works as each individual is unique and different.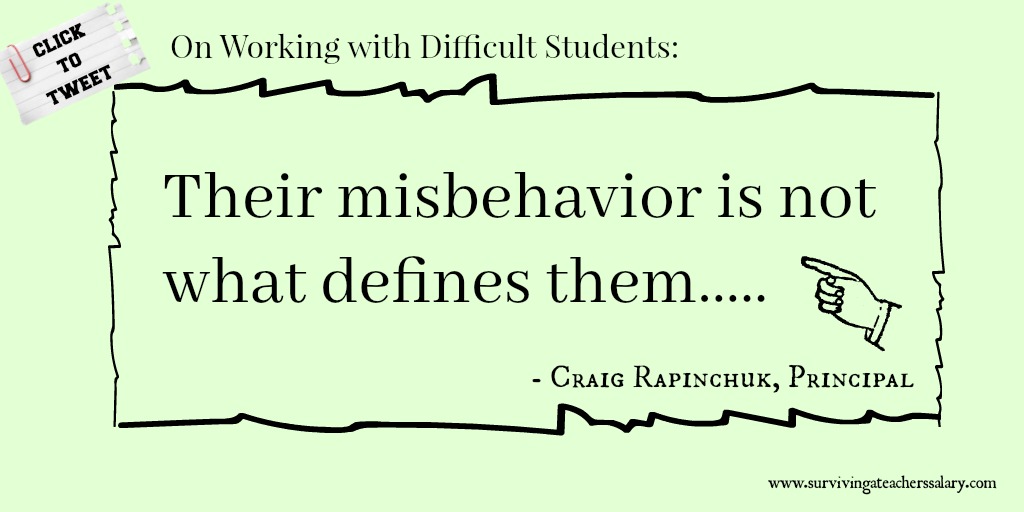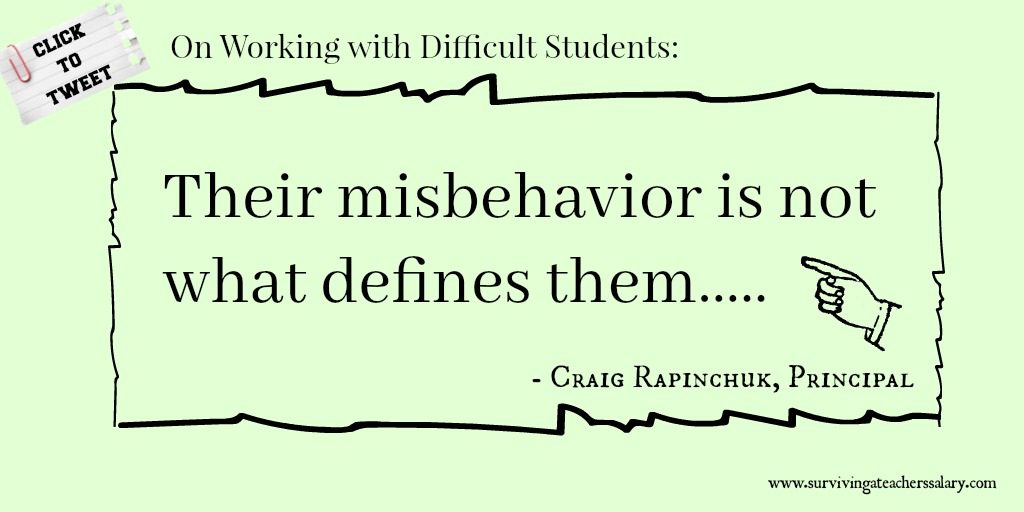 1. Treat all students equally.
Students that act out or are difficult are also generally the most attune to fairness. They realize that
when they talk you correct them much differently than when you address perfect Suzy. If you
equally treat all students in areas of correction, they will realize that you generally care for them.
2. Find the underlying issue.
Most extreme behavior issues in children have an underlying problem that causes them to act out.
In fact over the past 12 years, the children that act out the most are going through or have gone
through more trying things then you have ever gone through.
3. Be patient and calm.
The number one thing to diffuse an angry or upset student is to calmly and patiently talk with them.
They can sense your sarcastic or curt tones and will ignore everything you have to say. When they
sense you are calm and willing to listen and be patient, their guard goes down and they open up.
4. Ignore the past.
The hardest thing to do is to ignore the past. A student that acts up is well known on most campuses
and yet ignoring what they have done is extremely hard. Imagine something you have done in the
past continually effecting the way every adult around you treats you, speaks to you, and or responds
to you. I wouldn't care about it either.
5. Don't expect perfection.
Every student will make mistakes, from your best students to the worst. Expect these mistakes,
correct these mistakes, and move on. If you expect your trying student to magically stop
misbehaving, then you are going to be extremely disappointed.
Considering these five tips with extreme students will allow you to build a relationship and get a chance
to know who that student is for who they are. Their misbehavior is not what defines them, their
personality and uniqueness is what should define them.
---
Other Teacher Posts: