5 Tips for Buying an Organizational Planner
This post may contain affiliate links, view our disclosure policy for details.
Every year before the New Year starts I get excited because I know that it's time for me to head to the store and purchase myself a good organizational planner. The past two years I have gotten mine at Walmart (and have seen them at Target!) and been more than happy with them! (they cost about$10 each) Amazon also has a ton of great planners for about the same price. A good real life (not virtual) planner book keeps my head on straight and keeps me organized throughout the year! Everyone knows it's a frantic day in my house if I can't find my planner! Not only does it help me stay organized on my blog but it also keeps me organized with my family. I know a lot of people use Google Calendars but I prefer to have something where I can write and doodle in and carry around with me. It's 100% reliable (unless you lose it!) and it doesn't have to be charged!!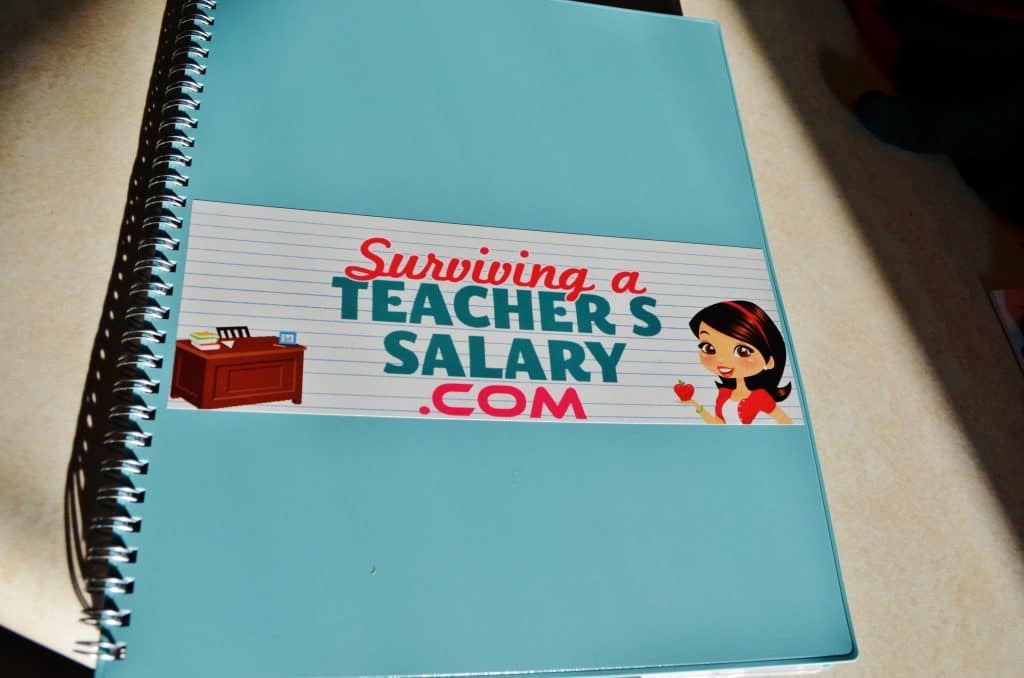 This year I opted for a brighter blue color so that I can easily spot my planner when it's piled underneath a bunch of junk!! A good tip to keep in mind! I keep everything from my doctor appointments in here, my blog posts, my pre-posts, all sorts of ideas that I want to research later, my to do lists, and tons more!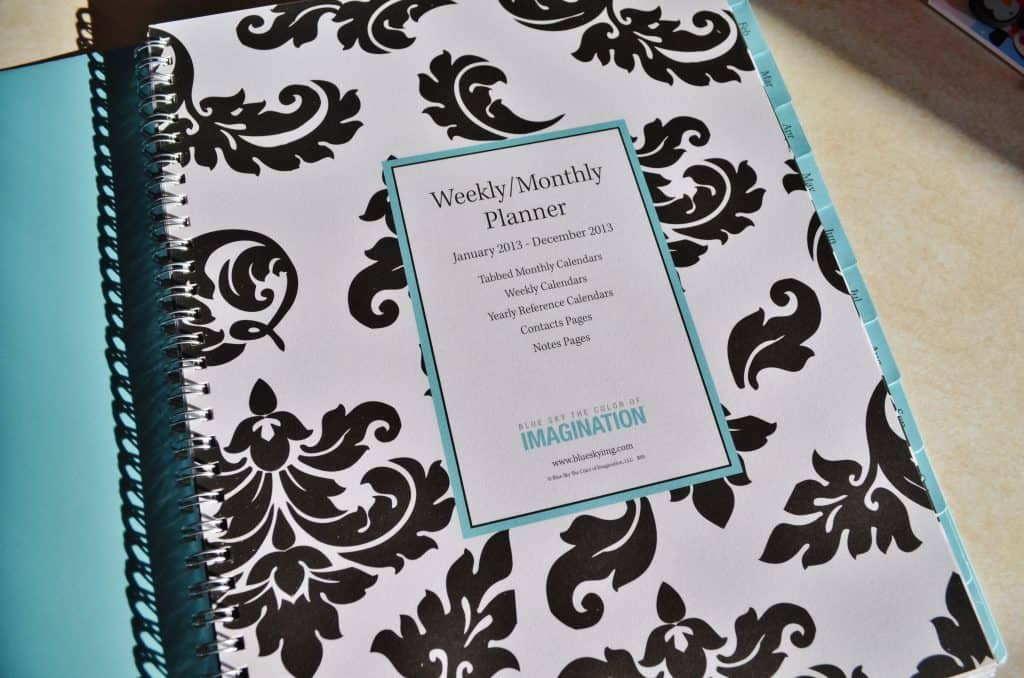 I love the design on this one since it's so stylish! My personal preference is to have a big planner, about the size of a notebook, so that I don't lose it so easily. I used to try those little purse-sized planners and I would either lose them or run out of room quickly! I have been talking to several other bloggers and readers who were looking for a good planner so I thought I would share mine with you!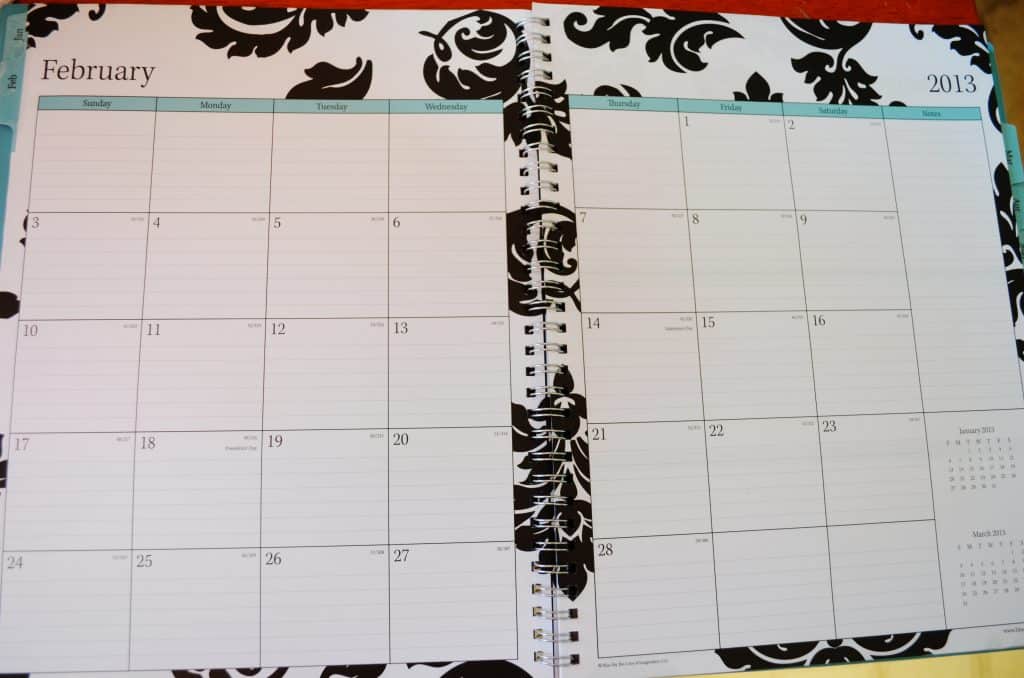 There are absolutely two things that I MUST have in a planner. I must have a monthly "boxed" calendar view like you see above, and I MUST have a daily view with lines so that I can write my notes, lists, and other things to do like you see below.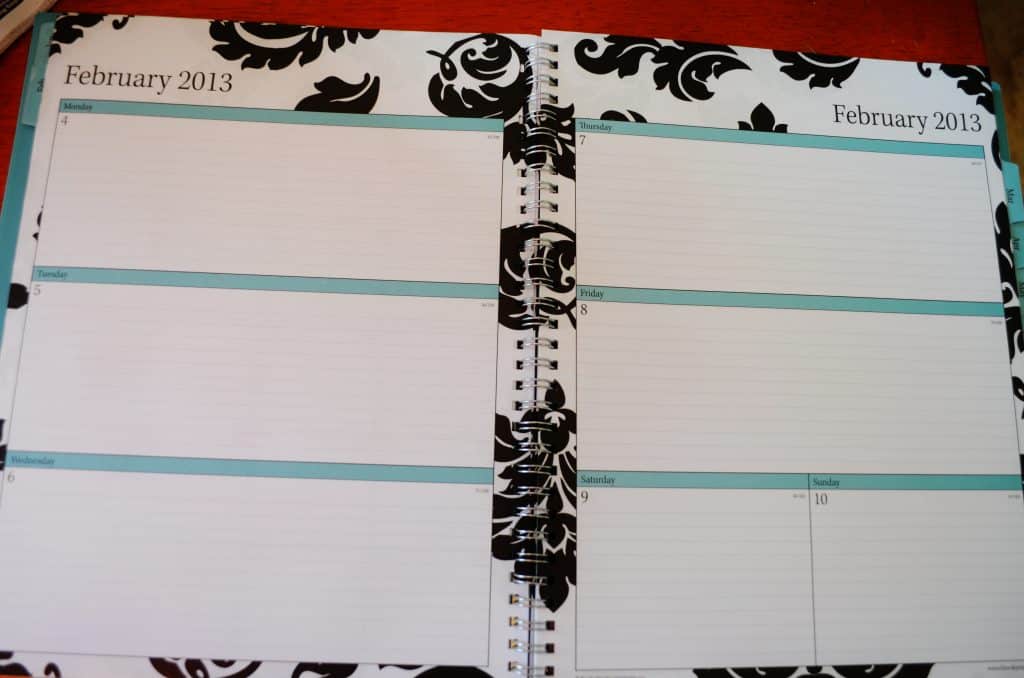 In the boxed monthly calendar view I write all of my important appointment times (and highlight them!), projects that are due, and anything else that is immediately important for me to see at a quick glance. Then on the daily lines I write my lists, the posts I am working on, and anything else that I just want to remember and go back to later. For under $10 a year my planners have saved me from missing doctor appointments, projects that are due, and just made me feel like I was more organized in general!
So here are a few tips to keep in mind when you are looking for a good planner:
1.) Buy a bright bold color or pattern. – This way you can spot it easily if you've lost it in a pile of clutter!
2.) Buy it big enough so that you don't lose it easily!  – Not only can you find it quicker this way but you have more room to write things down and stay organized.
3.)  Find a planner with a monthly view AND a daily view. – Keep important dates and times on the monthly calendar and then keep your to-do lists and other tid bits of info on the daily calendar.
4.) Don't skimp on cost! – I can't reiterate this enough! This is NOT the time to save a couple of dollars!! This will keep you sane and organized for the entire year so it's worth spending the money on a really good one! Trust me – I made this mistake my first year doing this and ended up wasting the money!
5.) Have a special place for it. – Keep your planner in ONE specific location in your house. I carry my planner around a LOT as I am often working online in different rooms in the house and tend to loose it on occasion. Designate one location for your planner and then make it a habit to keep it there! NOT on the end of a coffee table, next to your bed, or somewhere else where you'll have to go hunting for it later!