20 Quotes on Graduation Day for Your Graduate
This post may contain affiliate links, view our disclosure policy for details.
CONGRATULATIONS to all the GRADS out there! Whether your child is graduating preschool or college it's a special day for them and these quotes for graduation day will be the special touch you need! The rest of their life is ahead of them so make their graduation a special time that you will always remember.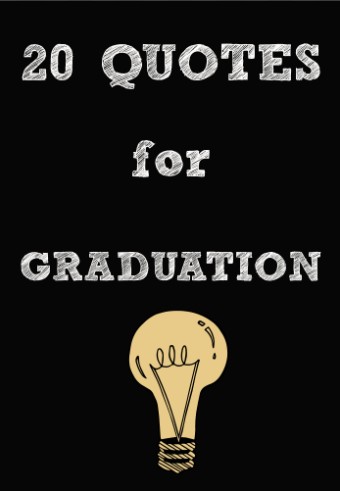 Here are 20 fabulous graduation quotes for you. Add them onto a decorative background and print for the party, add to grad invites or thank you notes, or get really crafty and make some vinyl decals with one of these quotes. OR check out our post for graduation gift ideas from preschool through doctorate!
CUTE Preschool & Kindergarten Gift / Craft Idea for Graduation:
(see tutorial here: Pencil Salt Dough Craft)
Quotes for Graduation Day:
1."Your time is limited, so don't waste it living someone else's life. Don't let the noise of others' opinions drown out your own inner voice. And most important, have the courage to follow your heart and intuition." – Steve Jobs
2. "The fireworks begin today.  Each diploma is a lighted match.  Each one of you is a fuse."  – Edward Koch
3. "Just don't give up trying to do what you really want to do." – Ella Fitzgerald
4. "All our dreams can come true… if we have the courage to pursue them." – Walt Disney
5. "Now go, and make interesting mistakes, make amazing mistakes, make glorious and fantastic mistakes. Break rules. Leave the world more interesting for your being here. Make good art." –Neil Gaiman
6. "If you don't go after what you want, you'll never have it. If you don't ask, the answer is always no. If you don't step forward, you're always in the same place." – Nora Roberts
7. "You have brains in your head. You have feet in your shoes. You can steer yourself in any direction you choose. You're on your own. And you know what you know. You are the guy who'll decide where to go." – Dr. Seuss
8. "Success consists of going from failure to failure without loss of enthusiasm." – Winston Churchill
9. Determination: "Do not go where the path may lead; go instead where there is no path and leave a trail."  Ralph Waldo Emerson
10. "The important thing is not to stop questioning."  Albert Einstein
11. "Education is not the filling of a pail, but the lighting of a fire." William Butler Yeats
12. "This above all: to thine own self be true, And it must follow, as the night the day, Thou canst not then be false to any man." William Shakespeare
13. "Do not anticipate trouble, or worry about what may never happen. Keep in the sunlight." Benjamin Franklin
14. As you start your journey, the first thing you should do is throw away that store-bought map and begin to draw your own. Michael Dell
15. "Don't always worry what your next line is going to be." Richard Costolo
16. "The world needs dreamers and the world needs doers. But above all, the world needs dreamers who do." ~Sarah Ban Breathnach
17. "Education is the most powerful weapon which you can use to change the world." ~ Nelson Mandela
18. "Whatever you are, be a good one." ~Abraham Lincoln
19. "Go confidently in the direction of your dreams. Live the life you've imagined." ~Thoreau
20. It is the mark of an educated mind to be able to entertain a thought without accepting it." ~Aristotle