Travel: Our First Experience at KOA Campgrounds
This post may contain affiliate links, view our disclosure policy for details.
Disclosure: This post was written by me as part of the #EpicRVBloggerTour. Although we stayed at the campgrounds free of charge no compensation was received.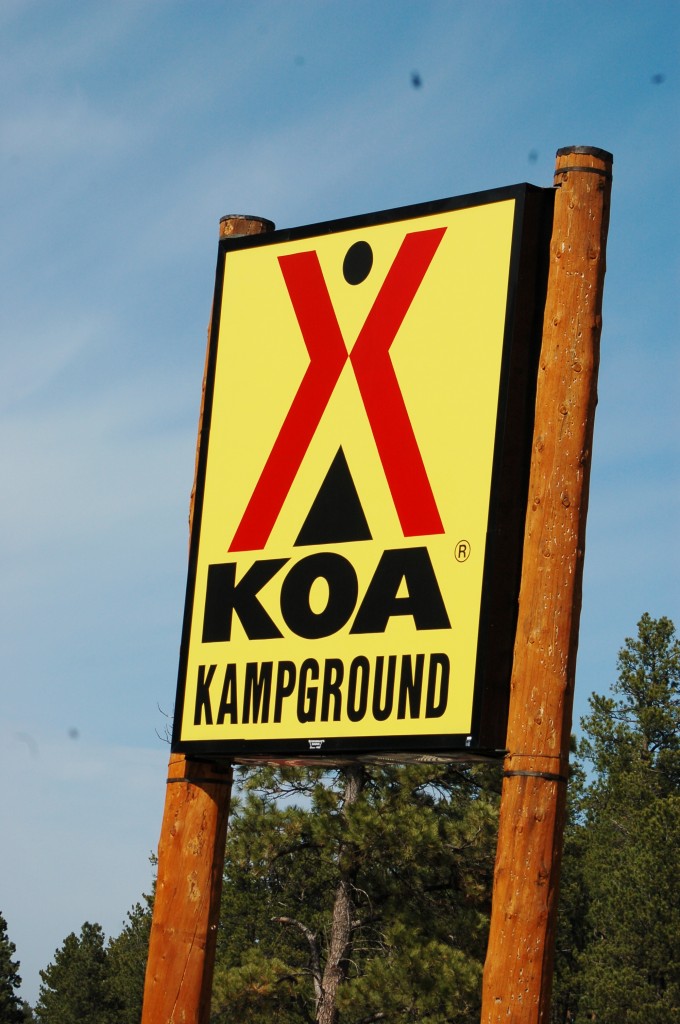 Our family has always wanted to stay at a KOA campgrounds – not only because camping is fun but because the cost is SO much cheaper than a hotel! My husband is one of those "no way I'm going in a tent" camping guys and we had never been in an RV or camper before until our RV trip so we had just never had the opportunity to stay at a KOA. But the Mt. Rushmore KOA located in the Black Hills of South Dakota has options from camping in a tent with/without electric hookups, campers, RV, cabins, and deluxe lodging! And in all sorts of price ranges from as low as $32+ to way above our budget which really makes overnight stays affordable depending on how rustic you want the experience! Or you can choose to go deluxe and splurge for some beautiful mountain cabins! We saw an insane amount of wildlife (deer, turkey, etc.) as this location is truly nestled in a remote mountain location! (seriously – be careful driving there, we counted over 60 deer on the way there!)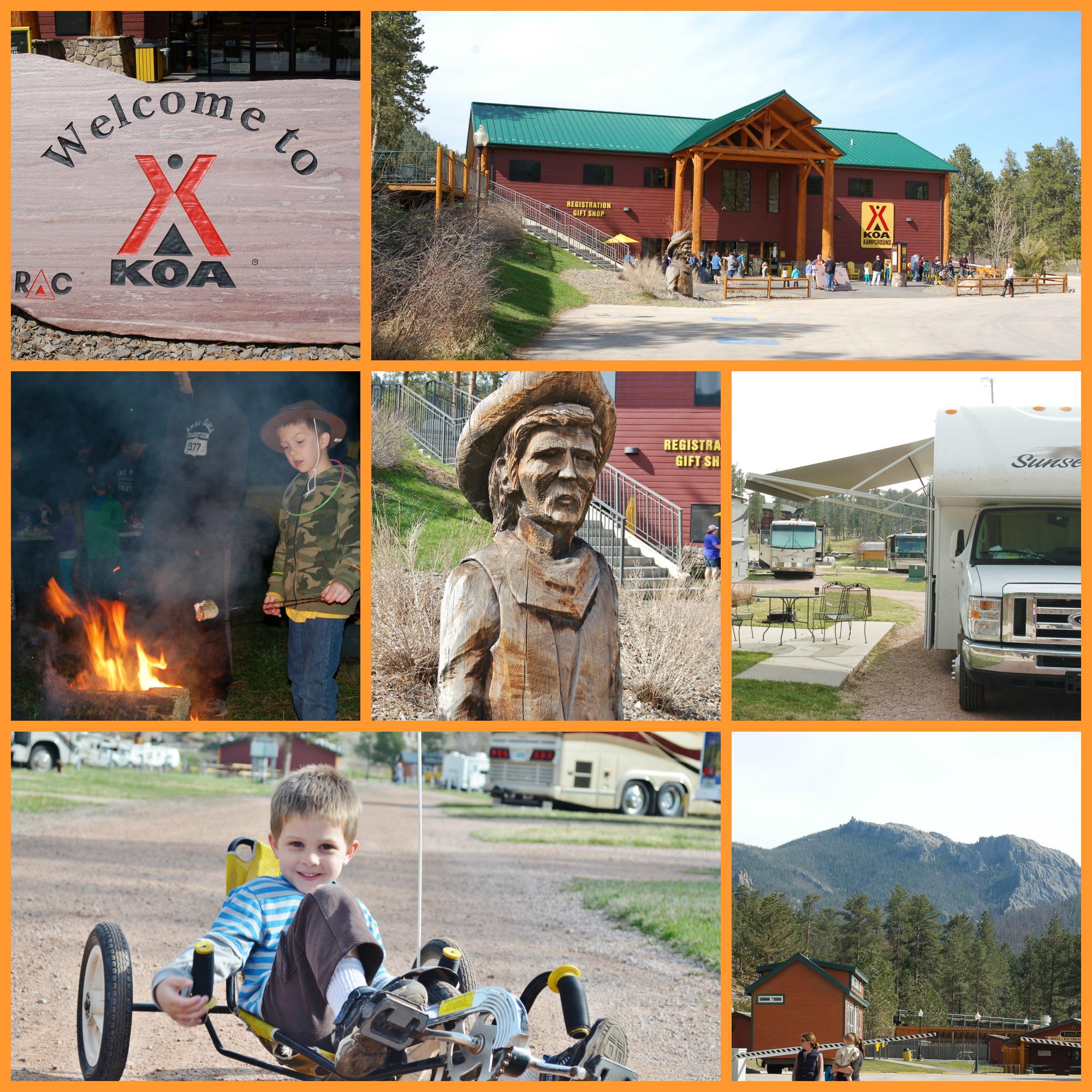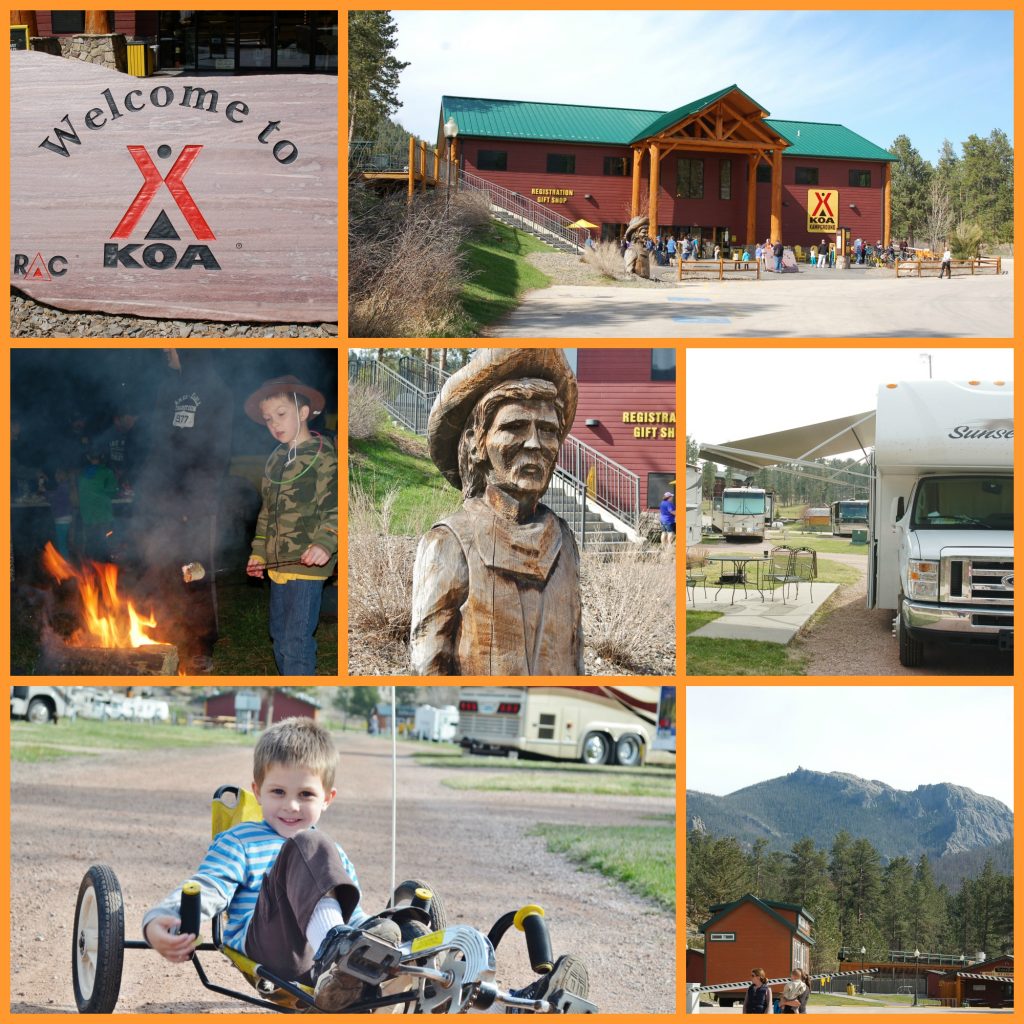 While on the trip I learned that this facilities near Mt. Rushmore was once of the largest in the country and I can't remember the exact number but can hold hundreds and hundreds of campers each night! It really is more on the deluxe end of camping and there are ALL sorts of activities to do there! Since we were there very very early on in the season (and insanely busy) we didn't get to enjoy quite everything (such as the heated swimming pools, hot tubs, Foam pool, splash pad, sauna, waterslide and more) but we did have a blast while we stayed there. It's absolutely GORGEOUS to wake up each morning nestled down in the mountains and looking for wildlife! There are plenty of biking/hiking trails and areas to explore. In the collage photo above you can see they also had some pretty sweet bike rentals that we were able to use while we were there which my kids were absolutely obsessed over! There were some that my 4 year old could ride by himself that you see above, there were larger go-kart looking bikes for bigger kids/adults, and they also had a bike that you seat 4 on!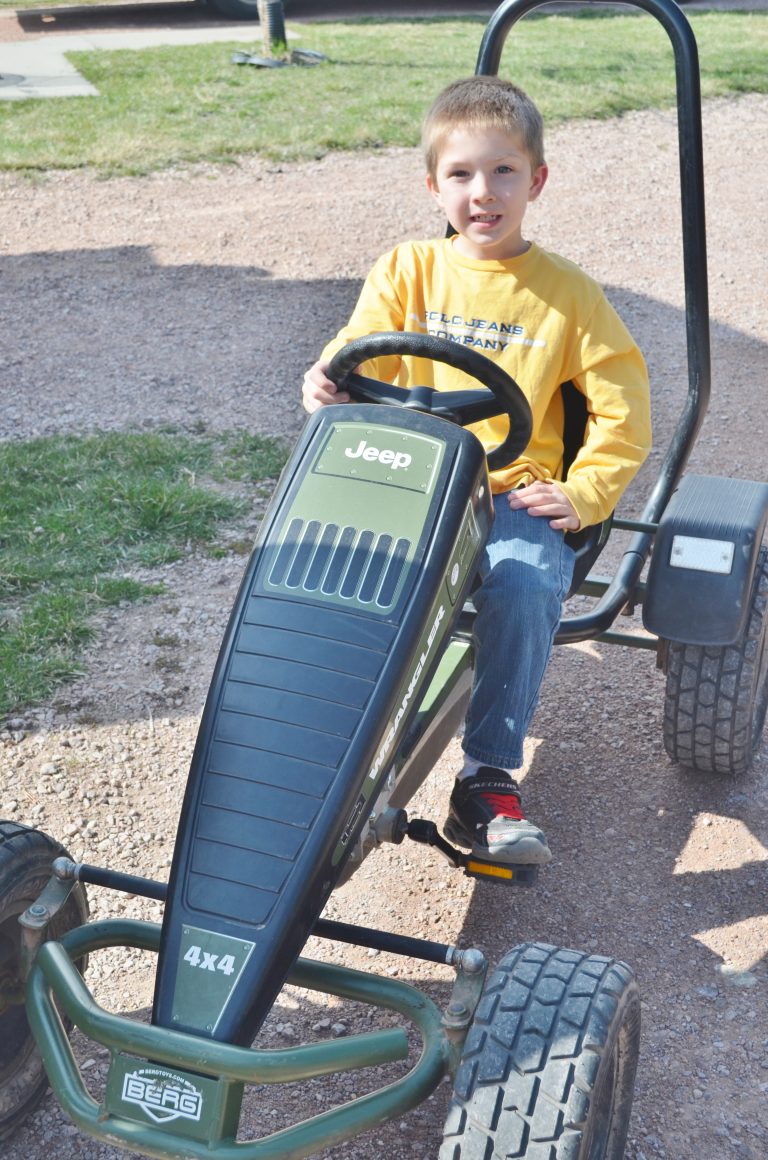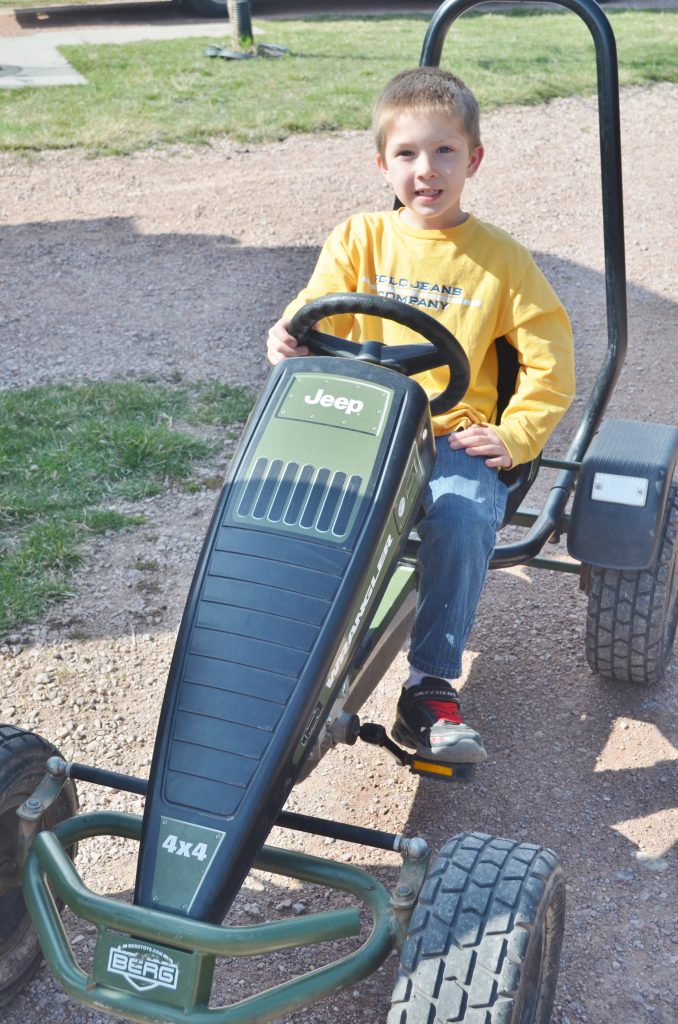 We also enjoyed a campfire where we roasted gourmet s'mores (HOLY COW they were the biggest marshmallows I'd ever seen!) as well as crafts for the kids and a movie night for them as well! In fact the campgrounds is so big and we were so busy that I didn't even see the mini-golf course until our last night there and by then it was just too late for us to go! It would have been a lot of fun though! In the main building there is plenty of snacks, camping gear, and other items that you can shop for if you've forgotten something! And let me tell you the prices were extremely reasonable! I stocked up on Duraflame bars for our campfires and marshmallow sticks! Just a quick side note – there is wi-fi available but don't count on being online too much! Not only was my internet pretty spotty but I had absolutely NO cell phone reception there! Just be forewarned so that you can enjoy your lack of technology! 🙂 However the hot showers and bathroom areas were just so nice and we opted to use those instead of our tiny RV showers each night!
Each of the RV hook up sites had an area for a fire pit and a nice patio table with chairs which was perfect for our outdoor meals and evening campfires! Plus if the kids really needed something to do there was a great playground on site for them to run some energy off at! Really, it's the type of campgrounds that you could spend at least a couple days or a week at and have plenty to do on site during the summer! Of course we enjoyed exploring Mt. Rushmore, Crazy Horse, and the Mt. Rushmore Caves as well so we definitely didn't get a chance to enjoy the entire campgrounds but I would LOVE to go back with my family someday! Here are a few of the perks at the campgrounds that I haven't already mentioned (you can see a whole list here):
Climbing Wall
Nightly Movies
Christian church services
Local music entertainment
Jumping Pillow
Fishing Pond
Hayrides
horseshoes
Volleyball
and TONS more!
Our VERY FIRST KOA Campground stay, however, was in Middlebury, IN at the Middlebury KOA. Unfortunately we literally pulled in late at night and left early in the morning so we hardly had any time to look around and enjoy the site the employees there were SO SO SO incredibly kind! They are an absolute "stop at campgrounds" if you're traveling, and they did an amazing job at making us feel welcome and helping us learn about our RV's. I had literally picked up the RV at the manufacturing company, never having been in one in my life, and drove it straight to the Middlebury KOA campgrounds not knowing what in the world to do with it! They had someone teach us how to use our RV, how to hook up and plug in, how to empty sewer, and everything! I seriously don't know what I would have done without their tips and guys to show us how to get it all set up!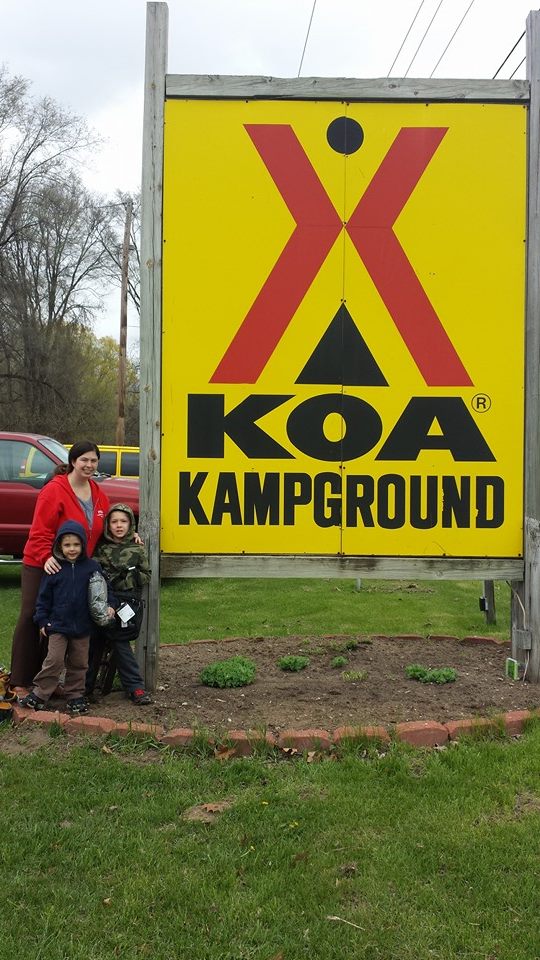 The Middlebury KOA has this ADORABLE in-shed diner where we ate dinner which was catered by Das Dutchman Essenhaus (seriously to DIE for Amish food – you MUST visit there someday!) – there was even old diner booths and a jukebox in there! My in-laws actually visit the area there every year which is not only known at the RV Capital of the World but it's also famous for it's amazing Amish flea markets, restaurants, and culture. The KOA there has tent sites, RV/camper hook ups, as well as cabins and lodges to stay in. They have volleyball, basketball, horseshoes, bike/nature trails and bike rentals, paddle boats, a heated pool and more! PLUS my kids got to experience their first old fashioned phone booth!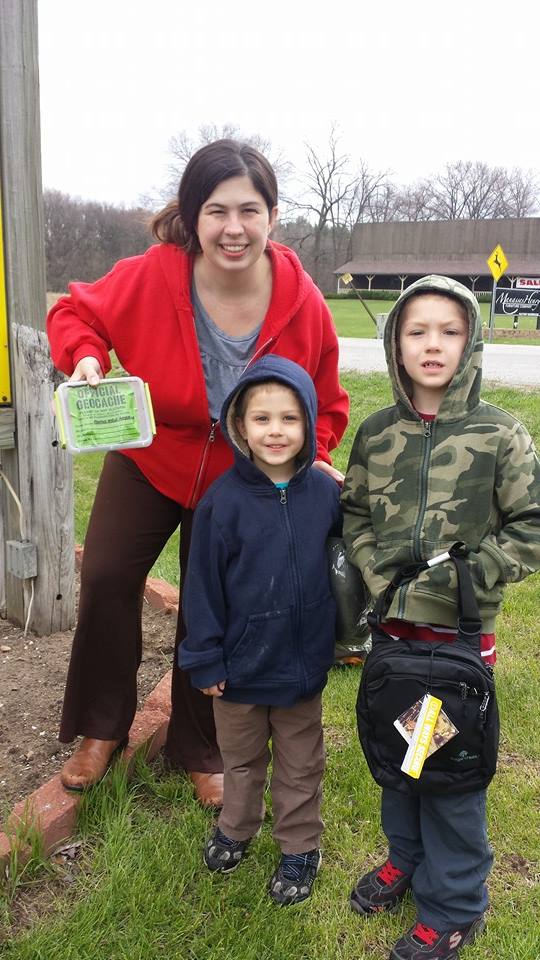 And if you're into geocaching like we are make sure you look directly under the KOA entrance sign – you can't miss the Geocache box there! We stumbled upon it and the kids were so excited to spot a geocache on our trip without even trying!
Overall staying at the Middleburry (Indiana) KOA and the Mt. Rushmore KOA we had a fantastic experience for our first time at KOA campgrounds! I would absolutely 100% go back and it's totally in line with the vacationing that our family likes to do! Plenty of outdoors nature activities for the kids and beautiful locations at both campsites. In fact we are saving up our money for the next couple of years and looking to buy a used camper to hook up to our van so we can start camping as a family more often in the summer!