Take the PURELL Advanced 30 Day Challenge #PURELL30
This post may contain affiliate links, view our disclosure policy for details.
Disclosure: This post brought to you by Purell. All opinions are my own.
As many of you know we have been on the road what seems like ALL summer long! One (real) vacation, one school trip, 3 press trips, and 3 trips to visit family – which means we've come in contact with a LOT more germs than perhaps if we had stayed home. (I don't even need to begin to tell you the details of the weekend we had when my kids were literally barfing ALL over our hotel room….the entire night…..ick!)
Not to mention being tired and run down a bit! As our school year begins in under a month now (eek!) and we are yet again on the road for the next week or so I've decided to accept PURELL 's Advanced 30 Day Challenge because we definitely could use the extra boost starting up the school year and really for the rest of the year as we're expecting our 3rd baby here in October! What exactly is the challenge?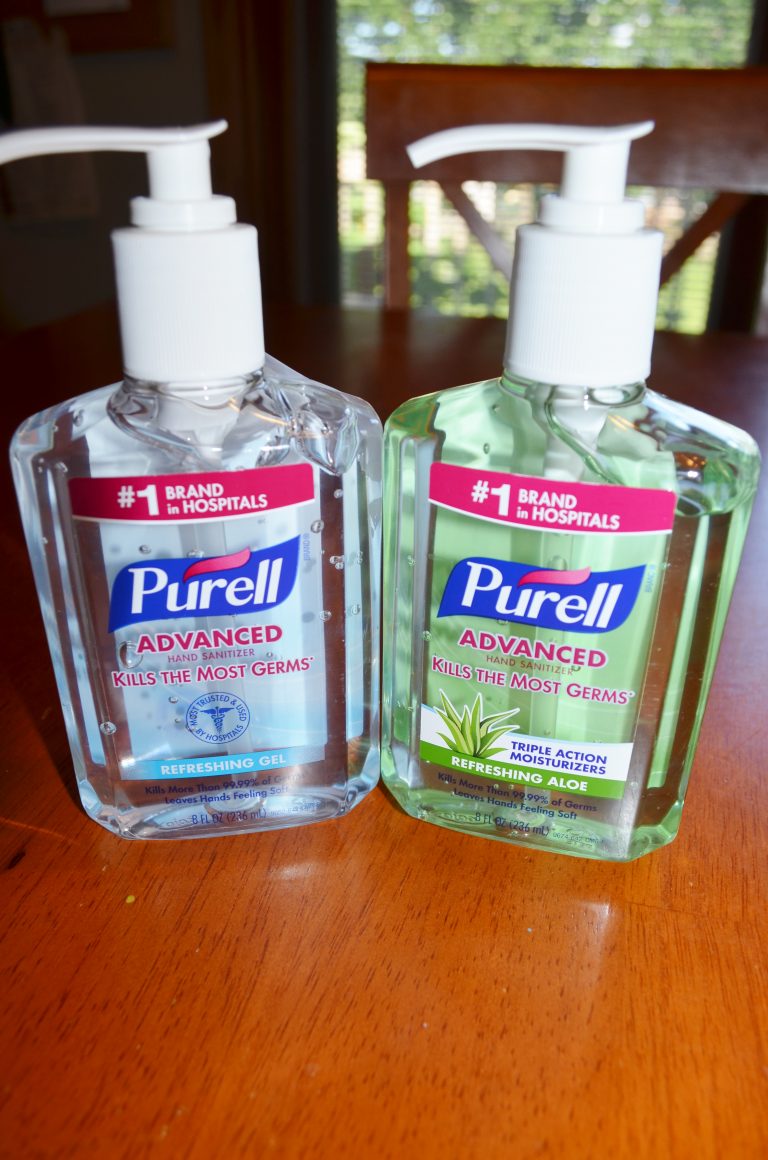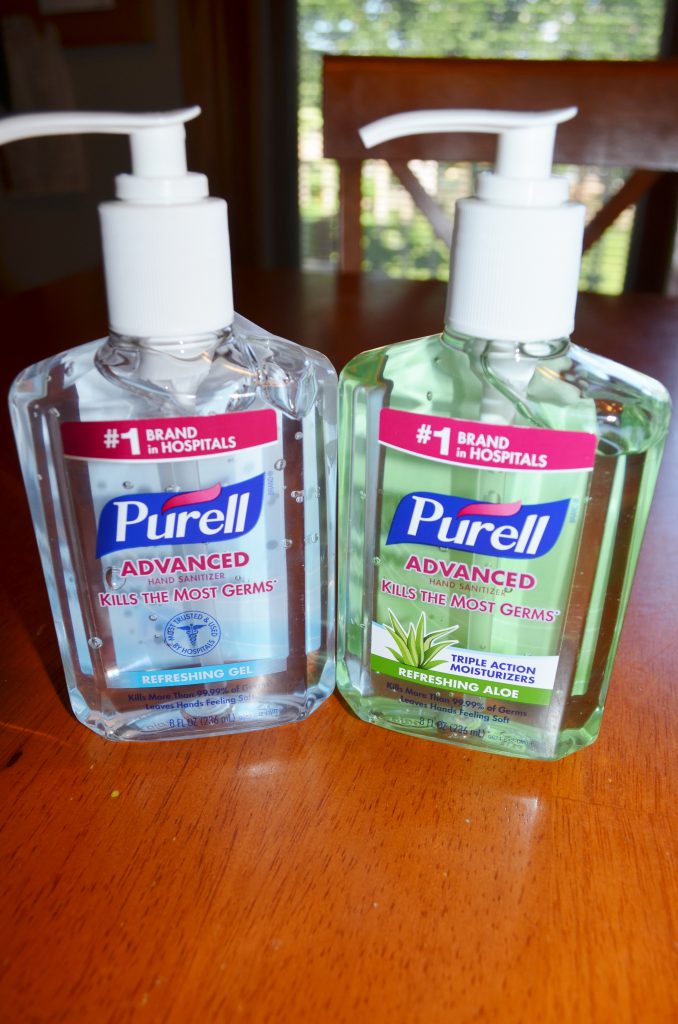 The PURELL Advanced 30 Day Challenge = Use PURELL Hand Sanitizer 3x a day for 30 days which studies have shown reduce your risk of getting sick! (Based on 2013 University of Arizona Study showing a reduction in transfer of germs to surfaces and hands.)
PLUS every day there is a challenge to complete for additional entries for the chance to win prizes! 
How it Works
You can visit PURELL's Facebook page or website to register for the promotion. (It literally took me just a few seconds to register!) You can download the list of challenges and get your entire family involved for the month! Every day check back to complete another challenge and view the Gallery – plus share it via social media for more chances to win!
When you register you'll receive 1 entry, you'll receive 1 entry for each friend who registers (up to 10 entries), an extra entry (once per day) every time your visit the PURELL Advanced 30 Day Challenge page on Facebook or on their website, 5 entries for videos, 2 entries for photos, and 1 entry for each story read.
 What are the Daily Challenges?
It can certainly vary but here are a few examples you might find:
Upload a photo of a PURELL Advanced hand sanitizer bottle that you decorated
Post a video using PURELL Advanced hand sanitizer at a summer BBQ
Show a collection of your favorite PURELL Advanced scented JELLYWRAP Carrier products
Some of the Prizes:
PURELL Advanced Products (63 daily winners!)
$100 Visa Gift Card (8 weekly winners)
Healthy Family Prize Pack (30 grand prize winners)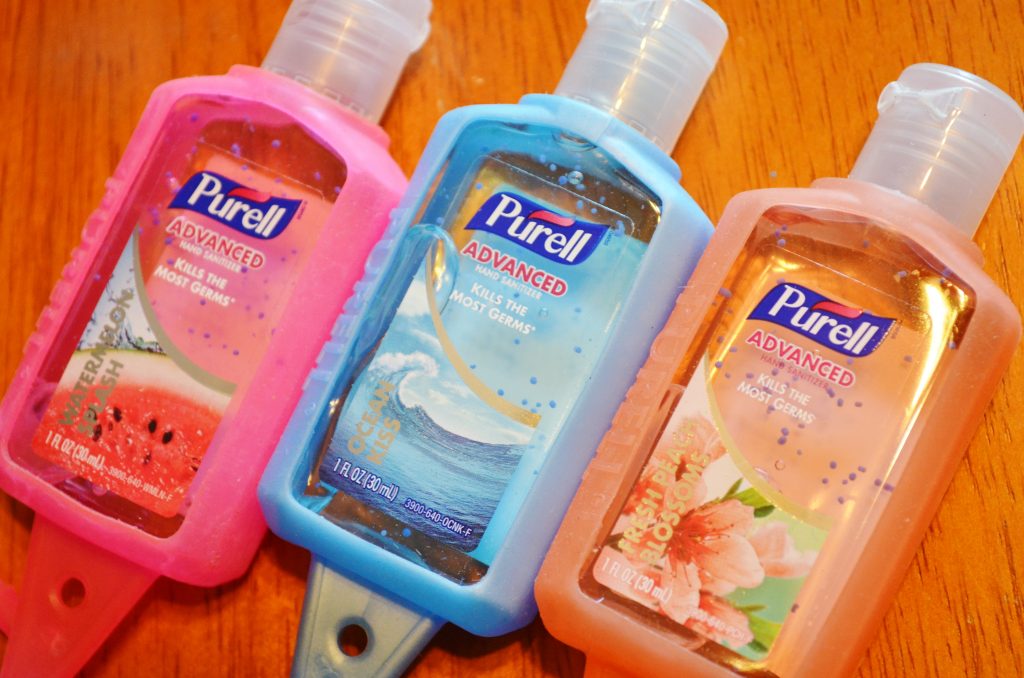 My kids are literally obsessed with using hand sanitizer so I literally have to ration it for them! They are allowed one (and ONLY one!) squirt at a time, and to be honest I really love the little on-the-go bottles with the JELLY WRAPS that I can attach to my purse (or diaper bag) so I have some with me no matter where we are. Soap and water of course are always best but when you're on the go and traveling I can tell you that the next best thing to helping keep germs away from my family is PURELL!
My kids are really pretty good about washing hands and using sanitizer but I especially want to keep them going with it since we'll have a new baby in the house soon! In fact in a study conducted by the makers of PURELL, classroom absentees caused by illness was 51% LOWER in classrooms that used PURELL Hand Sanitizer regularly and implemented a hand hygiene educational program vs. classrooms that did not (which is pretty huge!).
Here are a few great ideas of place to keep PURELL Hand Sanitizer for quick and easy access:
In/On your Purse
In your Glovebox!
Attached to your child's backpack (or in lunchbox!)
Attached to your diaper bag
Near the diaper changing table
Gifted to your child's classroom
With you on EVERY field trip!