Submarine Crafts & Book Ideas for Kids Roundup
This post may contain affiliate links, view our disclosure policy for details.
I've seen SO many fun "under the sea" beach and ocean themed crafts and activities for kids but I rarely see ideas for SUBMARINE crafts and activities! My boys have always held a fascination for this cryptic mode of transportation – it's so mysterious and for most kids not an easy vehicle to actually board in real life! To extend learning let your kids make their own Morse code machine!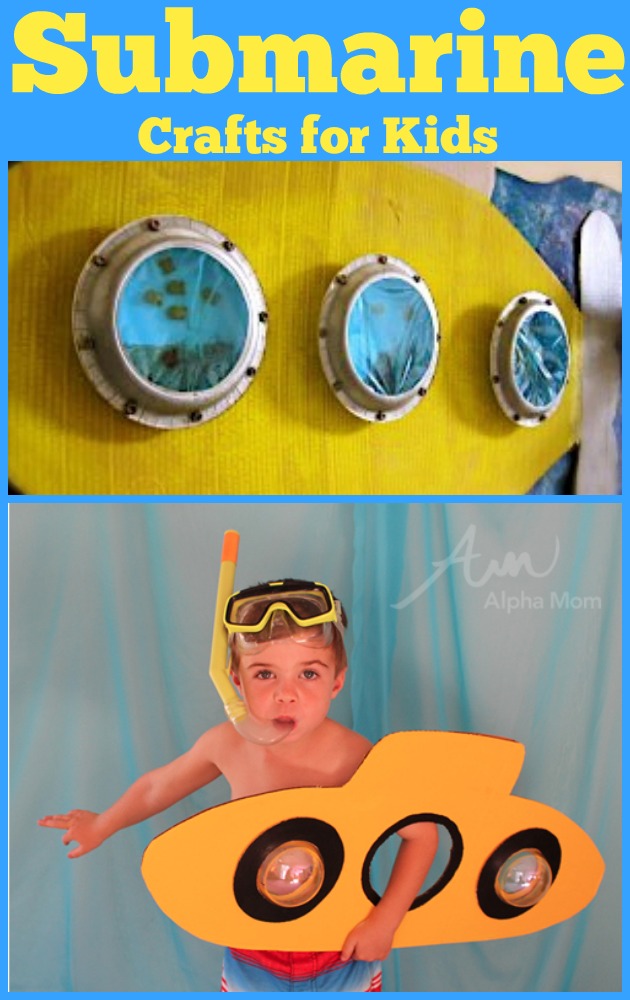 Whether you're a young kid pretending you're a spy, using a periscope and playing submarine, or studying the velocity and buoyancy of such a machine there are plenty of ways to enjoy this subject if you're creative enough! I've found some FANTASTIC submarine related ideas, costumes, crafts, reading corners, books and toys that would make any kid excited!
The two featured in the photo above are the Submarine Paper Plate Portal Hole created by Pattern Me Mommy and the Submarine Costume Under the Sea designed by Alpha Mom – both my ABSOLUTE favorites! A special thank you to these ladies for allowing me to feature their posts with the above photos. Make sure you check out their posts – both are full of detailed photos and instructions to make some pretty killer submarine activities.
Submarine Reading Corners & Books for Kids:
Yellow Submarine Box Reading Corner displayed on SparkleBox
Submarine Outlaw (YA)
Oceanology
20,000 Leagues: Stepping Stone Reader
Submarine Crafts & Activities:
Submarine Printable Craft
Submarine Craft Sun Catcher
Paper Plate Submarines
Submarine Perler Bead Pattern
Toilet Paper Tube Submarine by Crafty Morning
Scuba Diving Kid's Photo Opp: by Be Different Act Normal
Submarine Coloring Page
Submarine Toys:
Submarine Books for Adults:
Submarine Home Decor:
Submarine Treats & Snacks:
Featured:
Submarine Paper Plate Portal Hole by Pattern Me Mommy
Submarine Costume Under the Sea by Alpha Mom