Stay Safe with Child-Resistant Packaging
This post may contain affiliate links, view our disclosure policy for details.
 Material and products provided by Energizer. All opinions are my own.
It wasn't until my first son was born that I realized how incredibly smart and insane small children can be! I can tell you countless stories of shaving gel covered walls (and ceilings!), handfuls of bugs that have been eaten, and unfortunately also the nerve-wrecking stories of my children getting into things that they shouldn't have like medicine or batteries. So when Energizer contacted me to share with me more about their child safety packaging I was very eager to see it – after all I swear my little guys could have opened just about anything.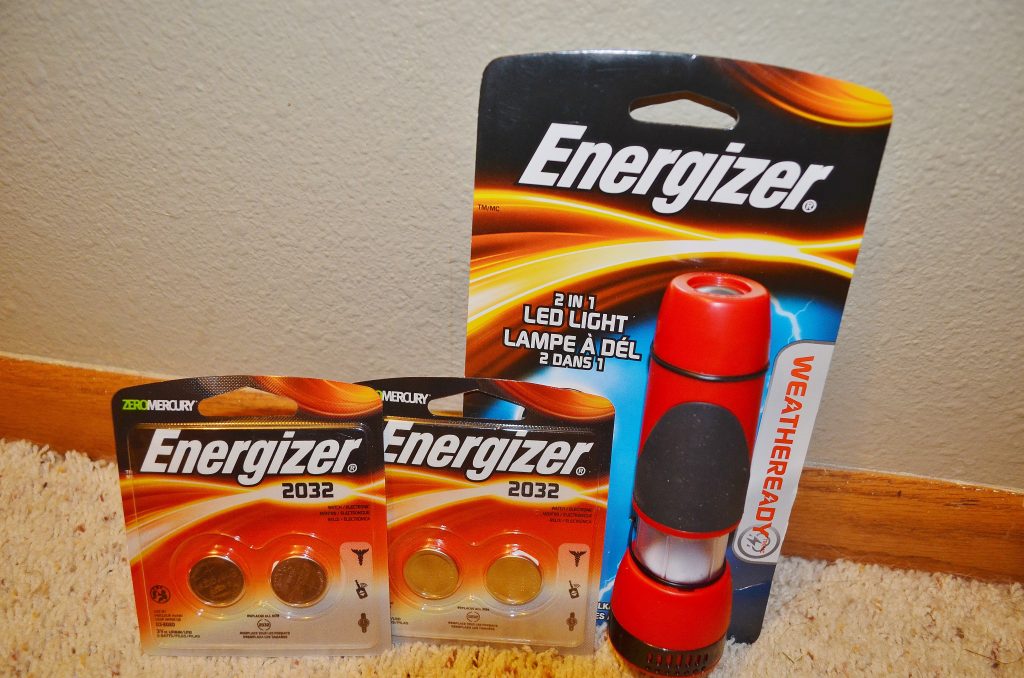 Especially worrisome with little kids are these coin lithium batteries because they are so easy to swallow and put in places they don't belong! You can find more stats at the bottom of the post about child safety packaging but these Energizer Lithium batteries were definitely safe from my kids. In fact the only way that I could open them was with scissors! I didn't know this but coin-sized lithium batteries can cause serious chemical burns if ingested in as little as 2 hours! 2 hours is very quick! And you find these batteries in all sorts of things – especially those musical sound children's books! Yep – you know the ones!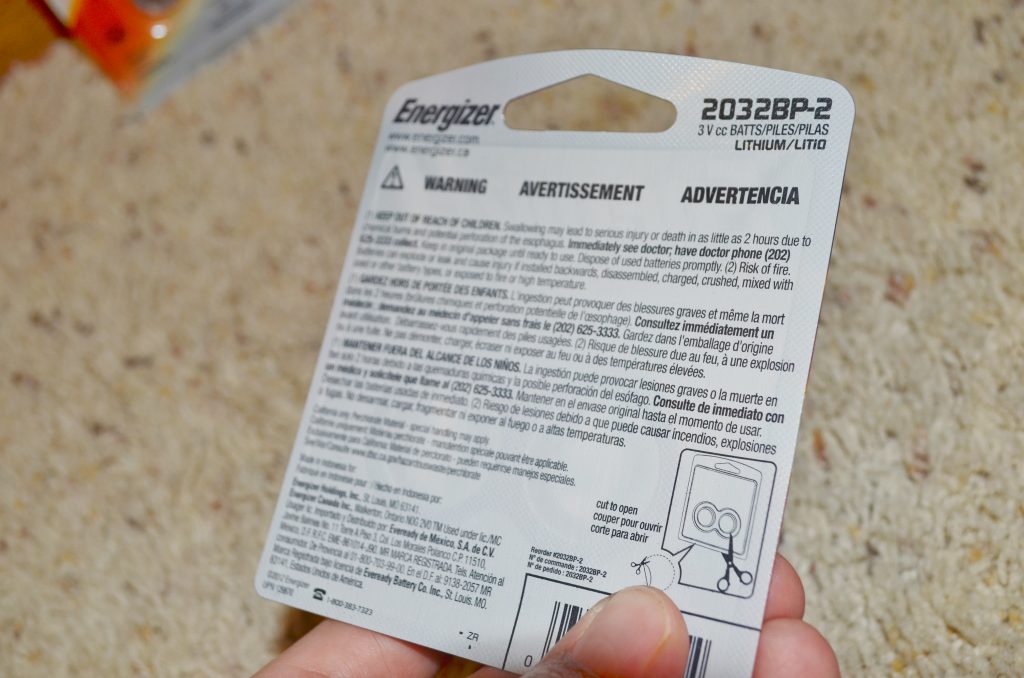 It was impossible for me  to separate the packaging using just my fingers, and I couldn't "pop" the batteries out of the packaging either. I would have definitely felt safe with this packaging laying around when my kids were little. Because I'll be the first to admit when I walk in the door my shopping bags go right on the table or floor….wher the kids could always reach them.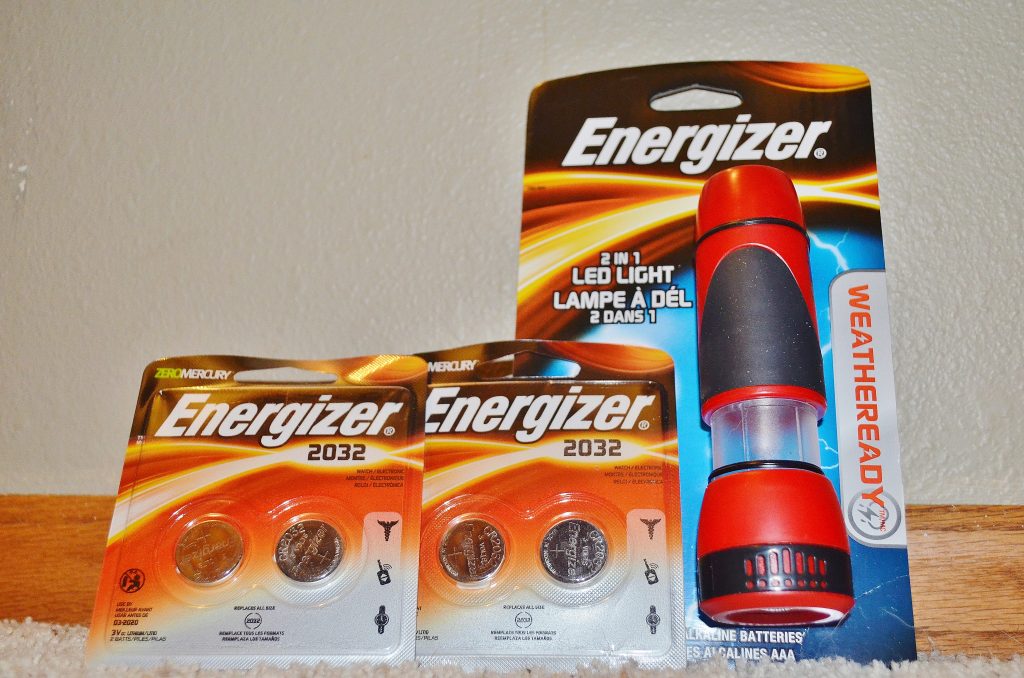 Energizer also sent us this special 2 in 1 LED Light Weatherready flashlight which my husband quickly confiscated! It is SO cool! The flashlight not only shines out of the ends but around the middle too! The light comes from that clear section you see in the flashlight.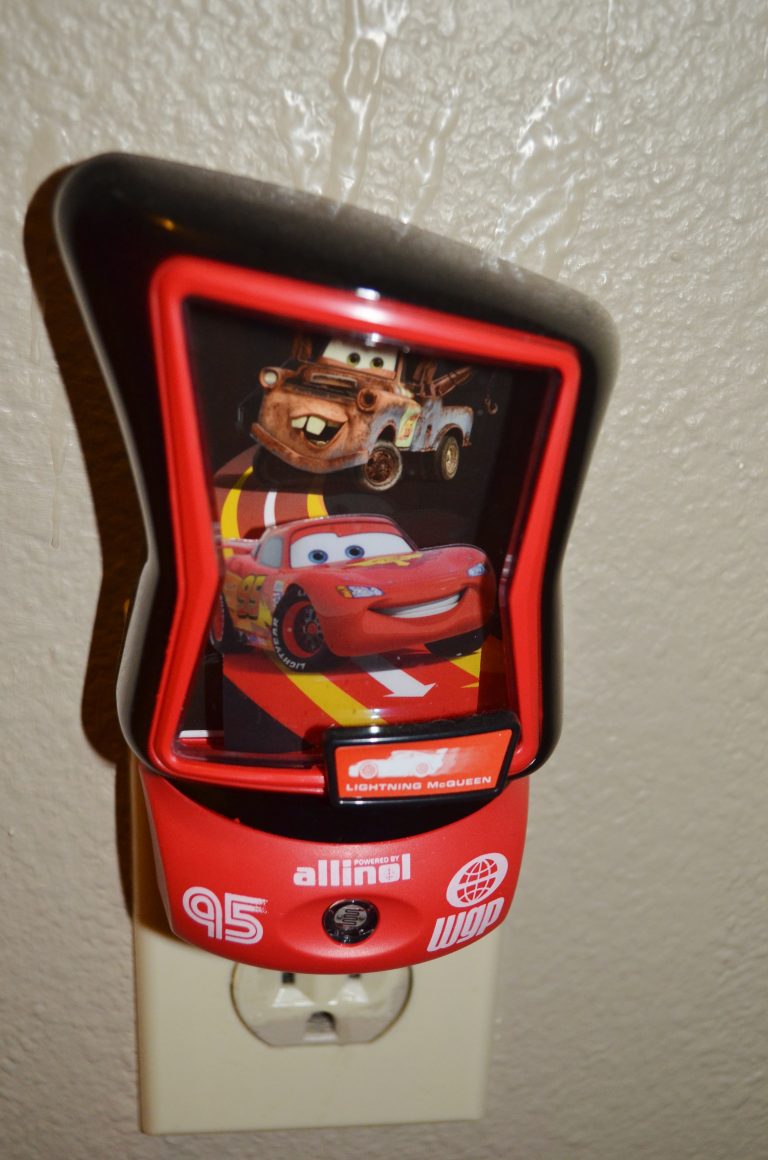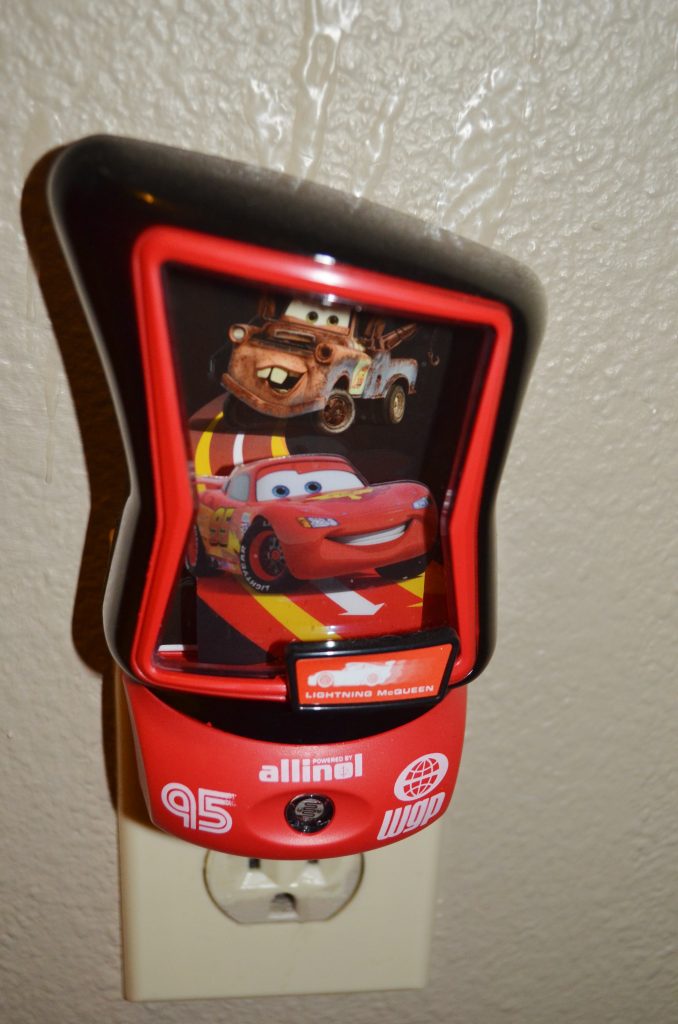 And of course my boys LOVE the Cars nightlight they sent us!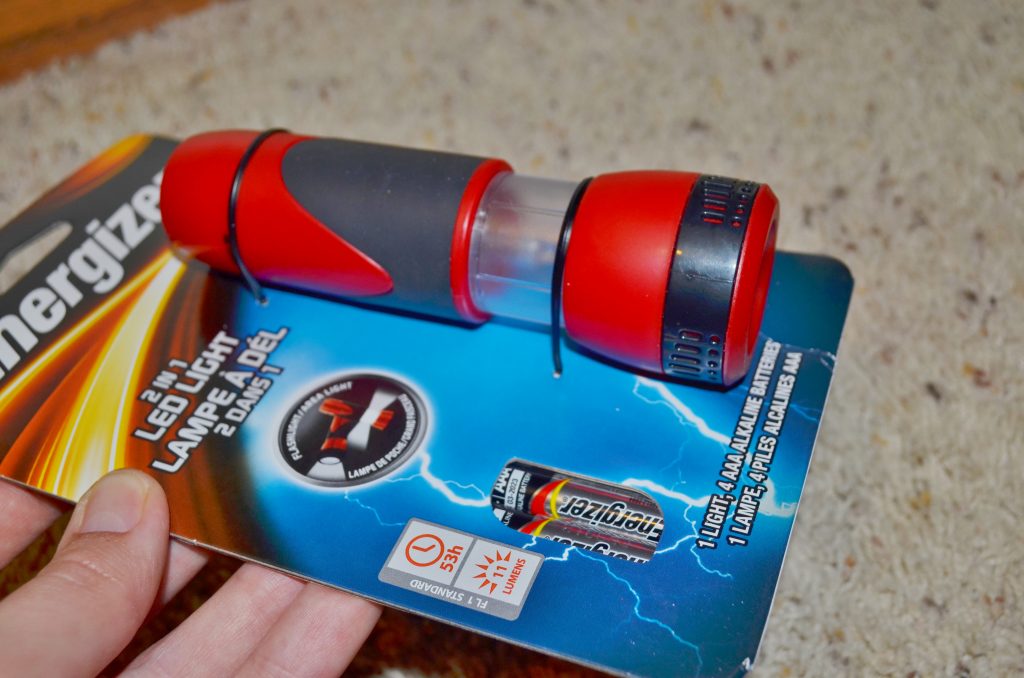 The flashlight also had the special child resistant packaging which is a good thing because if you know ANYTHING about boys and flashlights you know they disappear quickly!! Anytime we have a new flashlight in our house our boys snag it and try to claim it! Which also means ripping into the provided packaging! But these batteries are NOT easy to get out – trust me!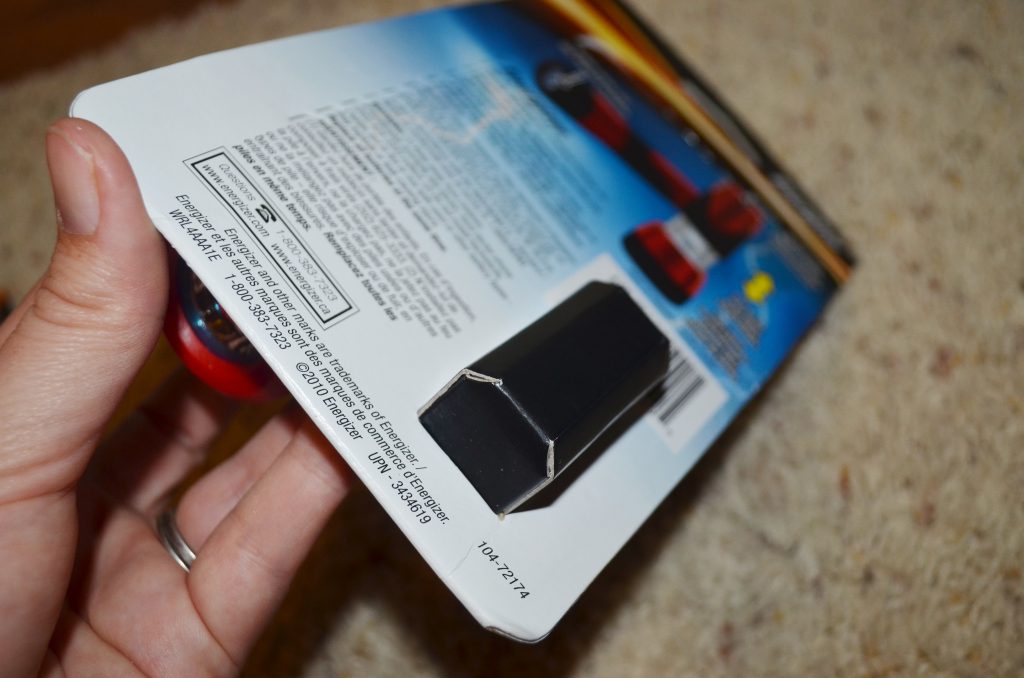 Especially when I saw the cardboard box in the box where the batteries were stored I thought for sure it would be a piece of cake to remove – even I had a tough time opening this thing!!
The 4 S's of Coin Lithium Battery Safety
·         STORE devices that use coin lithium batteries out of reach of children
·         SECURE the battery compartments of devices
·         SELECT battery packaging that meets federal guidelines for child resistance, such as Energizer's coin lithium battery packaging
·         SHARE this information with your friends and family
Energizer led the industry by being the first to voluntarily develop packaging for its 20 millimeter coin lithium batteries that meets the Consumer Product Safety Commission's (CPSC) strict guidelines for child-resistant packaging.  They also developed a national awareness campaign in partnership with Safe Kids Worldwide calledThe Battery Controlled, which works to alert parents and caregivers to the dangers of swallowing coin lithium batteries. Identifying ways its products can help keep families safe is part of the Energizer commitment to designing its products with people in mind and investing in programs that have a positive impact on the world. that's positivenergy™
If it is suspected that a child has swallowed a coin lithium battery, it is important to go to the emergency department immediately. For more information on child safety and coin lithium battery safety, please visit nsc.org, www.energizer.com, TheBatteryControlled.com and www.poison.org/battery. 
Giveaway – Open to US Residents Only. Just enter the Rafflecopter form below!
·         Two (2) packages of Energizer Coin Lithium batteries
·         One (1) Energizer LED Nightlight (winner's choice between Sleeping Beauty or Cars)
·         One (1) Energizer Weatheready 2-in-1 LED Light
Background on CPSC Child-Resistant Packaging
The CPSC imposes strict guidelines to determine if a packaging qualifies as effectively child-resistant. The packaging is tested with groups of children ages 42-51 months and also with senior adults ages 50-70. For a package to be child-resistant, a total of 80% of the children tested must not open the package in a full 10 minutes of testing. To make sure that adults are able to use a child-resistant package properly, 90% of adults tested have up to five minutes, and then another minute in a second test, to open and close the package (if applicable) so that it is child-resistant again.