10 Things to Think About When Buying a New Car
This post may contain affiliate links, view our disclosure policy for details.
 I posted some tips on Saving for a New Car & Knowing When to Buy One, but there are SO many decisions that go into a vehicle purchase! It's a BIG deal! I'm talking a HUGE deal!
Especially if you've been saving for years or are tight on a budget. Through the past decade or so we've owned several cars – both used from friends and used from dealers.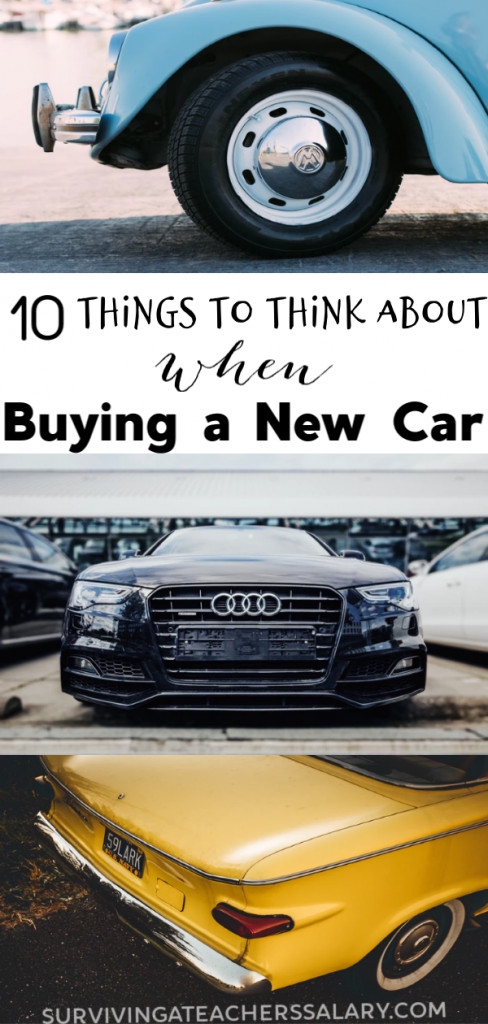 Both of course have their pros and cons, but in our experience (without going into huge detail) we have been much happier and had better vehicles when purchased through a reputable car dealer…yes even over purchasing vehicles from family members.
You have the safety of knowing that car has been thoroughly checked out by a mechanic and passed inspection as well as various options for warranties. The downside of course is that they are usually a little more expensive.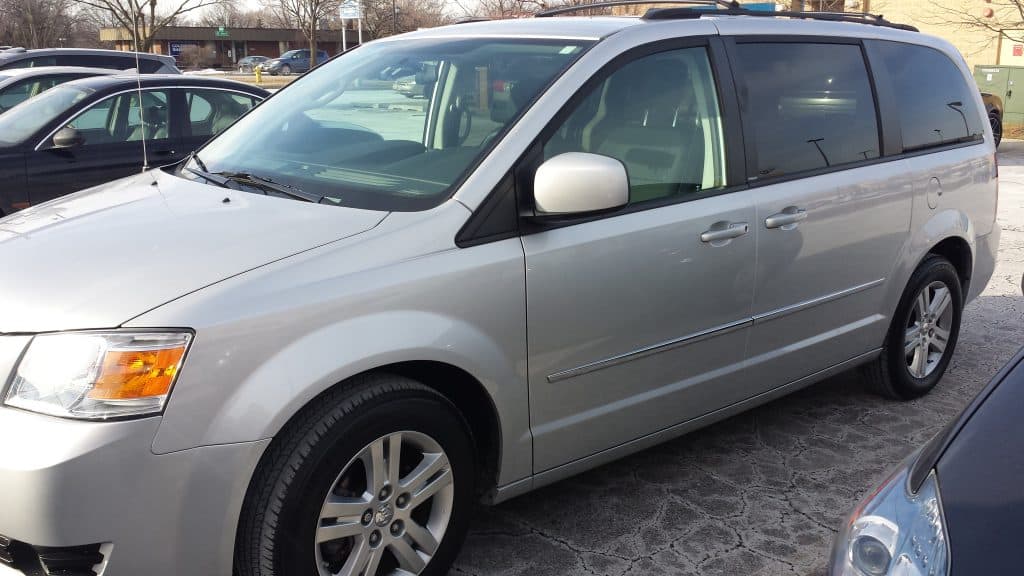 Here are 10 things to think about when purchasing a new car:
Determine What you NEED and what you WANT!

 
Ok so this might sound REALLY obvious, but it isn't always that easy to figure out! For example, we really wanted something that seated 7  BUT we were willing to compromise if we HAD to. Price definitely had to win out on this one.
I really wanted AWD because of our extreme icy roads in the winter but I compromised with a special feature that helps with sliding (on ice) for safety reasons due to where we live.
Think about what features you absolutely MUST have, and then consider alternative options if price plays a big factor in your decision.
Pull a Carfax!
This is always a MUST for us. If you haven't heard of Carfax you definitely want to check it out before purchasing a used vehicle!
What is a CarFax report? It is a report that you can print out based on the VIN number of each car which shows you all repairs, accidents, inspections, owners, etc. of a vehicle.
If you are looking at a dealer typically a Carfax is free and many times offered to you before you even ask, but if you are looking at used cars not found at a dealer a Carfax can be pretty pricey.
It definitely helped us rule out a car or two based on Carfax reports. But definitely worth it in my opinion once you find the car you want. It ensures that the information about your desired vehicle is accurate and that the vehicle hasn't been in any type of terrible accident or state of disrepair.
Bigger Cities = Better Deals
We definitely learned this lesson, although I'm sure there is always an exception. Think about it – bigger cities have more competition with more dealers bringing their sales and prices to be more competitive.
Whereas if you live in a tiny town like we do where there is only 1 or 2 dealerships for 40 miles there is not a lot of competitive pricing going on!
We ended up buying our vehicle in Chicago while we were on vacation due to unforeseen circumstances but it was about $5000 LESS than in our town in Iowa. CRAZY I know, but evidently a lot of people around here drive several hours away to get a better car deal.
Driving 1, 2, and even up to 4-5 hours away can really save you quite a bundle if you live out in the country like us.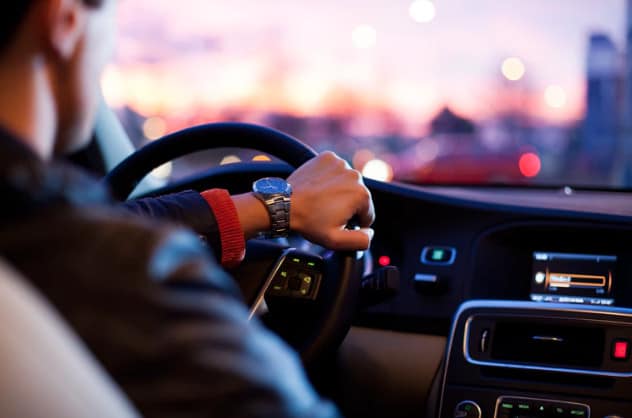 Compare Price vs. Mileage AND MPG
This is really always our biggest factor. If at all possible we try to save money as long as we can so that we have a little room to look around for a good car.
The first thing we ALWAYS ask aside from of course the price is "How many miles does it have on it?".
 If you're going to pay $10,000 for a car would you rather have one with 40,000 miles or 160,000 miles? I thought so! Of course other factors come into play but this is a big one.
Another is MPG, also known as Miles Per Gallon. This factor really helped us narrow down our choices. Initially we were looking for an AWD and my dream is to have one of those nice big beautiful pick-up trucks, but to find one with great gas mileage definitely comes with a higher price tag!
We do a lot of road trips and traveling so having a vehicle with good gas mileage was an absolute MUST and non-negotiable. Ideally you'd want something with about 20-25 MPG City/Highway.
Determine if you can Afford or even want a Loan
I know having a car loan doesn't sit well with some people and I myself am a little leery of car loans as until now we've never had one before. Simply because I don't like payments hanging over my head and you never know what financial issues will arrive down the road.
We have always paid for our vehicles upfront in cash, but realistically I know that this isn't always an option for everyone. Especially if you're looking at a newer van or truck.
There are SO many ways to make this work for you but I HIGHLY recommend that if you've ever had problems with debt – don't get a car loan. You don't even want to set yourself up for problems!
I also don't recommend a car loan if you're actually expecting to pay the full 5 years on it. Look for a cheaper and more affordable vehicle.
HOWEVER, I DO recommend comparing interest rates – we have found many times that it is CHEAPER for us to pull a 5 year loan and pay it off in a few months (or even a year or 2) than get a shorter loan which usually has a higher interest rate.
This is definitely something you need to research if you are considering a loan. For us, our van was irreparable for the price it needed to be fixed compared to how old/mileage on it so we HAD to get a van right away.
BUT we knew we could pay it off in 2 months and still got a 5 year loan anyway – the interest rate was considerably lower.
That doesn't mean we will actually take 5 years to pay it off though! Before the summer hits our car will be paid in full thanks to the savings we had been chunking away at. We were able to put half the cost down in cash.
You don't want to roll your car into the dealer in 5 years with 100,000+ miles and still owe a huge chunk on the car! By then you should already be saving for the next one so you'll have the money when the time comes!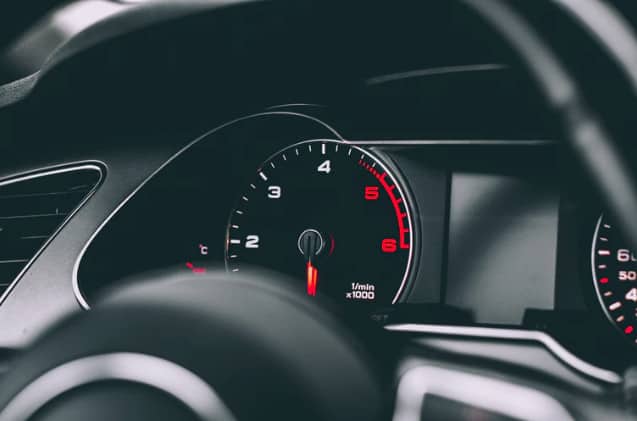 Always Haggle the Price
Typically car dealers jack up the price to increase profit. I say typically because there are those rare exceptions where they price it low to get you in and that's really as low as they can go – but that's rare!
It is always OK  to offer a lower price, within reason of course! They WANT your sale and most of the time will work with you on the price. If you have a trade in vehicle that's even better and you can usually squeeze a little extra money out of the deal.
You definitely want to check the Kelly Blue Book value of the vehicle you are looking at (which is free) to make sure you aren't being charged too much.
Don't Be Afraid to Walk Away

Be PATIENT! EVEN if you need a car NOW. Look around – online and at dealers. You MUST do your research to find the best deal. Even if you need a car quickly. It could literally save you thousands of dollars.
We were literally stuck in Chicago until we could purchase another vehicle to get home to Iowa so I totally understand those real "need it NOW" situations! Trust me – if you walk into a dealer looking eager to BUY IT NOW you might not get as good of a deal as if you are willing to walk away from it.
They WANT your business. With our first vehicle that we bought from a dealer we told the salesperson if that specific car was there in 4 weeks we would buy it from him.
We had the luxury of time to look around for other deals even though we both fell in love with that vehicle. And sure enough, 4 weeks passed (as we eagerly watched the car lot!) and we walked in and bought it from him!
We took the month to look around for comparable prices. This time since we needed a car immediately so we spent 2 days and visited and called numerous dealerships, test drove a lot of them, and we knew right away when we found the right one.
Unless you are in an extreme situation if you aren't 100% happy with the vehicle or the price don't buy it!
Do you have any more tips for us?