As you know once a year I drag my kids out for pictures. I pick a different location every year and so far they have all been outside. I look for somewhere "different" and unique to take our photos. This year I thought it would be awesome to take pictures of my kids on the railroad tracks. Obviously there are some safety concerns  so I spent literally hours researching where I could find abandoned tracks in central Florida. Much of our old rail lines have been turned into nature trails, but I finally found information for an abandoned phosphate mine and abandoned railroad tracks in Nichols, Florida. So this weekend we loaded up with our inexpensive photo props and drove down to the site……except that when we got there we realized none of us had grabbed the camera! I won't even begin to tell you how upset I was! SO we drove the hour back home and tried again later that day.
However after a few photos we realized that the documents we had found online along with Google maps were both incorrect, and although this was an abandoned railroad yard and abandoned phosphate factory, a new "live" rail line had been built next to the abandoned area. How did we know this? Well a train came by of course! We were no where near the tracks nor were we planning on being on that set of tracks so don't worry! There were 3 lines which were VERY obviously abandoned. They were either mostly overgrown or had about 20 old boxcars still on the line which had rusted over pretty badly. Needless to say we did not stay there long at all!! BUT I was able to get a few nice pictures of our kids before we left!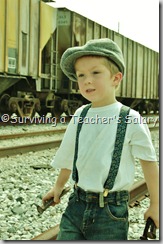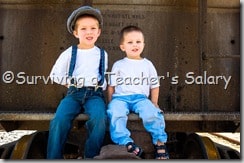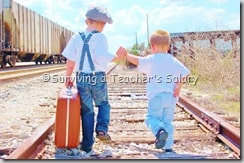 Please Note – I DO NOT recommend taking photos on railroad tracks unless you are 100% certain they are abandoned AND that you are not trespassing. PLEASE do not go onto live tracks or ignore "no trespassing" signs. 
If you are lucky enough to find an abandoned railway near you here are a few prop ideas and pose suggestions:
Buy vintage luggage, a stick horse, old baskets, stack of newspapers, etc.  for props. Suspenders, cap hats, jeans, overalls, etc. also make for nice outfits.
Have someone balancing on the edge of the track.
Have the subject walk away with the tracks in the background, with or without a suitcase.
Have a luggage full of clothes that have "spilled" out onto the track.
Have subject sitting on one or more suitcases.
To get children to stay in one spot longer have then collect rocks.
Go early in the morning or late afternoon when the sun is not too bright.
Here are some more ideas and tips for taking children's photos.
Share the post "Photographs on the Railroad Track"