Not all training providers are created equal – tips to ensure you are choosing the LEADER!
This post may contain affiliate links, view our disclosure policy for details.
I partnered with ChildCare Education Institute to share with you the free resources below.
The end of the school year is a busy time of year for both teachers and parents, but continuing your education is always a top priority especially when you need to meet state required training hours!
As you're starting to think about summer courses and CEUs, there are some specific things you should be looking for when choosing a training program provider. Not all training providers are created equal and you don't want to waste your time or your hard earned money on a program that is either not accredited, not high-quality or doesn't meet the requirements of your career path. Below are some recommendations to keep in mind.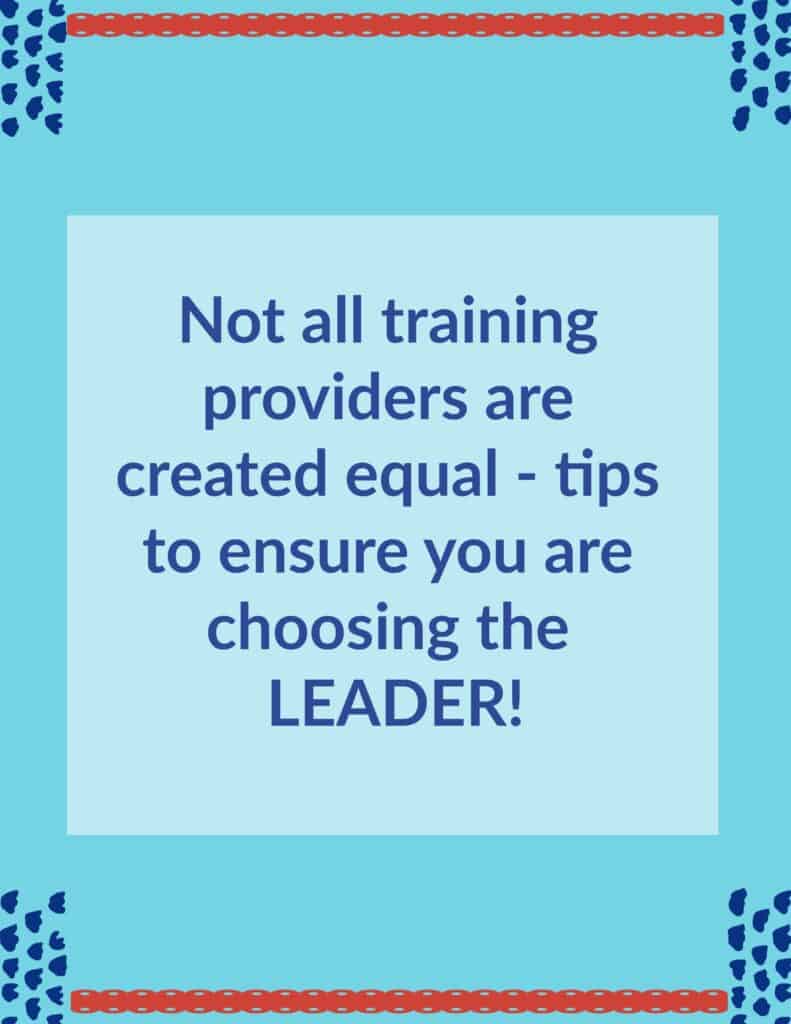 Things to Consider:
At the bottom of this post you can print our FREE checklist that will help guide you as you plan out your professional development course options this summer. Not all training providers that offer professional development courses and CEUs are created equal!
Just print out a copy of our free printable for each program that you are considering! You'll easily be able to compare what each program offers versus what you need.
Here are a few important things to consider when choosing a training provider:
Are they nationally accredited?
Do they offer a free trial course?
Have they achieved the CDA Gold Standard?
Are their courses self-paced?
Do they offer Education Coach support?
Is learning based on research?
Are they recognized by state licensing agencies?
Do they offer beginner, intermediate and advanced level training courses?
Do they have a high satisfaction or recommendation rates?
Do they offer college credit or IACET CEUs?
Do they electronically transmit course completions directly to state registries?
Don't Settle for Less, CCEI Has All You Need and MORE!
Struggling to find a high-quality training provider or don't know what questions to ask to make sure all your career path requirements are met? Look no further! ChildCare Education Institute is the Industry Leader for Online Professional Development. Period.
They have so many benefits to offer their competitors fall short on and you can rest assured that they are accredited by the industry's leading associations including the Distance Education Accrediting Commission (DEAC), International Association for Continuing Education and Training (IACET), Council for Professional Recognition, National Workforce Registry Alliance (NWRA), National Afterschool Association (NAA) and MORE!
Check out the chart below highlighting the benefits of training with CCEI!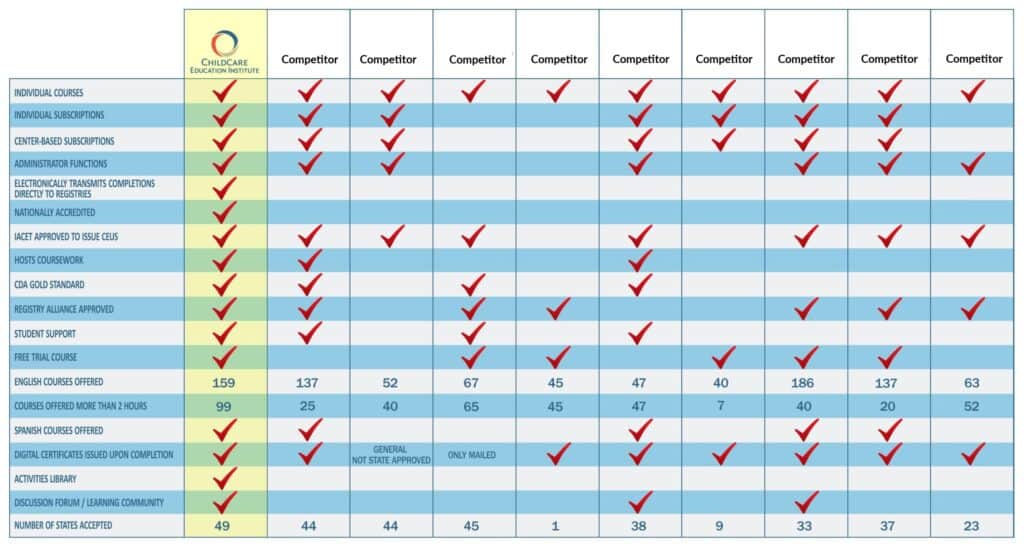 You may remember that I recently took several professional development courses with ChildCare Education Institute (CCEI). I had a fantastic experience with both courses. I was able to take the courses at night while my kids were sleeping and working around my family schedule at my own pace. They offer individual courses, individual subscriptions as well as center-based subscriptions! They even have administrator functions too!
The material was laid out in bite-sized instruction with the ability to pause and resume at any time I needed. Additional resources were offered for each class as well as a printable certificate of completion at the end of each course. They also report course certifications directly to state registries saving you time and stress!
Did you know that CCEI is approved in 49 states? So many teachers take professional development courses only to realize that it is not valid in their state! Not only did they waste their time and money but they still have to take another course! You won't run into that problem here! In addition to this, not every training provider provides IACET approved CEUs at no additional charge! These are two very important benefits of training with CCEI.
Another very important area not to overlook is the Education Coach support. Many companies claim that they have support when it is actually just customer service. CCEI is dedicated to one-on-one support with highly qualified and trained Education Coaches to support you on every step of your journey in meeting your goals.
Lastly, CCEI is the ONLY training provider who offers an extensive Activities Library with over 10,000 activities you can do in the classroom that teachers can go to if they're lacking any curriculum or ideas. This is a HUGE benefit feature that no other company offers and is all included as part of the center-based subscription!
I was very happy with my experience with CCEI and highly recommend them!
Professional Development Courses I took with CCEI:
Launching Learning Centers in Your Classroom (CCEI450A)
Exploring Visual & Spatial Intelligence (COG100)
FREE Printable Checklist: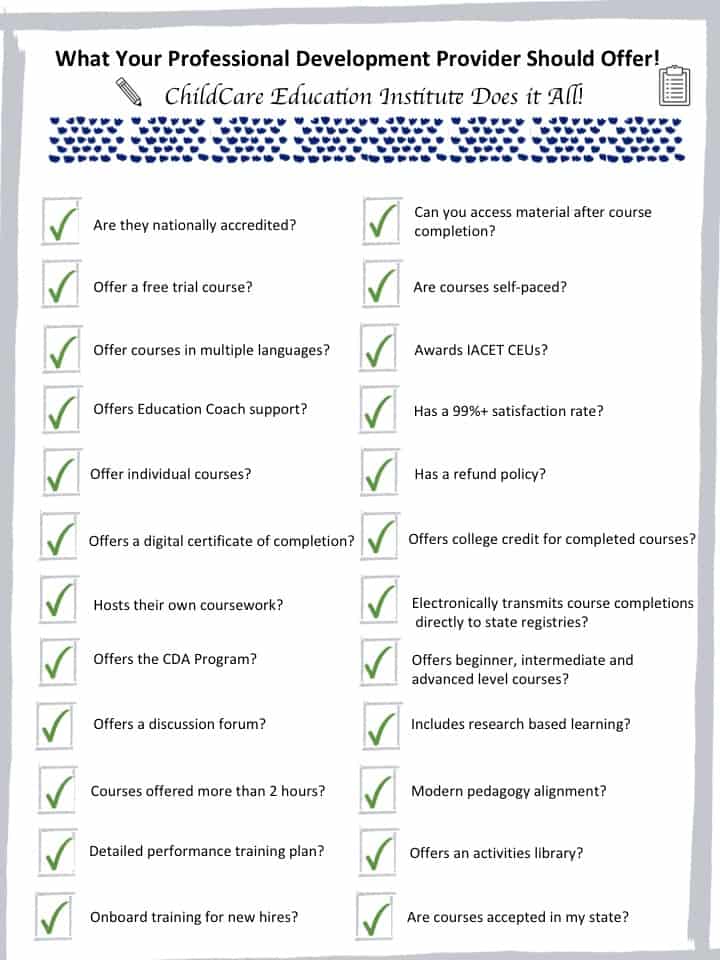 ---
Learn more about the Professional Development Courses I took below: