Thanksgiving Mayflower Paper Plate Craft & Projects for Kids
This post may contain affiliate links, view our disclosure policy for details.
This creative Mayflower paper plate craft makes a great history Thanksgiving activity for kids! You can modify your project based on your supplies and child's age.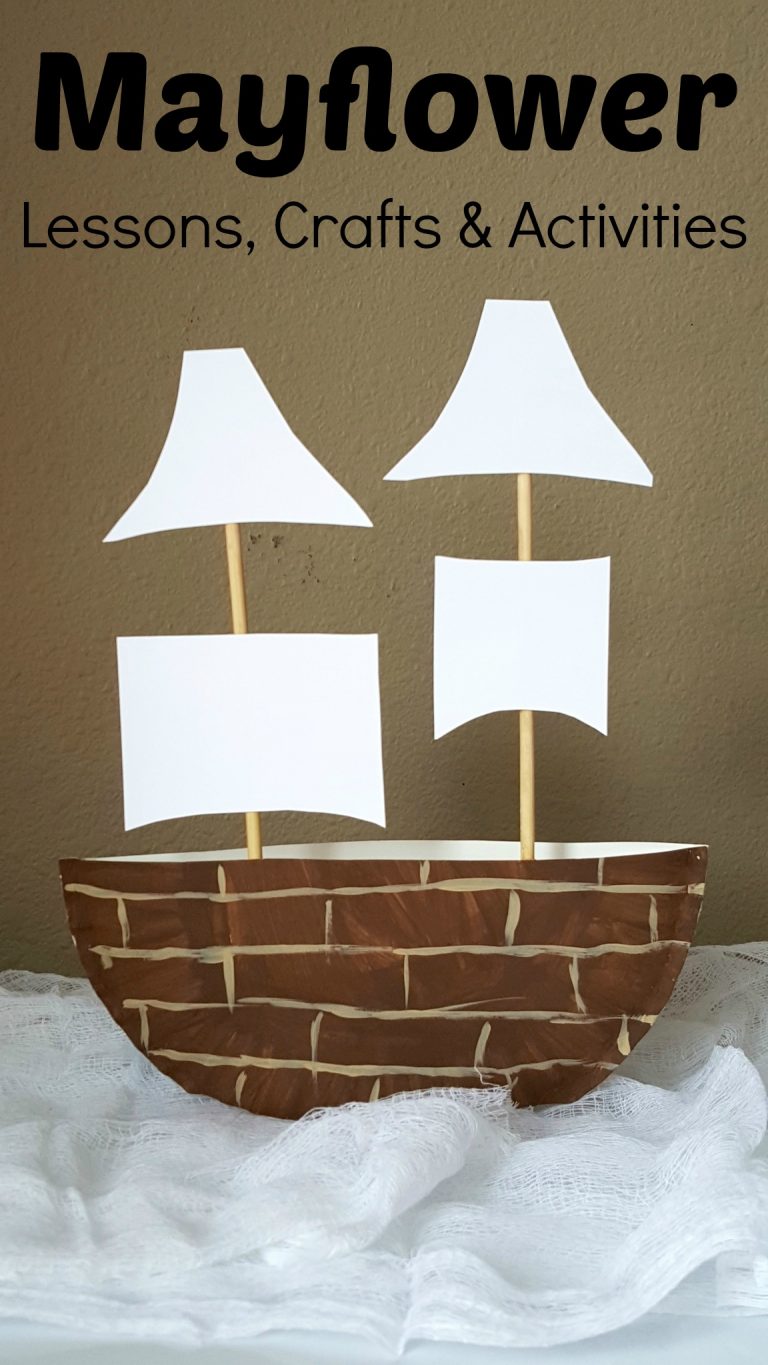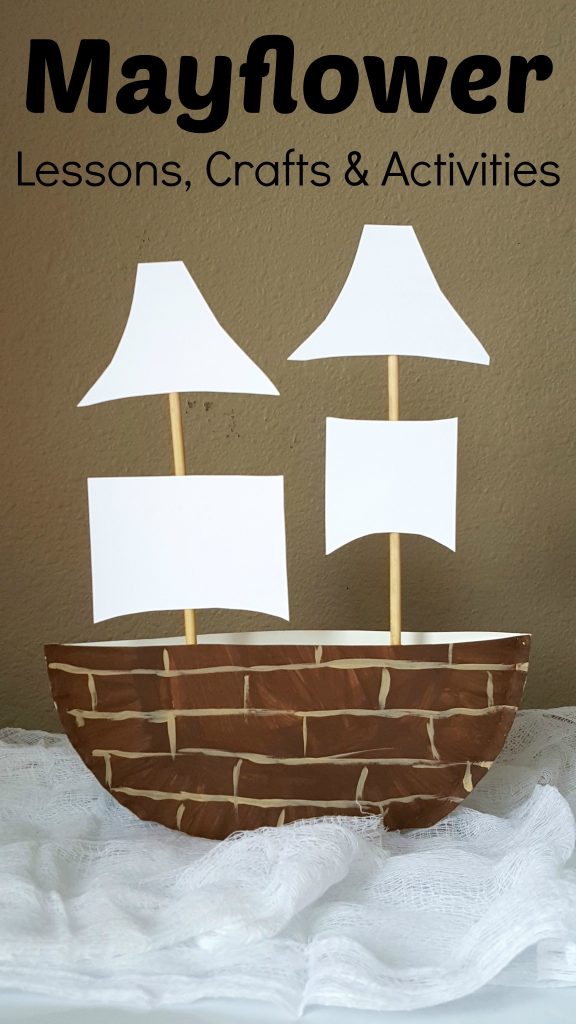 This past year I've really focused on bringing history ALIVE to my kids after our huge presidential road trip last summer to NYC, Boston, Philly, D.C. and surrounding areas. I started by creating our History Crafts for Kids Pinterest board to help you collect resources to go along with history lessons too!
This post will show you in a step by step photo tutorial how to create a simple Mayflower Paper Plate craft that you can launch into your lessons and activities surrounding the history of the famous Mayflower ship which transported Pilgrims into the New World.
For fun you can also print our your children's picture and add it into the ship for some 3D pretend play fun!
Mayflower Paper Plate Craft Materials:
paper plate (1 per ship)
brown paint or markers (I used acrylic)
hot glue
2 chopsticks total (1 set) (or 1 thin wooden dowel rod)
white paper
scissors
optional – khaki paint with brush
Mayflower Paper Plate Tutorial:
You'll want to begin by first painting the back of a paper plate with brown acrylic paint.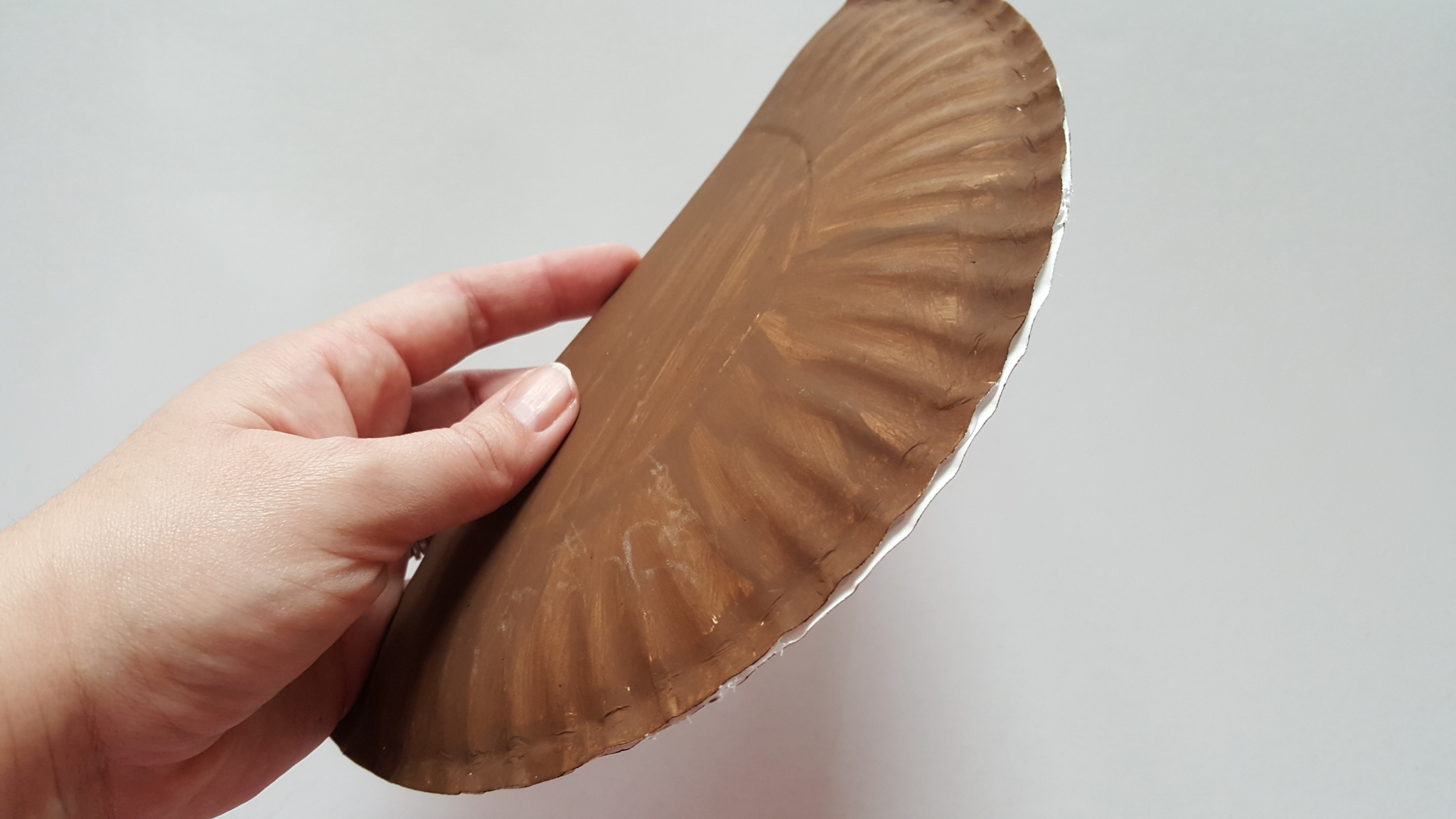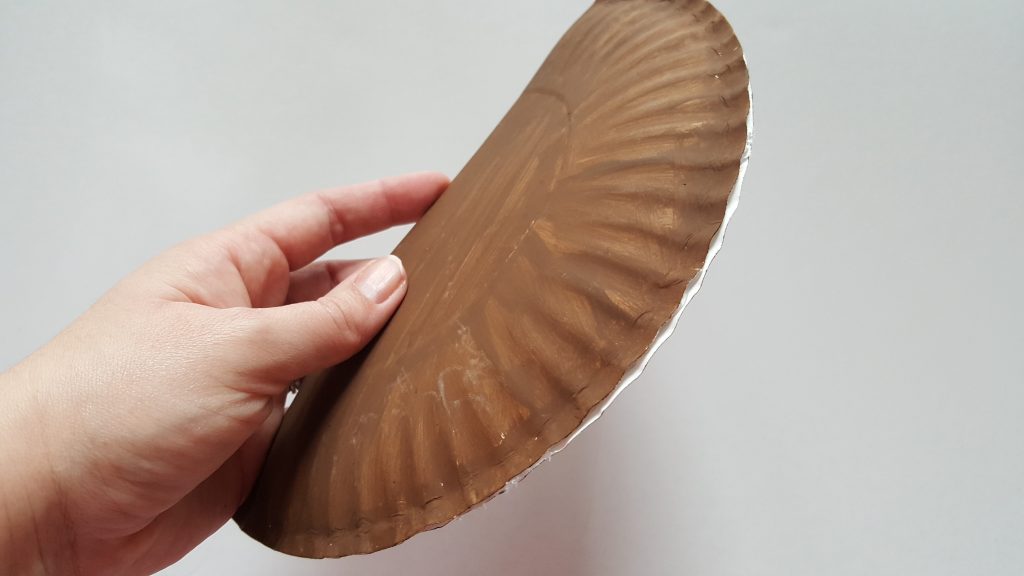 Once the paint has dried cut the paper plate in half and hot glue them together to form a clam shell shape with the brown paint on the outsides as shown above.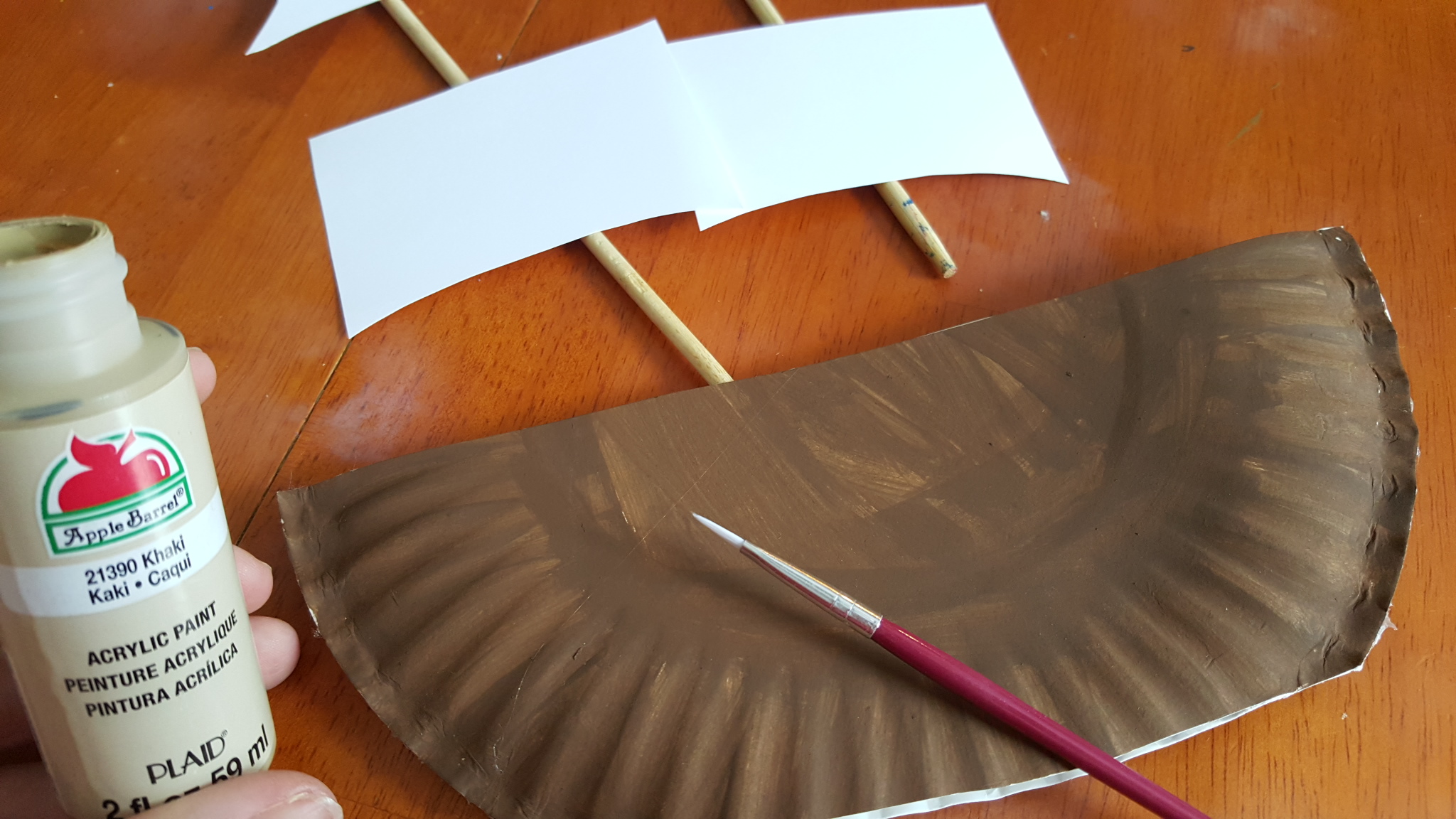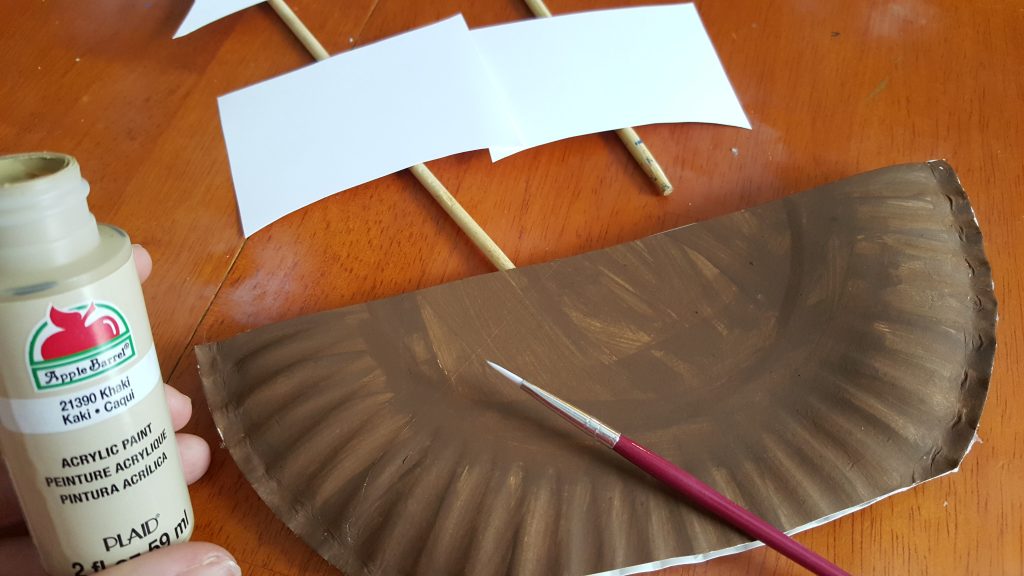 Use your scissors to cut the bottom rounded section of the paper plate off. When you are finished with your Mayflower ship it will be able to stand up on the table on it's own now!
If you want to accent the outside of your Mayflower ship to look a little more realistic you'll need a paint brush and a lighter color paint – I used Khaki color. A soft golden burnt yellow would work well too.
Dip a thin paintbrush in your paint and run lines with perpendicular lines across the paper plate to simulate wood beams stacked on top of each other.
Dab some hot glue onto one end of your chopstick and press it firmly inside of your ship. Cut out white rectangles and trim as desired to simulate sails and hot glue those onto the chopstick as shown in the photo below.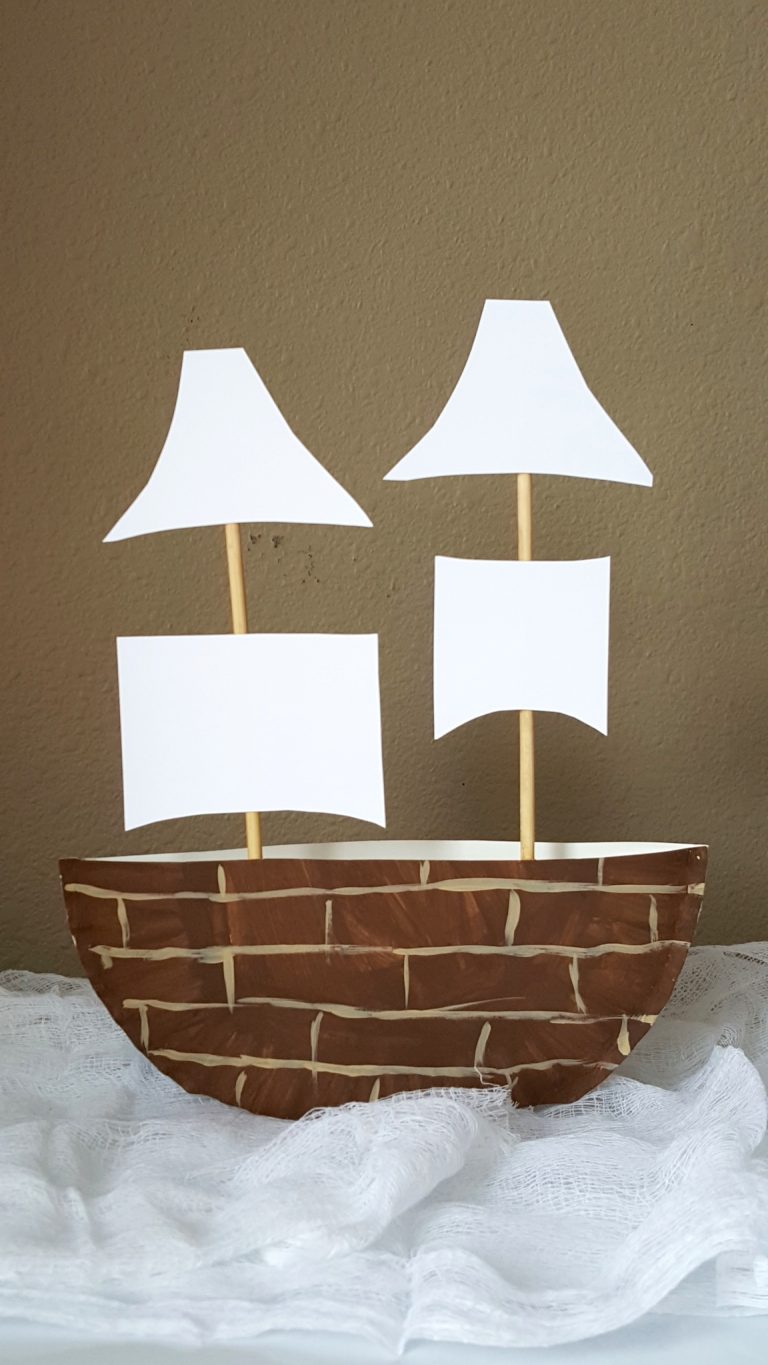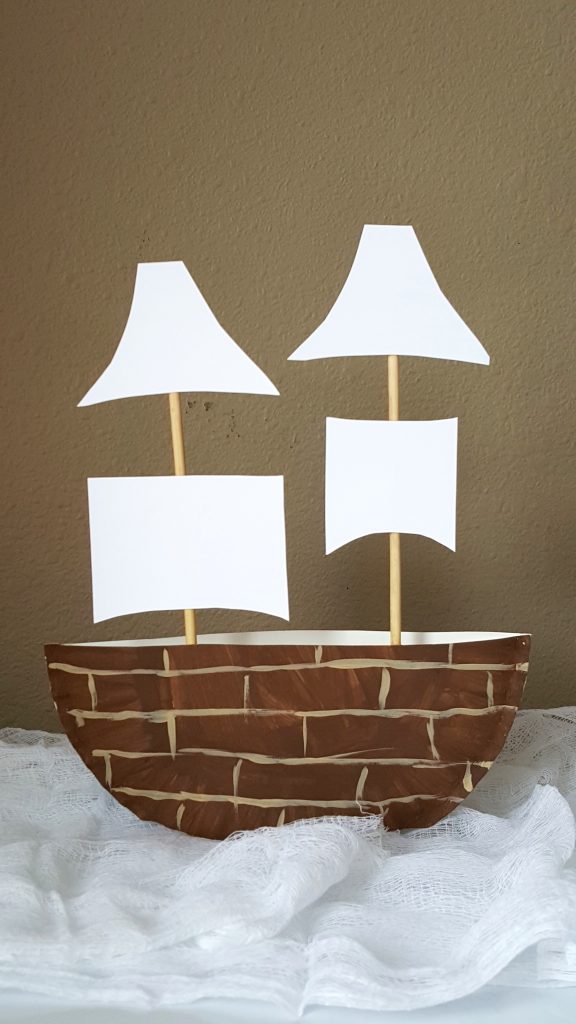 Your Mayflower paper plate craft is ready in a realistic 3D version! You can easily change this up to create a Viking ship, pirate ship, modify it for the Titanic and any other boat you want to learn about! Below are some other great resources for Mayflower history lessons!
Mayflower Children's Books:
If You Sailed on the Mayflower in 1620
The Boy Who Fell Off of the Mayflower
M is for Mayflower: A Massachusetts Alphabet Book
You Wouldn't Want to Sail the Mayflower
Mayflower Crafts & Activities:
Mayflower Handprint Pilgrims
Mayflower & Pilgrim Bulletin Board Idea
Mayflower Milk Carton Craft
Printable 3D Mayflower
Floating Mayflower Science Activity
Connect the Dots Mayflower Printable
Mayflower Hat & Snack