Candy Corn Thanksgiving Turkey Snack for Kids
This post may contain affiliate links, view our disclosure policy for details.
Stress free Thanksgiving party snack for kids – that's absolutely my kind of quick snack idea for our Thanksgiving classroom party! Below you'll find the cutest Thanksgiving snack idea for kids that you'll ever find – with just a few ingredients! What I really love is that kids can make it themselves with ZERO prep time!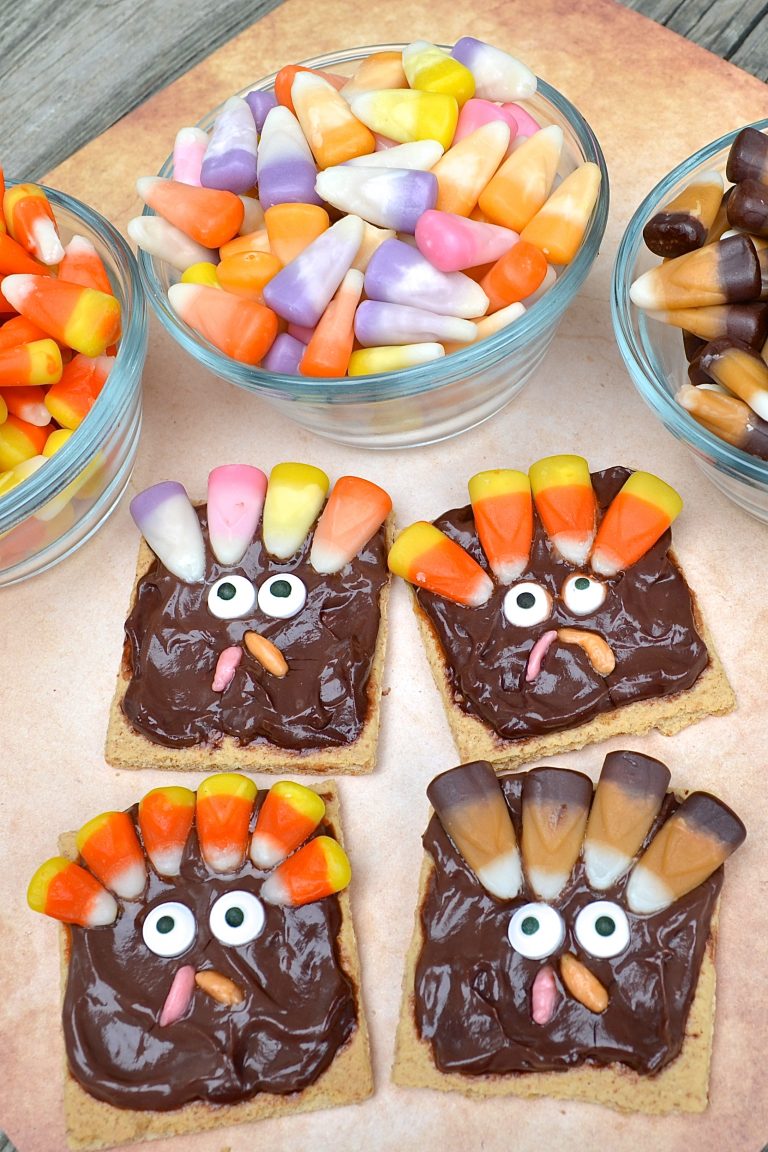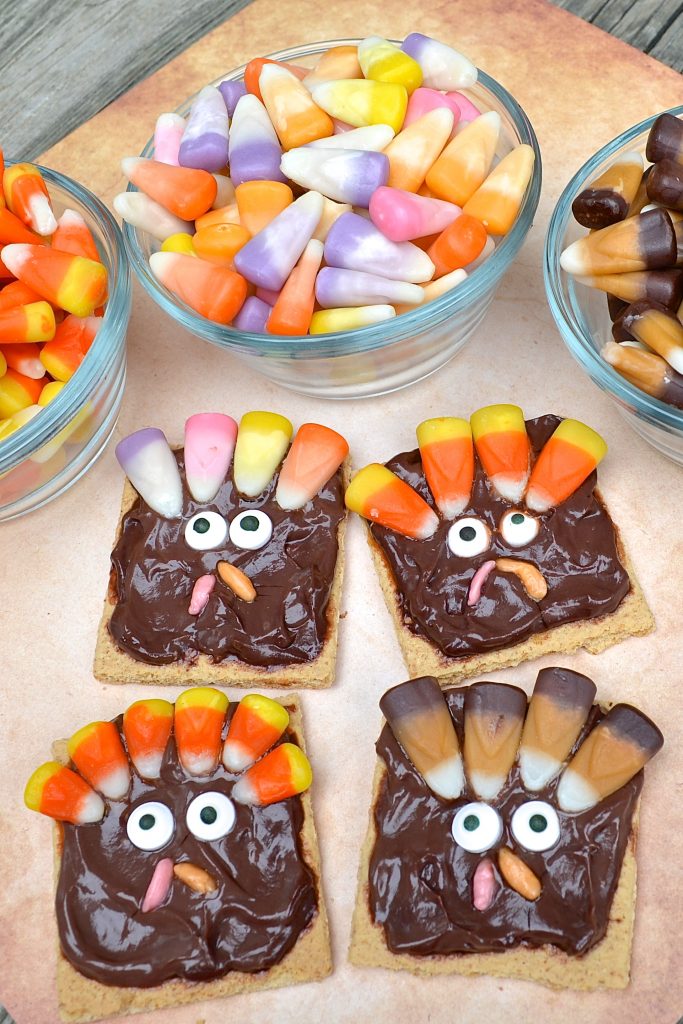 I just love turkey time of year! These fun Turkey Snacks for kids are super cute to make for classroom treats and even to let the kids design their own turkeys!! You can easily adjust this as needed. Brach's sent us all sorts of delicious flavors of candy corn to use for our turkey "feathers" – I had NO idea there were so many flavors!
From Fruit Cremes Candy Corn to Peanut Butter Cup Candy Corn and S'mores and Caramel Macchiato there are a TON of colorful and delicious options! Did you know that according to the National Confectioner's Association there are 9 BILLION pieces of candy corn produced each year and Brach's sells 80% of that?! CRAZY!
You can literally pick up 5 ingredients at the grocery store and head straight to your classroom party with them. NO prep needed AT ALL! Walk right into the party and then open up your ingredients to pass out to the kids!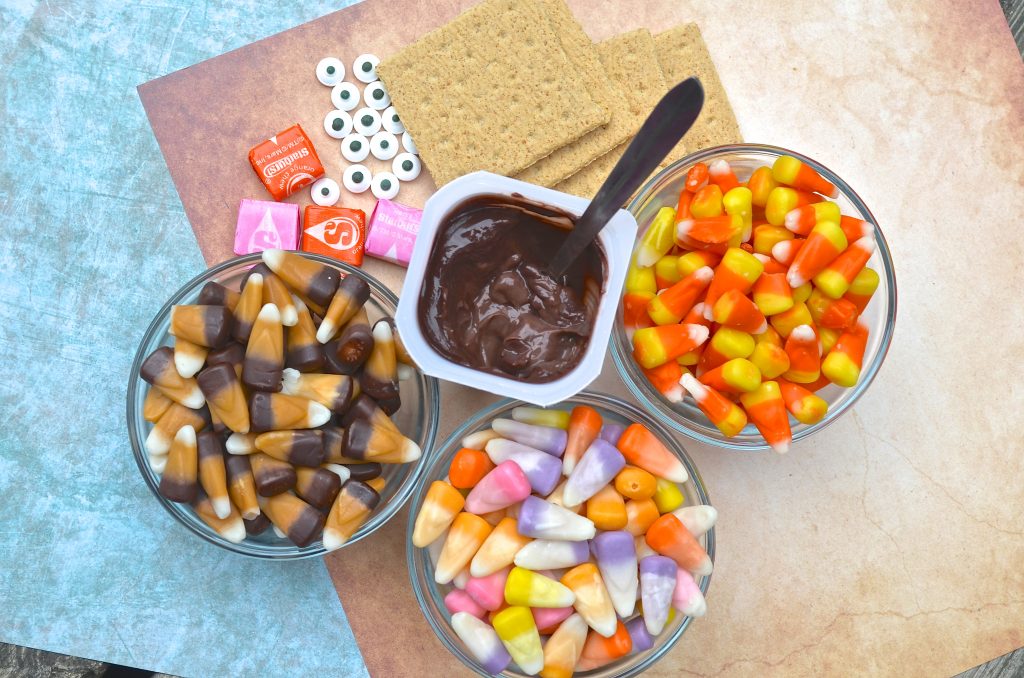 To make your own yummy turkey treats you'll need:
Chocolate Pudding

Graham Crackers

orange and pink/red Starburst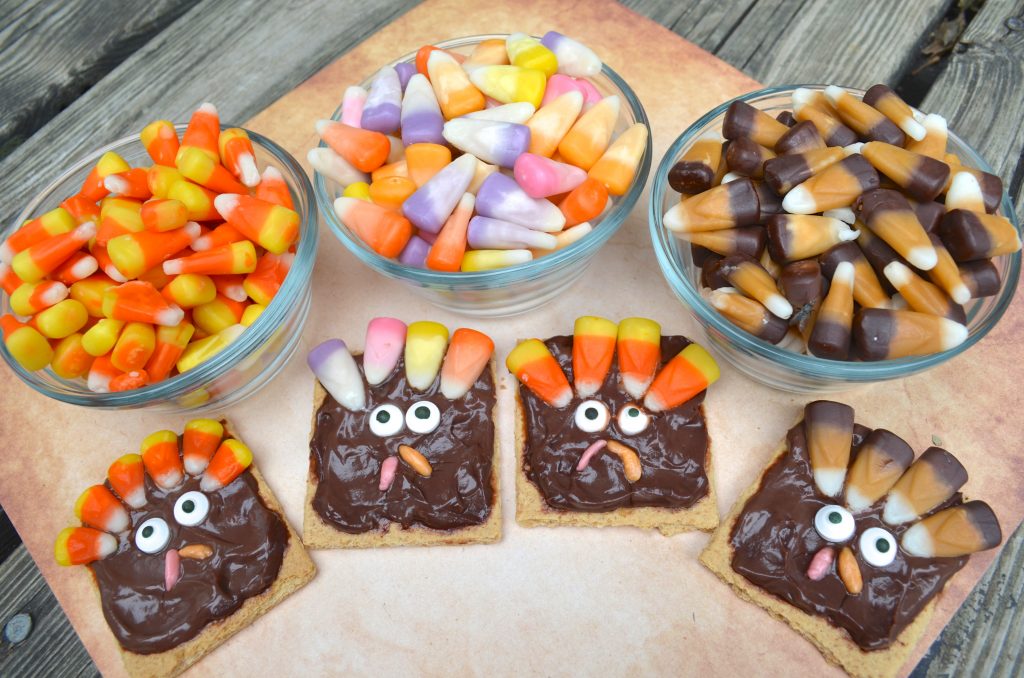 Carefully break each of your graham crackers in half. Smooth out a small spoonful of chocolate pudding onto the cracker. Choose and place your Brach's Candy Corn "feathers" around the top half of the cracker placing the "points" of the candy corn inward.
Add two candy eyes. For the beak you'll need a tiny piece of taffy – roll it between your fingers for a smoother appearance. For the "gobble" take a red or pink piece of taffy and also roll that between your fingers then place next to the beak. Now you're ready to eat!
And while you've got some extra candy corn stashed look at this beautiful Candy Corn Candle gift idea!! I LOVE it and am planning on making some for unique, inexpensive and festive decoration. They will look so fun on my mantel with buckets of pinecones and leaves!