Makey Makey STEM Kid's Engineering Kit Review
This post may contain affiliate links, view our disclosure policy for details.
I received the below product to facilitate this review. All opinions are my own.
Turn everyday objects like bananas into touch pads!
I'm not even kidding! It caught my eye when I saw this advertised with the Makey Makey kit – and when I saw the YouTube video I was TOTALLY sold! Being an educational blogger I have a pretty good handle on the educational products out there but I had never heard of Makey Makey! I KNEW my boys had to try out this hands on simple engineering kit. PLUS it has NO software to install which was a huge plus! Check out this video:
If you go on YouTube you'll see several REALLY awesome videos – I highly recommend going to check them out! Makey Makey works like a simple USB keyboard/mouse – but SO much cooler! As my kids spend more time with our Makey Makey set I'm hoping to put together our own set of videos! Worried you or your kids won't be able to come up with your own ideas? Makey Makey even has a whole page full of amazing lesson plans to guide you! (There's even a dual language option!) Plus they have a list of simple apps you can start your kit with, although my kids immediately went to some of their favorite gaming sites and began using the kit all on their own.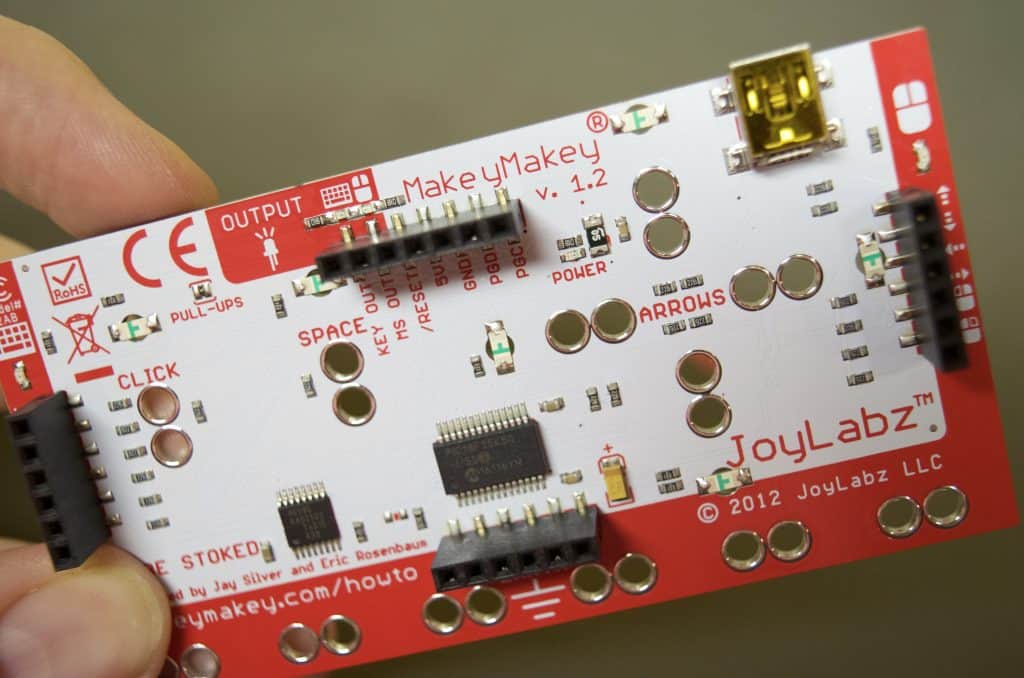 Makey Makey comes with this simple circuit board and a set of alligator clips and a USB cord. It's a really simple kit but has thousands and thousands of possibilities to create.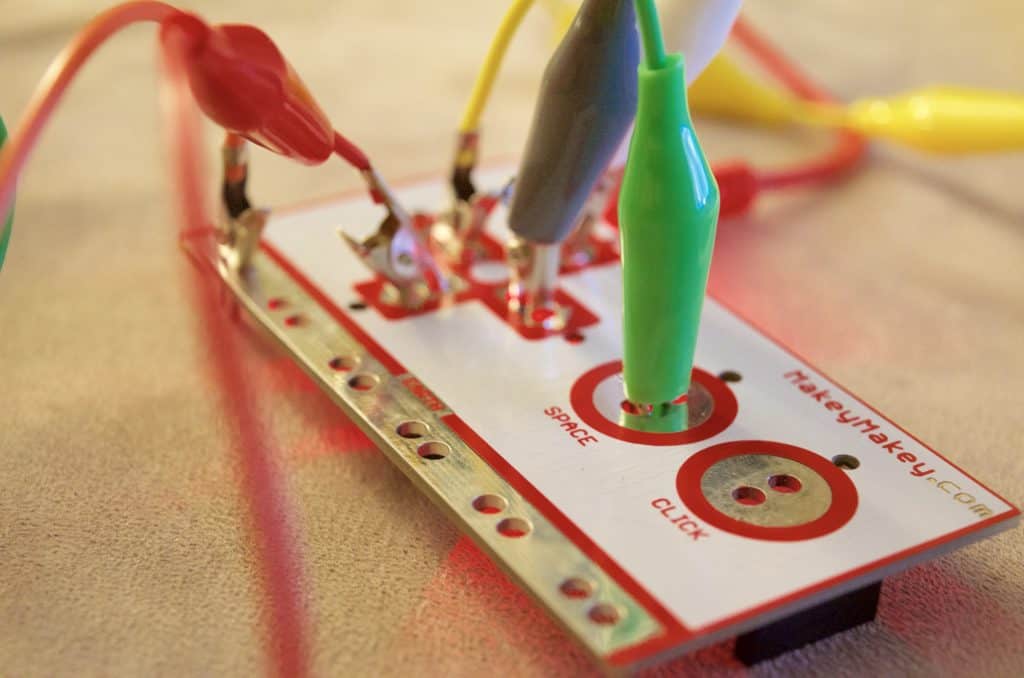 Very simply you only need to attach the alligator clips to the circuit board, and attach the other end to an object that can conduct any type of current at all. One VERY VERY important thing to note (which is in the directions which of course my kids didn't read when they pulled the set out of the box!) is that YOU (or whoever is using Makey Makey) must be holding or touching the "ground to Earth" alligator clip. My boys just clipped it on to their pants waistline most of the time.
I'm not sure why my kids bring their Makey Makey to the couch every time they want to use it but you can see all the cords. Thankfully the cords are all different colors which makes it simple for any child to find both ends in a jiffy.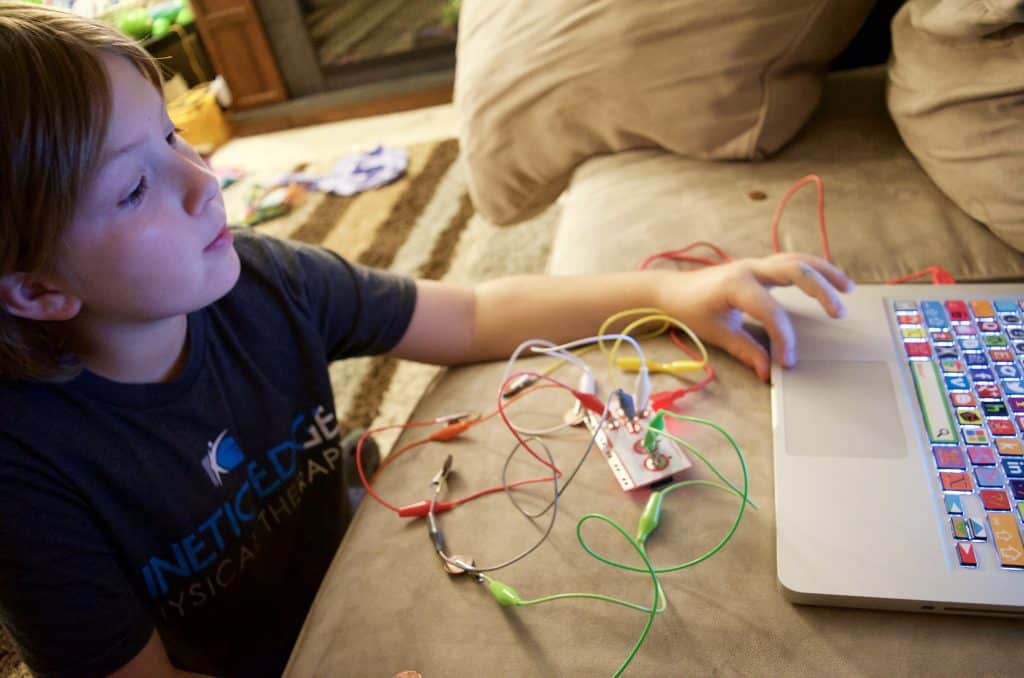 My 9 year old has a bit of an obsession with coins so pennies was the first thing he used with this set since he knew metal was a good conductor of electricity.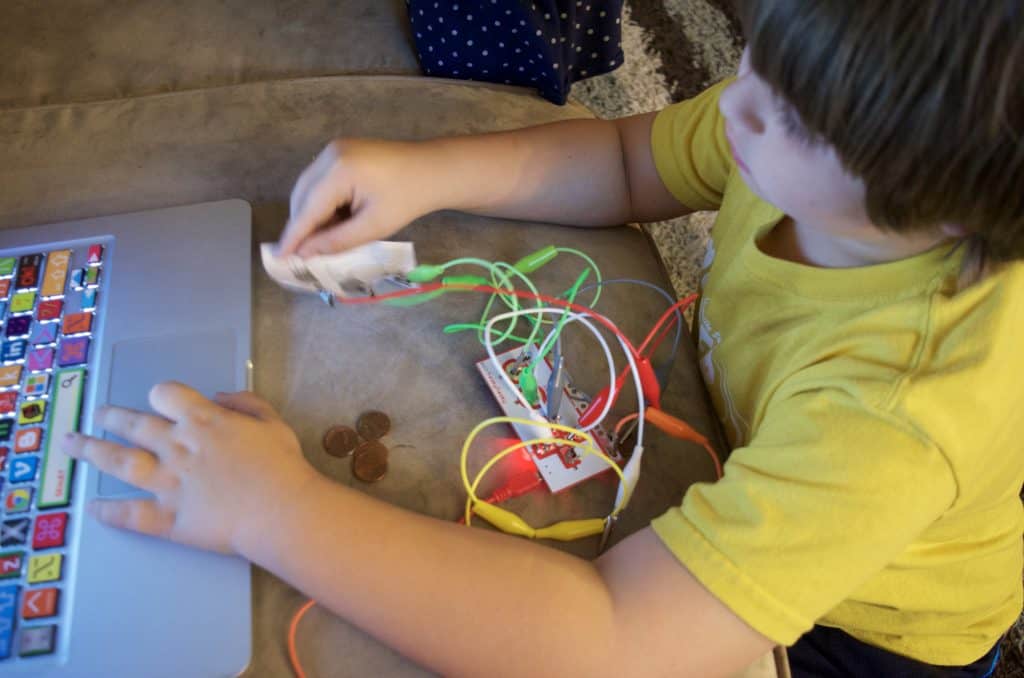 While one of my kids is using Makey Makey the other is designing ideas and creative plans on how to use the kit when it is their turn. My youngest son is 7 years old and he drew a game controller on a piece of paper to use.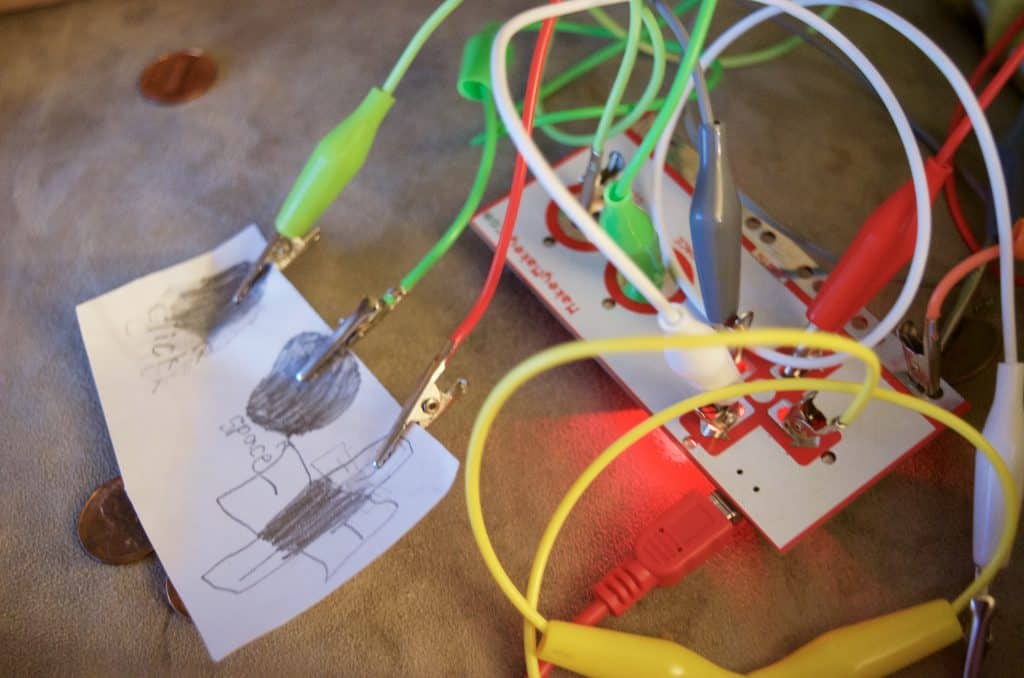 You can see his simple "game controller"  here. He used it to play all sorts of games online!  Just use your alligator clips to "assign" which function you want each section to trigger and voila! My 7 year old had no problems coming up with ideas to try. It's great because he's learning SO much about conduction and electricity simply by playing with this kit.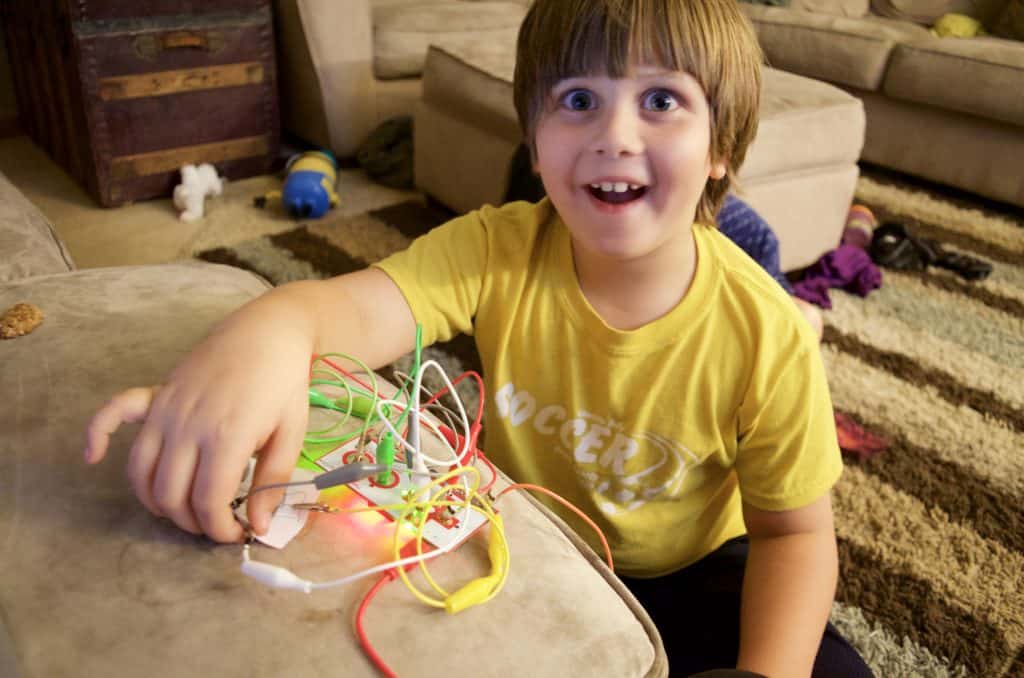 I was lucky enough to capture his face light up in a photo the first time he used his paper game controller with the Makey Makey kit! It was SO cool!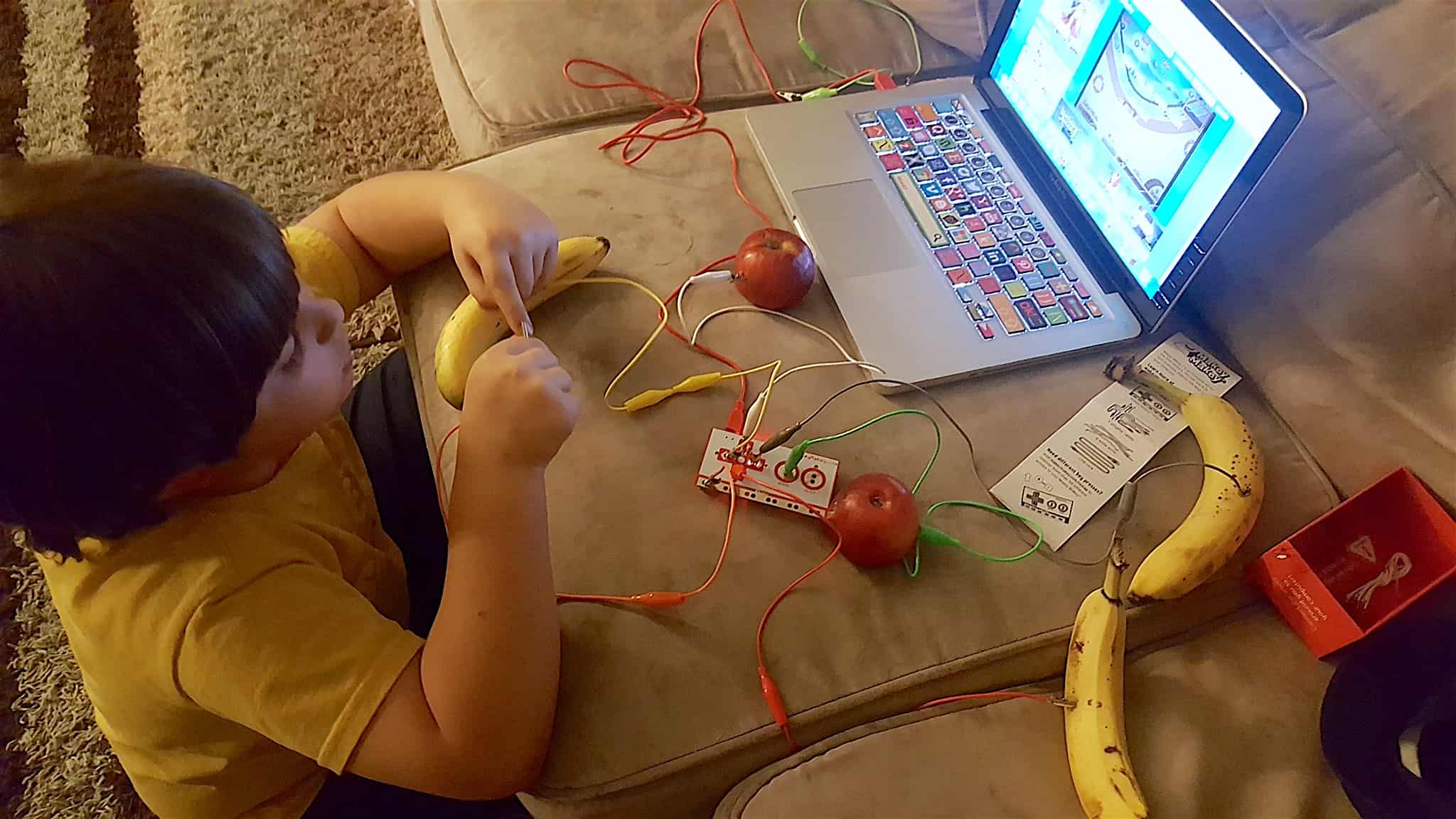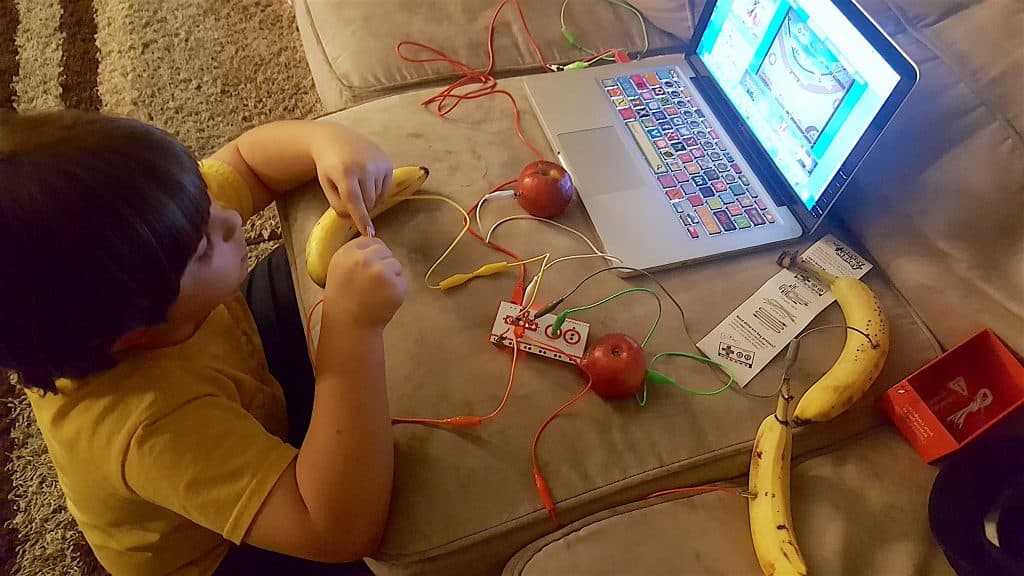 When the paper controller got "old" he switched to trying apples and bananas! It's so funny to watch the kids crack up at tapping apples and bananas to play their video games!
During the holidays we are going to set up this series of soundwaves and musical water lessons with our Makey Makey kit. This is SUCH a cool and educational opportunity for classrooms too. One set can easily cover a group of students working together. They also offer discounts to pretty much anyone in the educational field when you order 5+! Just contact them! AND they even ship internationally!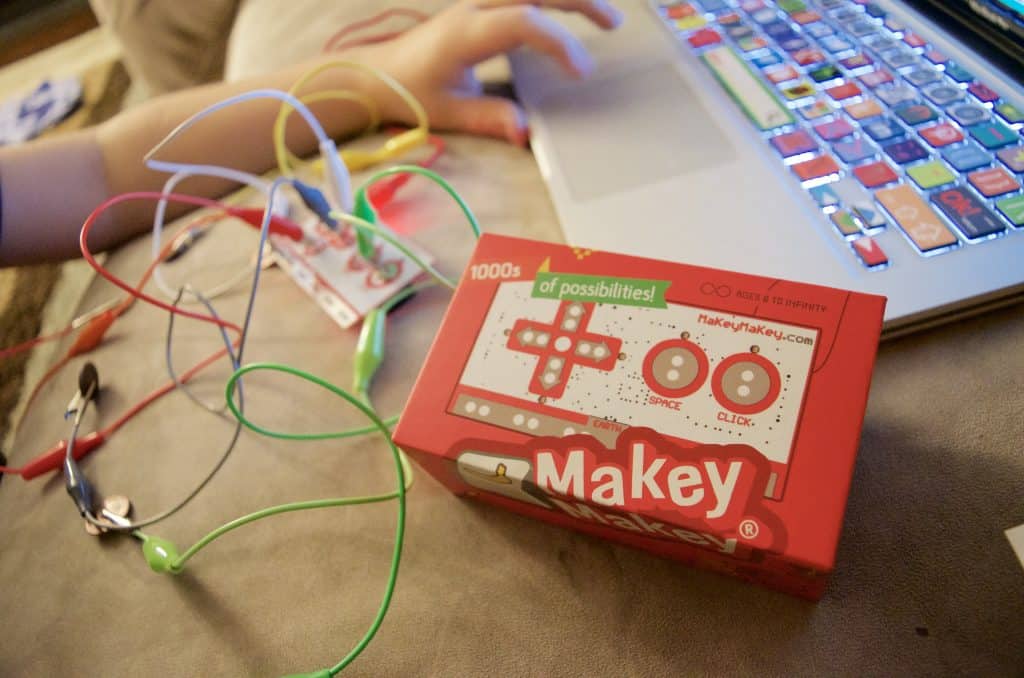 Overall – VERY VERY cool and insanely simple kit! Don't let those long cords fool you – if my 7 year old can pick it up out of the box all by himself and use it your kids can too! The thing I LOVE about Makey Makey (other than of course the limitless learning opportunities for my kids) is that my husband and I are learning RIGHT ALONG with our kids! We can all spend family time together coming up with new and creative ways to use our Makey Makey kit! It's really fun for adults too!
Techy Details of Makey Makey:
*Works on: Windows, Mac, Chromebook and on much of Linux
*Works on SOME mobile devices & tablets BUT not officially supported
*You can reprogram older software of Makey Makey (see their site for details)
*MULTIPLE Makey Makey kits work on the same computer!
*NO Software!
*NO Programming experience necessary!