Let's Power Their Dreams with Confidence and Support
This post may contain affiliate links, view our disclosure policy for details.
Post brought to you in collaboration with She Speaks and P&G.
Discipline. Desire. Endurance.
I love when the Olympic Games roll around as my kids go through various ages and phases of life and the Rio 2016 Olympic Games are no different. Now that my boys are older they are watching the Olympic Games in a new light – a more inspiring light that pushes them to strive towards being better. Especially better divers and swimmers like Dana Vollmer and David Boudia – two great USA competitors.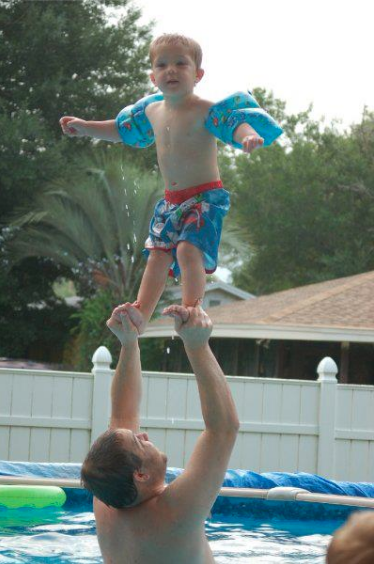 When my oldest son was an infant we used to call him a "water bug" – he was simply happiest in the water. By the age of 2 (shown in the photo above) he had taught himself to swim and absolutely LIVED for doing fun tricks in the water like standing up on his daddy's hands. Although my husband can no longer lift him up like this since he is 9 years old my son's passion and love for swimming is unwavering. No body of water is too warm or too cold for him to jump into. The Olympic games and disciplined competition only drives him to enjoy the sport (and relaxation!) of swimming even more!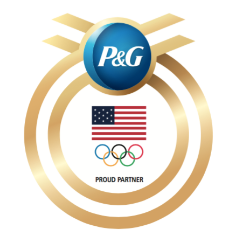 When we go grocery shopping and my son sees the P&G products that support Team USA in the Olympics he always wants to buy them – it makes him feel like we have a small part in supporting those that have worked so hard and so diligently to acquire the skills necessary to launch them into success. And you know what – I love it too! It really sparks a passion for my son to keep loving what he's doing and keep building himself up for more endurance in swimming. Although our pool is certainly not Olympic sized he spends the majority of his summers out there under the water!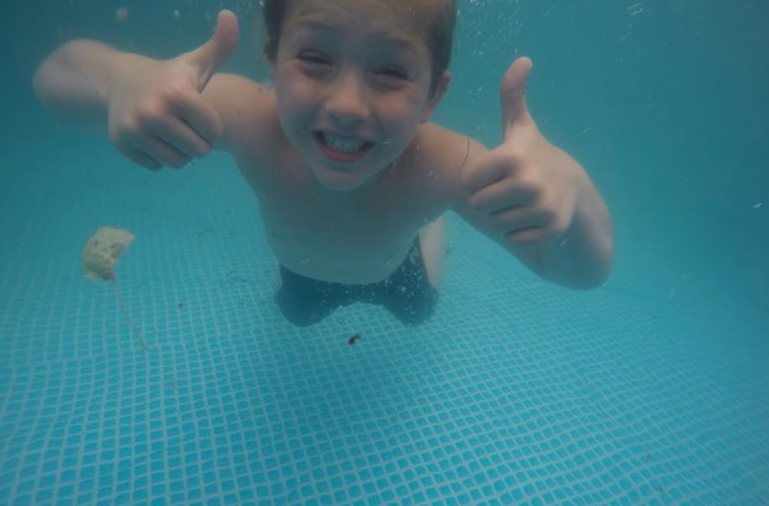 He definitely gets his love of swimming from me! Growing up I spent a lot of hot sunny days waiting for hours at swimming competitions and regional meets and remember those days fondly! Swimming is especially such a great sport for him not only because of the sensory needs that are met but because it is a great individually "played" competition for a child with Asperger's! It allows him to follow his passion in the water and gives him the best tools he needs to compete against others in an individual way.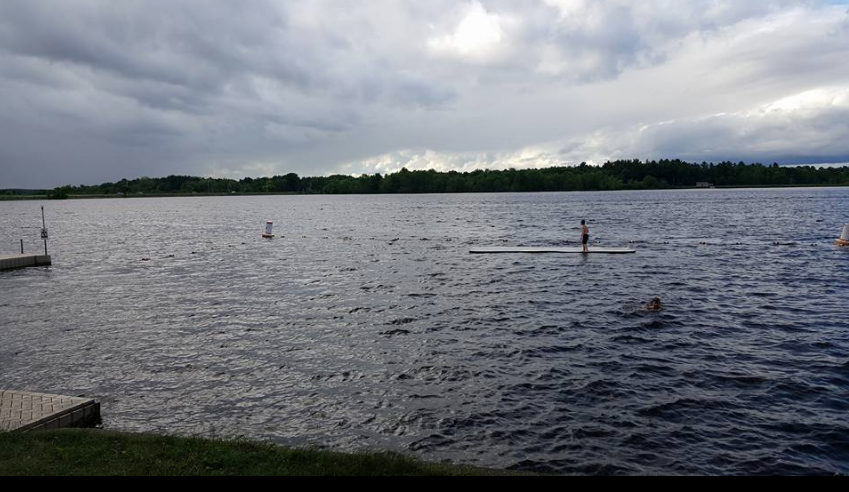 Playing hard and working harder also means I need Head & Shoulders to back me up. It's a part of life and the Head & Shoulders brand is the ONLY brand I will use for dandruff – hands down. I've tried generic brands and nothing works like the real stuff! I can't tell you how many times over the last decade I've had people rave about my hair shine and look – and they are so surprised when I tell them it's my Head & Shoulder's shampoo that I use! I can't live without it! Not only does it keep awake the flakes and irritation of dandruff but it smells great! Since my son sees it in our shower every day it was fun for him to connect that P&G brand with one of his favorite aspects of the Olympics in support of David Boudia! Between that and the Pampers Swaddlers Diapers my toddler uses he's been very intrigued with connecting all these aspects to life. It has provided valuable conversations with him about marketing, charity, financial support, and hard work.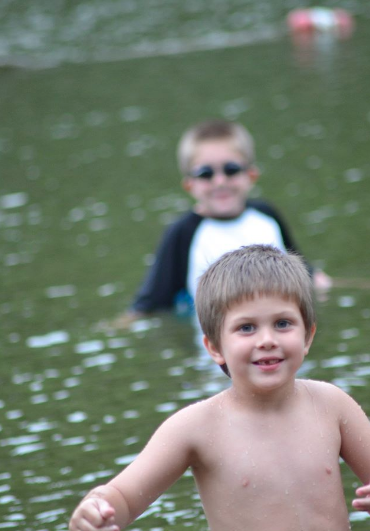 If your kids are longingly looking at the Olympic competition be encouraging and realistic! Tell them to work hard for what they love! Spend a little time every day practicing their skills and always look for new ways to reach their goals! Let's power their dreams by not only encouraging them to chase their dreams but by always giving them a realistic perspective that includes the proud hard work our Team USA competitors have made a part of their daily life! Support their desires by offering any help you can and don't just give them ideas – actually watch them as they practice and grow into their passions! Show them how you support the Olympics and their dreams by supporting brands like P&G who support Team USA!
Check out all of the P&G brand products at Walmart to help support Team USA!