Kidz Bop Pop Star Imaginative Collection – GLAM FUN at it's MAX!
This post may contain affiliate links, view our disclosure policy for details.
I have a confession to make. My son, although 5 years old, is totally OBSESSED with Kidz Bop. Perhaps not the typical obsession for a 5 year old boy but my son has been nuts about Kidz Bop since sometime last year. I'm not even sure where he heard them, but then I had the chance to meet up with the Kidz Bop team and video taped them at Toy Fair and it just lit a fire on his obsession! 🙂 I came home with a CD that we've listened to so many times I'm surprised it's not broken yet! Not to mention that he has the Kidz Bop app on his LeapPad. AND he told us his dream was to be on the Kidz Bop team – he even found the URL and asked me to apply for him! Hah! Pretty scary huh? 🙂 So when my fabulous PR rep sent us an entire box of Kidz Bop toys my son went NUTS!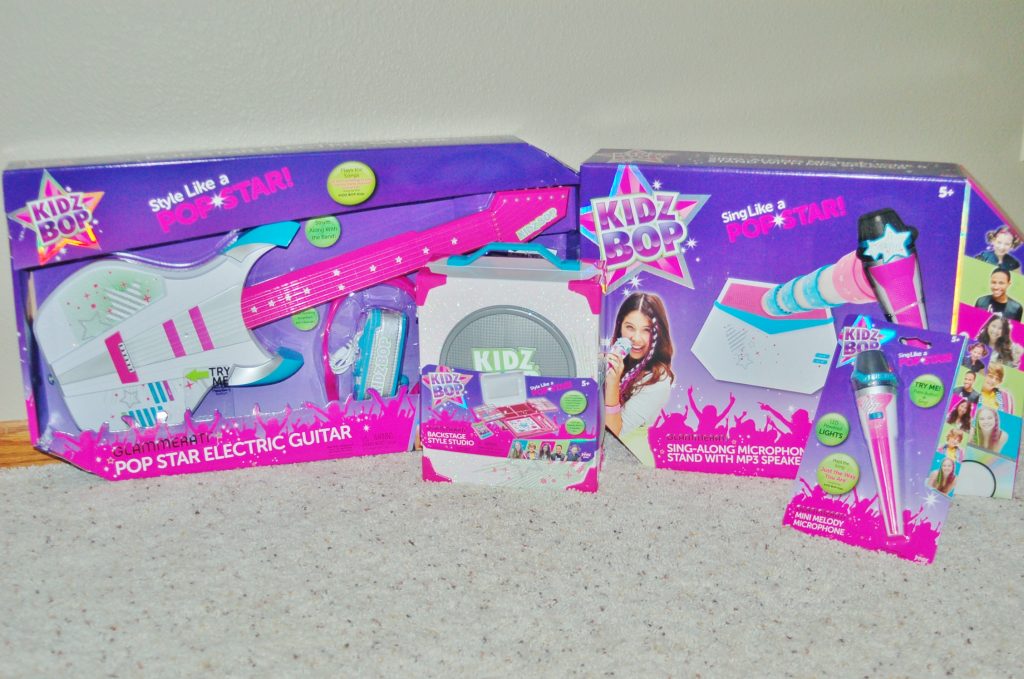 Check out this bling! Don't be fooled that there is a lot of purple and pink. My son did NOT care one bit. This new Kidz Bop line definitely makes you feel like a pop star! I was just watching the kids and I felt like a pop star with all the fun they were having! We received the Kidz Bop Pop Star Electric Guitar, Kidz Bop Sing-Along Microphone Stand with MP3 Speakers, Kidz Bop Megastar Microphone, and Kidz Bop Glammerati Backstage Style Studio. Of course my son grabbed every single item and ran downstairs with it all – I don't know how he didn't fall holding everything!!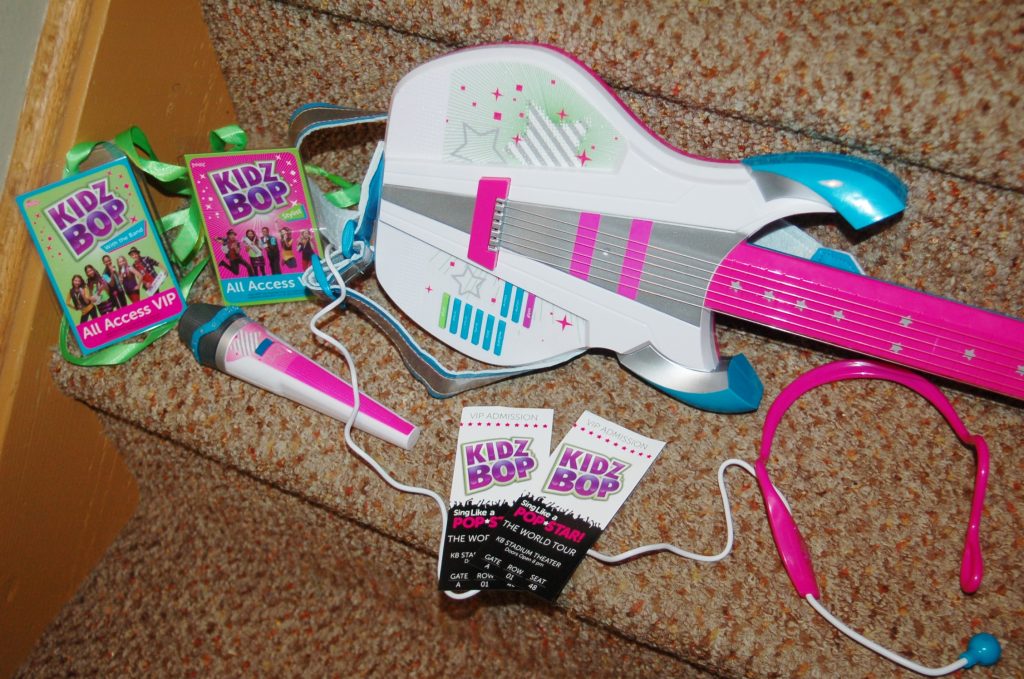 True to the Kidz Bop aura the colors are bold and the products just feel glam! The guitar came with headphones and a working mic that you plug into the guitar with a cush shoulder strap. There are pretend Kidz Bop tickets, All Access VIP passes on a lanyard – plus here you can see the separate mic which sings and flashes colors! Yep – my kids knew all of the words. Even my 3 year old knew some of the songs! The fact that these items are mostly pink and I have boys had no effect on the usage of our products!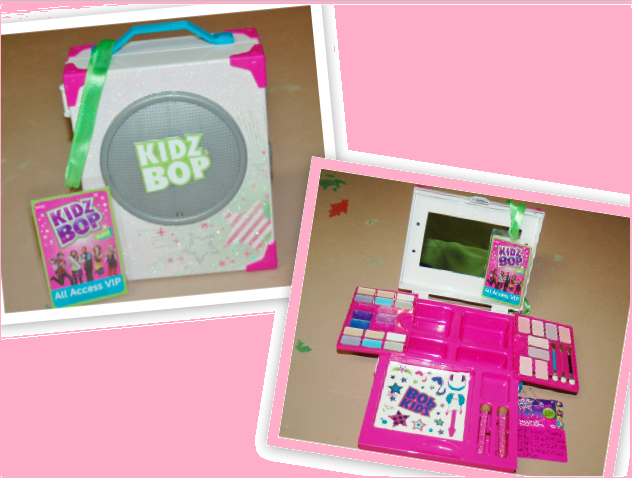 Except this one! I wouldn't let my boys tear into the Glammerati cosmetic set! 🙂 I saved that for our niece! However I did open it up and check it out. It folds up into an awesome stereo-shaped carrying case. Open it up and the drawers pop out, tattoos are piled inside, of course there's an All Access VIP pass on a lanyard and there is a mirror inside the case cover to use for putting on makeup!
Are you ready for the FUN pictures? I couldn't take enough photos of my boys. They were down in the basement a good hour or so when we first brought everything out. My oldest son ran out of hands to hold everything for my youngest got the mic! Not only have my boys been having a BLAST with these toys but I LOVE that they are having a BLAST TOGETHER! Not an easy feat for 2 younger siblings!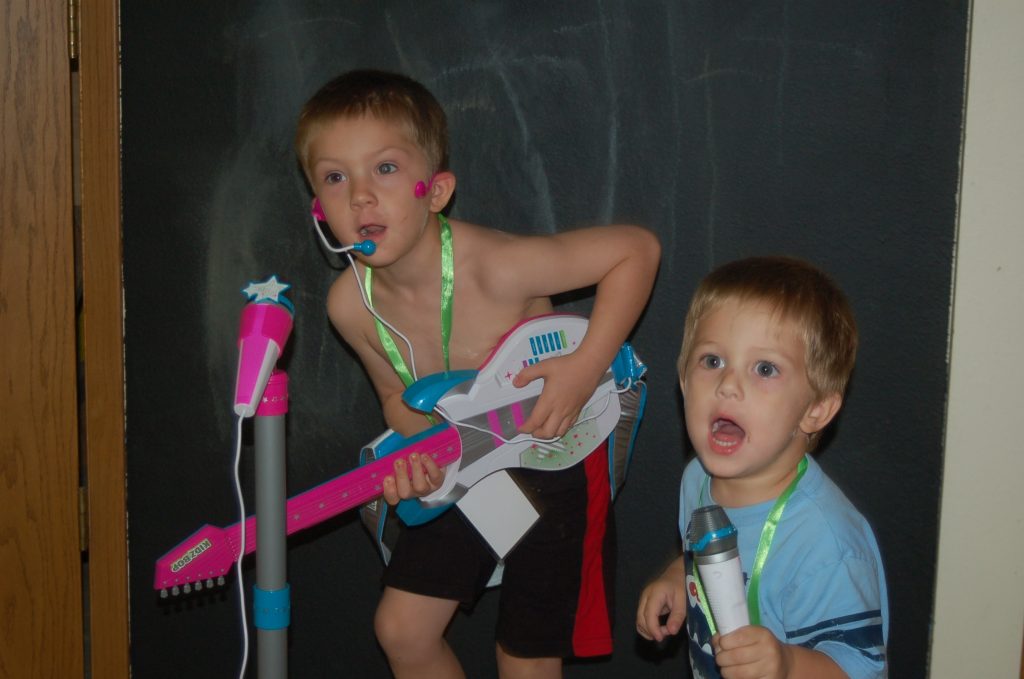 Hehehe I just smile when I think of their first "show" they did for us! It was great and they had SO much fun! Never mind that they were each playing two different songs on their toys! They were both jumping around singing so loud I don't think anyone noticed! Since I took a zillion photos here is a collage of more fun!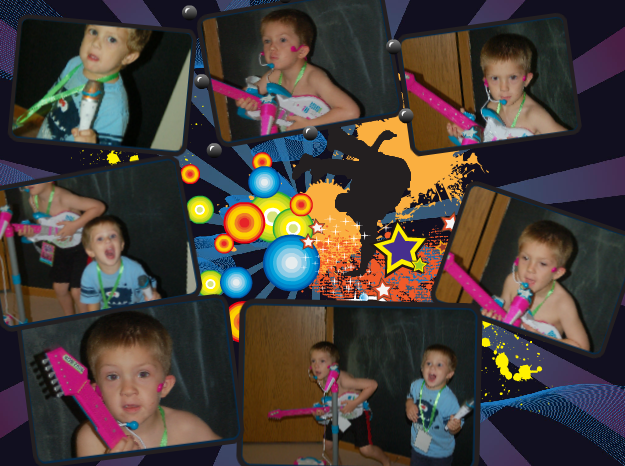 I REALLY wish I had video taped this for you guys to see.  The Kidz Bop guitar had "real" guitar strings on it to make it more realistic which my son really liked. Check out his rock star face!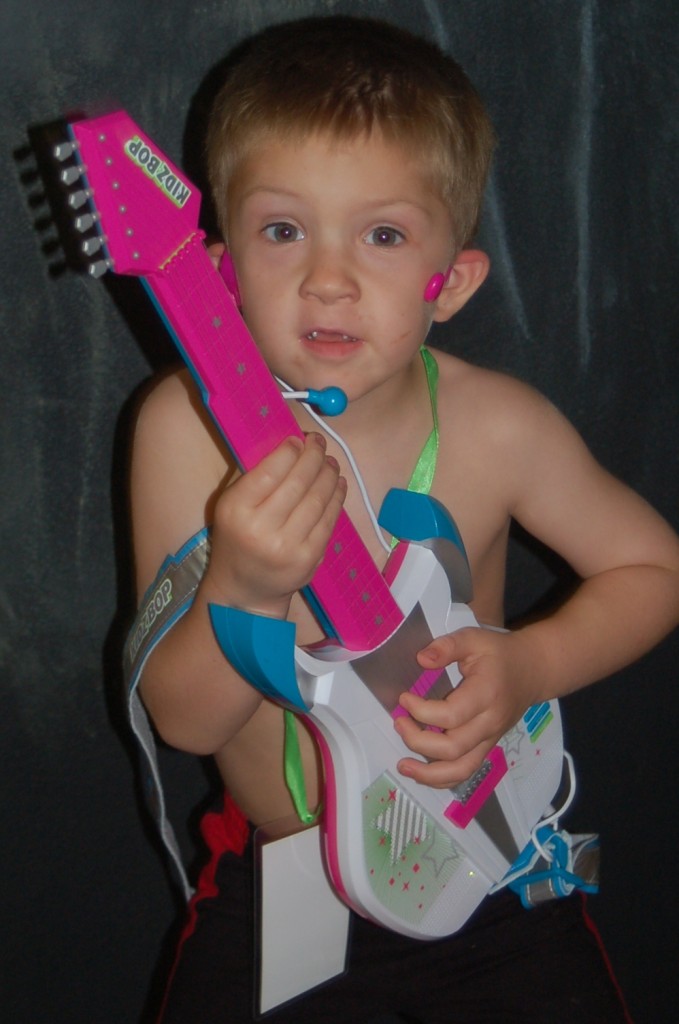 If your kids love dressing up as pop stars, playing music, Kidz Bop, or all of the above you should check out the new product line for Kidz Bop! These kids from Kidz Bop truly have talent and they have certainly inspired my son to show off his talent too. I love that kids are inspiring kids. Whether using these for imaginative play or to inspire true creativity we have had a lot of fun with these products. They seem durable so far too!
Disclosure: I was not compensated for this review. I received a variety of Kidz Bop products to use and form my opinion. All opinions are my own.