Kids Expecting Higher Technology – Is it Just Mine?
This post may contain affiliate links, view our disclosure policy for details.
You know I have come to realize that my kids immediately know the difference between an older version technology and a newer one. I'm not talking just a year difference. Let me explain. Today we gave our son an older (but still brand new) computer game. It's an older version, the animals and characters are pretty pixelated so it's a little difficult to see but I figured my 5 year old wouldn't care and would want to play it anyways. After all he is only 5. Boy was I wrong. Not only did he not want to play he seemed mad that I couldn't fix the images to look better! Even the little pretend computers are not good enough for them. I thought back to when I was a kid and we had one of those old boxy apple computers where I just to play LodeRunner and everything was boxy and unrealistic. After I got over the realization of how particular he was being on the clarity of the imagery on the computer game then I was just disappointed  that he even reacted this way at all. It certainly seems to me that kids are just expecting the newest and best technology, and they certainly don't realize or comprehend the cost involved, or the fact that in reality they don't even need it! And I guess I should expect that considering people are giving their 2 year olds iPads, iPods, and other ridiculous things for a 2 year old. But it makes it hard as a parent too when your kids want it. I think all too often we just tell our kids "oh it's just too expensive" when really we should be teaching them "no you don't really need it". I think in some ways many of us are setting our kids up for the impulsive need for the newest and most updated technology. Something perhaps as a teenager and young adult they'll feel entitled to have.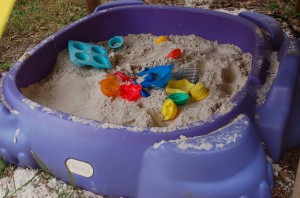 Even as I was thinking about what my own kids would put on their Christmas list this year it became more evident to me that they don't really ask for much in the way of toys. My 5 year old wanted an iPad, a digital camera, a bouncy ball and a video recorder – really? When I was 5 years old I would have never dreamed of asking for anything like that (yes I know, iPads weren't around back then!). As I began to put Christmas gift ideas together for family it was pretty tough to immediately come up with something that was electronically related. Most of the toys I bought I purchased knowing that they wouldn't play with it that long. My kids are moving away from toys. I'm not kidding – I have an entire basement filled with toys that go months without being touched. In fact I'm getting ready to go through and get rid of almost all of them. I instead designed our basements to have learning centers which has provided more of a hands-on approach when they start getting bored and encourages creative play and learning – without toys. They still love and play with their trucks, balls, and bikes – but I'm just aghast and the piles and piles of stuff they don't even touch that are accumulating in my house. It's definitely time to clean out! Clean out your house BEFORE the holidays – find a family that needs gifts for Christmas that you can bless them with, or donate them to a local thrift store. Don't feel like you need to buy the best technology for your kids when you can't even afford it for yourself! They really will be OK – I promise! Instead try thinking of gifts such as science kits, craft sets, projects that you can do together, a gardening set, lessons (music, art, horseback, etc.) or family trips and memberships that can provide quality time throughout the year!