Healthy Chicken Wraps Recipe Idea – 5 Minute Dinner
This post may contain affiliate links, view our disclosure policy for details.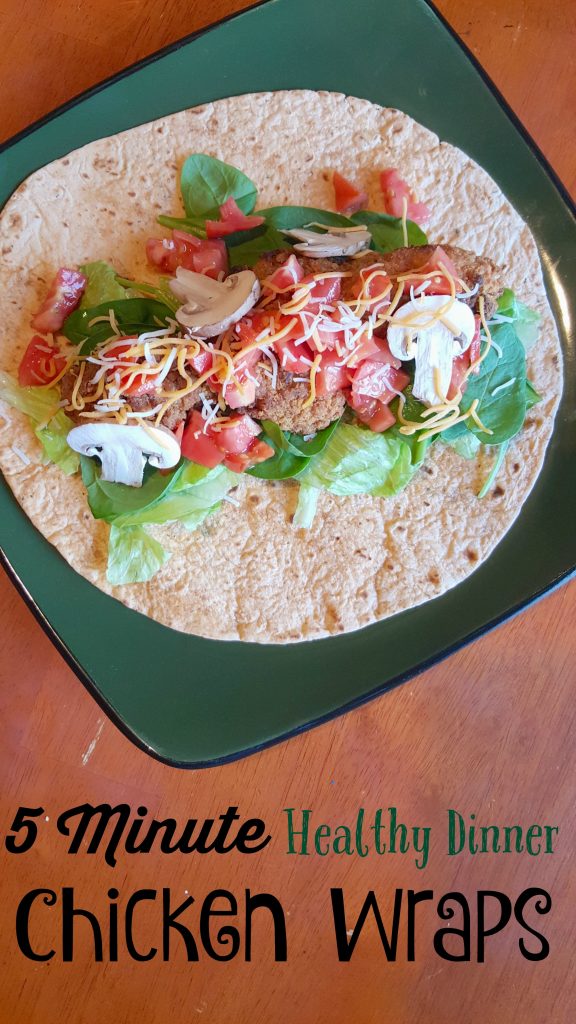 With our busy schedules I've been trying to refocus our family meals on healthier choices and healthier eating. That means using basic ingredients – fresh and minimally processed choices. Simple dishes with straightforward ingredients. Chicken is a favorite in my house so I looked for some chicken recipes on Pinterest to give me some ideas. Although I've been making myself a Grilled Chicken Salad for lunch every day in an effort to eat healthier I ended up, however, going back to one of our household favorites for dinner – Chicken Wraps! It's healthier and more affordable than going out to eat! Being able to to choose quick meals with cleaner ingredients and the ability to make more green choices for my family is important to me.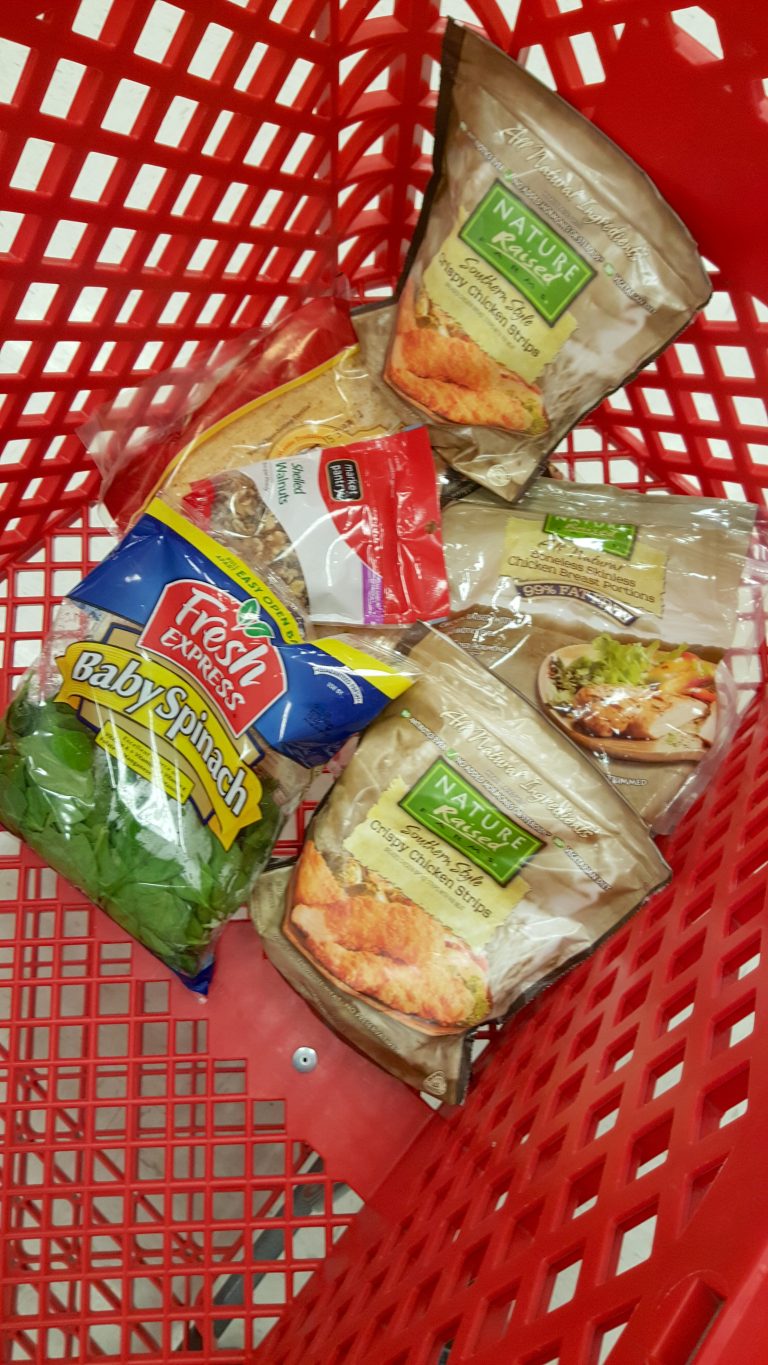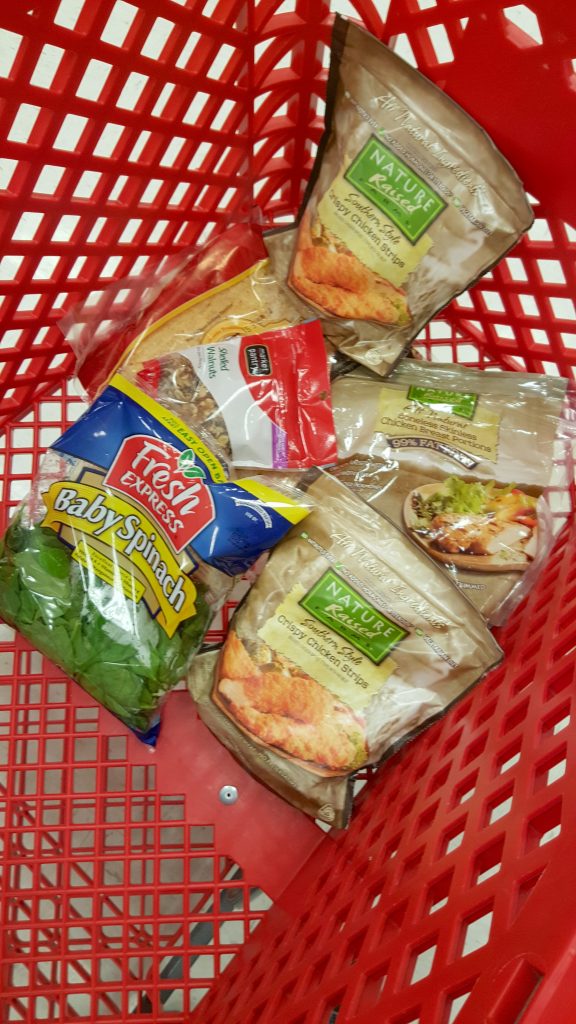 My secret to the BEST healthy Chicken Wrap dinners?
Make it EASY and give the family OPTIONS!
There are 5 of us in our family – all with different preferences and styles of eating. I choose non-processed ingredients I can literally lay on the table out of the package (except for the meat of course!). So when I do my grocery shopping I have this meal in mind and make a list of things that need virtually no prep that you can put on your chicken wrap. Be adventurous and set out a few new things to try! Here are a few great ideas that we've used in the past when creating our Chicken Wraps (not all at the same time of course!):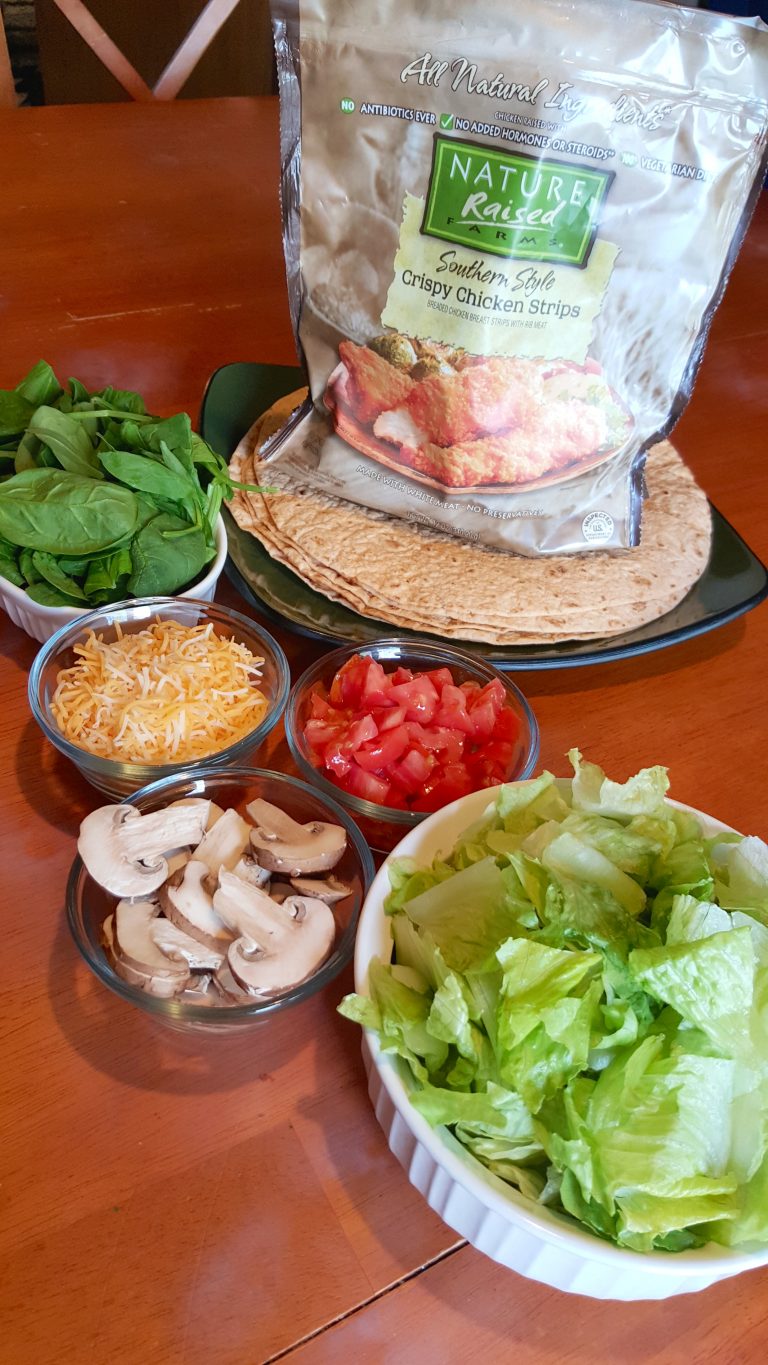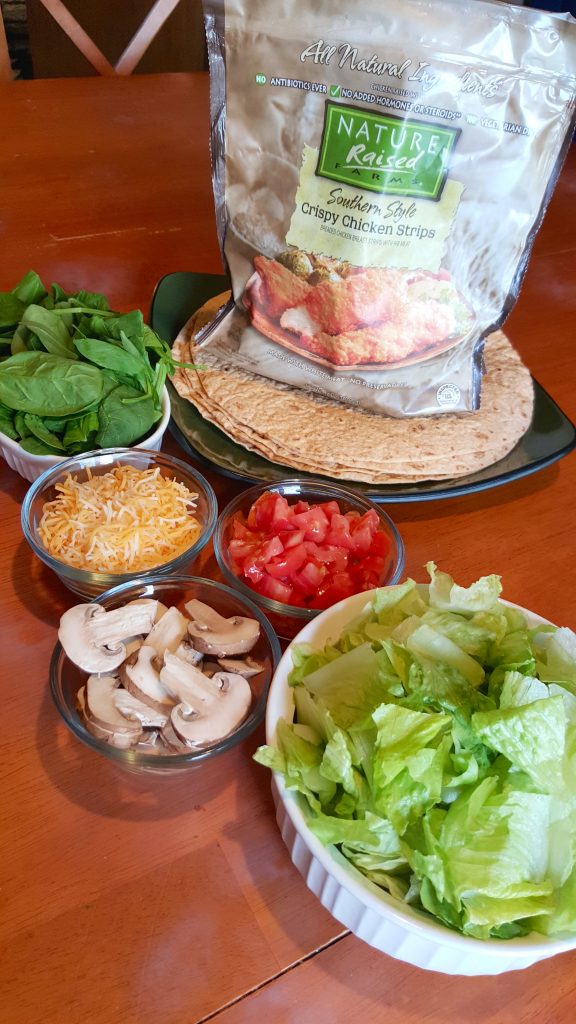 NatureRaised Farms® Southern Style Chicken Breast Strips (100% All Natural; NO Artificial Ingredients!)
Tortillas (I LOVE Sun Dried Tomato tortillas!)
Lettuce
Spinach
Salsa
Tomatoes
Sunflower Seeds
Strawberries & Walnuts
Shredded Carrots
Mushrooms
Rice
Cilantro
Black Olives
Shredded Cheese
Guacamole
Sour Cream or Ranch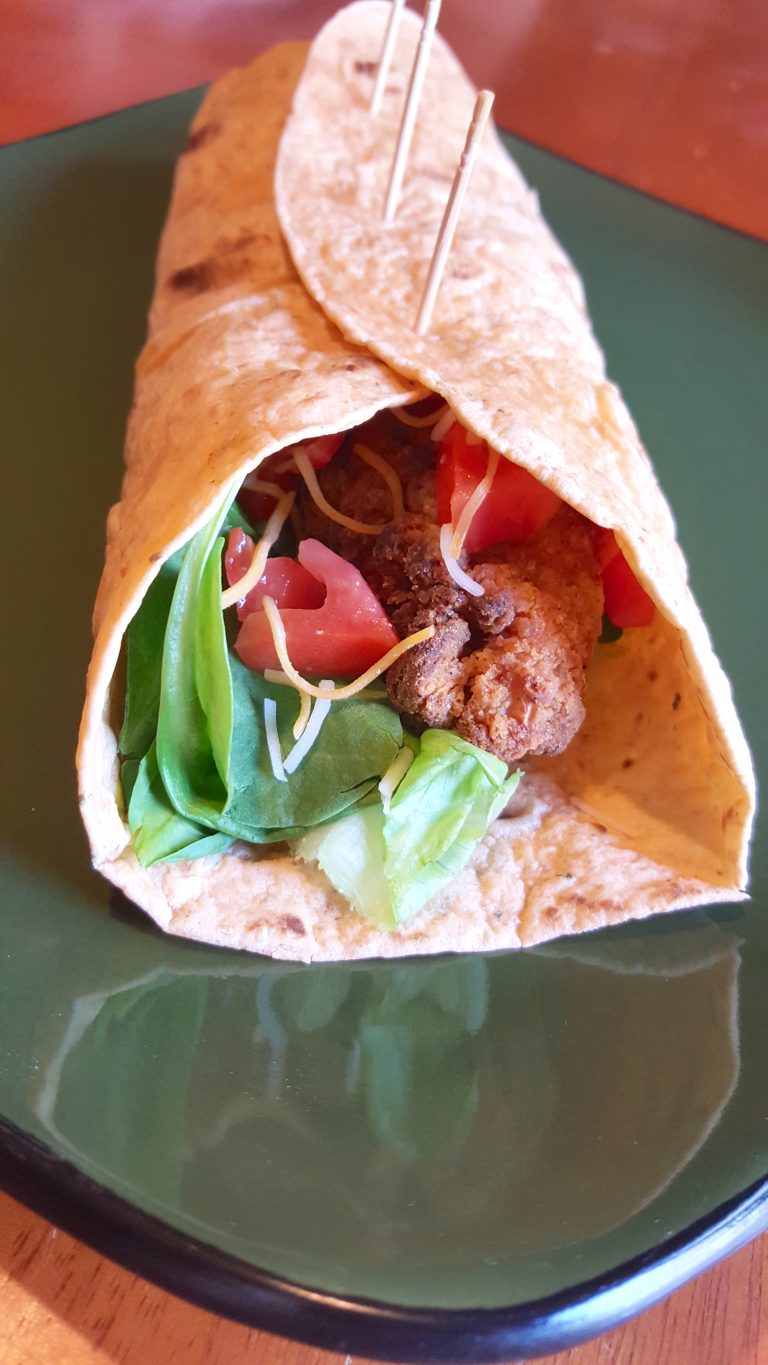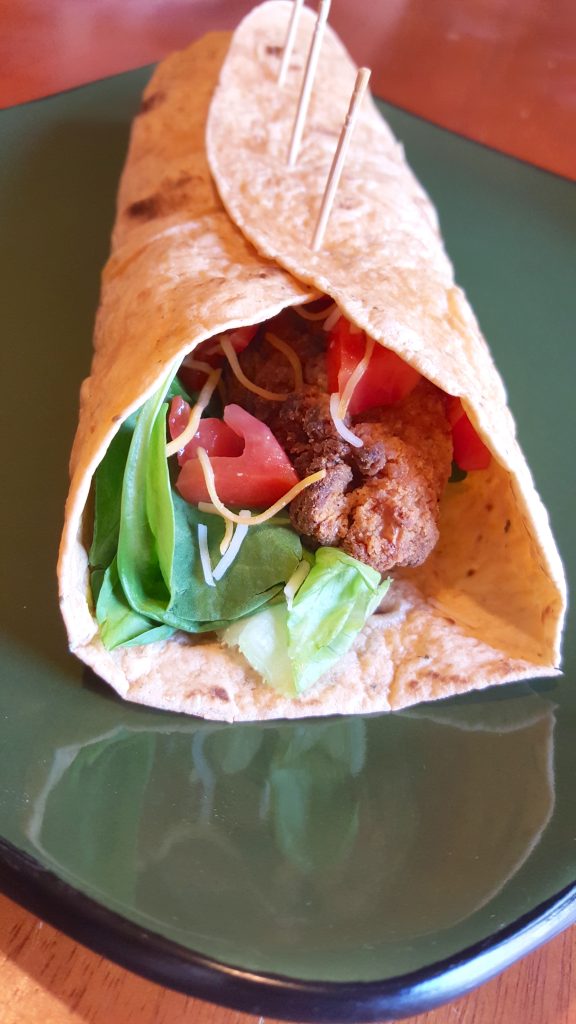 A HEALTHY 5 Minute Dinner you say?! YEP! Here's what I do:
I start by warming up my NatureRaised Farms® chicken strips (I LOVE their grilled chicken for my salad but the Southern Style for family meals.). My favorite is to put it in the oven as per instructions for 20 minutes but when I'm in a pinch I pop it in the microwave for a couple of minutes. There's no artificial ingredients and there's no need to add any to it! The flavor is absolutely fantastic. Even my husband and kids are raving about it. While my chicken is heating up I put the plates, cups for drinks, and all my other ingredients out on the table for the family to self serve. If you're having company you can take a few extra minutes to pour your ingredients into little serving dishes!
NatureRaised Farms® uses chickens raised with NO antibiotics, no artificial ingredients, and a 100% vegetarian diet. Plus they have a few gluten free varieties. They are animal welfare certified by the Global Animal Partnership too! I love providing a healthy choice for my family to eat! Keep it simple and use single ingredients! So grab some lettuce or tortillas, some NatureRaised Farms® chicken, and all the veggies you can pile on for a delicious healthy meal!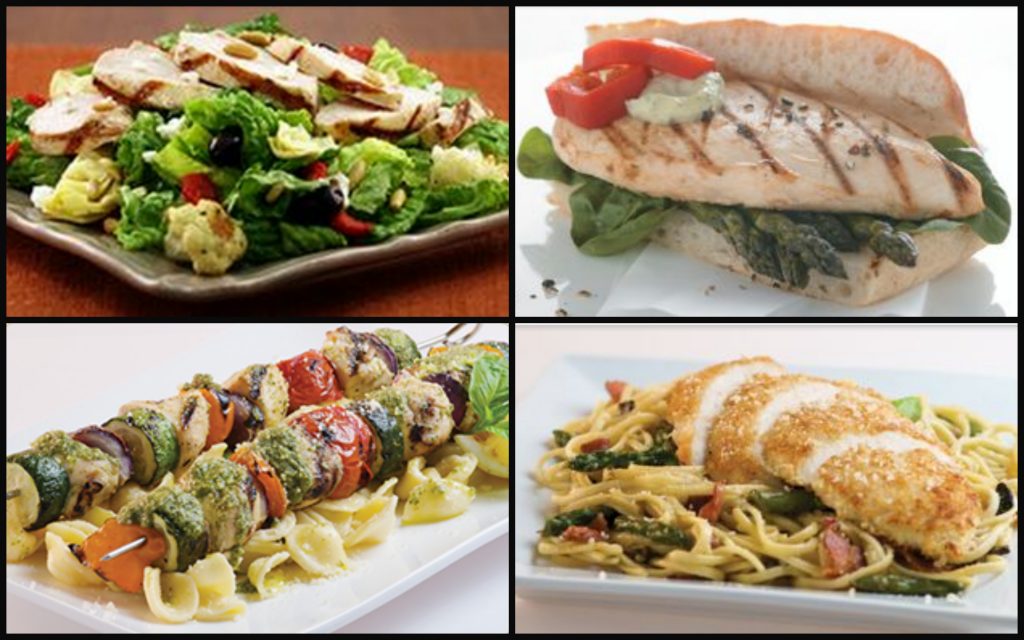 Check out some of these other great chicken recipes on Pinterest!
Social post & recipe is sponsored by NatureRaised Farms® Chicken but all comments and opinions are organically my own.