The One FREE Service Every Busy Parent with Young Children Needs
This post may contain affiliate links, view our disclosure policy for details.
UPDATE: This Business is currently CLOSED and this post will be archived.
This post brought to you in partnership with Kid Things and the Mom it Forward Influencer Network!

It's been 2 weeks since our temperatures outside started dipping into the 40's and 30's. TWO WEEKS until I realized that not only did I not have enough warm winter clothes for my daughter but I didn't even have a winter jacket!?! Are you kidding me?! How does that happen?
I'll tell you how it happens! I'm a mom! A busy mom. And life keeps moving right on by – winter coat or not! When I heard about a texting service to shop for kids clothes (babies to preschool age) my ears perked up a little. A texting service for buying kid's clothes? I had never heard of such a thing but could definitely see the benefit so I agreed to give it a try.
I almost skipped looking at it because to be honest I didn't want to pay any extra fees or memberships. My budget is pretty sacred. But you guys – IT WAS FREE! A FREE personal shopper picked out clothes for my daughter, sent me a variety of price ranges, and I chose which ones I wanted and didn't want. I didn't pay an extra cent. IN FACT – I even found a whole pile of clothes that this budget-savvy mama approved of – and I'm pretty picky about pricing! (and by pile I mean a couple piles!) And it was FREE SHIPPING! *MIND BLOWN*
Here's how Kid Things! works:
Go over to Kid Things! and you'll see something like this on their homepage:

Choose your child's gender/age/size. Enter your e-mail address and your phone number to text, then wait. It took me about 5 seconds to do that – time is money after all! I quickly received a message that said they would get back to me soon and in less than an hour I had texts with photos and prices for individual clothing items. Everything I needed – from jackets to pants, shirts, and even shoes!
(Pssst – you can also text them a picture of your

holiday shopping list

and they'll shop for that for you too!!!)
Screenshots from my order:
Each item had a letter next to it and if I wanted to add that item to my "cart" I just typed cart and then the corresponding letters. You can look through my screenshots above – I kept my shopper busy finding my various sizes and styles, and then adding things to my cart! I chatted back and forth with her for quite a while because I wanted to see what else she had.
The nice thing was is that I had the freedom to add things to my cart that she sent me, go about my daily tasks, and come back to my texts whenever I had free time. She just kept adding my requests to my cart and when we were done with everything she sent me a link to check out. It was THAT easy. I even asked a few times what my total was up to since I had a budget of a set amount and I received screenshots of everything.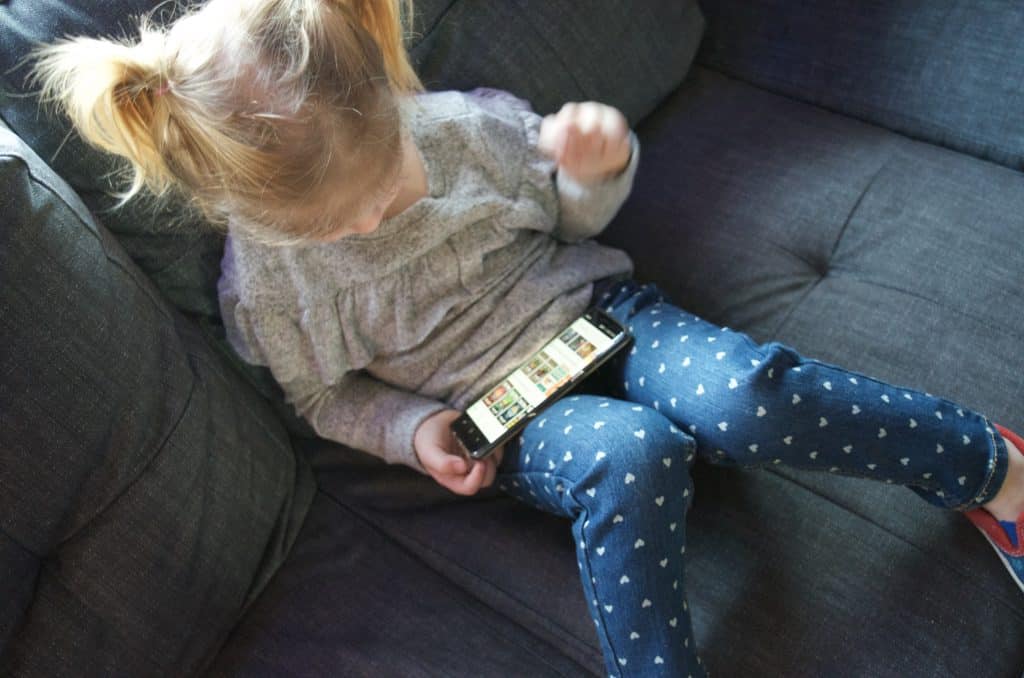 This is an AMAZING service. For SO many reasons. One quick glance at exactly what's in your size range without needing to scroll through pages and pages of options you don't want (or bounce around on multiple sites). This aggregates a variety of brands and styles. You can take it or leave it. Second, if you are busy (raises both hands AND feet here!) this texting service absolutely just revolutionized the way I shop for my daughter's clothes. I literally sat on the couch with my husband, watched a TV show, and occasionally chose clothes to order. Less wasted time for me and more snuggles with my hubby!
These are the same clothes (and the SAME prices!) you'd find in stores – just with the enormous convenience of using the text service from anywhere you are at. Thankfully for younger kids pretty much everything fits when you buy their size, but Kid Things! has free returns in case you need to ship something back.
Quick "MUST KNOW" Facts about Kid Things!:
Ages?: Newborn to Preschool (about size 0 – 5)
Fees?: NONE
Membership? NONE
Shipping costs?: NONE
Returns?: FREE
Payment Method?: Paypal & Stripe (credit card)
Educational Benefit? YES!!! For every $100 you spend they donate funds on your behalf to Educare!
Texting Times to Shop?:
Monday – Friday: 8am – midnight EST
Saturday: 9am – 7pm EST
Sunday: 9am – 10pm EST
Go to Kid Things! RIGHT NOW

and get started!
More Close up Photos of the Items I received: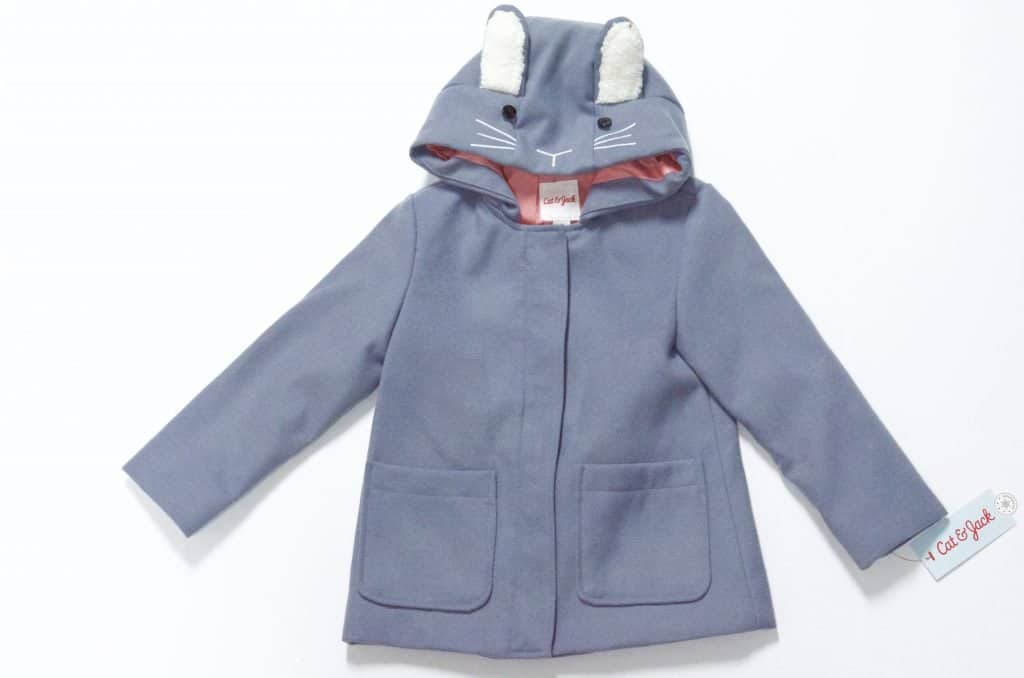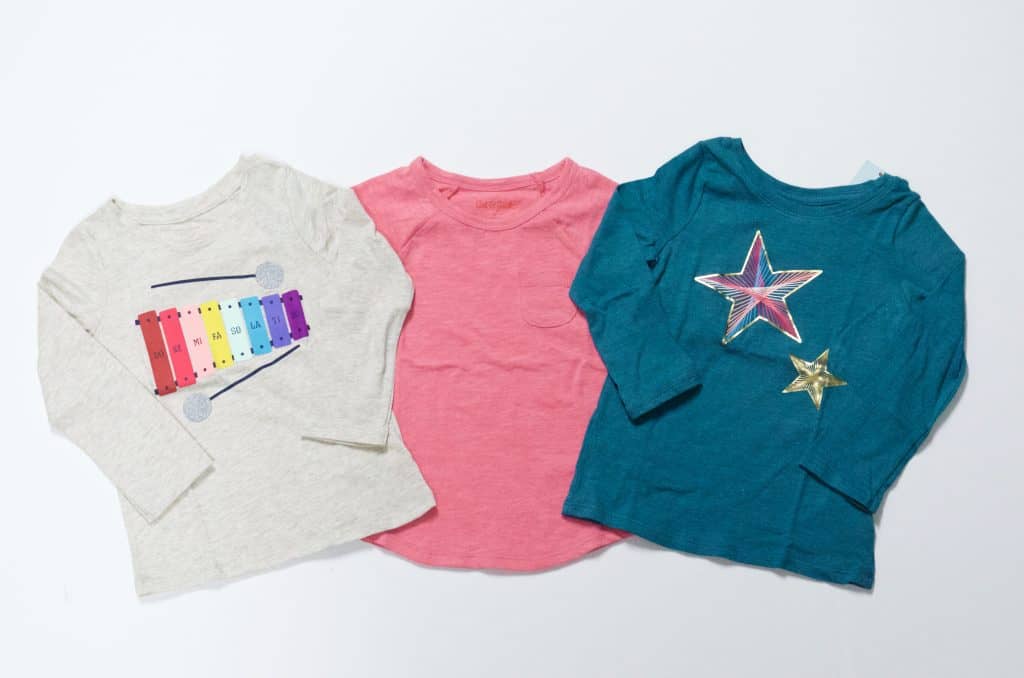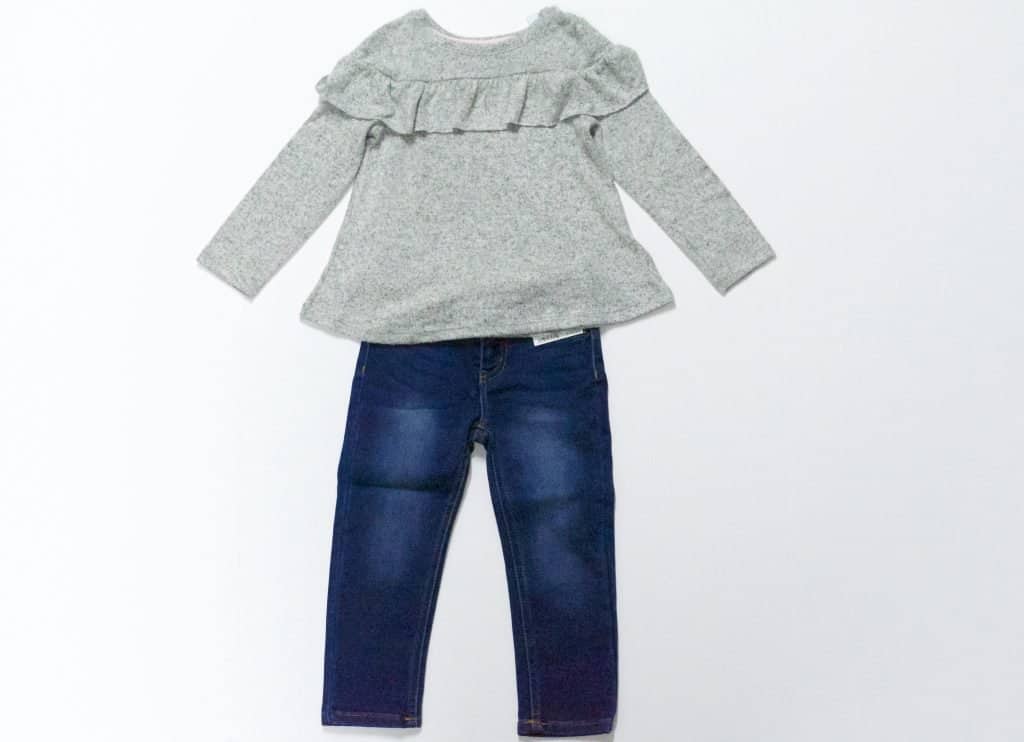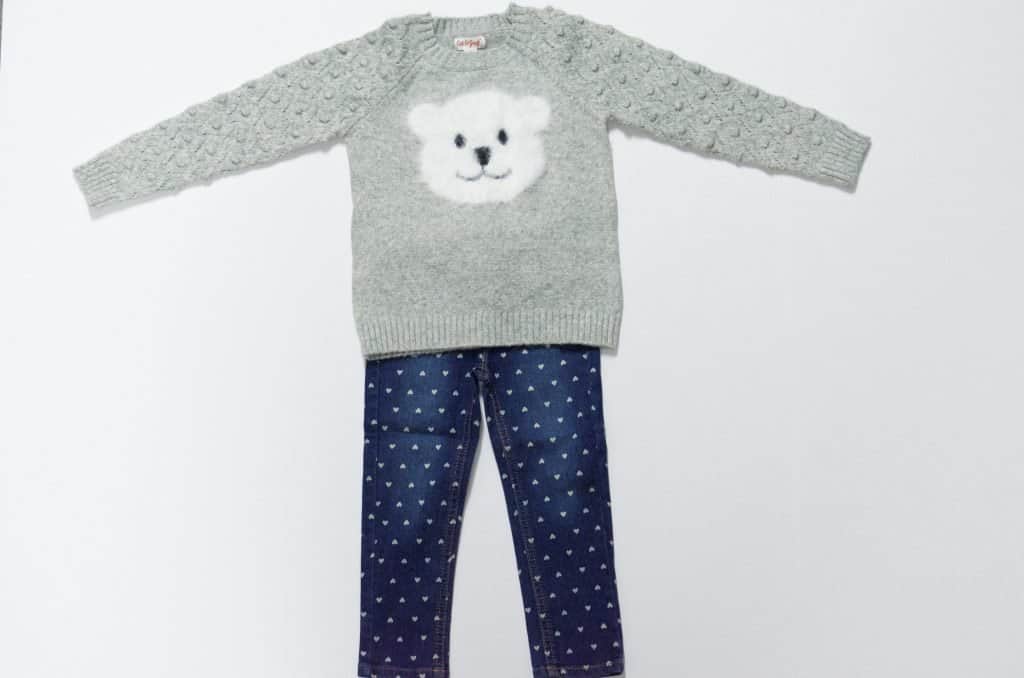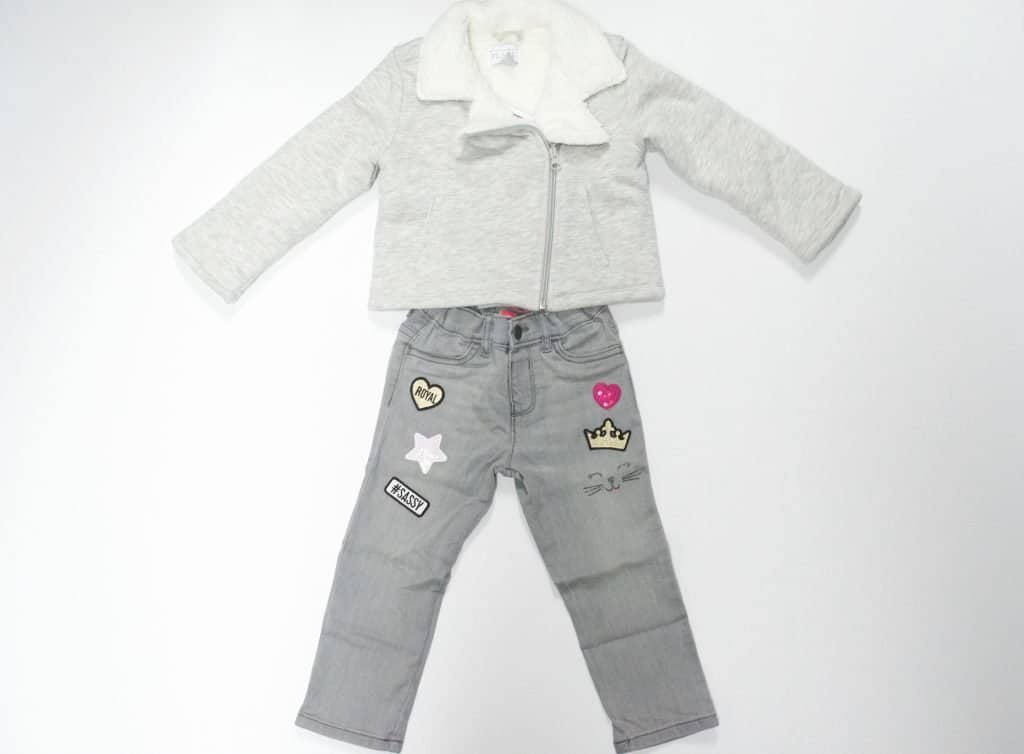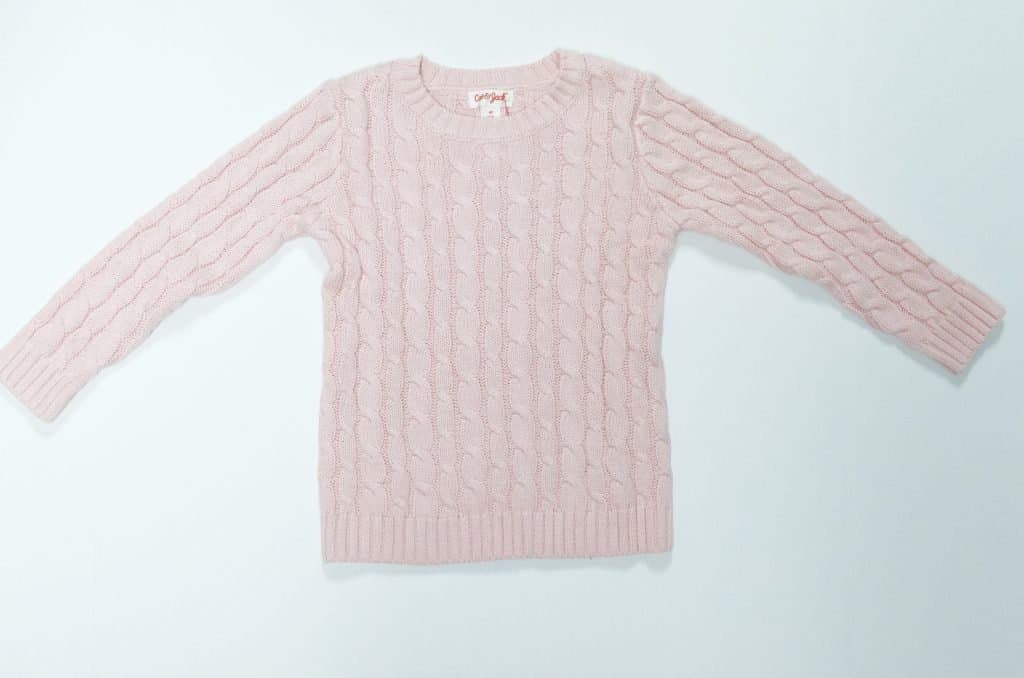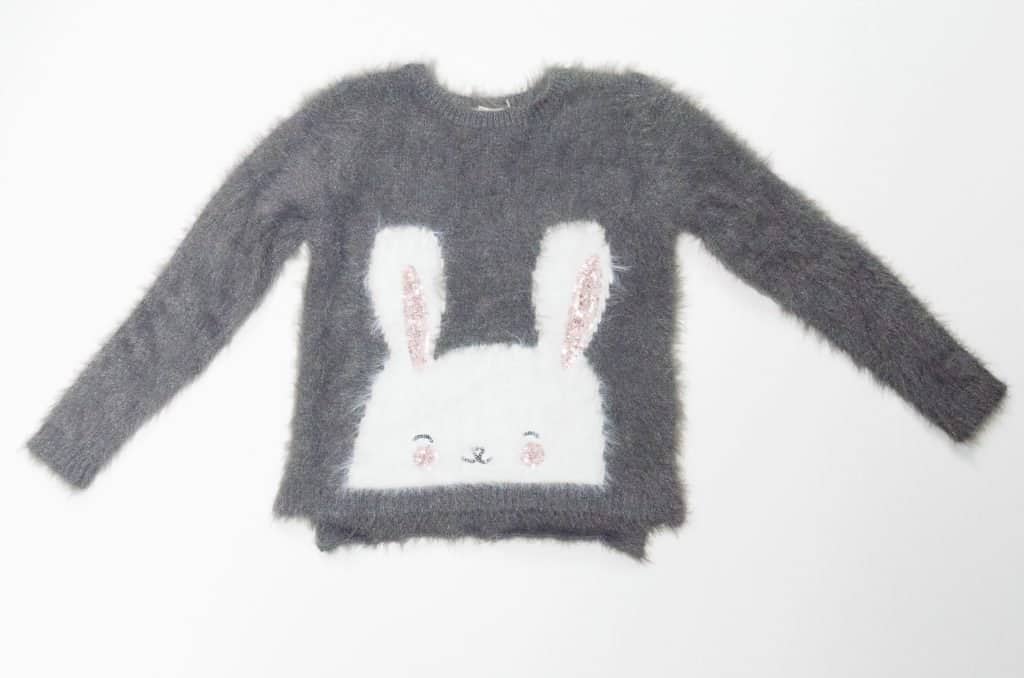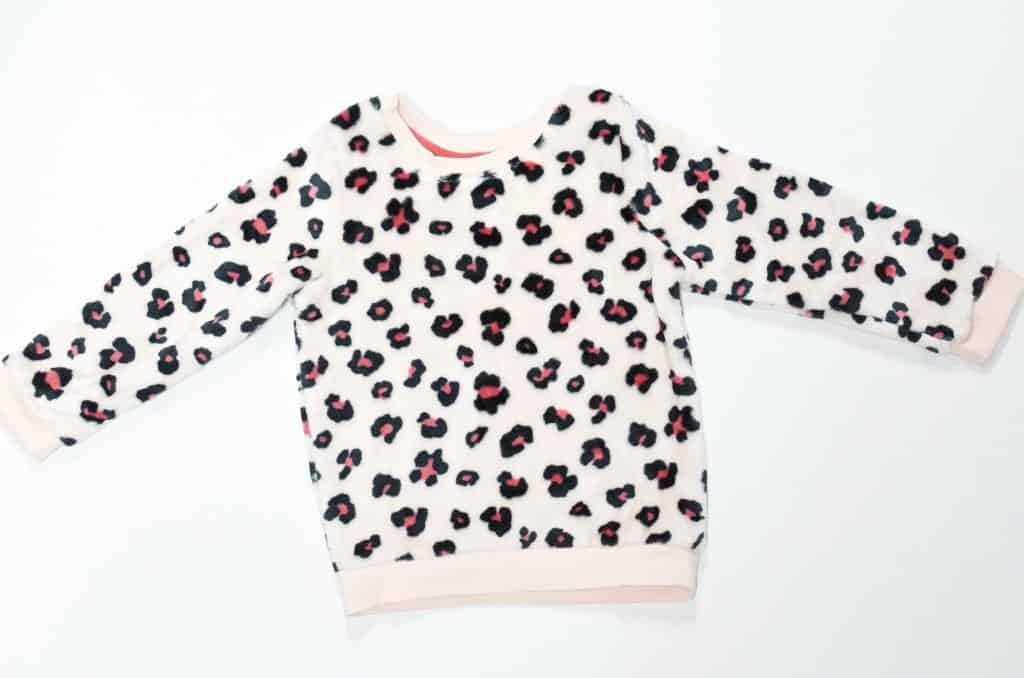 For $200 I chose the following 15 items at full price:
*2 Winter Jackets
*6  Winter Sweaters
*3 Long Sleeve Tees
*3 Pants
*1 Dress