FREE GUINNESS WORLD RECORDS Teacher's Guide 2017
This post may contain affiliate links, view our disclosure policy for details.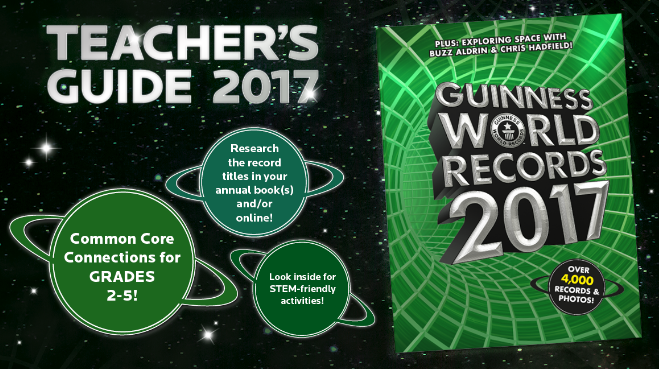 My kids LOVE crazy and extreme facts (and competitions!) and I use it as a strong tool especially to encourage reluctant readers to participate. There are hundreds of ways you can engage students with books like these not only in essays, PE activities, STEM challenges, and so much more! Recently a rep for the Guinness World Records contacted me to let me know that they have released their first ever teacher guide! If you haven't  pre-ordered the book Guinness World Records 2017 (launching August 30th!) you can still make use of this guide paired up with GuinnessWorldRecords.com – and of course it is FREE! It's just another great tool to add into your pocket when engaging your students with some jaw dropping facts that will make them hungry to learn more and even try beating out their own records. The PDF is only 8 pages long but PILED with math concepts and fantastic ideas to spin off in your classroom or homeschool.
The GUINNESS WORLD RECORDS Teacher's Guide 2017:
*Fulfills STEM & Common Core requirements
*Covers Grades 2-5  in Language Arts, Science & Math
*Offers independent activities & lessons for the entire school year