Northern Lights Aurora Borealis Sighting TONIGHT!
This post may contain affiliate links, view our disclosure policy for details.
OOOH BOY can I hardy wait till tonight!! I closely follow our Iowa Storm Chasers and have been closely following their updates on who has the possibility of seeing the Northern lights tonight! YES THOSE Northern Lights – AKA the Aurora Borealis! They have JUST announced that the status has been updated to a G3 or KP7 with the possibility of extending as high as a K8- don't have a clue what that means? Keep reading!
WHO?! I WANT TO SEE!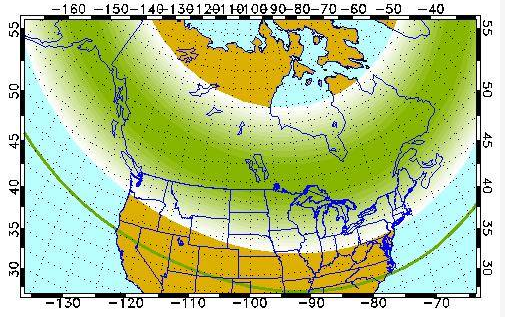 This is a map of the USA/Canada that lies in the G3 or KP7 zones – if you are located at the GREEN LINE or north of it you have the possibility of seeing the Northern Lights! International folks – check your local weather stations! The best places to see this of course are out in the country and away from city lights. If you're somewhere between Oregon to Iowa to Pennsylvania I'd definitely keep an eye out!
WHEN?!
Well, the possibility of seeing them tonight (Wednesday 1/8/14) has been updated to start somewhere beginning between 8pm-midnight CST and goes through the wee early hours of Thursday morning, possibly staying visible for up to 48 hours. So I'm guessing best viewing would be really early Thursday morning. This is totally worth staying up to get a glimpse of! OR set your alarm clocks to 3am, run outside to check and head back to bed! If you see them I'd LOVE to hear about it!! Feel free to come back and comment here or let us know what you see and where you are on our Facebook page! And of course if you are awesome at photography and snag a picture I'd LOVE to share it!
Here are some more places to keep updated on the latest developments with this – Thanks to my many readers who suggested these locations:
Space Weather Trackers (Facebook)
Aurora Alerts (Facebook)
SolarHam.com (facebook)