DIY Homemade Laundry Detergent Recipe – NO Borax
This post may contain affiliate links, view our disclosure policy for details.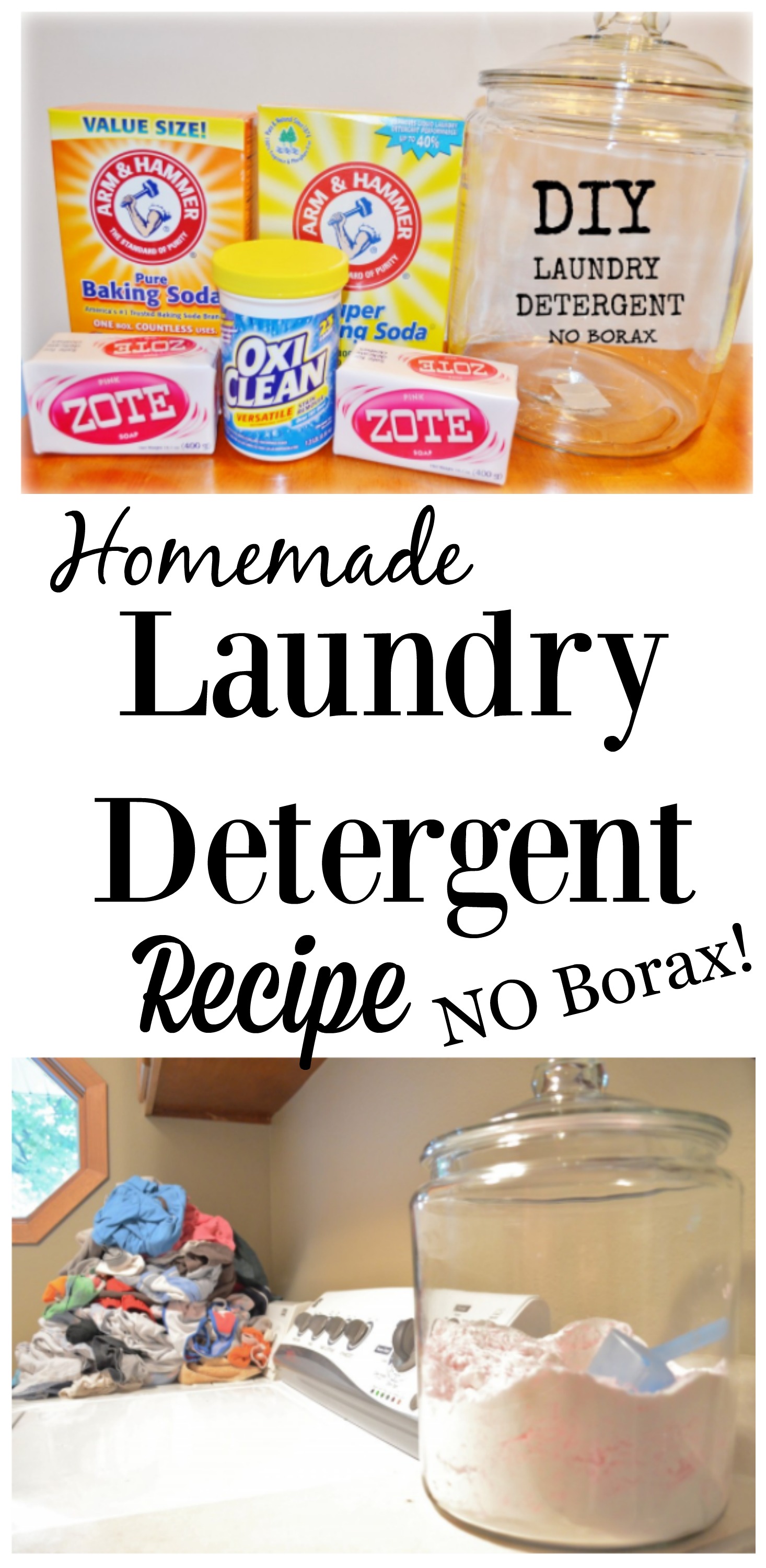 Our DIY Homemade Laundry Detergent recipe without Borax has been insanely popular! We started using it several years ago in our continual effort to save money and reduce chemicals in our household. It's SO easy to do, is sensitive on my daughter's skin, and I only have to make it about once a year! You can see our recipe for DIY Dish Detergent (no Borax!) too which works great!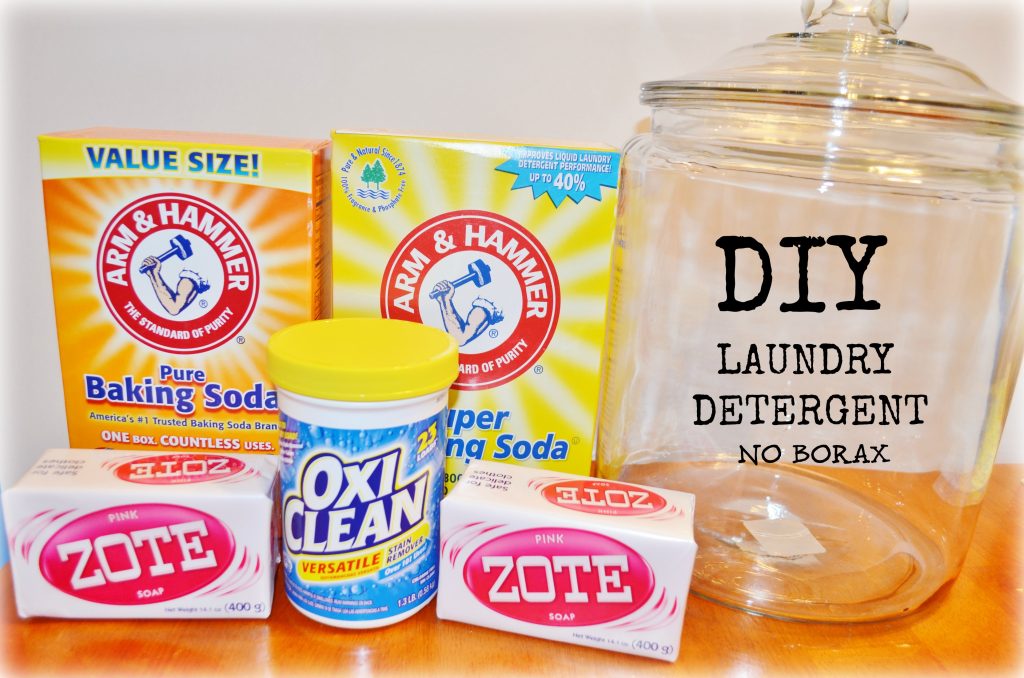 I usually make a double batch but you can cut it in half if you want – here is the recipe that I have used for years through several very messy kids:
Homemade Laundry Detergent Ingredients:
2 bars of Zote
OR 3 bars of Fels-Naptha

2 boxes Baking Soda
(4 lbs each)
2 boxes Washing Soda
(4 lbs each)
2 Oxi-Clean tubs
(3.5 lbs each) (optional)
Fabric Softener Crystals
(optional – I didn't use)
To start with I also purchased this Anchor Hocking Glass Gallon Jar to hold my detergent which I love but you can see a variety of 1 gallon jars here to use!  You can also use an old popcorn tin, paint bucket, etc. as long as it's clean of course – I just like ones where I can easily just lift the lid without any extra time! I also like using penny jars for detergent too.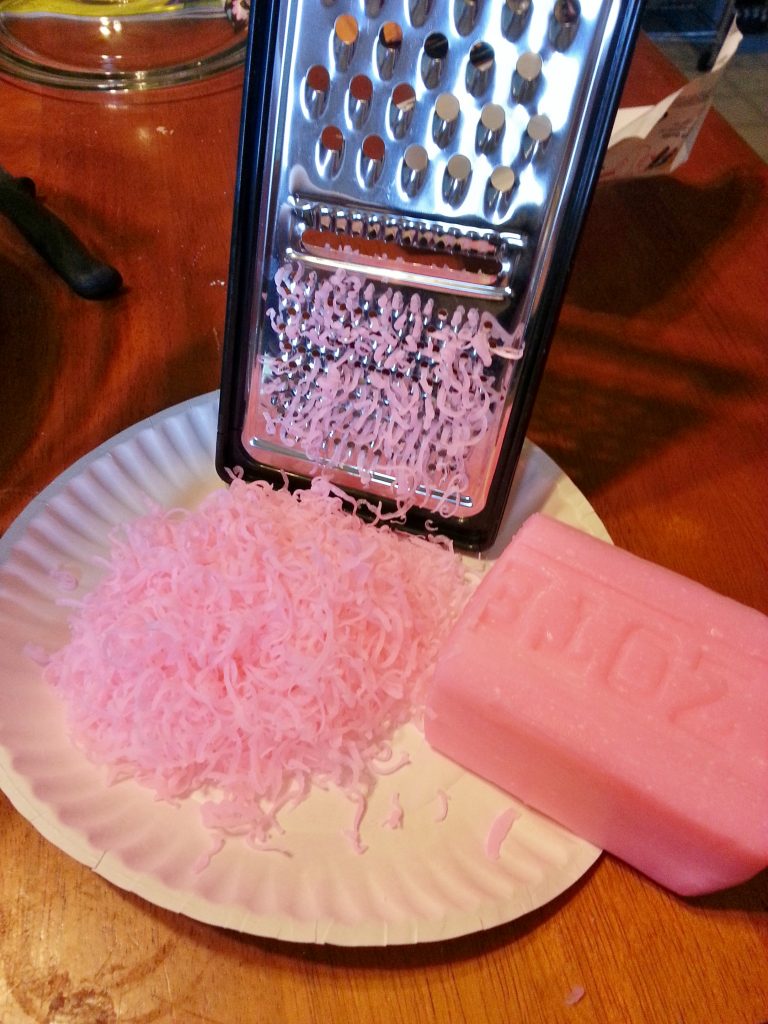 Homemade Laundry Detergent Directions:
I start by shredding my soap bars. You can find both the Zote and Fels-Naptha bars in the laundry detergent aisle and they typically run under $1 a bar. If you can't find it check Home Depot as I've heard they carry Zote. (You can also purchase them on Amazon but they are considerably more expensive.) You can either use a cheese grater or food processor to grate your soap. Personally now I use this KitchenAid attachment which saves my a TON of time and is multi-purpose for use throughout the year but I started by hand grating it! Both are easy to clean since after all, it's just soap!
Dump your shredded soap into your storage container, and add all of the baking soda and  washing soda. If you are using Oxi-clean & fabric softener crystals stir this in now and mix well. The Oxi-Clean and fabric softener crystals are optional as you are just adding in some extra chemicals (and stronger cleaners).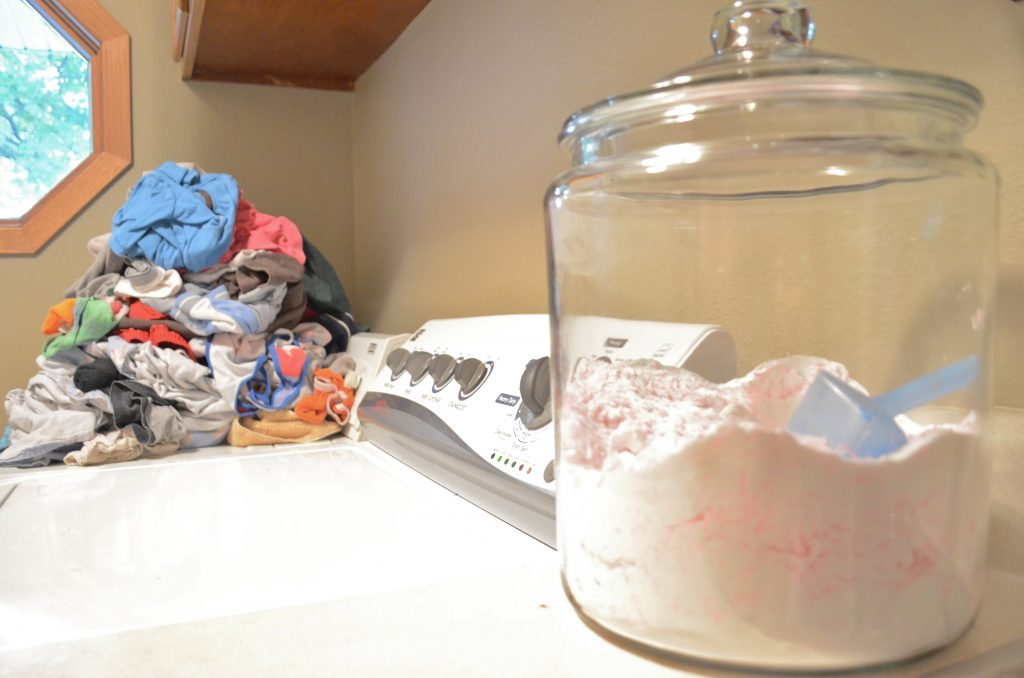 Above you can see just 1 batch in my storage jar which holds almost 4 gallons (my jar is too big!) so a double batch would almost fill it up! You only need 1 Tbsp. per wash so it will last a better part of the year! (I use the small scoop that comes in the OxiClean tub) Not bad for under $20 for a double batch!
This recipe works great for HE washers too – just add it directly into the wash with the load (not into the fill tray). If you're wanting to go chemical free you can use a Wash Ball which is pricey to buy up front but lasts for 1000 loads so it's more cost effective in the long run. I loved the one I tried but you're supposed to let it dry out in between loads and since I do a lot of loads back to back I couldn't get it dry enough.
&çnbsp;