Dollar Tree Thanksgiving Keepsake Potholder Craft for Kids
This post may contain affiliate links, view our disclosure policy for details.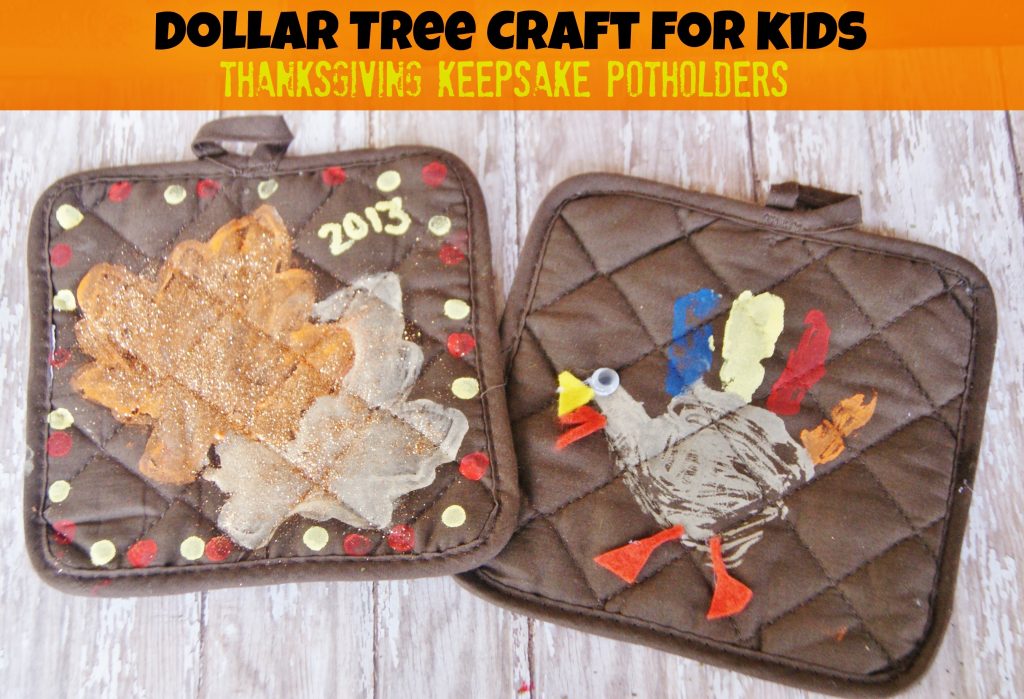 Check out this sweet, simple, and inexpensive way to commemorate the Thanksgiving holiday with your kids. Or teachers ask donations from your room moms to help offset the cost of the potholders! Hand prints are always a great gift for parents and grandparents – remembering how little they were on any given year always gives us a sense of nostalgia like no other homemade gift. These are very easy to make, and if you already have the paint on hand it will only cost you $1 for two potholders! This post will show you how to make both the leaf potholder and the handprint potholder!
Supplies Needed:
Hand Print:
pot holder (brown)
acrylic paint
paint brushes

felt scraps
google Eye
glue gun/sticks
Cookie Cutter Leaf Print:
Seasonal cookie cutters
acrylic craft paint
shallow dish
optional: glitter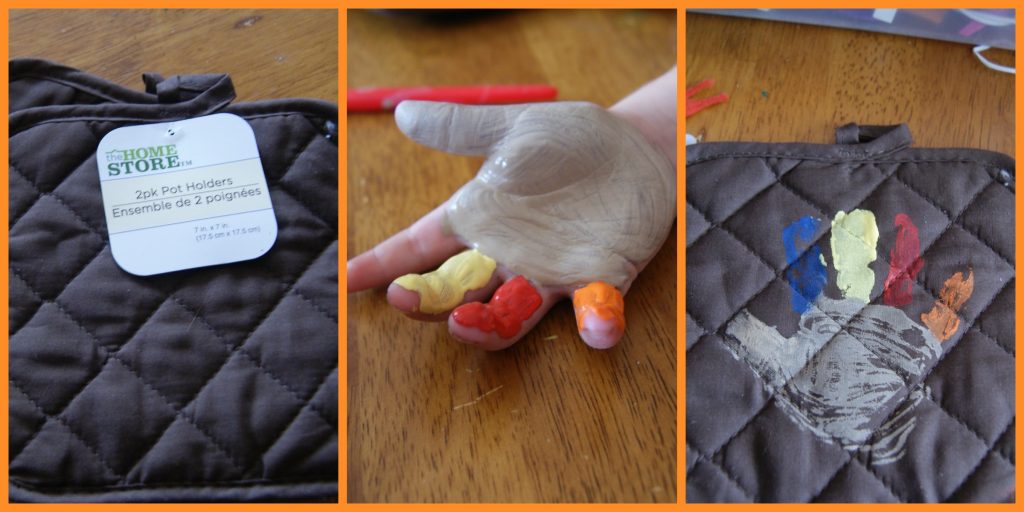 Lay one pot holder on a flat, smooth surface. Have your child or student lay their hand flat on the table. Paint the thumb and palm brown (for the turkey's body), and each other finger a different color (turkey tail feathers). Make sure to use a different paintbrush for each color and be generous with the paint! Press your child's palm firmly into the center of the pot holder, rocking it back and forth just a bit for maximum paint coverage. Lift the child's hand gently off of the potholder. There will be small gaps in the handprint so you can choose to paint that in or leave it as is depending on your preference.
Take the opposite end of the paintbrush, dip it in paint, and then use it to write the year, child's name, "Happy Thanksgiving", "Gobble Gobble", or any other sentiment you wish. All paint to dry completely.
To set paint in a little more you can pop your dried potholders in a warm dryer for 5 minutes, or place a light cloth on top of the potholder and run a hot iron over the surface for a few minutes.
Take your felt scraps and cut a beak, gobble, and feet for your turkey. Using your hot glue gun attach the googly eye, feet, beak, and waddle. I don't recommend actually using them as I'm not sure how well they will hold up to long term use. This craft is for display.

To recreate the layered leaves we used cookie cutters, painted or dipped in paint on the widest side of the cookie cutter
if yours has one. Stamp a leave in one color, then use another color for the second leaf stamp. You can then choose to paint in the leaves, or leave them as an outline only. While the paint is still wet sprinkle glitter if desired. To create the polka dots around the leaves we used the end of a pencil eraser dipper in paint and stamped alternating colors. Let dry completely. Run in a hot dryer for 5 minutes or lay a thin cloth over top and use a hot iron to help set the paint.
This kids craft is fun for them and for the recipient. It is so easy to personalize with different colors, shapes, personal messages, etc. You can even do this every year to track your child's growth!