Disney's Doc McStuffins: Friendship is the Best Medicine + FREE Activity Sheets!
This post may contain affiliate links, view our disclosure policy for details.
I have just recently been introduced into Disney Junior's NEW series called Doc McStuffins – geared for children ages 2-5. On August 21st they just launched with their first-ever DVD Doc McStuffins: Friendship is the Best Medicine! It even comes with the "Big Book of Boo Boos" where the kids can create their own little sticker book inside! I just LOVE this new series and am quite surprised that to me it is the first one of it's kind. It revolves around friendship, helping kids not to be afraid of the doctor, good hygiene, etc. It features real-life situations for young kids and helps them to not be afraid and learn what to expect. Here is the official synopsis:
"Doc McStuffins" is an imaginative animated series about Doc McStuffins, a six-year-old girl who communicates with and heals stuffed animals and broken toys out of her backyard playhouse clinic.  Assisting Doc with the day-to-day operations at the clinic are her much-loved friends: Stuffy, an overly proud dragon; Lambie, her  cuddly best friend; Hallie, a jolly and caring  hippo nurse; Squeakers, an alarmist squeaky toy fish; and Chilly, a snowman who spends a lot of time getting check-ups at the clinic.  Whether it's a case of loose stitching, low batteries or a blow-up toy who's sprung a leak, Doc and her pals are always there to lend a helping hand, while imparting to young viewers the importance of taking care of oneself and others.  Each episode features two 11-minute stories and an original song and showcases the hallmarks of great Disney storytelling – fantasy and wish fulfillment.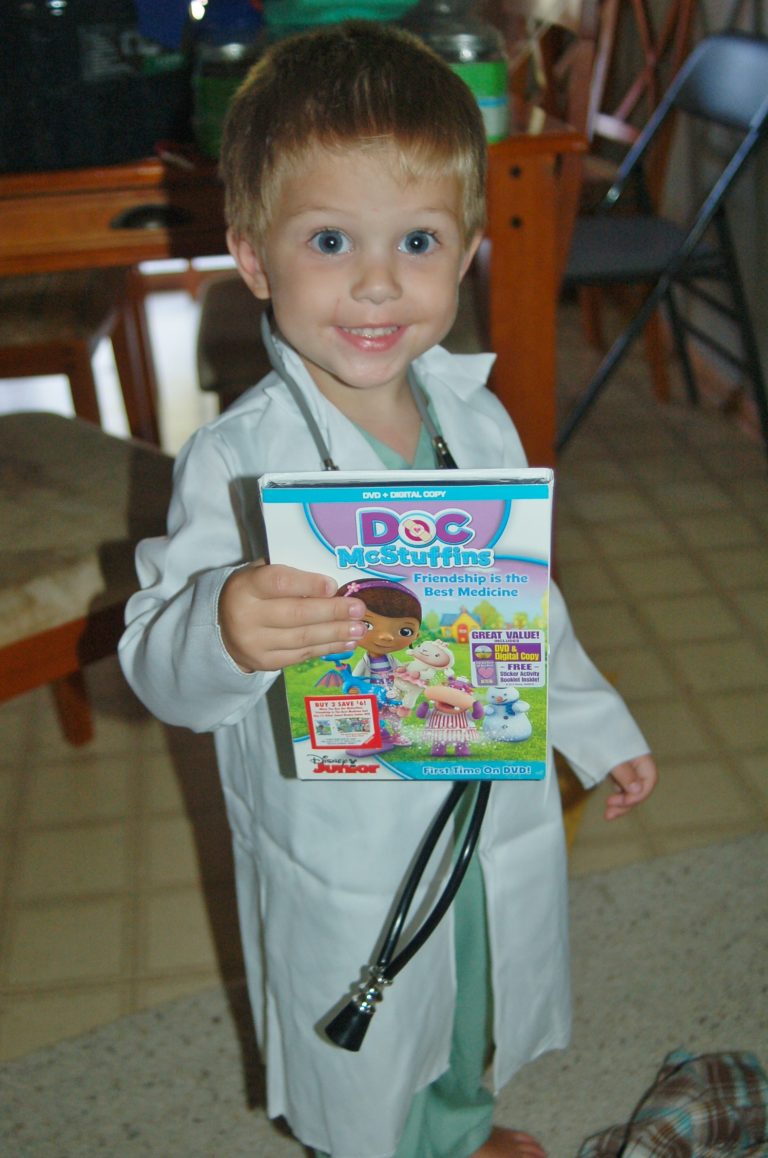 Along with this AWESOME new DVD which I just LOVE we also received some fun doctor dress-up gear for the kids! Ever since we received it my youngest son has just been absolutely obsessed with this show and he just MUST parade around in his doctor outfit most of the day! Needless to say I've washed it quite a few times! 🙂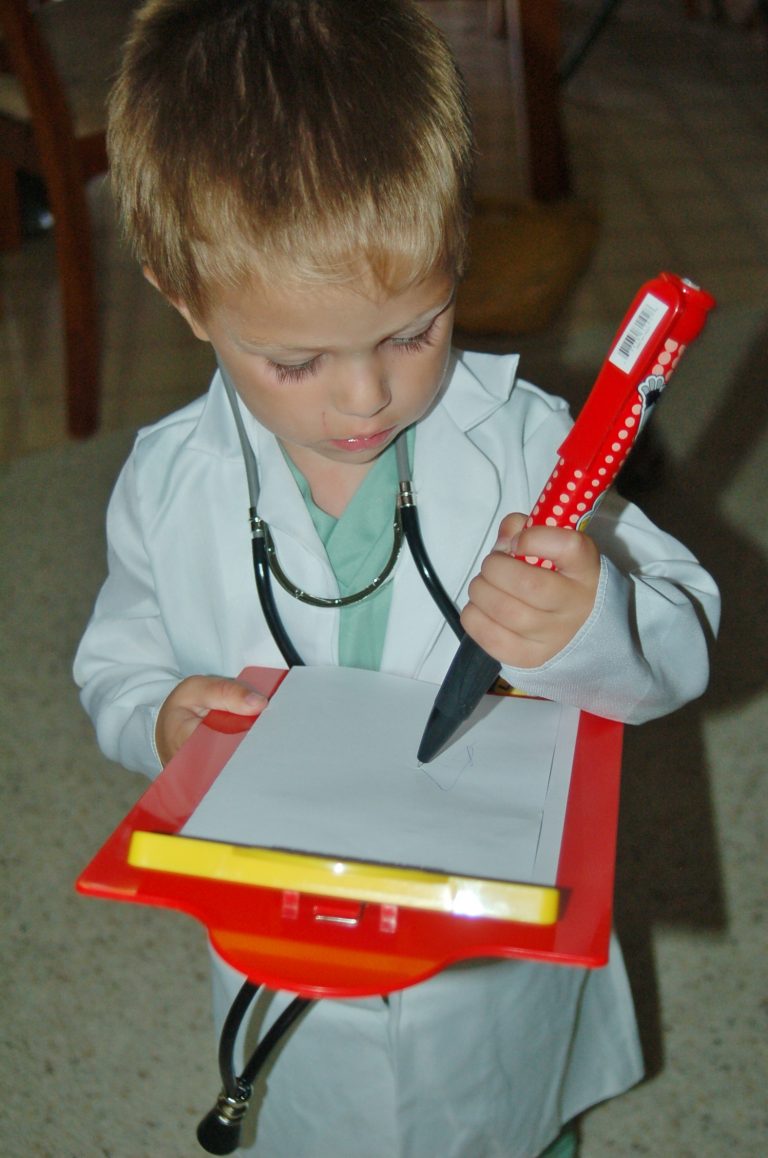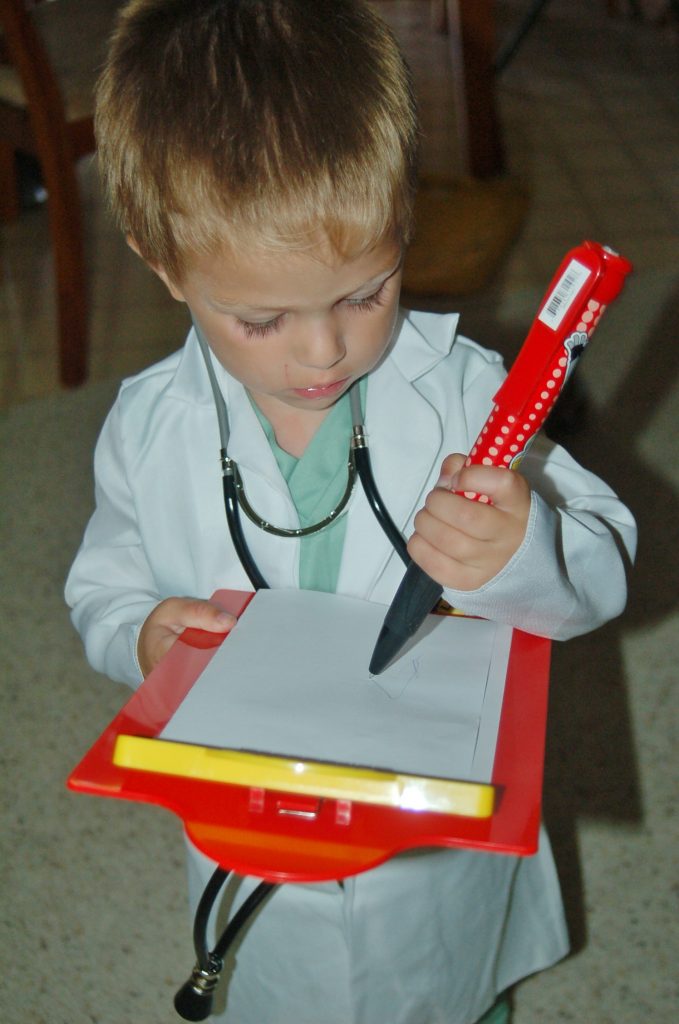 Both of my boys have been playing doctor – a great imaginative time for them to play and it helps get my little guy used to the idea of doctors helping him! How super cute is this? He is writing down his "prescription" for my oldest son…..although I'm pretty sure he was just thinking of giving him lots of shots!! 🙂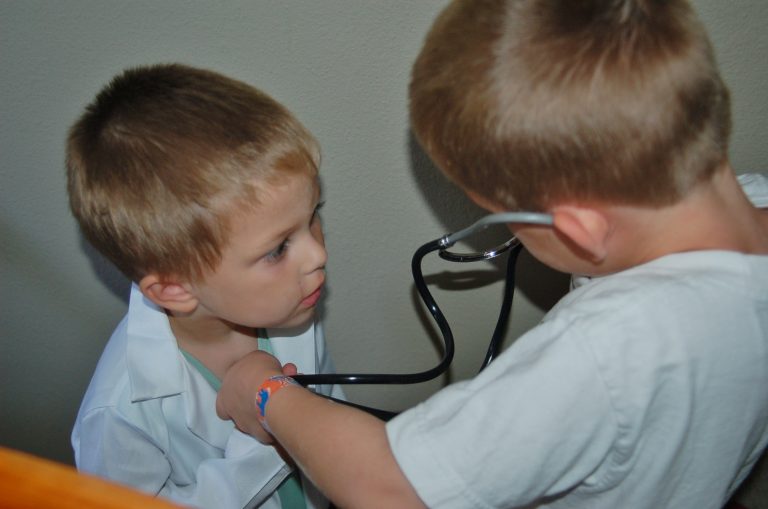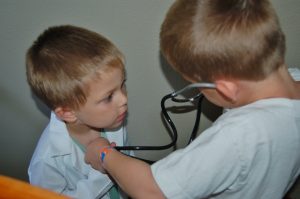 The kids have really teamed up quite a bit this week to play (nicely!) together and care for each other. I only wish I saw more of that sweetness more often!! 🙂 Our family is a huge fan now of Doc McStuffins – my 3 year old especially LOVES it although my 5 year old usually isn't far behind!
The DVD contains five full length episodes, each consisting of two 11-minute stories, that highlight some of Doc's favorite toys.
·       ENGINE NINE, FEELIN' FINE! – Doc and her toys learn a lesson about dehydration after discovering that Donny's toy fire engine has run out of water.
·       THE RIGHT STUFF – Stuffy rips his tail and tries to hide it from Doc and the other toys and learns that anyone can get hurt – even brave dragons.
·       CAUGHT BLUE-HANDED – When a mysterious rash of blue spots breaks out among some of the toys in the clinic, Doctraces the "Mystery Pox" back to Donny's toy monster, Glo-Bo who had been finger-painting earlier in the day and forgot to wash his hands.  Glo-Bo is voiced by Jim Belushi.
·       TO SQUEAK, OR NOT TO SQUEAK – Doc helps a plastic toy duck get his voice back after his squeaker pops out.
·       BEN/ANNA SPLIT! – When Doc's huggy monkey doll Ben loses the velcro patch that attaches him to his sister Anna, Docglues it back on and tells him that he will have to stay in the clinic overnight while it dries.
·       THAT'S JUST CLAW-FUL – Doc prescribes physical therapy for her crab bath toy Hermie after she reattaches one of his claws that has fallen off.
·       THE RIP HEARD ROUND THE WORLD – While dancing with Lambie, Doc accidentally rips a hole in her fur.
·       WALKIE-TALKIE TIME – Doc diagnoses a toy walkie-talkie with "Staticosis" and helps find his missing antenna so he can communicate clearly again.
·       DARK KNIGHT – During a sleepover with all of her toys, Doc discovers that Sir Kirby is afraid of the dark and prescribes a night light to cure him of the "Dark Willies."
·       HALLIE GETS AN EARFUL – When Hallie is having trouble hearing, Doc gives her a hearing test and realizes that she has extra cotton stuck in her ears.