Clorox Canisters for Classrooms Campaign
This post may contain affiliate links, view our disclosure policy for details.
 *Disclosure: I received information about Canisters for Classrooms from The Clorox Company. All expressed opinions are my own.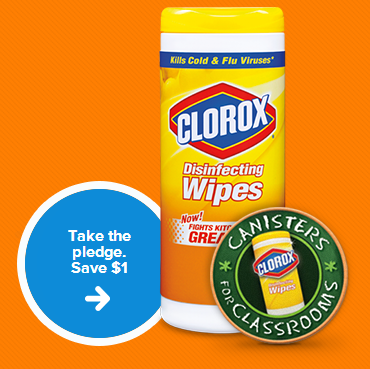 The Clorox Company understands that back-to-school can be stressful for teachers who may have limited funds to purchase supplies. That's why Clorox is joining forces with parents and the Alliance for a Healthier Generation for Canisters for Classrooms, a program that helps stock teacher supply closets with Clorox Disinfecting Wipes to help fight cold and flu germs in the classroom.
It's easy for parents to lend a hand! Just visit www.CloroxClassrooms.com and take the Canisters for Classrooms pledge for a healthier school year:
•       You will receive a coupon for Clorox Disinfecting Wipes so that they can donate to their child's teacher
•       Clorox will donate a canister of Clorox Disinfecting Wipes to a school in-need and $1 to the Alliance for a Healthier Generation to support their Healthy Schools Program, which creates healthier learning environments in more than 18,000 schools, reaching 11 million students across the country.