Cheaper Alternatives to a Swing Set for Outdoor Play Equipment
This post may contain affiliate links, view our disclosure policy for details.
 A few years ago we were looking at swing sets
for our kids and you can easily spend $400-$500 on the cheapest ones available! (although if you look around you can find a metal set with just a swing or two for $150-$200ish. I really liked this one for it's price but it's still almost $700!  (a higher quality one will easily drop you over $1000!) Although I feel like swing sets are a fantastic investment if you have children the price of them can certainly make you think twice and be unrealistic for many families! 
If you don't have a swing set but want one I suggest spending two years saving for it. Set aside a little bit every month. Any monies that are given to your children for holidays and birthdays put in the swing set fund! There are a LOT of choices when it comes to swing sets, metal, wood, plastic, etc. At some point in my life I have had all of the above at different times of course and prefer the plastic ones although they are typically higher priced since they tend to last the longest and have the most options available.
I favor the wood and plastic over the metal swings for two reasons:
1. In my experience the metal swing sets are easier to tip than the wood/plastic frames.
2. There are not as many feature options (rope ladders, climbing walls, etc.).
With that being said, there are a TON of options in the way of play equipment in the backyard that are more affordable than a full swing set if you cannot afford a big purchase. Here are a few suggestions along with their typical price range: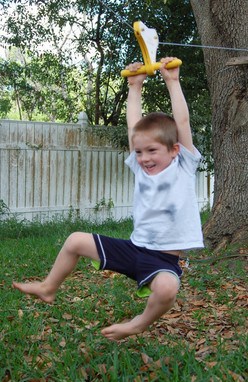 Zip Lines:
 Amazon and Hearth Song both have great affordable options priced at $49-$55 depending on length and weight restrictions. These are an AWESOME addition to a backyard of any size and of course require adult supervision if you have it placed high off of the ground. Also a great therapy for children needing to build upper-body strength or seeking sensory input. You can attach them in between two trees, to a clubhouse, or add some cement and a post into the ground! Ours gets a lot of use and the kids can access it just standing on the ground!
Tires can offer a HUGE variety of options in your backyard. Around our area it is pretty easy to find them just laying around on the side of the road. Another option is to go to a secondhand tire store or junk yard and see if you can purchase any used ones that aren't good enough for a car.
You can make climbing structures, places to jump on and over, and even tunnels to crawl in. You can also take old tires and hang them from ropes or metal chains from the trees to make swings! We've done this several times. This is certainly a cheap but creative way for kids to have fun climbing and swinging. Large tractor tires are tons of fun but can be difficult or pricey to find.
Teeter Totters & See Saws:
There are a huge variety of different types of Teeter Totters available which cost anywhere from about $50-$200+. Step2 has just put out a plastic one which can be used indoors or outdoors; the TP Spiro Bouncer is really cool and is geared for ages 5 and under. Hearth Song also has a really great affordable weather-resistant spinning see saw! And Little Tikes
has a rocker see saw type toy for younger kids.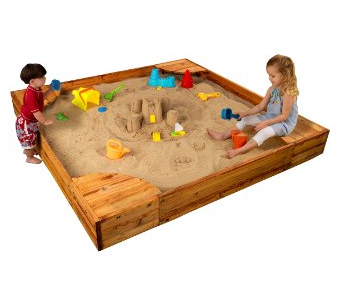 Sand Box / Sand Tables:
This is one of our favorite outdoor play items and incredibly useful for special needs children as well. We've had our table for 7 years now and it's still in great shape. My kids have spent countless hours in their sandboxes and even once converted it into a garden!
They typically run about $50 give or take a bit and can go up in the hundreds if you want a fancy one. There are two types of sandboxes – the large ones you sit in and the sand tables. Then of course you have water tables, and sand/water tables too!
(TIP – You can buy CHEAP play sand at Lowe's or Home Depot for about $3 per 50 lbs.!) If you want a cheaper temporary alternative the plastic kiddie pools at Walmart run about $8-15 and work well too – just make sure to cover it so it doesn't get muddy or become the neighborhood litter box!



Sand Digger Cranes:
Another affordable option for your backyard is a Sand Digger Crane. HearthSong has the best quality and most affordable I've seen for about $40 – and it's made of steel! They also have one listed on Amazon for about the same price. (TIP – You can buy CHEAP play sand at Lowe's or Home Depot for about $3 per 50 lbs.!)




Hopping Balls:
Don't underestimate the play power of hop balls!! My kids have spent OODLES of time on their hop balls! You can find them for about $10 in stores and online for elementary age and younger pretty easily. Amazon has all sorts of inflatable hoppers from horses to cows and rhinos! My boys really love their cow hopper!

Geometric Dome Climbers:
On the pricier end of outside play equipment, but still cheaper than a swing set is the geometric dome climbers
. You can typically find these priced at about $150+.  
Bounce House:
Owning a bounce house is a kid's dream, and you can find a very good quality heavy duty one for about $200 (a little cheaper for the smaller bounce houses). There are SO many options for these such as slides, ball pits, water combo and more.
This is ideal if your yard is not big enough for a permanent swing set or you are looking for some BIG fun for a smaller price than a swing set. We personally have the Bounce Zone SuperStar and it has been a life saver for us!
Playhouse / Cottage:
Of course there are plenty of smaller cottages, play houses, and tot-sized slide sets available as well that will run about $100+. Most of these are also indoor/outdoor and make a nice alternative if you have smaller children who are not quite big enough for a swing set.
These are also nice if you have a porch to play on or a basement play room! Many times you can resell them for a good chunk of money which can later be applied to a larger swing set. And make sure to check Craigslist because someone is almost always selling one!
NOTABLE MENTIONS: 
Trampolines –
Another option to consider would be a trampoline
 which run in a wide price range depending on size, safety net, etc. – whether a small indoor one or a larger one for outside. You can even buy a trampoline tent
to go over the top to let the kids sleep out there at night! First double check with your home insurance and make sure they allow trampolines in your coverage.
Pool –
Maybe not quite a climbing structure but having a pool
is one of the best things we've done for our kids in the summer. Overall it was cheaper for us than buying a local pool pass and it's right in the backyard! We purchased ours half off after the summer season one year and saved a bundle! Again, double check with your home insurance and their rule on pools.
Tree Fort or Clubhouse – 
If you or someone you know is handy with some wood and tools you can certainly buy all of the materials you will need for a tree fort or clubhouse for far under $200 depending on how savvy you are! We used old recycled wooden pallets for the bottom of our tree fort / clubhouse and then plywood and shingles up on top – the whole project including buying OOPS paint was under $100!