Where to Find CHEAP School Uniforms! Back to School Time!
This post may contain affiliate links, view our disclosure policy for details.
This popular post about where to find cheap school uniforms is a great reference all year – not just at back to school time!
When you're preparing for the new school year chances are you've got lists longer than Christmas wish lists of school supplies, registration fees, uniforms, sports fees, school lunches and snacks, and all sorts of other things to buy for! Times however many kids you have!
There are some fantastic deals online for  CHEAP school uniform items and I'm going to share with you where I look for them at as deals online are always changing!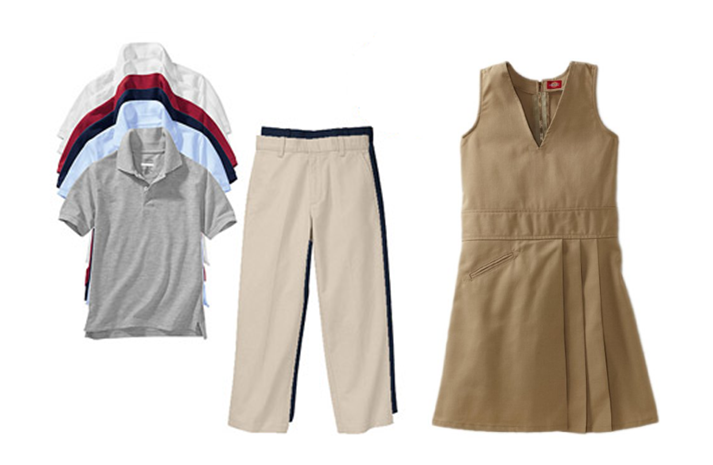 I know some schools require that you buy specific uniforms from specific places….and usually they are pretty pricey! Double check with your school to see if they have a resale day on site!
I normally check 5 spots for cheap school uniforms (and in this order):
My local thrift stores –
The great thing about checking your local thrift store is that other school parents in your area are donating their kids' outgrown clothes there! Sometimes you can find your school's specific uniform, or clothes matching your schools' policies, at the thrift store!
This is a little bit of a hit or miss situation so if you NEED IT NOW, I recommend buying new to save the hassle. But if you've got the time to stock up for the future – definitely check your local thrift store.
Walmart & Target –
Walmart and Target are our only main "big box" stores in the town that we normally shop in which means I try to do as much as I can in one stop. If you just need solid colored polos or pants this is a great affordable stop to fill up your cart with cheap school uniforms!
Check local weekly ads to see if there are any sales – especially during the back to school season.
CookiesKids –
CookiesKids is a great one stop shop for everything you need if you're cool with doing uniform shopping online! They run various sales year round (when other in store places like Walmart don't carry uniforms mid-year!)
PLUS use this specific link to get $10 OFF your first $50 order! What I like about CookiesKids is that you can buy specific brands if you're a loyal brand shopper!
Amazon –
Did you know that there is a school uniform section on Amazon? Yep! Handy right? I love this because you can not only lump it in with your other Amazon shopping but also because you can check the reviews for the other uniform items that other people have ordered!
---
If I look hard enough in the store clearance sections I typically find polo shirts for only $3 each! They almost always come in a variety of colors to choose from. And the shorts you see above I typically find for about $4 each. You can also find long-sleeves, pants, skirts, and more!
Walmart and CookiesKids tend to be the cheapest for school uniforms but Amazon tends to have the best deals on name brand school uniforms like U.S. Polo, Dockers, Nautica and MORE for around $5-$15 each!! I prefer these because they tend to be higher quality.
If you're NEW to CookiesKids SIGN UP HERE FIRST and receive a $10 OFF $50 coupon!!!!