Teacher Discounts for Back to School Shopping at Meijer
This post may contain affiliate links, view our disclosure policy for details.
This is a sponsored conversation written by me on behalf of Meijer. The opinions and text are all mine.

This year the back to school season snuck up on me so I decided to go easy on myself this year and grab all of our supplies in one big shopping trip!
Every time you walk into Meijer, just bring your teacher ID to the customer service area and they will hand you a 15 percent off discount coupon good on any school or home office purchase!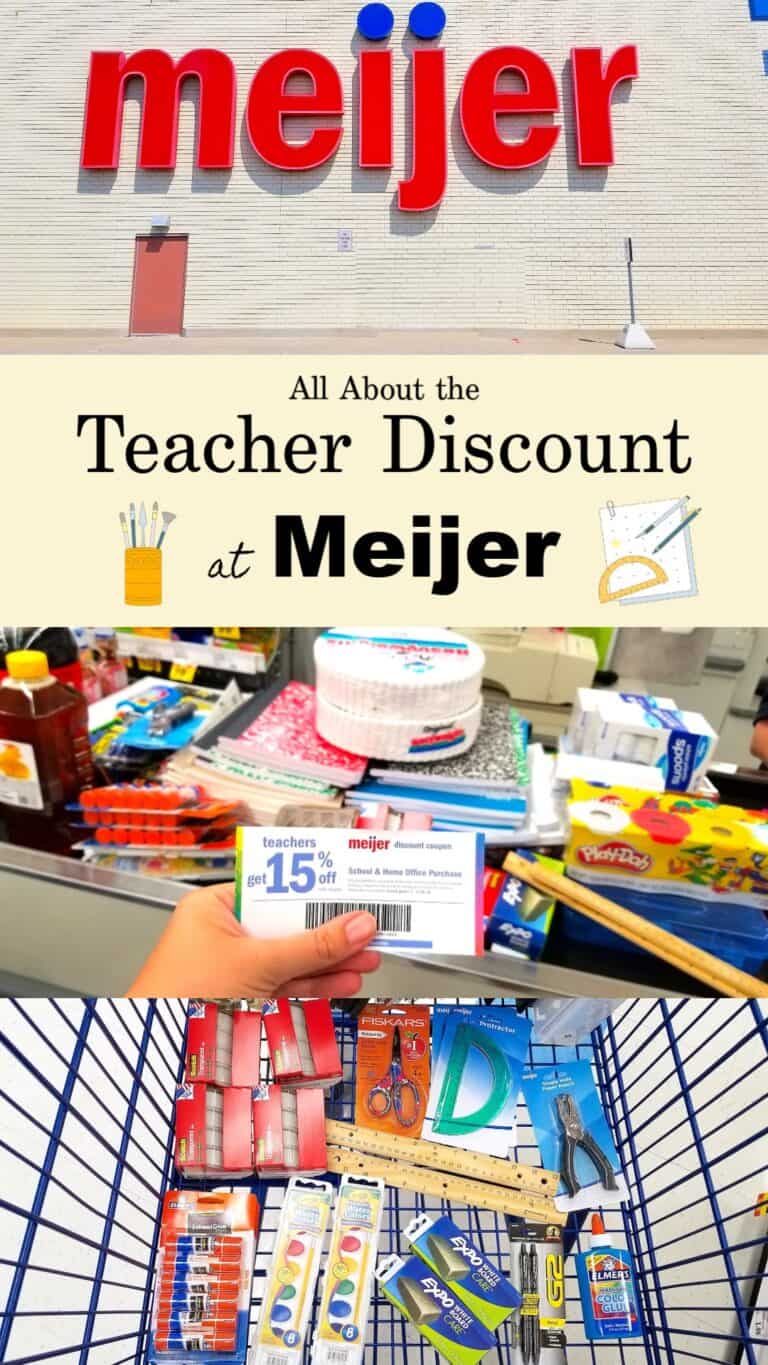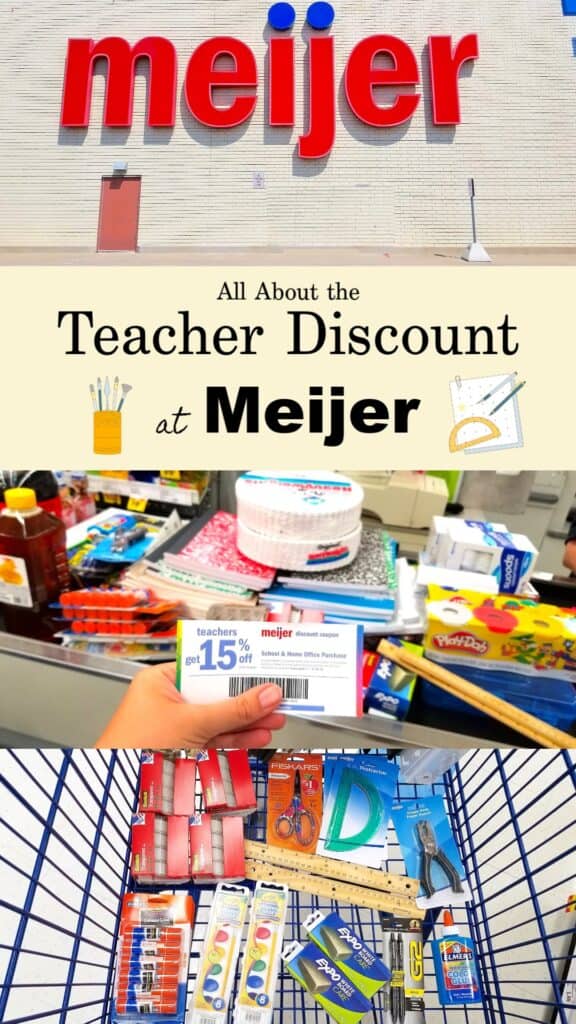 This is the ONLY retailer doing something like this for the entire back to school season! Thanks Meijer for supporting teachers! Every little bit helps when you're stretching your budget on back to school supply shopping!
My husband and I decided to team together and get all of our grocery shopping, back to school shopping, and errands done in one day. So once we had our 15% off teacher coupon from the Meijer Customer Service desk we quickly split sides of the store. He did our school snacks and school lunch shopping along with our regular grocery list while I headed to the school supplies area.
Since some of my kids have gluten and dairy allergies we LOVE Meijer because of the allergy friendly selection of food we can find there. It was a HUGE win win trip for us all the way around because we not only had that teacher discount coupon but we got everything we needed in one place!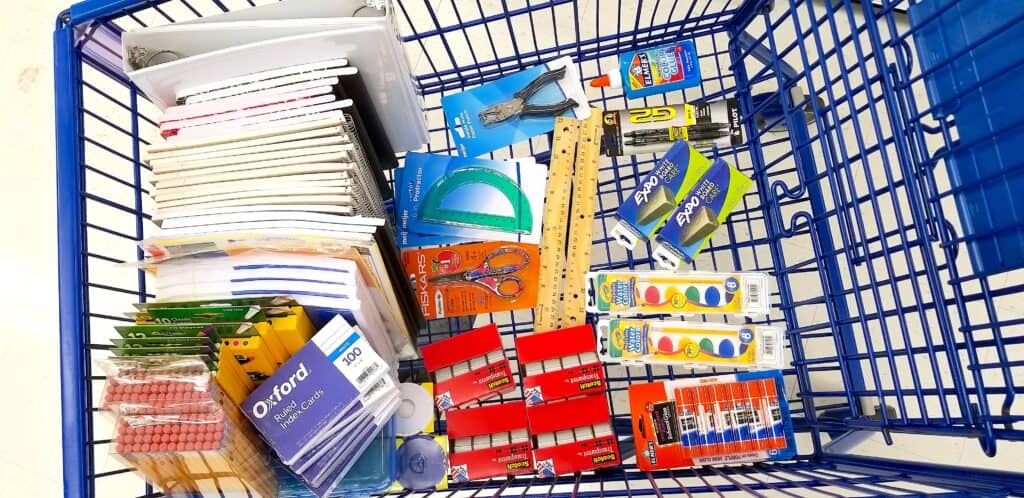 How do I get the teacher discount at Meijer for school supplies?
Head to your local Meijer!
After you get your grocery cart, head over to the Meijer Customer Service Desk.
Show the Customer Service Desk your teacher ID and ask for the 15% OFF teacher discount coupon!
Go shopping!
At checkout, hand your cashier the teacher discount coupon!
How to go back to school shopping without stress:
Go back to school shopping all at once. Set aside 2-3 hours if you're shopping for several kid's lists and/or classrooms.
Go without kids! I know this can be a tough one but see if a friend or your spouse can keep the kiddos away (or grocery shop with them on the other side of the store!) while you work through your back to school shopping list.
Shop early! Don't wait till the weekend before school starts to buy all of your supplies!
Where can I see the Meijer ad?
Just visit Meijer.com and click on "Weekly Ad" at the top right hand side on desktop, top left on mobile!
Where can I find a Meijer near me?
Visit Meijer.com and click on "Nearest Store" at the top right hand side for both desktop and mobile.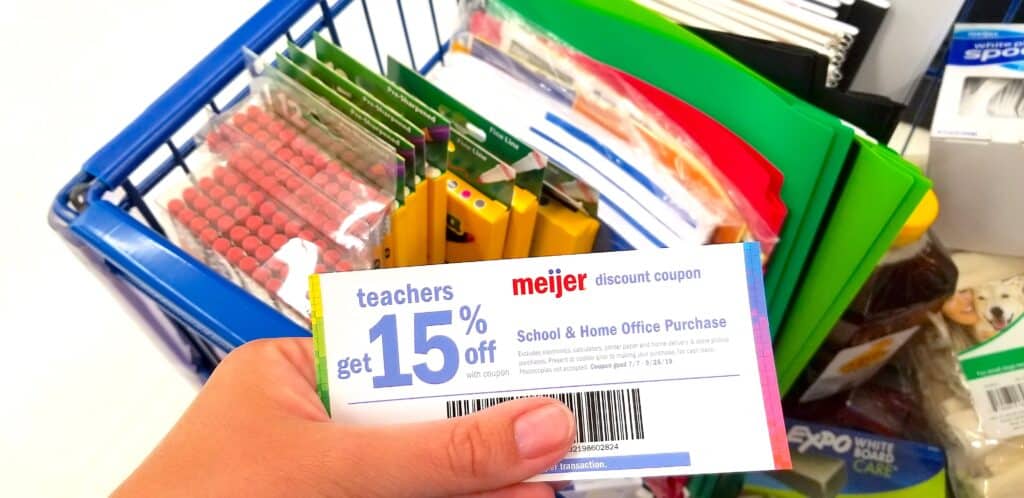 In fact the prices were so good that we not only stocked up for our kids and everything my husband needed at school, but we bought extra supplies for next year too! You guys know I'm a big fan of buying ahead if it means saving money so I will just store our extra supplies in my office until we need them next year.

I had a page long list of supplies that I needed to buy and I was super impressed how organized everything was at Meijer! I didn't have to track supplies down in different random areas throughout the store. EVERYTHING I needed was in one place. The aisles were lined with popular items. There were extra tables set up with piles of nicely organized notebooks and paper.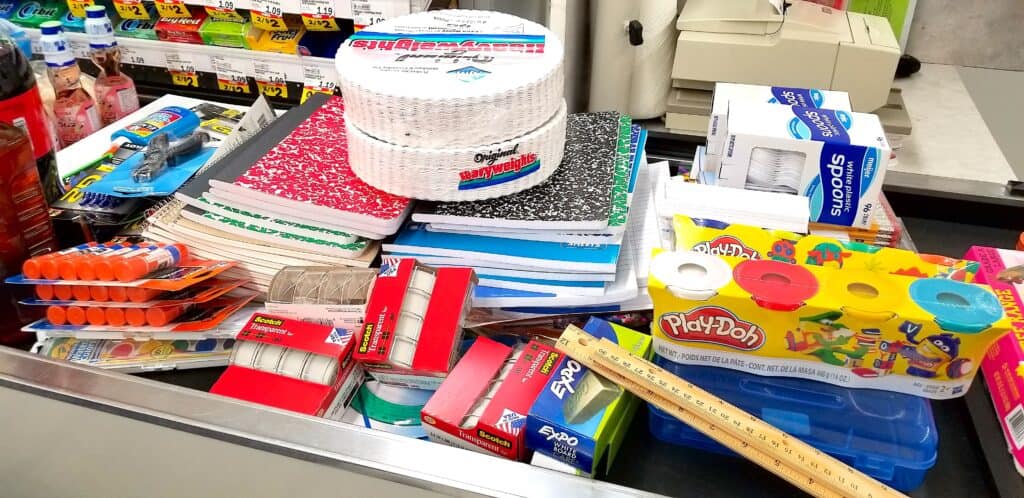 I got out of Meijer only needing to walk through the school supply area once! It was definitely the most streamlined back to school shopping I've ever encountered! Normally I can't find a handful of things on the list so I have to go checking through office supply areas, craft departments, etc. They even had the Play-Doh I needed for preschool right there! I had regular grocery shopping to do too though including stocking up on paper plates and plastic silverware for my son's school.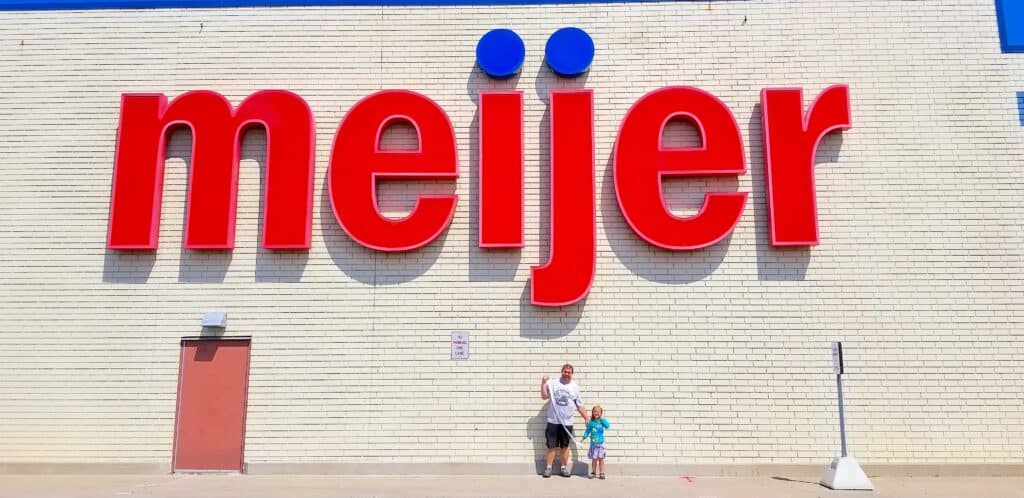 Check out this CRAZY long receipt (The strip of paper you see my husband and daughter holding!)! At checkout we handed our cashier the teacher discount coupon and it immediately sent a frenzy of discounts on the computer – it was awesome! The cashier folded up the receipt nicely and handed me this big wad. You can see how much money you saved on every single item (yes, even the pile of folders and notebooks!). Each individual 15% off teacher discount was shown! By the end of our shopping trip that 15% off coupon saved us an extra $30 or so! It definitely added up!
Check out the
Meijer ad

and plan your shopping trip now!