Make Suncatchers with Tissue Paper – Fine Motor Skills Sensory Activity
This post may contain affiliate links, view our disclosure policy for details.
Kids love learning how to make suncatchers – it's quite simple really and generally requires very little prep! There are two main ways you can make your own suncatchers with tissue paper – both of which are easy fine motor skills activities for kids to create and show off their work! It's a great sensory experience too!
All of our supplies were sent to us by Oriental Trading! They've got an AWESOME selection of tissue paper in every shape and size that you could imagine!

We made Easter egg designs but you can do everything exactly the same for any other shape you want to cut out!
Materials Needed:
clear contact paper or wax paper
mod podge or glue
paint brush
scissors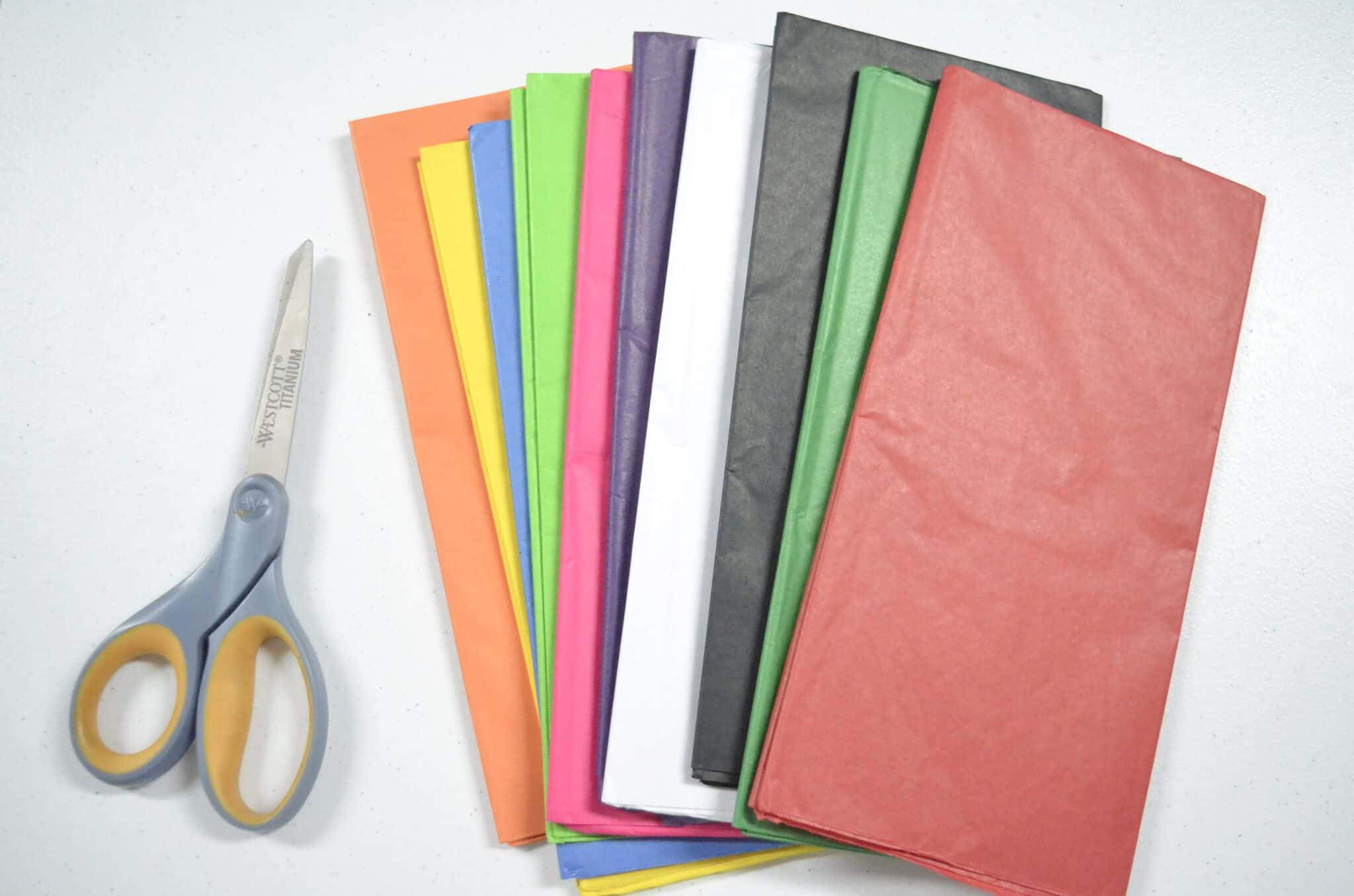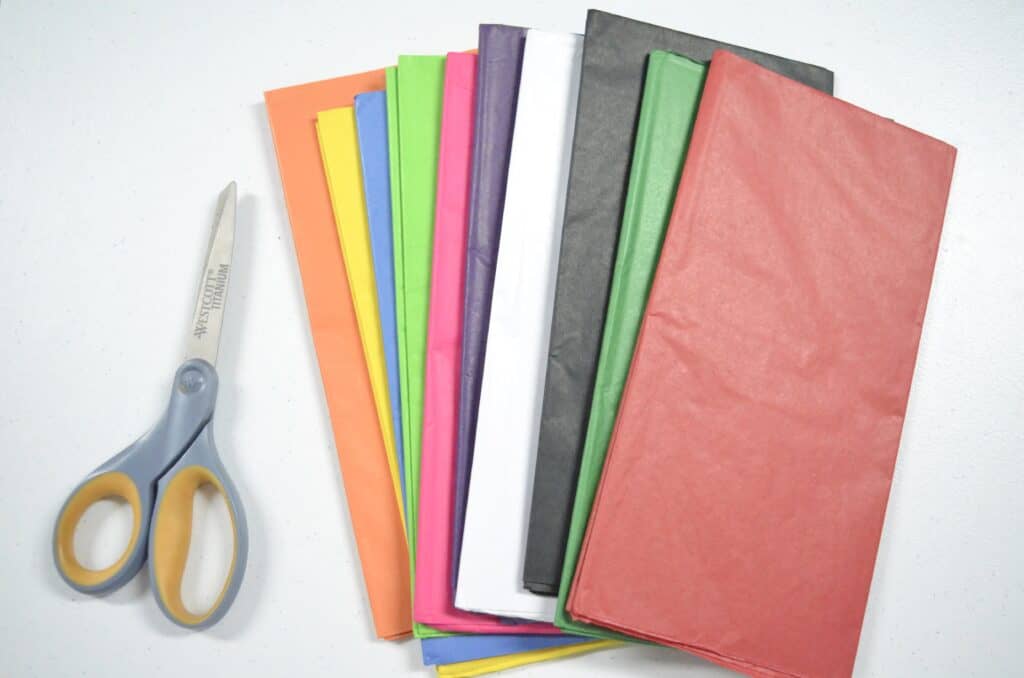 OK you guys, I tried to go the cheap route and stretch my budget with Oriental Trading so I ordered a pack of multi-colored tissue paper because I needed some anyway. I saw they had an AWESOME mega pack of pre-cut tissue paper but I opted to just cut my tissue paper so I had full sheets left over.
Let me just tell you right now that I totally regret not ordering both. The pre-cut tissue paper is worth every penny and will save you SOOOOO much time!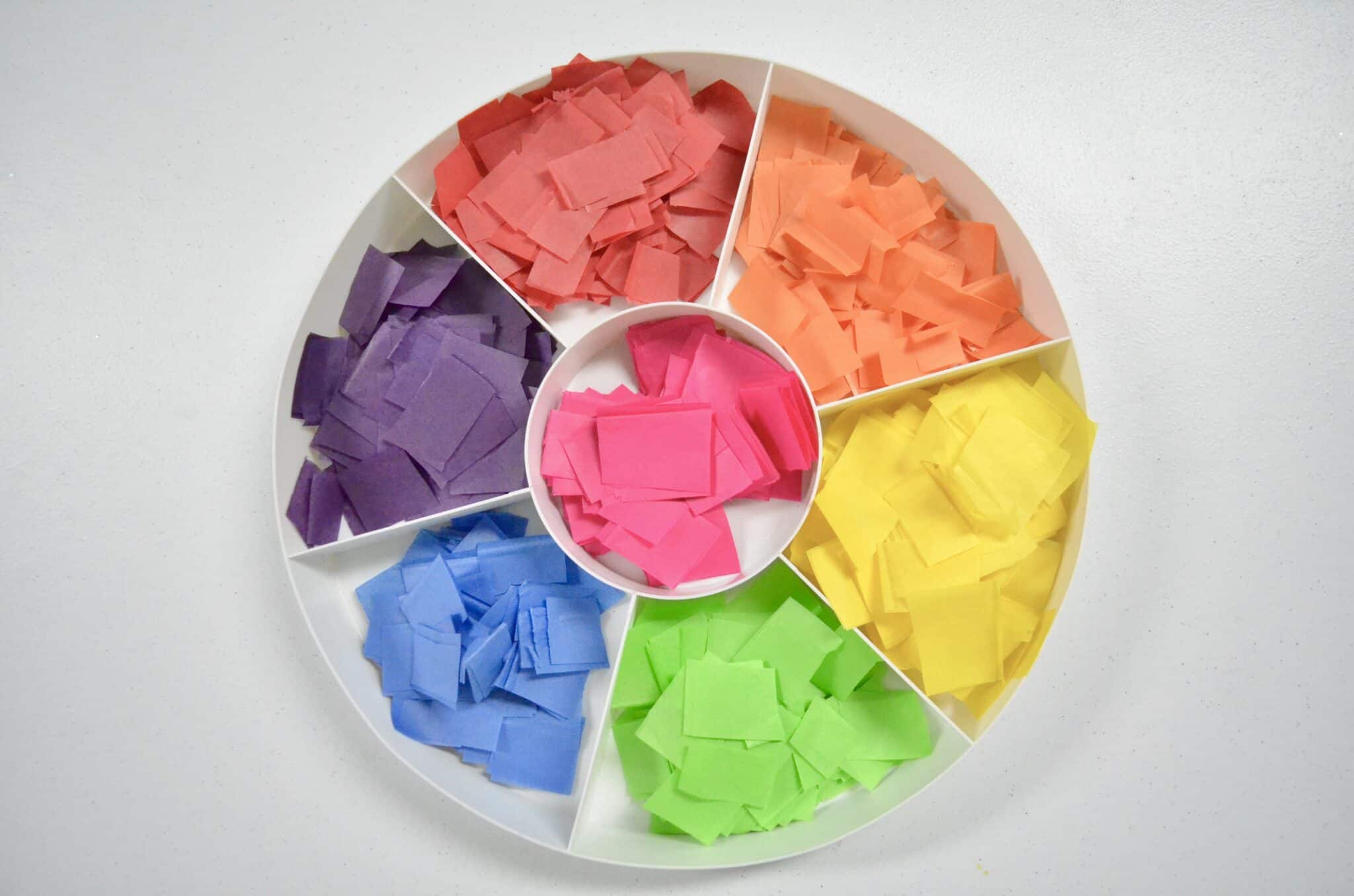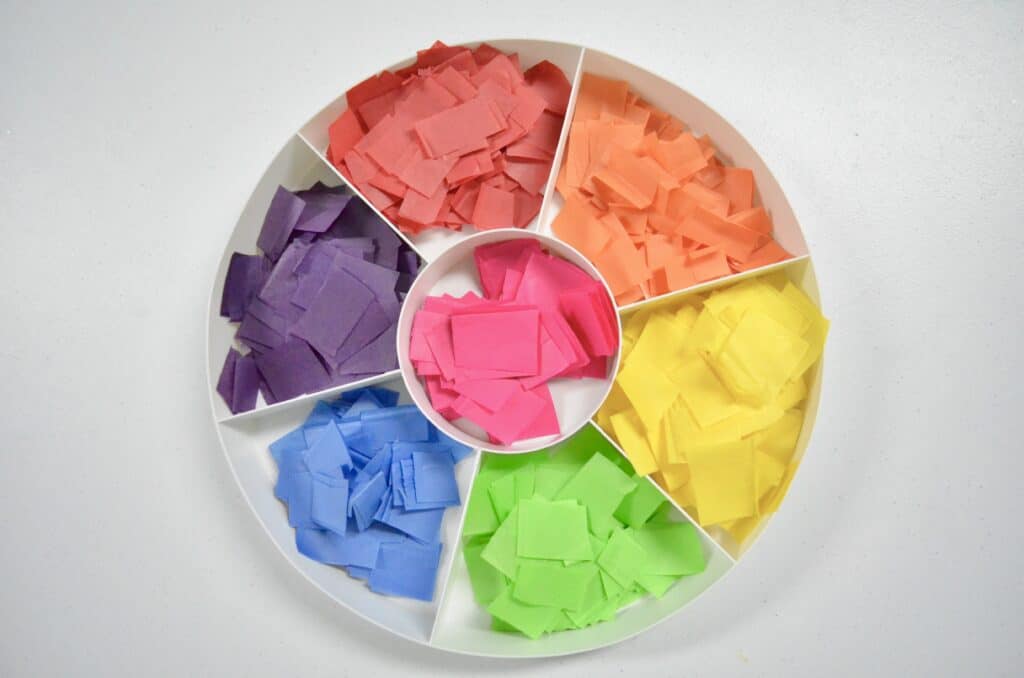 Alright – now that I got that off my chest, you'll want to make sure your tissue paper is cut into small squares or rectangles. It's ok if it's crooked or comes in different sizes. Just small enough pieces for kids to easily grab and cover in glue.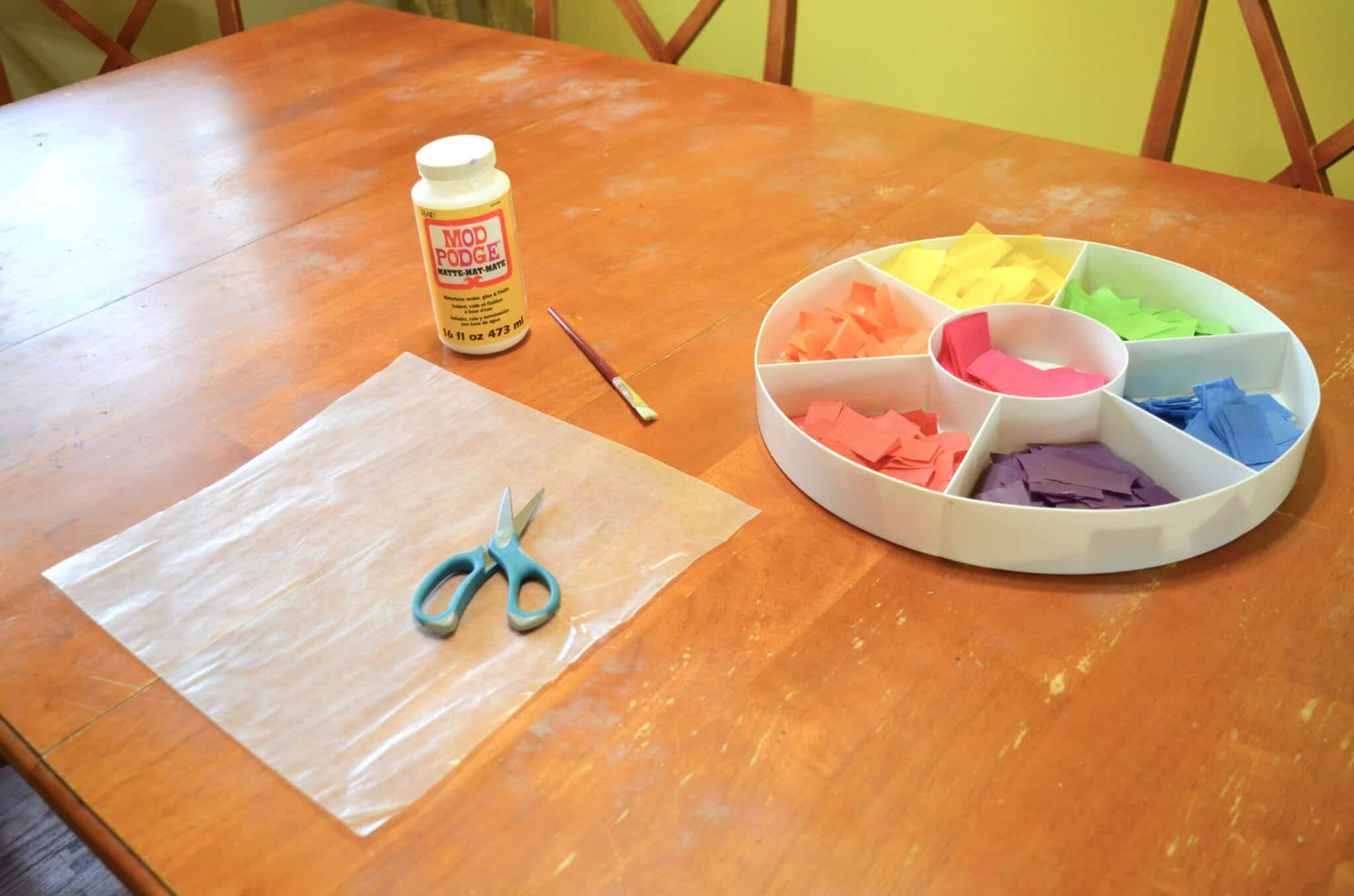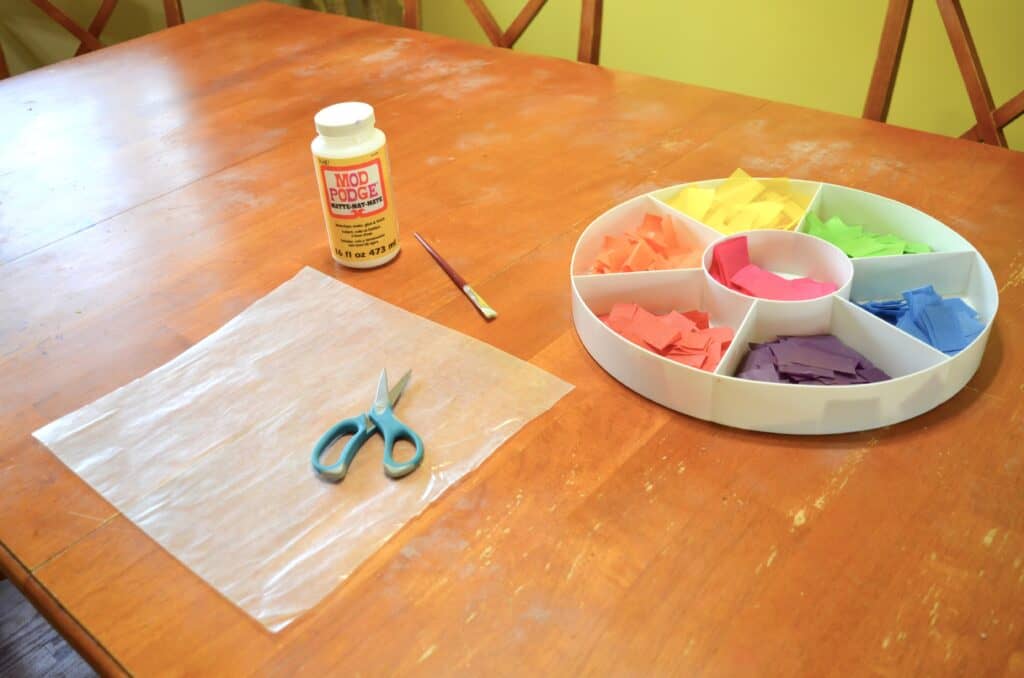 I cut plenty for us to use for our Easter activity and for our upcoming rainbow activities! I love these colors! If you don't have a simple tray or storage container for your tissue paper squares you can also store them in a plastic ziploc bag. You can use any color you have! Even the ones with foil or glitter designs on them.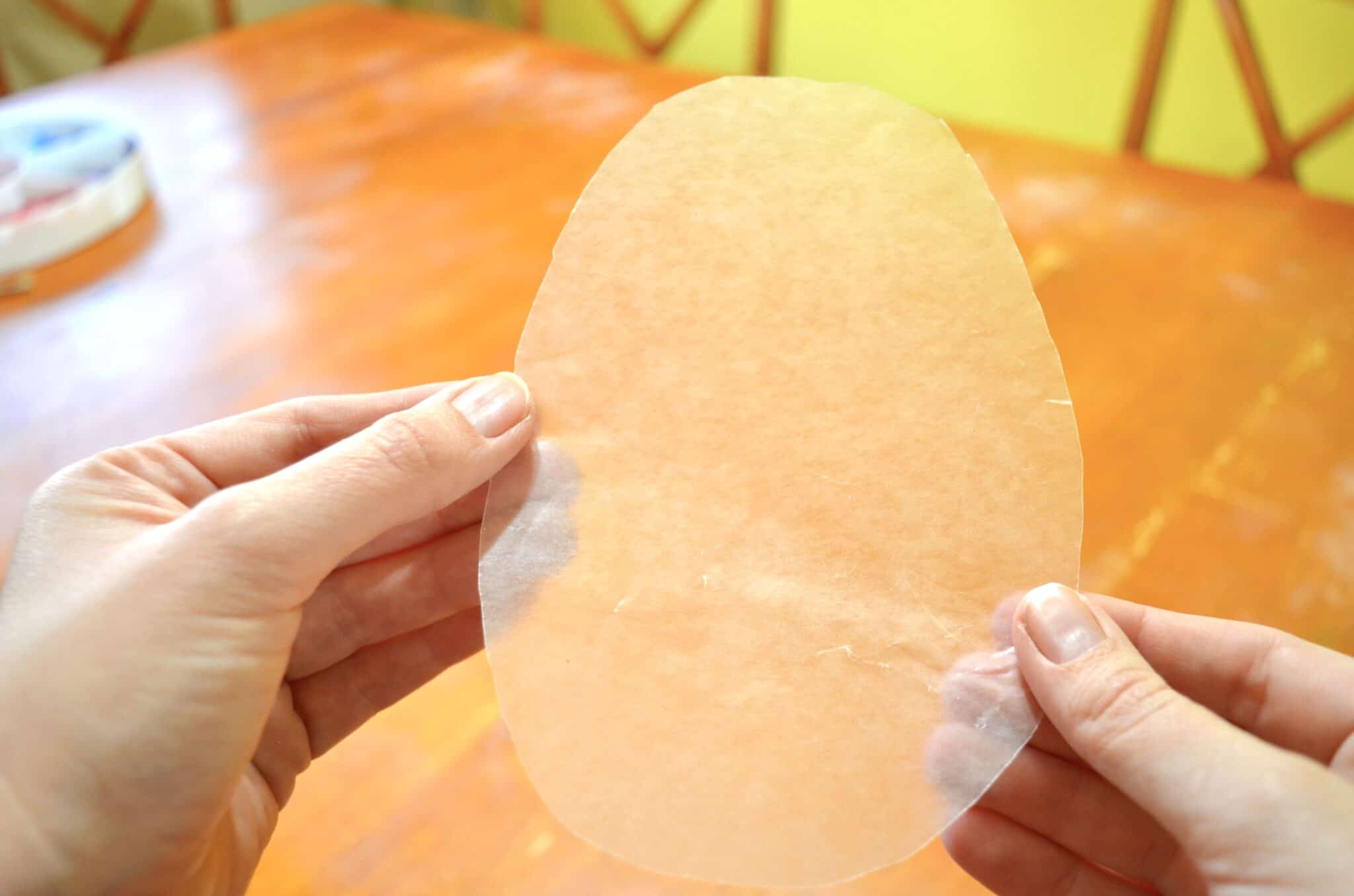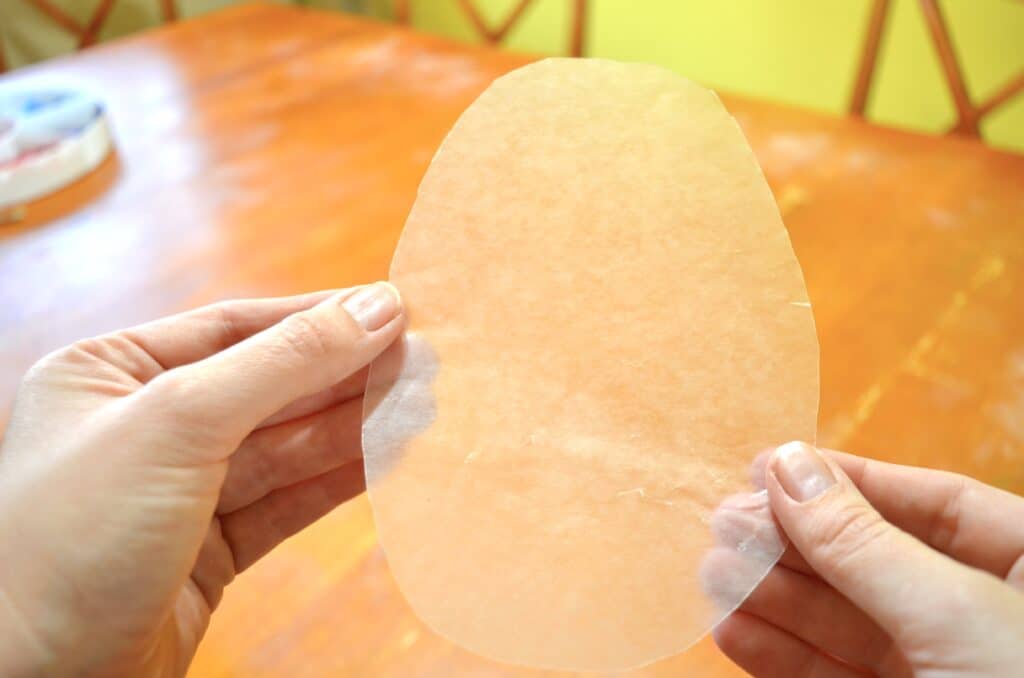 The only prep you'll need to do for this suncatcher activity is to cut an egg (oval) shape out of your wax paper or contact paper! (or any other shape if you're not doing Easter eggs!) You can even cut out letters if you're practicing letter recognition, numbers, shapes, animal silhouettes, etc.!
If you're using contact paper you'll want to make sure you're sticking the tissue paper squares onto the sticky side of the contact paper to decorate it!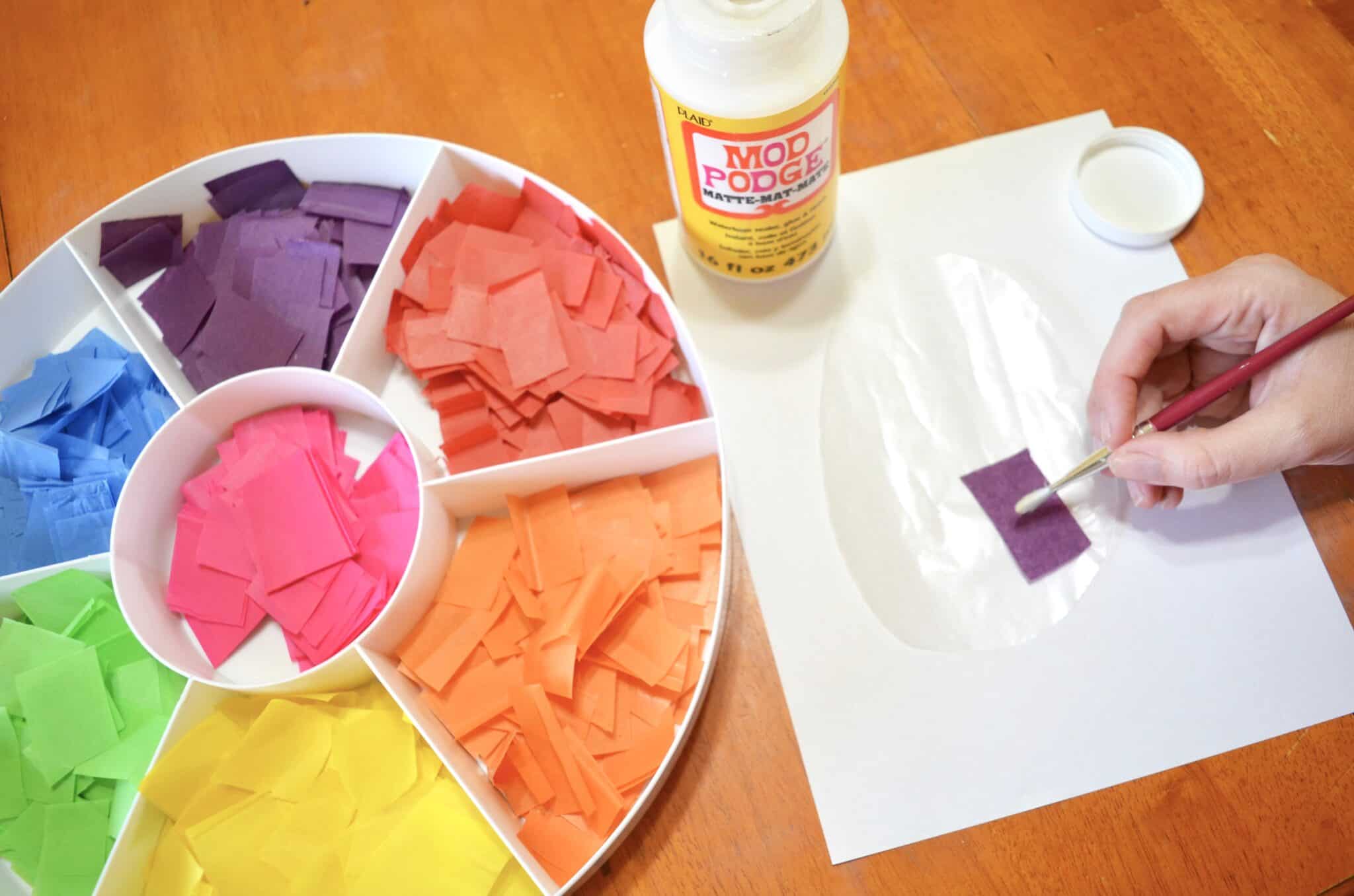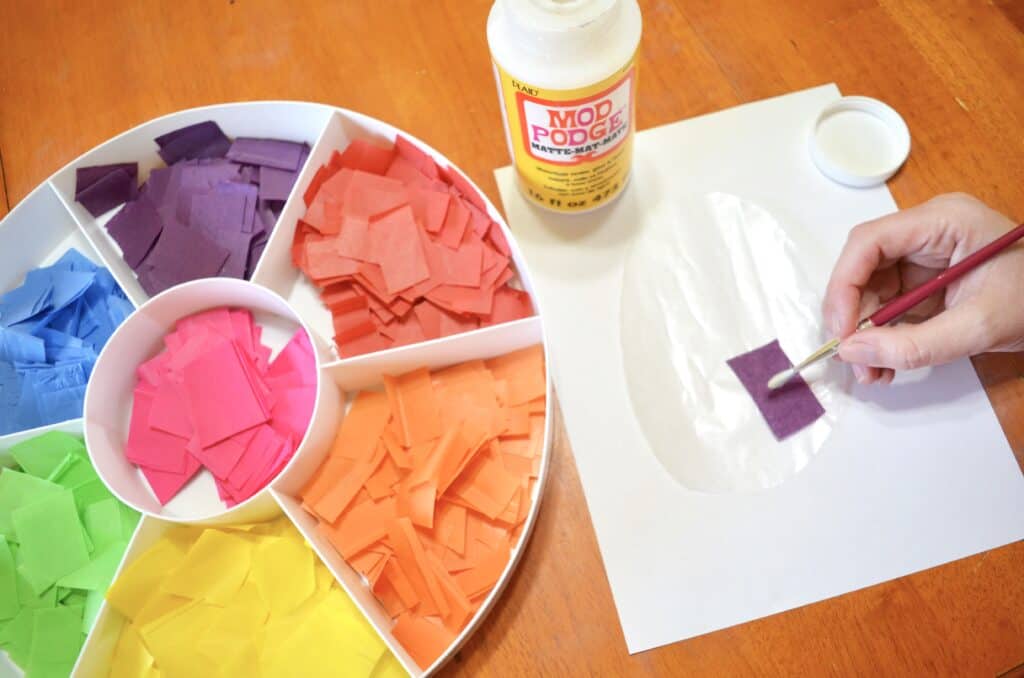 If you're using wax paper then you'll want a small bowl of mod podge and a paintbrush. Instruct the kids to take their colored tissue paper, paint a small bit of mod podge onto their wax paper, then place the tissue paper onto the mod podge and let dry.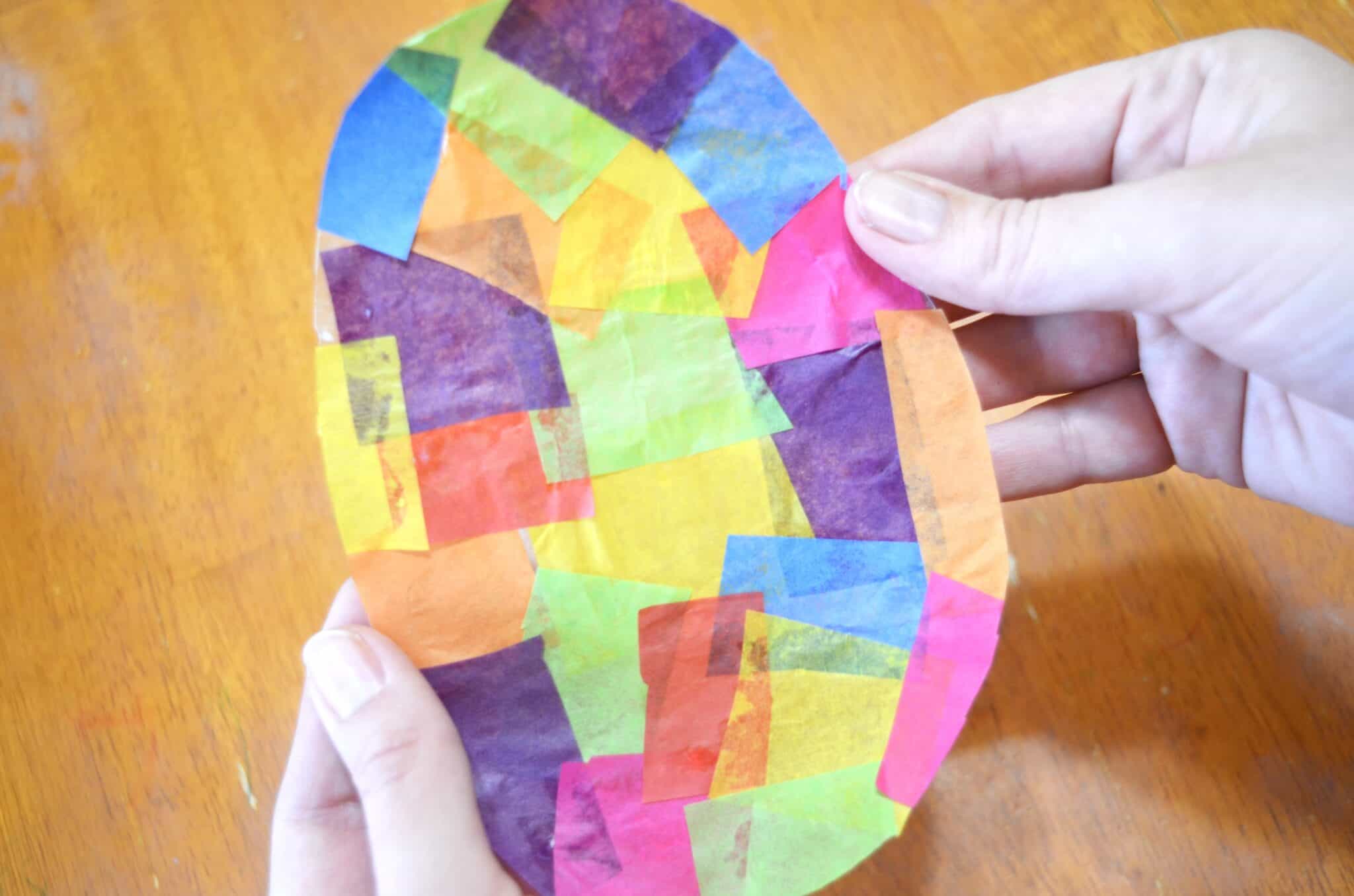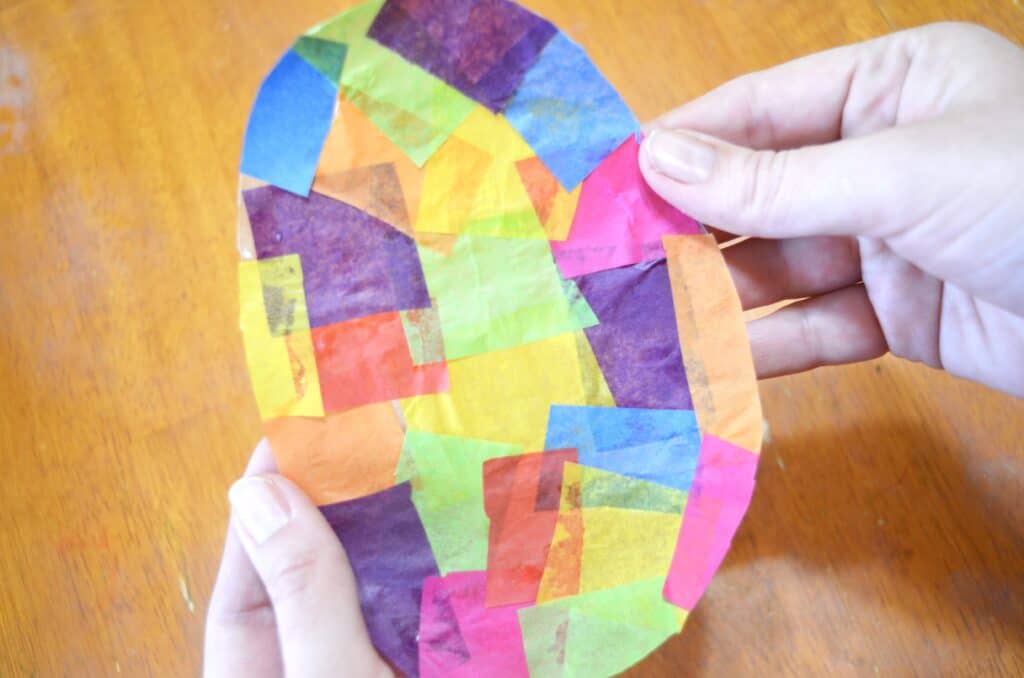 Get creative! You can use glitter, stickers, buttons, or anything else that you want to add on top of your tissue paper Easter designs!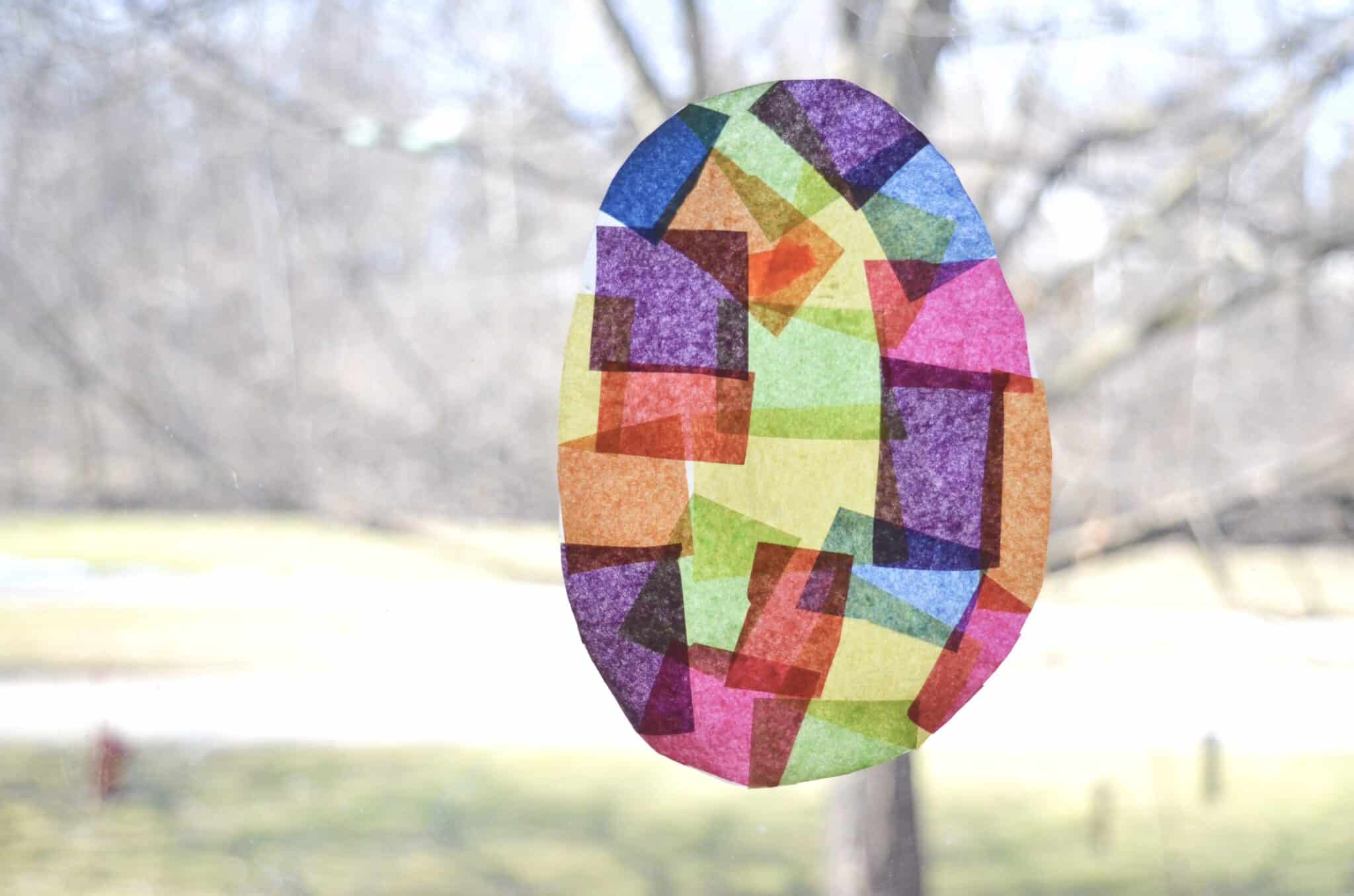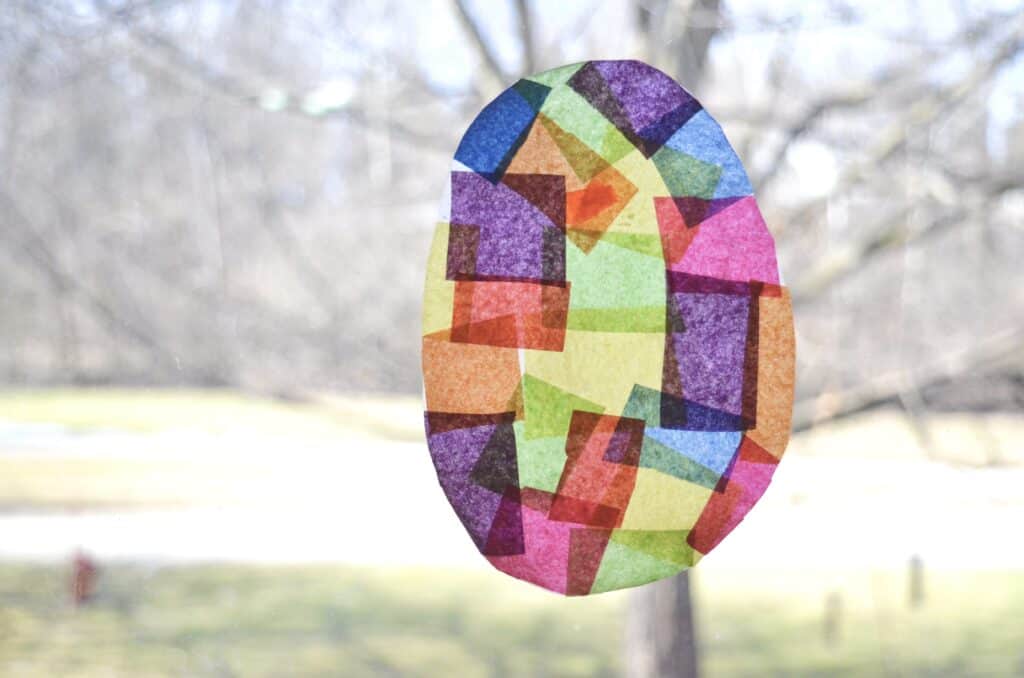 TA DA! Look how FUN this turned out! Just hang up your completed suncatcher on the window and wait for a sunny day! When it's dark out you'll see the tissue paper suncatcher design you created and when the sun comes out the light will shine through the wax paper and tissue paper!
More Easter Activity Ideas: