Lesson Planet – Teacher-Reviewed Lesson Plans & Worksheets Review
This post may contain affiliate links, view our disclosure policy for details.
Brought to you by:
(All opinions are my own.)
When Lesson Planet e-mailed me last week asking me to check out their site I quickly said yes! I love checking out new educational sites as different sites can be tremendously helpful to different educators, homeschoolers, and parents but I don't always have time to search for new sites! And when I saw that they had over 400,000+ Teacher-Reviewed Lesson Plans and Worksheets available that definitely caught my interest! The more material to search through the better the chances of you finding what you need!!
One thing I spotted immediately is that you can actually search for your Common Core standards by state which I thought was pretty cool! It's definitely a nice quick reference map you can quickly sift through. Just click on your state (or state that you want to see Common Core standards for) and you'll see everything listed out.
If you are like we are and are always looking for good apps or new technology for your classroom you'll love the Educational Apps Guide area where you can search for apps by subject category and see reviews by other teachers! It's a fantastic way to see at a glance what apps other teachers are using in their classrooms – almost all of the ones I searched through were completely brand new to me! I certainly have quite a list of apps now to check out and maybe incorporate into our studies!
There is also an EdTech Professional Development Video Courses section – although it doesn't have many videos yet it is a valuable source of information for all sorts of videos such as "Pinterest Basics", "Google's Form App", "Google's Presentation App", "Basics of Using iPads in your Classroom", "iOS6 iPad Troubleshooting", and more! Although I wish there were a TON more videos in this section it's a great place to start when you're looking to learn some new info during your planning time or as you relax in the evenings.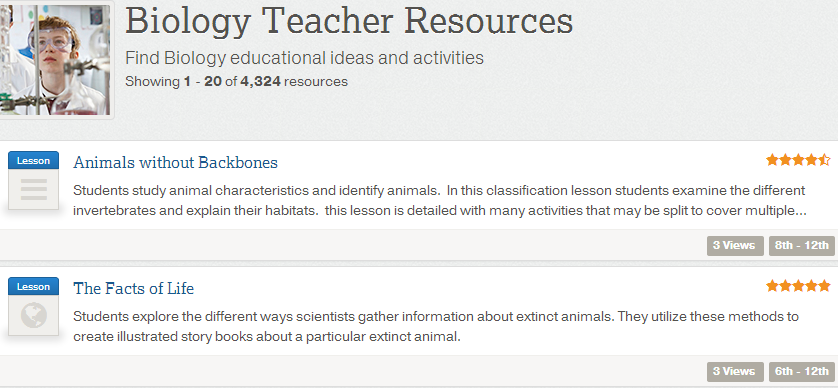 I saved the best part for last! The worksheets, lessons, and teacher resources!! You can search through these resources either by subject, by calendar, or by theme. The calendar feature is actually pretty cool because it maps out suggestions for the whole month and links to all of the resources! You'll find resources for everything from Latin, PE, Music, Political Science, special ed, and plenty more. As you see above I searched through the Biology section which has 4,324 resources and you can see that each lesson is rated by the stars on the right and also shows the grade level that the lesson is geared for.
Visit Lesson Planet here for more information on membership and to check out the resources they have to offer! You can sign up for a FREE 10 day membership to check out their resources, and if you like it the membership it is $59.88 for 1 year which breaks down to just $4.99 per month. Overall? It's really a pretty good deal for the membership! It certainly would save a ton of time and I love that you can "save" the lesson plans you find for later without needing to keep re-searching for it! If you have been buying lesson plans online to save yourself time you might want to check out this site!  You have access to everything in your year membership which is a TON of content and resources. I love that you can rate the materials you use which gives me a good idea of what lessons to use and not use right away just by checking the stars.  It's a nice "one place stop" for everything for your classroom. Find your worksheets, read educational articles, browse through some new app ideas, and compare what you're working on to your state's common core standards.
If you use Lesson Planet I'd love to know what you think!