2 LEGO DUPLO Building Sets You Need – Preschool Play
This post may contain affiliate links, view our disclosure policy for details.
I received the below products in order to facilitate this review.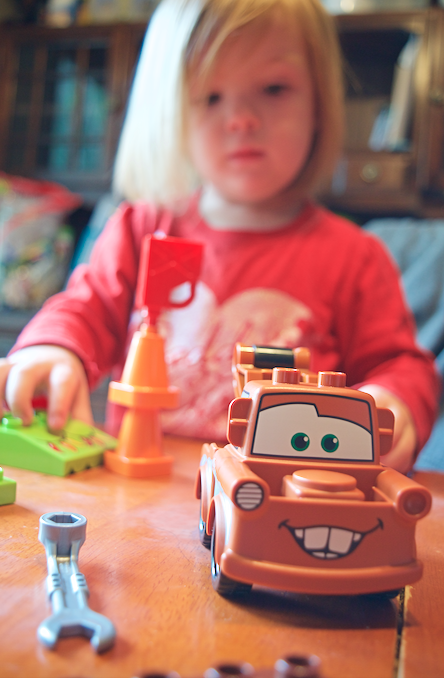 We haven't had LEGO DUPLO products in our house for YEARS so I was so excited when LEGO contacted me and asked if they could send a few of their new sets for my daughter was is 2.5 years old. I fell in love with LEGO DUPLO all over again and more importantly – my daughter did! Since she didn't seem interested in ANY of the toys my boys had when they were little I had completely bypassed LEGOs with her which was a real shame. She LOVES the LEGO DUPLO sets we received and aside from being adorable and great for fine motor skills I realized a few things.
Why You Need Mater's Shed LEGO DUPLO Set: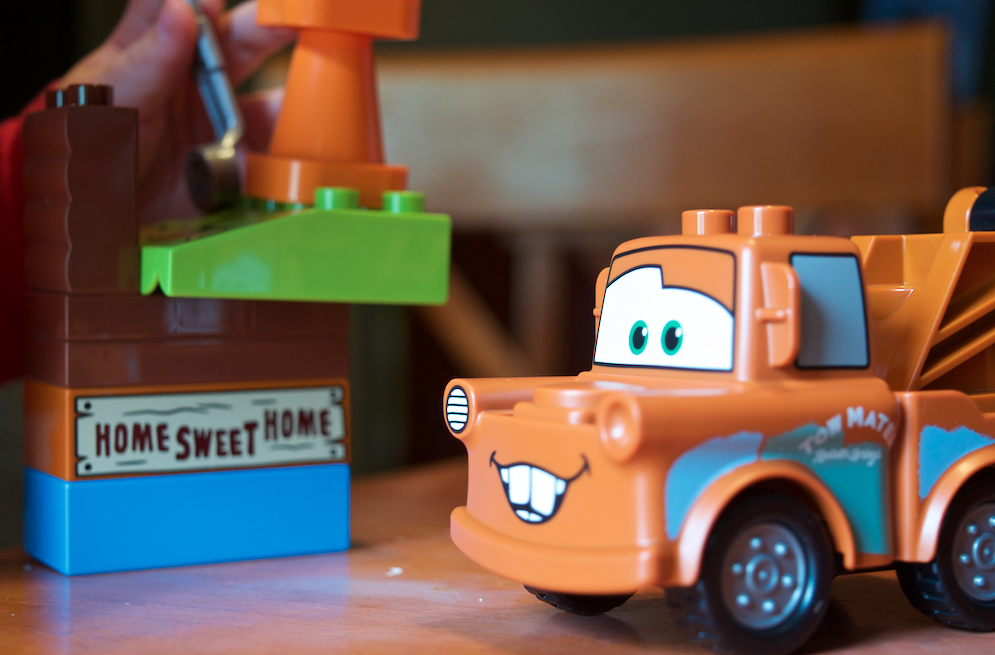 *Plenty of accessories! Mater's Shed includes an oil can, wrench and 2 cones – a total of 23 pieces. It's recommended for ages 2-5 and even includes bricks decorated as an awning with chili lights, a computer screen showing Lightning McQueen, radio and a 'Home Sweet Home' sign. All of these pieces help prompt my kids for more creative play.
*Mater's Shed is from the new LEGO DUPLO Cars 3!  Tow Mater is one of our favorite characters! My kids seem to connect the best when it's a theme they love or movie characters they adore.
*Mater's Shed is Interactive. And I'm not just talking about building blocks. As you would imagine on a tow truck there is a swinging hook in the back for kids to tow things with!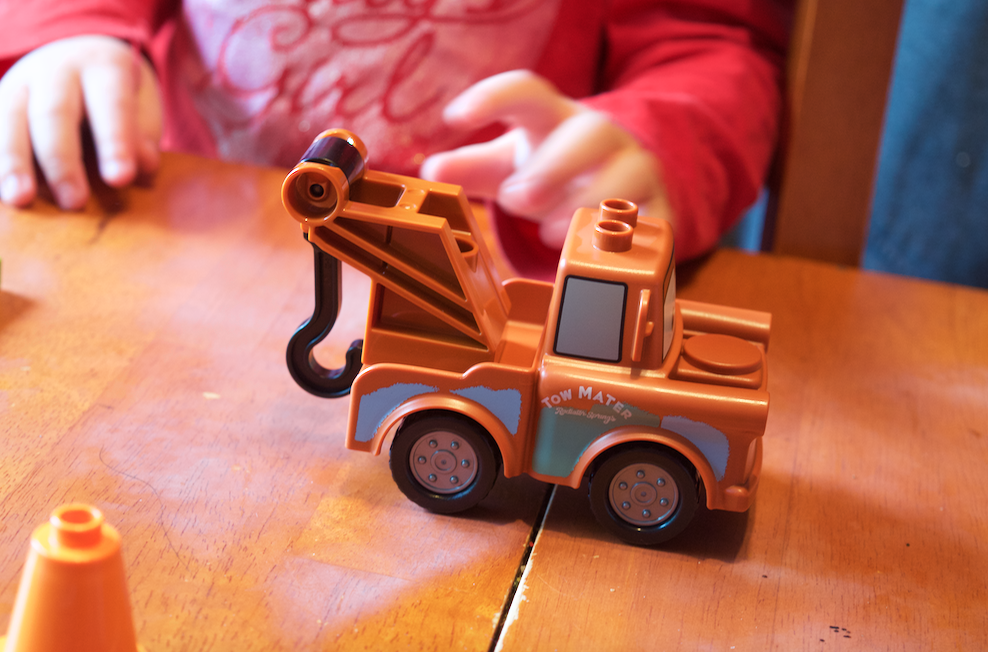 *Vroom Vroom around a race track! You can make Mater's Shed dual purpose for building, imaginative play, and even racing him around your own homemade race track! This is great for critical thinking skills. Create obstacles and watch your kids launch Mater into full force!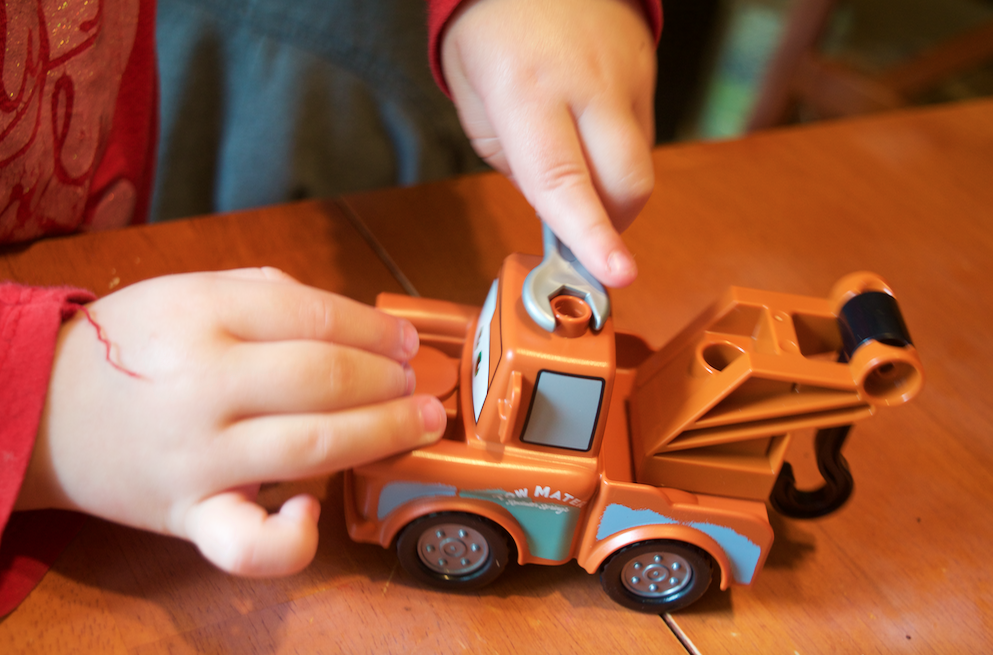 *Fix it with tools! When my boys were little they LOVED using "real tools" to take things apart and fix them and evidently my daughter is no different! I was pretty impressed at 2 years old how well she was able to manipulate the small included wrench. Not to mention this is fantastic for working on fine motor skills!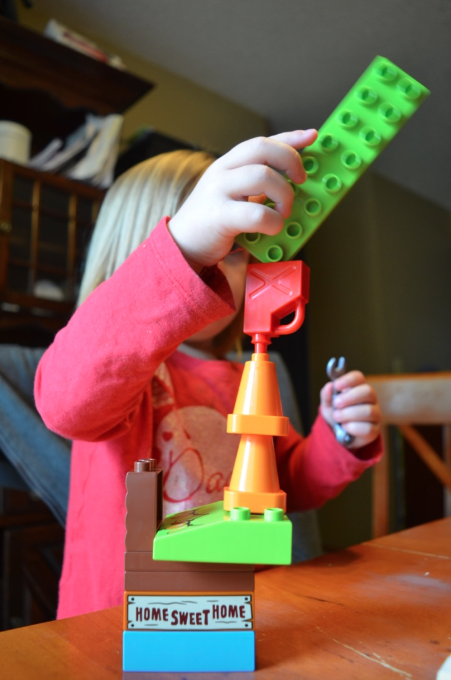 *Even the oil cans and construction cones are stackable! It was a lot of fun to watch my daughter not only build the blocks together but also stack other objects together in a tower.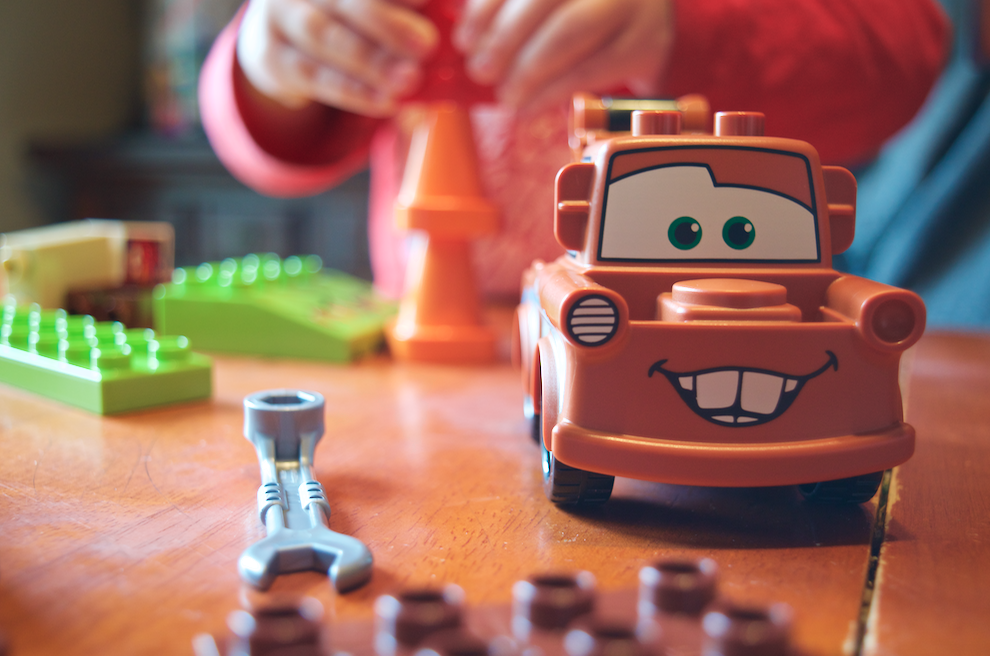 *It all fits in a ziploc bag! Our family travels on the road a LOT in the summer time to go camping and we are always looking for non-messy interactive toys that my daughter can use in our down time. (ie – no play sand or play dough) She can use Mater's Shed in the camper, in the dirt, in the bath, or anywhere else that she ends up toting these around and then plop it all back in a bag.
*Durable & Indestructible & Dishwasher Safe – Now having gone through 3 toddler/preschool phases with children I definitely stopped buying cheap toys that break easily back in the day. LEGO DUPLO is incredibly sturdy and has survived so much rough & tough behavior with my kids! In fact when snotty noses and hacking coughs are around we just grab our LEGO DUPLO pieces and pop them in the dishwasher (place them in a toddler storage basket first!) to sanitize them. Or if you're on the road just dump them in the sink and run hot soapy water on them!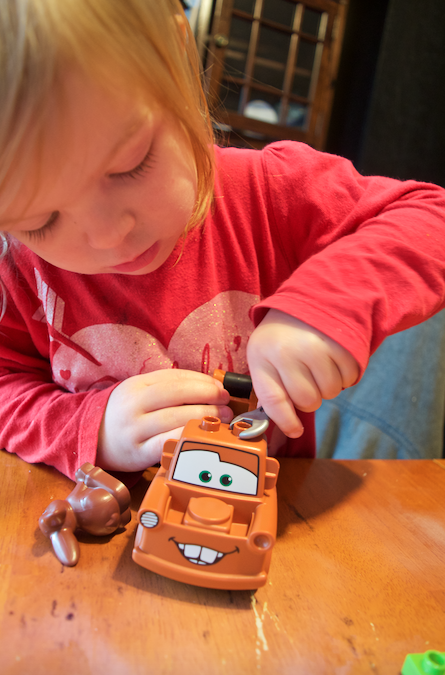 *LEGO DUPLOS work with all other LEGO DUPLO sets! Yet another reason to LOVE LEGO DUPLO! My kids can use Tow Mater to tow their new Family Pets LEGO DUPLO set, dolls, tools, and anything else they want!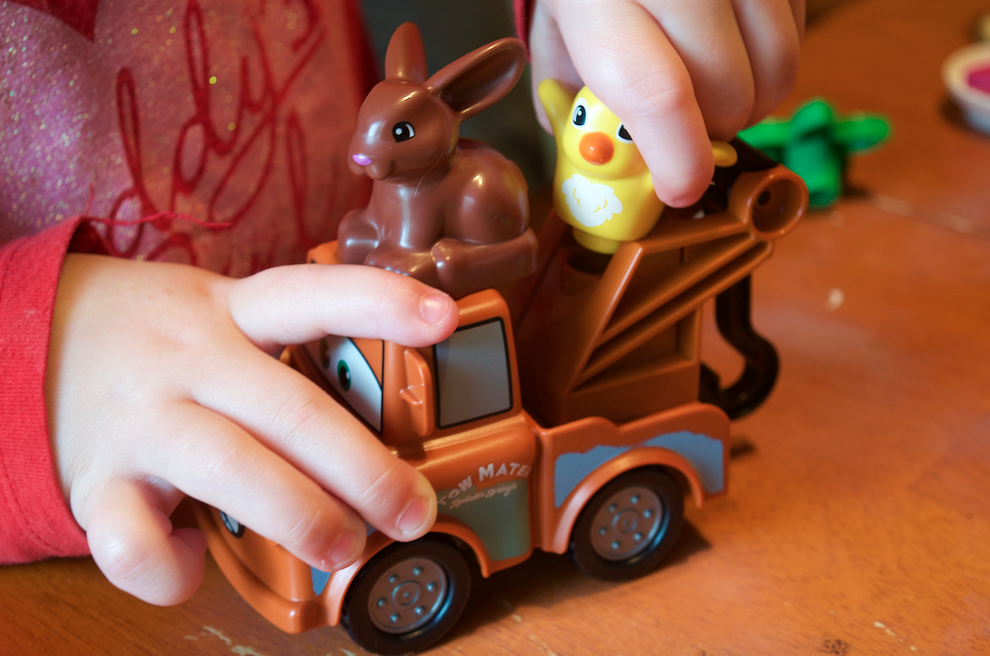 Why You Need the Family Pets LEGO DUPLO Set: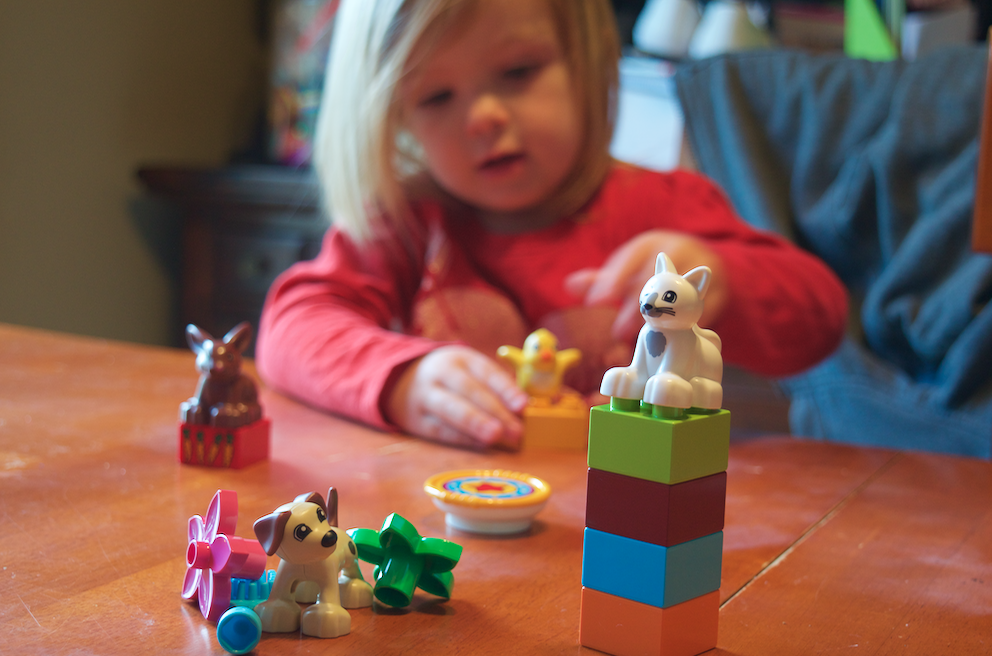 *Animals are always loved by kids! If there's one reoccurring theme that kids choose to play with over and over it's anything to do with animals! My daughter chooses to play animal themed games, apps, and play with stuffed animals over any other theme of toys!
*It's affordable. At around $9.99 the LEGO DUPLO Family Pets set makes a great gift! It includes 15 pieces including a dog, cat, rabbit and bird figures, a flying disc, brush, birdbath, flower and a brick decorated as carrots.
*It teaches responsibility. Toddlers & preschool aged children are the perfect time to start teaching responsibility and how to help others. The accessories included with the Family Pets building set encourage children to care for their little pet toys.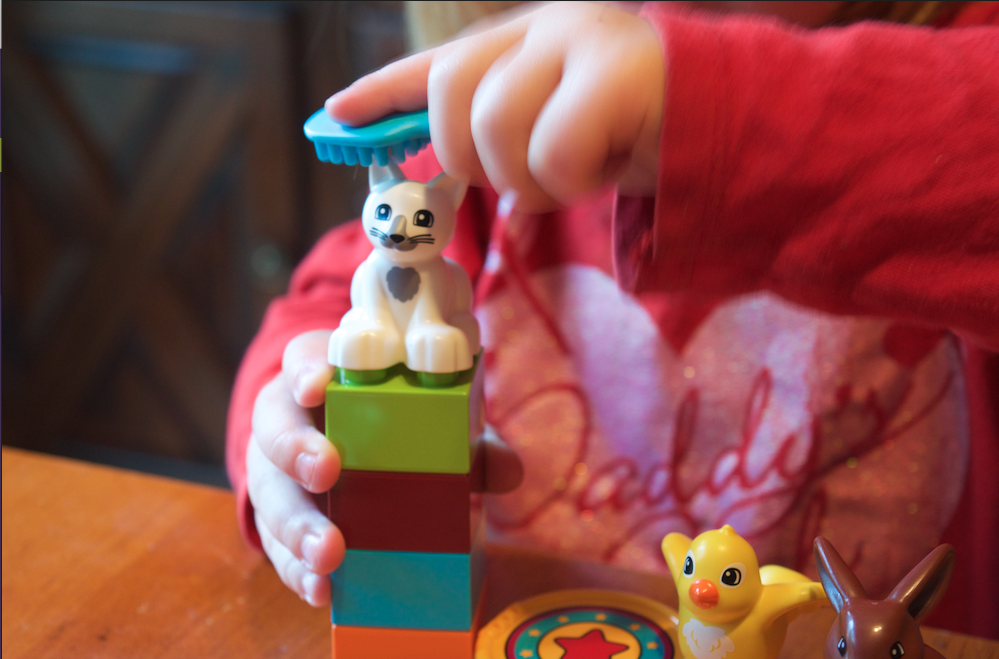 My daughter loves the brush that is included in the Family Pets set! She will spend quite a bit of time brushing all of the little animals in the set!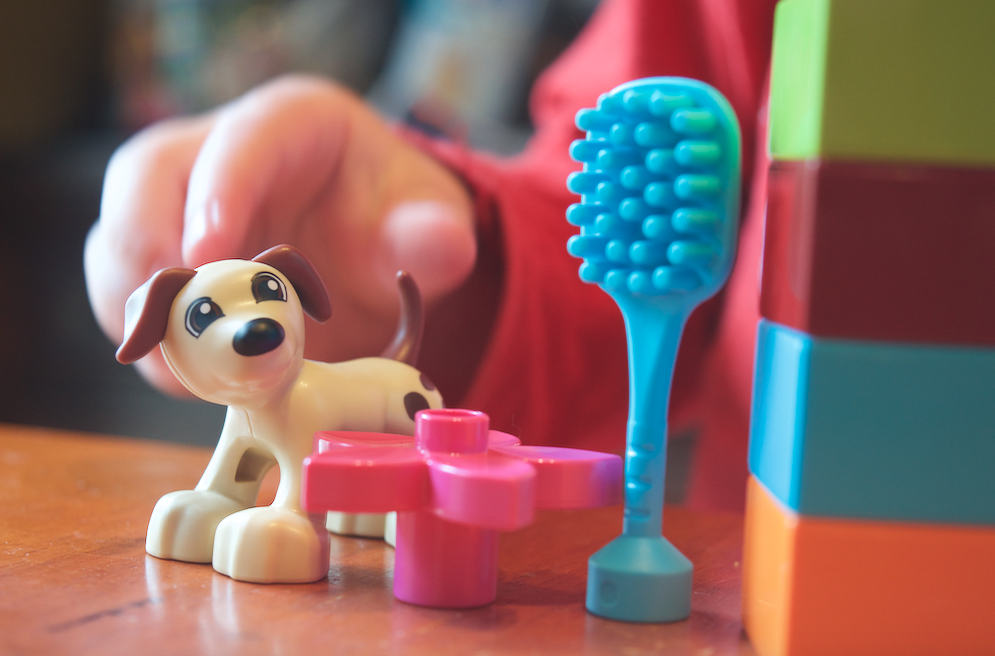 *The included pets are small enough for young hands but large enough not to be a choking hazard. They fit great in a small zipper pouch or activity bag. Like I mentioned with Mater's Shed our family is on the road a lot exploring and this LEGO DUPLO set is easily portable, durable, and fun to play with!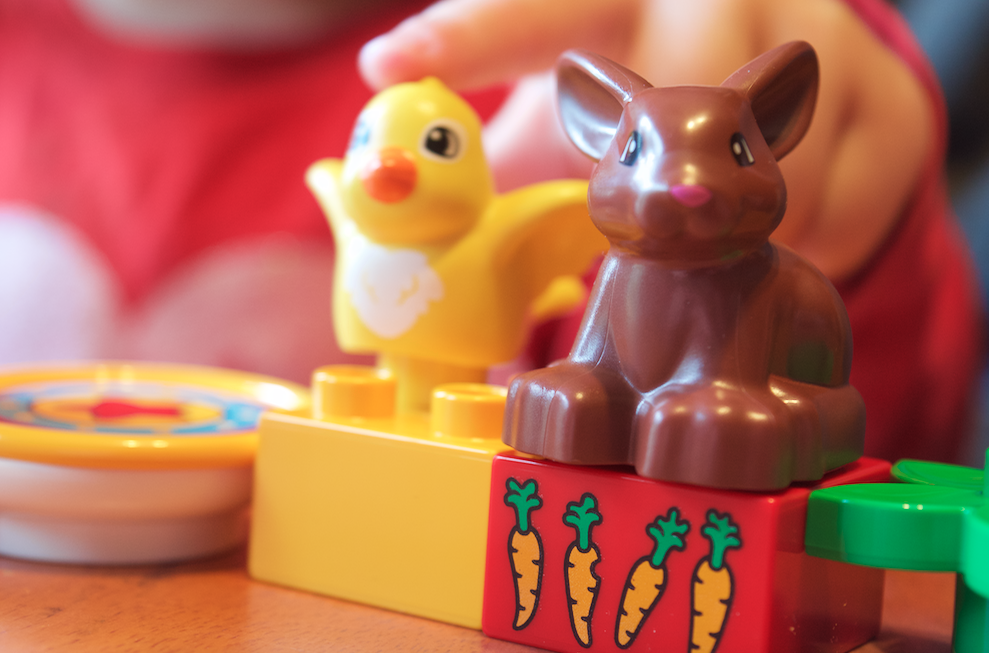 *It's ADORABLE! I love using sets like this to teach and reinforce colors, animal names, shapes, patterns and more! There are so many educational ways you can use even a small set like this to play with your kids!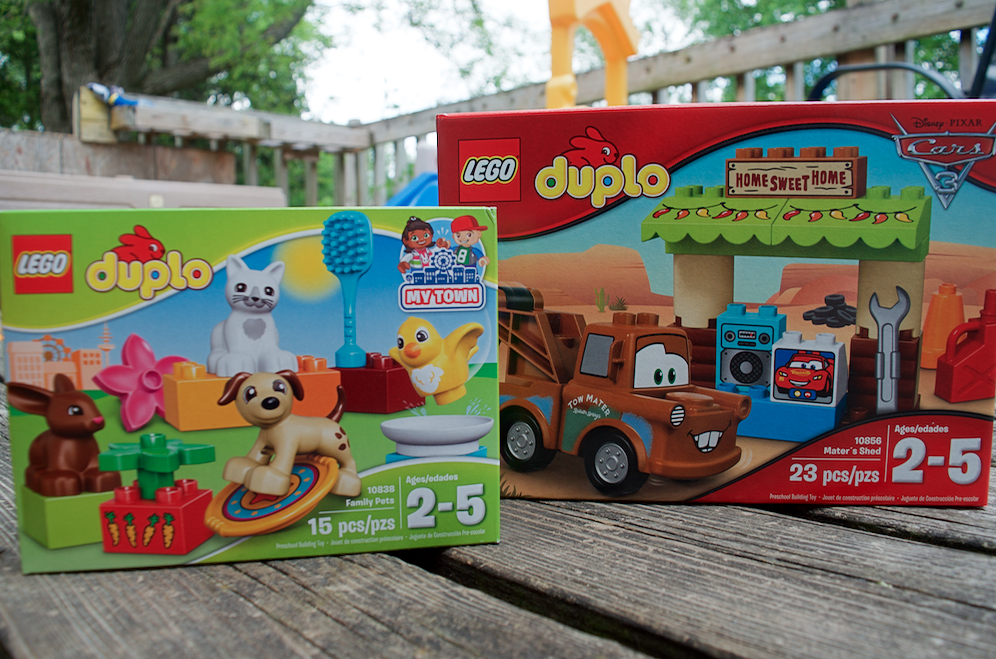 Other Great LEGO Choices this Summer:
THE LEGO® BATMAN MOVIE
LEGO Juniors Batman™ vs. Mr. Freeze™
LEGO City 4×4 with Catamaran
LEGO DUPLO Pizzeria
LEGO Architecture: Chicago, London, Sydney