FREE Skylanders Homework Pack for Parents!
This post may contain affiliate links, view our disclosure policy for details.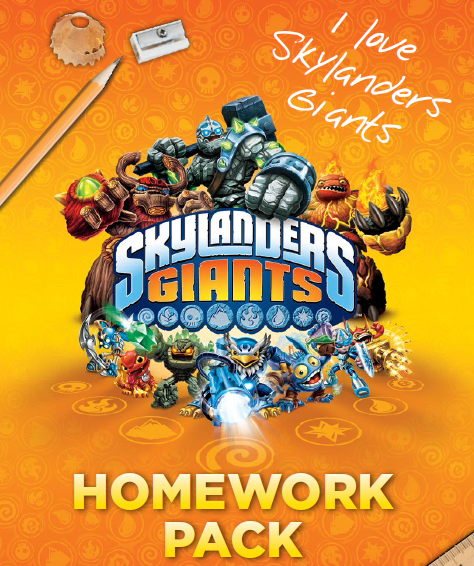 Who said parents don't have homework too? If your kids are obsessed about Skylanders Giants you may enjoy doing this printable SkylandersGiants_Digital Homework Pack_(Book_01) together! It's a whole new world for most parents and by doing this with your kids you'll definitely be able to connect to their world a little bit better and understand all those levels your kids are beating on Skylanders! Make sure to print SkylandersGiants_Digital Homework Pack_Cards_01 to study from!
The Homework pack features five chapters of fun – one for every week day:
–      Monday: History (Skylanders story – SSA and Giants)
–      Tuesday: Science (elemental sources)
–      Wednesday: Characters (character's abilities, strengths and weaknesses)
–      Thursday: Technology (practicalities of what and how to buy and play)
–      Friday: Art (to include dot-to-dot and drawing of key characters)
–      Quiz sheets at the end of each chapter testing parents on what they've learned that day
–      Reward charts to stick on the fridge door with a Skylanders sticker that children award parents once a chapter is complete successfully
Disclosure: I was not compensated for this post. Prize provided by Activision.