Fine Motor Skills, Color & Math Activity Travel Tub
This post may contain affiliate links, view our disclosure policy for details.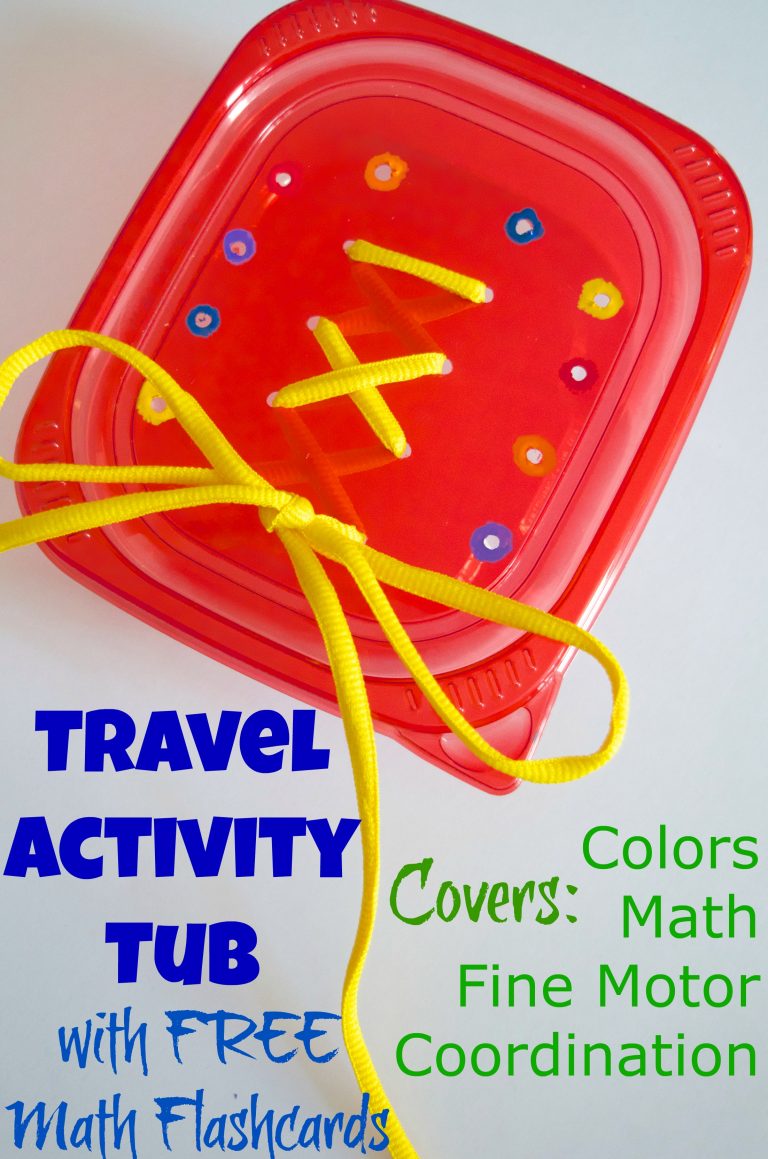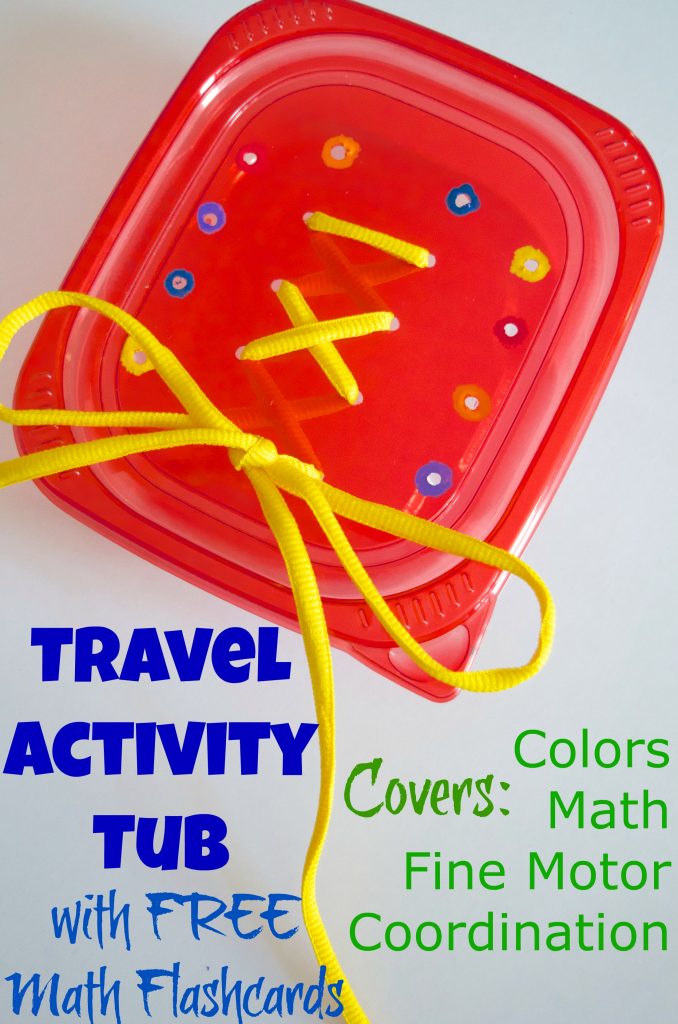 Because we live out in the middle of nowhere (literally!) and we like to take road trips in the summer I've been designing fun and more budget friendly ways for us to eat on the road as well as "in the car" activities to keep my kids busy. This post accomplishes both! Not only will I show you how to make an easy fine motor skills travel tub for the kids but I'll also share with you the quick recipe I've been making for hubby and I to eat meal our lunches lately!
Fine Motor Skills Travel Tub  
Start by doing the hardest/longest part (which really isn't hard at all and took me under 5 minutes!) – the lid! Using a drill make 8 medium size holes right down the middle of the lid simulating holes for shoelaces.
Then create a total of 10 fairly evenly spaced holes around the sides and top of your shoelace holes. I also decided to color code my smaller holes around the side with a few dabs of acrylic paint around each one. Make sure to use colored paint that will correspond with the colors of your colored pipe cleaners!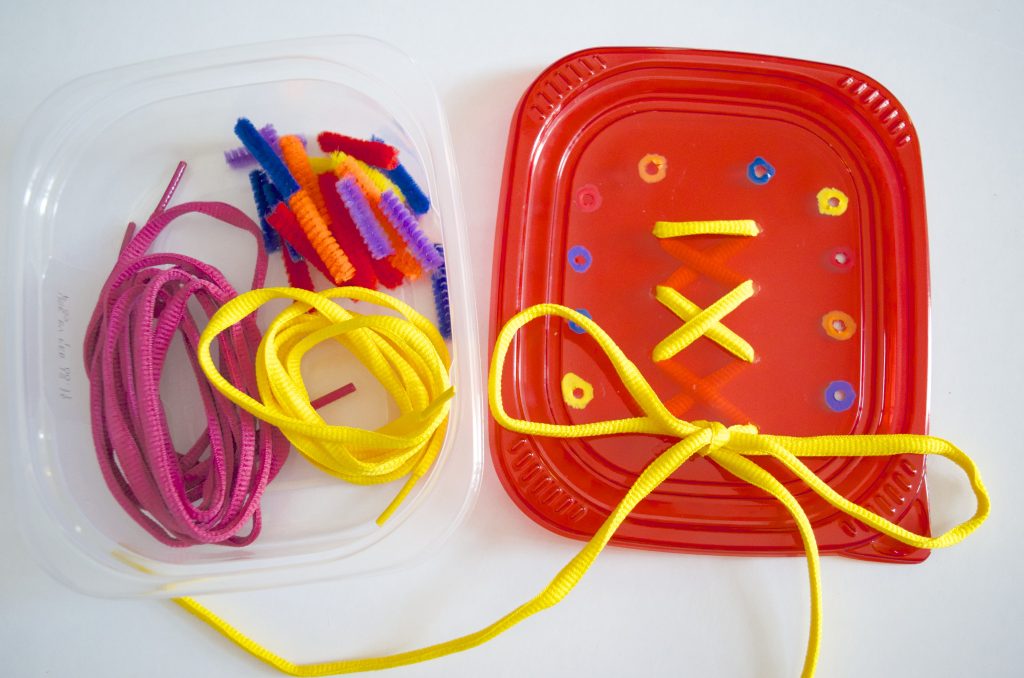 I bought my brightly colored shoe laces at Walmart. The shoelaces and tiny pieces of pipe cleaners that I cut up fit inside of the tub and store easily for travel! You can also bring a large magnet wand if you wand some additional magnetic play added in! You could also create slots with an X-acto knife for buttons if you wanted as well. However be mindful of small children that still put things in their mouth!
I've also created a color coordinated simple math flashcard set for you to print to go with your travel tub! Make sure though that you have these colors available on your tub! 🙂 Each number on the flashcard is color coded for the pipe cleaners. So empty out your tub and hand your child a flashcard. If it says 2 (in red) + 3 (in blue) they will need to put in 2 red pipe cleaners and 3 blue pipe cleaners through the correctly colored holes. Then they can open the storage tub and count how many 2+3 equals!
---
I'm a big fan of deli meat and creating sandwiches of all sorts but I tend to get stuck in the same type of sandwich over and over again. In an effort to cut back eating out while we're running errands in town I've been pre-making these delicious and simple lettuce wraps. No need for soggy bread! We're also going to be using these for quick meals when we go camping this summer!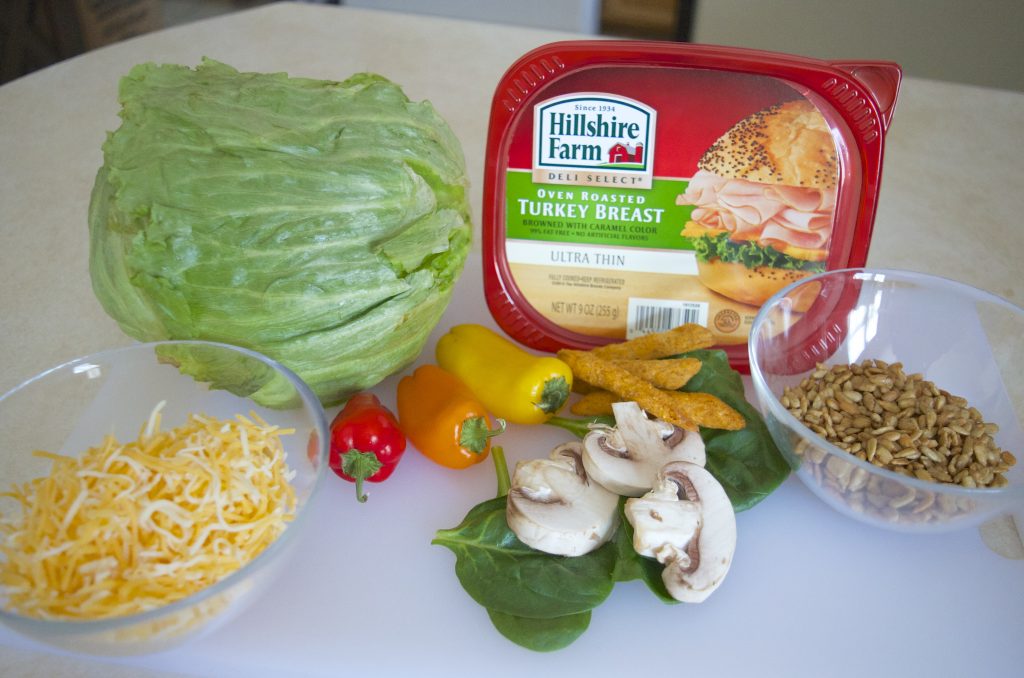 My husband and I have different preferences when it comes to our sandwiches so I usually pull out the works when prepping! Especially when I'm pre-making a large amount! If your kids are into lettuce wraps this is also a great method to have them help you out!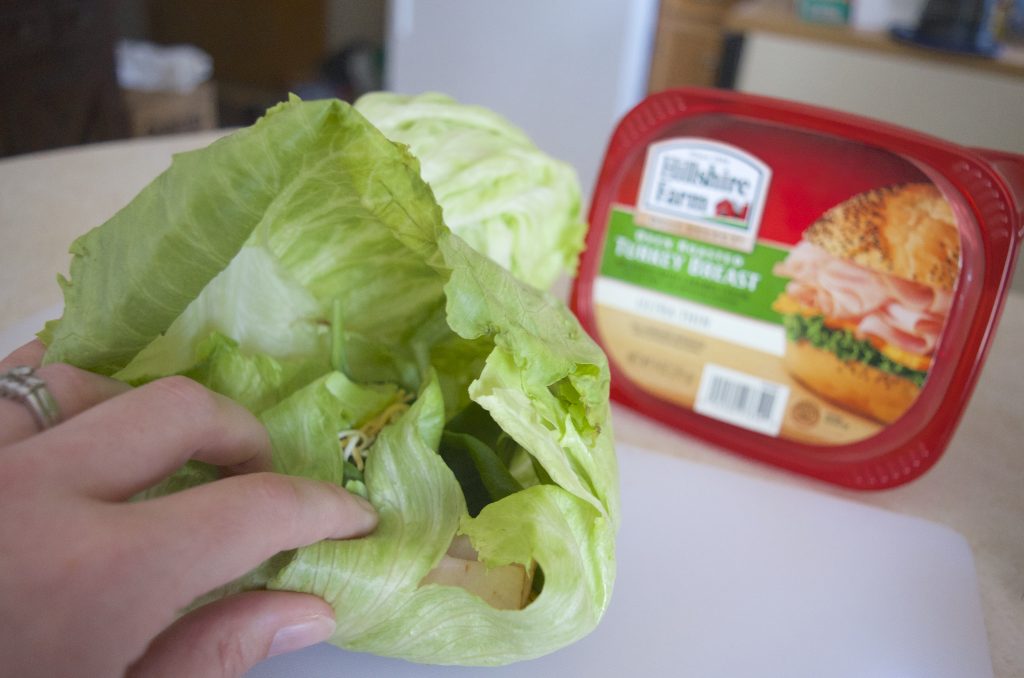 So here's my TIPS on creating your lettuce wraps:
Carefully peel off 2 large "leaves" of iceberg lettuce and lay the ends inside together overlapping. First put in your spinach leaves. Then add your deli meat, and then sprinkle in your other veggies and toppings. The key here is to use large "leaves" of lettuce and wrap carefully! Tuck the ends in and then begin rolling like you see above.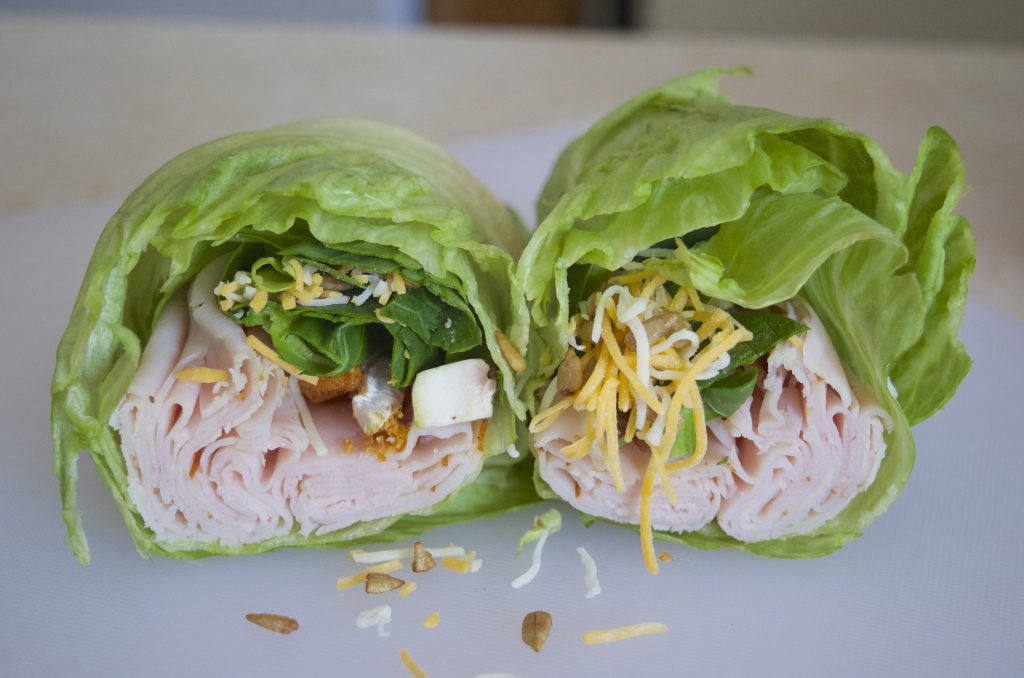 The ultimate key in keeping your lettuce wrap together is to wrap it tightly!! My "no fail" method for keeping lettuce wraps together is to wrap it in a small piece of parchment paper and then wrap that in a tight piece of clear saran wrap!
Depending on the size of your deli meat tub I can usually stuff my lettuce wrap right back inside so that it doesn't get squished while we travel! Once it is wrapped in the parchment paper (before the saran wrap!) you can also use a sharp serrated knife to cut your wrap in half before covering in clear wrap.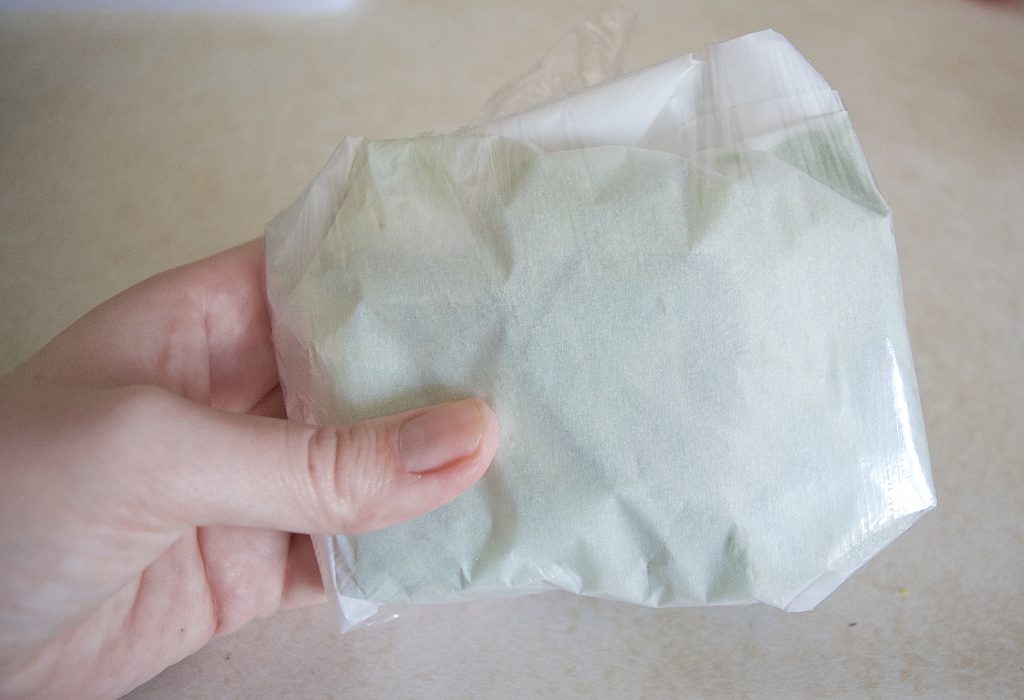 I absolutely ADORE reusing the deli meat tubs for just about EVERYTHING! They are great to take while traveling since they are disposable. Of course use them for leftovers in the fridge!
We've also used them for outdoor play, critter keepers while my kids are catching insects, storage for nails and screws, etc. Below is a travel tub we made to keep kids busy while working on their fine motor skills, color recognition, and simple math skills. It takes just a couple of minutes to put together!